Cheese is one of the world's most popular and delicious foods. There are numerous types of cheese that can be used in a variety of dishes or meals. But what are the Essential Types of Cheese you must have at home?
This guide to cheese types will help you discover the differences in the textures and flavors of specific cheeses, so you can always choose the right cheese to pair with what you're serving to your friends, family, or guests.
---
A Cheese Lover?
---
Consider yourself a cheese lover? These delicious, fragrant pieces of goodness transform every other dish into a heavenly delight! Once heated, they melt into a gooey extravagance and make everything they touch taste better.
Check out this guide to find the essential types of cheese to showcase on your next cheese board or to add to your favorite dish.
---
Mozzarella
Typically known for its prominent role on pizza, mozzarella is an Italian cheese made from buffalo milk.
Mozzarella is known for its creamy texture and mild flavor, making it a popular choice for many dishes. It is also especially stretchy when melted, which is why it is often used as a topping for pizzas and pasta dishes.
Fresh or cooked, this stringy white cheese is delicious. You can melt it over meatballs or add it to lasagna; it's also delicious on salads and sandwiches. It's one of the most essential types of cheese.
---
Pizza's Best Friend
---
Cream Cheese
Cream cheese is one of the most essential types of cheese to keep at home. It's an ultra-rich, spreadable cheese made with milk and cream that melds seamlessly into just about any dish, including savory dishes and even desserts.
Most supermarket varieties contain stabilizers, which are not harmful and aid in the preservation of the luxurious texture. You can also make your own cream cheese at home using two ingredients— it's surprisingly simple!
Check out these recipes with cream cheese: 10 Minute Cream Cheese Pasta, Avocado Cream Cheese Veggie Bites, Gluten-Free Pumpkin Cream Cheese Swirl Muffin, Pumpkin Cream Cheese Swirl Muffin, Easy Cream Cheese Frosting, and Easy Taco Queso Dip-Viral TikTok Dip
---
So Versatile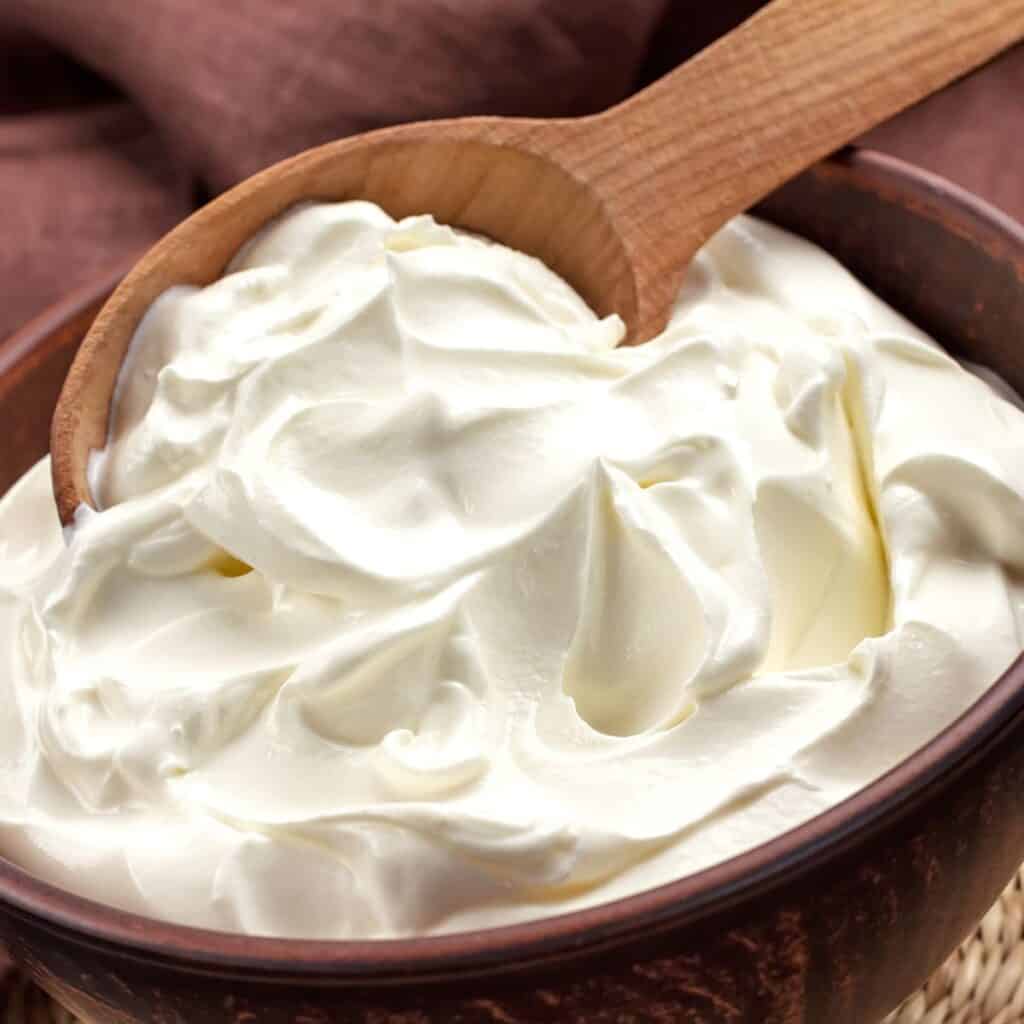 ---
Parmesan
Parmesan is an aged cheese from Northern Italy that has a strong flavor and a crumbly texture.
It's high in nutrients and can be a good choice for lactose intolerant people, lacto-vegetarians, and those looking for easy-to-digest proteins. It may also help with bone health.
Parmesan cheese complements both sweet and savory dishes. It is available in blocks, shredded, and grated forms in stores and online.
---
Cheddar
Cheddar cheese is a globally known cheese made of cow's milk and hails from the village of Cheddar in England.
As cheddar matures, it transforms from hard and smooth to dry and crumbly, and because of its versatility, it can be purchased at both stages. It's great in cheeseburgers and pasta dishes! It's one of the essential types of cheese to keep in your refrigerator.
Fun fact: The color of cheddar is traditionally off-white, so if you see any orange varieties, it usually means food coloring has been added.
Check out these recipes with cheddar cheese: Nacho Cheese Sauce Recipe, Best Mac and Cheese Recipe, Taco Mac & Cheese, and Roasted Cauliflower Mac and Cheese.
---
Brie
Brie is a popular French dessert cheese that is traditionally made with unpasteurized cow's milk.
It has an ever-so-slightly furry rind and a deliciously smooth and creamy texture on the inside that will win you over every time. Serve it at room temperature with lavosh and crusty bread.
---
Emmental
A Swiss cheese with lots of holes, Emmental originates from Switzerland! What you don't know is that these holes are actually gas bubbles formed by bacteria during fermentation. Not only do these bubbles create the iconic Emmental cheese, but they also add to its unique flavor and texture.
The bacteria used to make Emmental cheese is added to the milk before the cheese is formed. As it ferments, the bacteria produce lactic acid, which breaks down the proteins in the milk and forms gas bubbles. The gas bubbles are trapped in the cheese, forming the famous holes.
It is another cheese that melts well and is excellent for toasted sandwiches, sauces, and even cheese fondue.
---
Nothing Beats an Impressive Cheese Board
---
Feta
Feta is a Greek cheese made from a combination of sheep and goat's milk that is often stored in a salty brine.
This cheese is delicious crumbled over salads, on cheese plates, and even with scrambled eggs, with textures ranging from decadently smooth and creamy to crumbly, dry, and very salty.
Check out these recipes with feta cheese: Feta Dip with Zaatar, Greek Salad with Marinated and Grilled Chicken Recipe
---
Gorgonzola (Blue Cheese)
Gorgonzola, also known as the Italian blue cheese, has different characteristics depending on its age. It has a creamy, brie-like texture when young, but as it ages, it becomes crumbly and dry.
Which is better? It depends on your personal preference. This cheese goes well with pears, figs, pastas, and salad,
---
The Star of Your Salads
---
Burrata
Burrata is a fresh, soft cheese made from cow's milk. The outer shell of this cheese is made of soft mozzarella, so it could easily be mistaken for fresh mozzarella just by looking at it.
When you cut into it, you'll discover an oozing, soft interior made of small cheese curds and cream. In fact, the Italian word burro translates to "butter," indicating how rich and creamy it is.
This decadent cheese originated in southern Italy in the early 1900s (at least four centuries after the development of mozzarella). Burrata has since become a popular ingredient in Italian dishes such as pizza, pasta, and Caprese salads.
---
Different Uses of Cheese
Use this cheese guide to learn how to choose cheese based on how you intend to use it:
The Best Cheeses for Grating
Aged Asiago, Pecorino Romano, Manchego, and Parmagiano-Reggiano are among the cheeses that come to mind when it's time to add a finely grated finishing touch to soups, salads, and pasta dishes.
The Best Cheeses for Slicing
The following are some of the most popular cheeses for sandwiches, both grilled and cold, because they are sliceable and melt well: American, brick, cheddar, Colby, Edam, Gouda, Gruyère, Havarti, Monterey Jack, mozzarella, American Muenster, provolone, and Swiss are some of the cheeses available.
The Best Cheeses for Shredding and Melting
When it's time to make a cheese sauce, macaroni and cheese, a cheesy casserole, or pizza, pull out the shredder and choose one of the following cheeses: American, cheddar, Colby, Comté, Gouda, Gruyère, Jarlsberg, Monterey Jack, mozzarella, American Muenster, provolone, and Swiss are among the cheeses available.
Cheeses to Serve on a Cheese Board
What are the best cheeses to serve on a cheese board? Your favorite cheeses! The key is to provide a variety of flavors, from mild to strong, and textures, from soft-ripened to hard.
Even hard cheeses like Parmagiano-Reggiano (Parmesan) can be used on a cheese board; while these types of cheese cannot be sliced, they break into delightfully snackable chunks and shards.
Limit your cheese selection to about five different cheeses—anything more can be overwhelming. If you're looking for a never-fail selection for your next cheese board, try Brie or Camembert (almost everyone loves them), Manchego (one of Spain's most popular cheeses), a well-aged cheddar, and a soft-ripened goat cheese.
Also, make sure you include one of the blue cheese varieties as well. Stilton is always a good choice.
---
Pick Your Favorite
---
Frequently Asked Questions (FAQs):
What are the 5 types of cheese?
The most common five types of cheese are fresh cheeses, soft-ripened Cheeses, semi-soft cheeses, semi-hard cheeses, and hard cheeses.
What cheeses pair well with pasta?
You can mix several types of cheese, such as American, cheddar, and mozzarella, for a more decadent pasta dish. You can also mix a teaspoon of cream cheese into the hot pasta and let it melt before adding the other cheeses for a rich pasta and cheese dish.
What kind of cheese is good in salads?
The options are endless. Try adding some Parmesan, Large-Curd Cottage Cheese, Burrata, Classic Blue Cheese, Queso Fresco, and aged Manchego.
---
Cheese Pairing Tips
Start with smaller portions, especially if you're making a charcuterie or cheese board. Because cheese can be a very rich and filling food, avoid using multiple types at once. Begin by selecting 1-3 types of cheese and gradually work your way up to more complex meals, snacks, or appetizers.
It's important to be consistent in taste when selecting cheeses to accompany food or drinks. To put it simply, serve a lighter, milder cheese with something that won't overpower its flavor. The older and denser the cheese, the heavier or more flavorful your pairing will be.
If you aren't sure which cheese to pair with what, the best thing you can do is return to its origin. This means that if you have an Italian recipe, try pairing it with an Italian cheese.
When it comes to matching heritages, you almost never go wrong. If they are from the same geographical region, you can assume they will make a good match.
---