Embrace Turkish tradition with a sip of our Authentic Turkish Coffee recipe. Join us as we unravel the secrets of this ancient treasure and brew up a cup of cultural intrigue in your own home.
This ancient elixir isn't just a beverage; it's a ritual, a conversation starter, and a timeless tradition all brewed into a single cup. In every sip, you'll feel transported to the bustling bazaars and cozy cafes of Istanbul, where the aroma of freshly ground coffee beans mingles with a sense of community
---
Aromatic Alchemy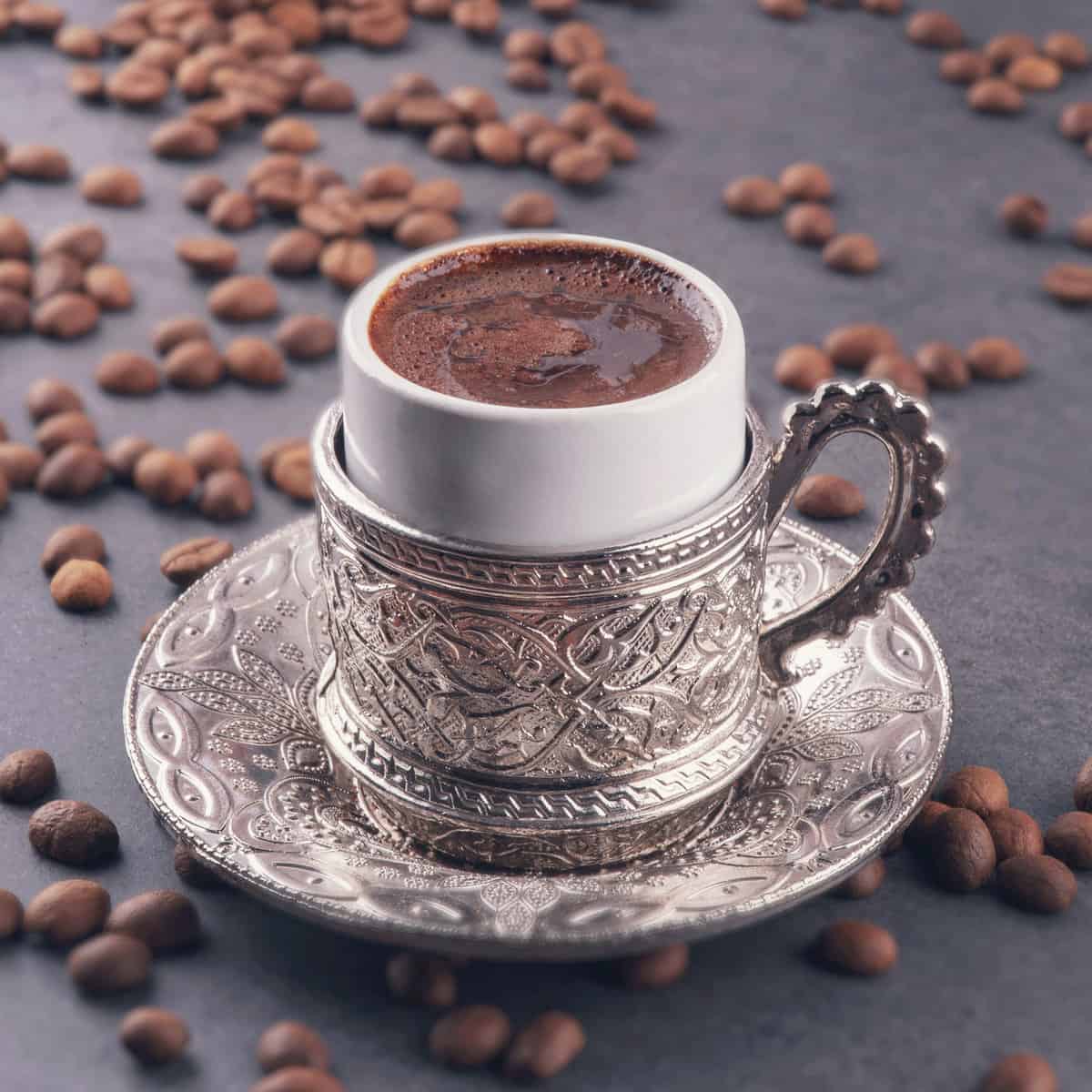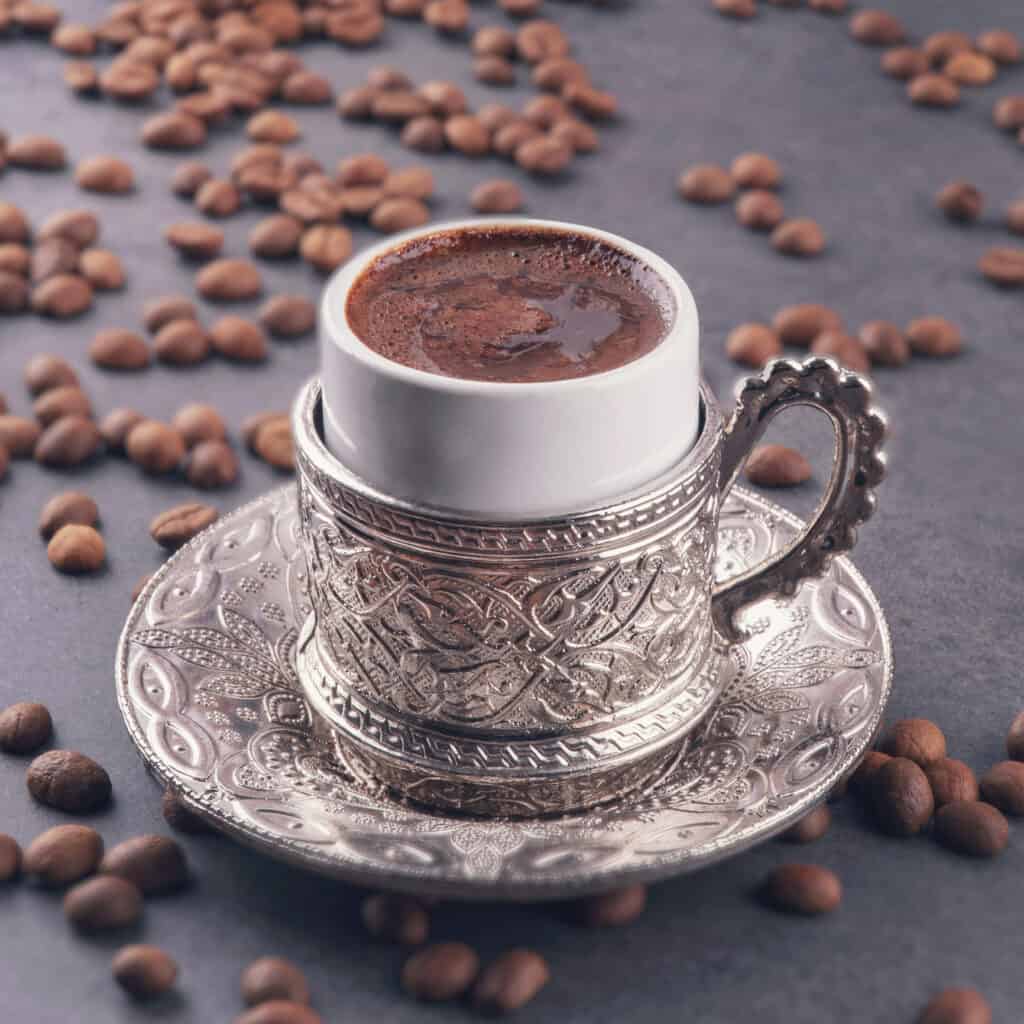 ---
What Is Turkish Coffee?
Turkish coffee is a traditional method of preparing and serving coffee that has its origins in the Ottoman Empire, and it continues to be popular in Turkey and many countries in the Middle East and the Balkans. It's not just a type of coffee but a specific way of brewing and serving coffee.
Here's how Turkish coffee is typically prepared and served:
Grinding: The coffee beans are ground to a very fine powder, much finer than what is typically used for drip or espresso brewing.
Brewing: The finely ground coffee, cold water, and sugar (optional) are combined in a special pot called a "cezve" or "ibrik." The mixture is slowly heated over low heat, allowing the coffee to dissolve and infuse into the water. During this process, the coffee forms a thick foam on the surface.
Foaming: As the coffee starts to heat and bubble, it forms a frothy layer of foam. The foam is an integral part of Turkish coffee.
Serving: Once the coffee is brewed, it is poured into small cups without filtering out the grounds. The foam is distributed evenly among the cups. The coffee grounds settle at the bottom of the cup over time.
---
Elixir of Istanbul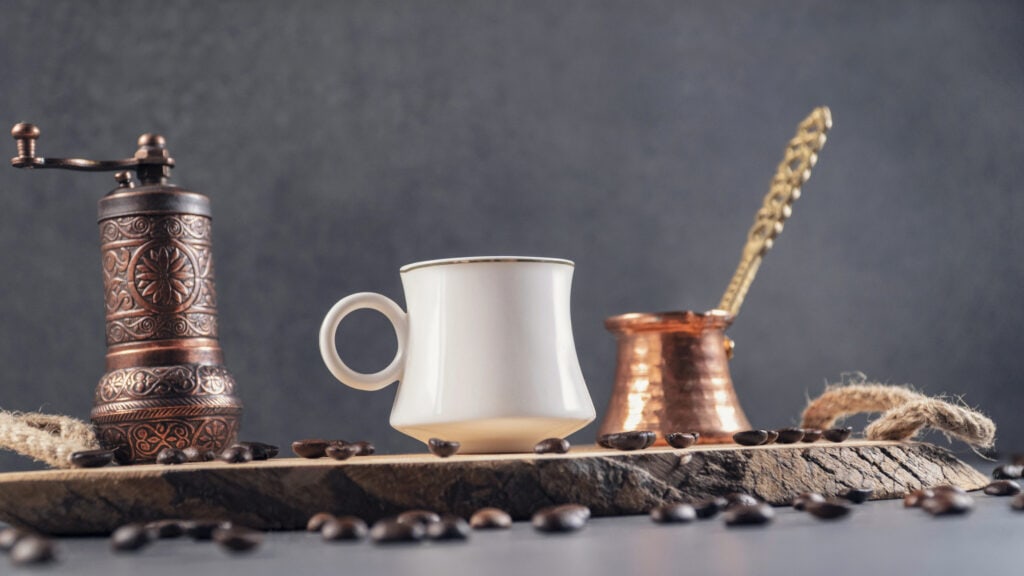 ---
Why You Will Love Turkish Coffee
Indulging in the art of making Turkish coffee is an enriching experience that transcends mere coffee preparation. It offers a unique opportunity to immerse yourself in a centuries-old tradition, where every step becomes a mindful ritual that engages your senses.
The process of brewing the finely ground coffee and water in a cezve, achieving that luxurious foam, and carefully pouring it into delicate cups creates a connection to a cultural heritage that spans generations.
As you savor the aromatic aroma and bold flavor of this meticulously crafted drink, you're not just making coffee; you're creating an unforgettable experience.
Turkish coffee has a remarkable ability to foster conversations, forge bonds, and evoke a sense of nostalgia.
Whether enjoyed alone as a personal retreat or shared with friends and family, making Turkish coffee is an invitation to step into a world where time slows down, flavors intensify, and tradition blends seamlessly with the modern art of indulgence.
---
Frequently Asked Questions (FAQs):
Do I need to stir the coffee while brewing?
Yes, stirring is an important part of the process. After combining coffee, water, and sugar in the cezve, stir gently to mix everything. Stir again a couple of times as the coffee heats up to ensure proper distribution of flavors.
Can I add spices like cardamom to Turkish coffee?
Yes, adding spices like cardamom is a common practice in some cultures. It adds depth and fragrance to the coffee. You can experiment with spices and adjust the amount according to your taste.
Can I make Turkish coffee without a cezve or ibrik?
While a cezve or ibrik is the traditional vessel for making Turkish coffee, you can still try making it using a small saucepan. The key is to have a pot with a narrow base and a long handle to control the pouring.
What type of coffee should I use for Turkish coffee?
Turkish coffee requires finely ground coffee that is almost powder-like in consistency. You can use Arabica beans, often medium to dark roasted, to get the best flavor. I recommend buying pre-ground Turkish coffee or grinding it to the right consistency at home.
---
Liquid Poetry
---
Tips for Making the Best Turkish Coffee
Use freshly ground coffee since it retains more flavor and aroma.
The traditional pot for making Turkish coffee is designed to create the perfect foam. Invest in a good-quality cezve with a narrow neck and a long handle.
Maintain a consistent coffee-to-water ratio. A common guideline is 1-2 teaspoons of coffee per 3 ounces of water. Adjust to your taste.
This slow heating allows the flavors to develop without scorching the coffee or boiling it over.
Stir the coffee, water, and sugar (if using) gently when you first combine them. Stirring too quickly can prevent the foam from forming.
Watch the cezve closely as the coffee heats. When the foam starts to rise, temporarily remove the cezve from the heat to let the foam subside, then return it to the heat. Repeat this process 2-3 times to create a rich foam.
Add cold water to the cezve, along with the coffee and sugar. This helps to extract the flavors more effectively and prevent burning.
Avoid bringing the coffee to a rolling boil. Aim to stop heating just as the coffee is about to boil over. Boiling can lead to a bitter taste.
Consider adding spices like cardamom, cinnamon, or even a pinch of saffron for unique flavor variations. Start with a small amount and adjust to taste.
---
Turkish Coffee Ingredients
Coffee: Use finely ground coffee beans specifically intended for Turkish coffee. The grind should be almost like a powder, much finer than what's used for most other brewing methods.
Water: Using cold water helps to extract the flavors properly and prevents the coffee from scorching.
Sugar: Sugar is optional and you can adjust its amount according to your taste preferences.
---
Other Recipes You Must Try:
---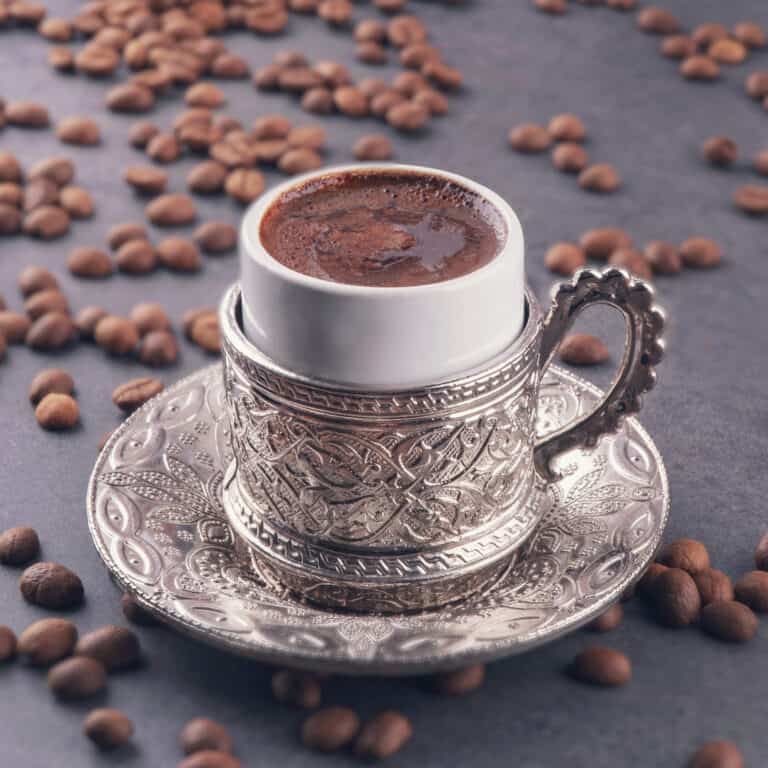 Turkish Coffee
Unlock a world of captivating aromas and centuries-old traditions with every sip of our meticulously crafted Turkish coffee, inviting you to indulge in a moment of rich flavors and cultural enchantment."
Ingredients
3 heaping tablespoons Finely ground Turkish Coffee with cardamom
2 cups cold water
1 tablespoon sugar optional (to taste)
Instructions
Add 2 cups of water and desired amount of sugar in a small pot or a cezve and place over high heat until the water boils.

Remove the pot to add in 3 heaping tablespoons of the finely ground Turkish coffee and mix.

Place the pot back on the heat and allow content to come to a slow boil carefully removing off the heat before it rises and over spills.

Place the cezve back on the heat and let the foam rise again. Repeat this process 2-3 times to build a rich foam.

Slowly pour the coffee into a small Turkish coffee cup, ensuring the foam is distributed evenly. Enjoy warm.
Nutrition
Calories: 8kcalCarbohydrates: 2gFat: 0.01gSodium: 0.03mgPotassium: 0.3mgSugar: 2gCalcium: 0.03mgIron: 0.002mg