I bet you are bored of cooking the same menu with the same ingredients over and over again. Because knowledge is power, here you will learn about the Different Types of Mushrooms that will take your cooking skills to another level of yumminess
You don't have to stick to one type of mushroom, let's leave the comfort zone and discover the endless versatility of this small, but big, ingredient in your kitchen.
---
Healthy and Delicious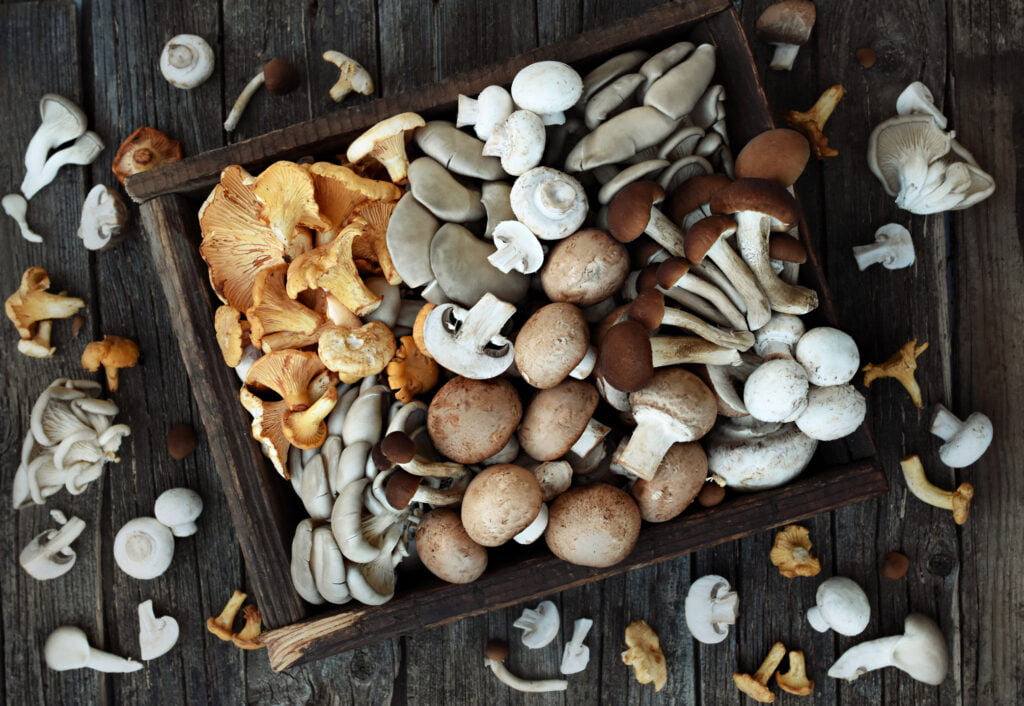 ---
What Are Mushrooms?
Mushrooms don't classify as animal or plant food, they are spore-bearingfungis with a fruity and fleshy body. They don't reproduce from seeds, instead, they have spores that travel with the wind (or any other possible way) then, land in a suitable place to grow, such as soil or wood; and magic happens.
---
Why Mushrooms?
Mushrooms are so popular because they perfectly fit into anybody's diet. If you are vegetarian, mushrooms got your back with their meaty texture. If you are not vegan, you will also enjoy every bite of it. Trust me, they are delectable.
For the ones who are counting calories, mushrooms are good news, also they are low in fat, sodium, and free from cholesterol. Packed with minerals, vitamins, and fiber.
---
Freshly Harvest Mushrooms
---
Mushrooms "Friends"
Yes! Mushrooms got it going on, they can brighten up almost any recipe you want. It's like the secret ingredient that will boost just about any plate. What would be Rotini Crab Stuffed Portabella Mushrooms without the mushrooms?
Don't even get me started about how plain delicious is my Sautéed Mushrooms and Onions recipe. Try the classic Béchamel Pasta Bake (Macarona Béchamel) with different types of mushrooms and indulge yourself.
---
Discover the Different Types of Mushrooms
---
Different Types of Mushrooms
There are more than 10000 different types of mushrooms, but here we will talk about the most common ones. To be more specific, the ones you will find in the supermarket or grocery stores.
---
Button Mushrooms
---
Crimini Mushrooms
Crimini Mushrooms, or Baby Bellas, are like an older version of Button Mushrooms, and because they are more mature, their color is brown, and their texture is firmer. They do fine with liquids, so it's common to find them in stews and soups like Creamy Broccoli & Mushroom Soup without losing their texture.
These mushrooms are excellent with pastas with Dairy-Free & Vegan Alfredo Sauce, risottos, omelets, and salads.
---
Baby Bellas Mushrooms
---
Portabello Mushrooms
The oldest version of Button Mushrooms is the best meat substitute for its beefy texture. It used to be imported just from Italy, but now they grow all around the country. Portabello Mushrooms are large and are a perfect match for almost everything, from strudels, sauces, pizzas, and risottos.
---
Maitake Mushroom
Maitake means "dancing mushroom" in Japanese. Also known as Hen of the Woods, because of its unique appearance that looks like a hen's tail and feathers. It has a special and distinctive woody flavor. It grows in Japan, China, and North America. Because of their texture, they are good when fried, with olive oil or sesame oil, however, they are incredible in stir-fries and soups.
---
Sautee Mushrooms with Onions
---
Hedgehog Mushroom
Hedgehog mushrooms, also known as sweet tooth, are large and fleshy. It's famous for its earthy, and sweet flavor and slightly spicy at the end. Their texture is firm and crunchy. It's one of the most decadent types of mushrooms and it can be cooked with soups, pastas, or just Sautee with butter and garlic.
---
Shiitake Mushroom
Shiitake Mushroom is the second most popular mushroom around. They come from East Asia and their dark brown caps grow around 2 to 4 inches. Known for their rich, smoky, and buttery flavor and aroma. They are a delicious side dish and toppers to your steak, burgers, or mashed potatoes.
---
Oyster Mushroom
Oyster mushroom, or Pearl Oyster mushroom is popular in Korean, Chinese, and Japanese dishes like soups and stir-fries.
They are loved for their delicate texture, odor, and mild flavor. They carry white or gray caps.
---
Enoki Mushrooms
Enoki mushrooms, or golden needle mushrooms, are popular in Japanese and Chinese cuisine.
They have a long and thin distinctive shape, with white, small, and crunchy caps. Their taste is nutty and fruity. Perfect for noodles, hot pots, omelets, rice, and sushi.
---
Beech Mushrooms
Beech Mushroom or Shimeji mushrooms come from East Asia and are tricky. Cooked they have a sweet taste, but raw they are bitter. So, it depends on your preferences. They are famous in hot pots, stir-fries, soups, and stews.
---
A Healthy Feast
---
King Trumpet Mushroom
King Trumpet Mushrooms or King oyster mushrooms come all the way from the Mediterranean and are the perfect substitute for meat and seafood due to their chewy texture, however, they are the perfect marriage for tempura, meatloaf's, casseroles, and pastas.
---
Chanterelle Mushroom
Chanterelle Mushroom is the leader of wild mushrooms. They are not easy to cultivate. With their beautiful golden color, they carry a meaty and firm texture, an incredible apricot fragrance, and a sweet savor.
They can be found in recipes like sauces, scrambled eggs, and soups.
---
Tips and Tricks for Cooking Mushrooms
Allow your mushrooms to cook properly, but don't overcook them either. Excess or lack of liquid will change the flavors.
Don't wash the mushrooms after you cut them. This will cause them to be soggy.
After washing the mushrooms dry them for an hour.
Always cook your mushrooms on medium heat.
Salt the mushrooms when they are almost cooked. If you salt them before their texture will change.
---
Frequently Asked Questions
How can I store mushrooms?
The best way to store mushrooms is to remove them from their container, wrap them in a paper towel, and place them in an open paper bag in the fridge.
For how long can I store fresh mushrooms in the fridge?
You can store fresh mushrooms in the fridge for up to 7 days.
How long can I store cooked mushrooms?
You can store cooked mushrooms in the refrigerator in an airtight container up to 3 to 5 days.
How do I know when mushrooms go bad?
When mushrooms go bad they are too soft, moldy, sticky, or have an unpleasant smell.
---
OTHER USEFUL BLOGS YOU MUST READ
---