Here is my all-time favorite salad dressing! The perfect savory dressing drizzled over crisp romaine lettuce, sharp and nutty Parmesan cheese, and crunchy croutons!! I used to just buy a bottle of dressing to make Caesar salad at home, but no longer.
---
A Dressing that Hits the Spot!
---
When it comes to Caesar salad, I like my dressing to be a bit tangy and extra creamy. This simple recipe gets high marks every time.
Though most people buy Caesar salad dressing in a bottle, making your own is incredibly simple and tastes much better than the store-bought version. There are many variations, but my entire family prefers this rich and creamy version.
Unlike traditional Caesar dressings, which are made with olive oil and thickened with raw eggs, this one is made with mayonnaise, so you don't have to worry if you're allergic to raw eggs. My daughters adore this dressing so much!
---
Caesar Salad Dressing Ingredients
To make this Caesar dressing, simply combine the following ingredients:
Mayonnaise: Some Caesar dressing recipes call for oil and egg yolk, which become mayonnaise. We're going to start simple and use store-bought mayonnaise. These days, you can find a variety of mayonnaise options at well-stocked grocery stores.
Garlic: Only one clove of garlic is required. You can use a garlic press or finely mince the garlic by hand.
Lemon Juice: Because lemon juice is one of several tangy ingredients in this dressing, only a couple of teaspoons are required.
Dijon Mustard: Adding Dijon mustard is essential when making Caesar salad sauce. It's probably not noticeable in the finished product, but it makes a big difference.
Worcestershire Sauce: A small amount of Worcestershire sauce completes the flavor of this Caesar dressing! Worcestershire sauce adds a rich umami flavor to this dressing, making it taste complex and irresistible.
Parmesan Cheese: Parmesan adds a salty, umami flavor and a rich, cheesy texture to the mix. The best cheese for this dish is finely grated Parmesan.
Water, salt, and pepper: We won't add much salt because several of the ingredients in this recipe are already salty. We will, however, season this dressing to taste with black pepper. Finally, we'll thin the dressing with a tablespoon of water until it's drizzly.
---
Try It with Shrimp Caesar Salad
---
Frequently Asked Questions (FAQs):
What's the difference between Caesar salad dressing and ranch dressing?
Ranch dressing is light and herbaceous, whereas Caesar dressing is zesty and strong. This is due to the milder ingredients in ranch dressing, such as mayonnaise, parsley, and dill.
What do you eat Caesar dressing with?
Because of the creamy richness of Caesar dressing, it is ideal for crunchy romaine, and other crunchy greens like cabbage and kale will also withstand it without wilting. And, yes, you can serve a scoop of Caesar slaw alongside (or on top of) almost any sandwich.
What should Caesar dressing taste like?
Its flavor is a combination of garlicky, smoky, salty, and lemony. Caesar Cardini, a hotel chef, invented the original Caesar 70 years ago, using romaine because it was sturdy enough for finger food.
---
Caesar Salad Dressing Ingredients
mayonnaise
garlic clove
lemon juice
Dijon Mustard
Worcestershire sauce
ground pepper
salt
parmesan cheese/ grated
water
(Scroll down for recipe details.)
---
A Bold, Classic Salad Dressing
---
Some Salad Recipes You Must Try:
---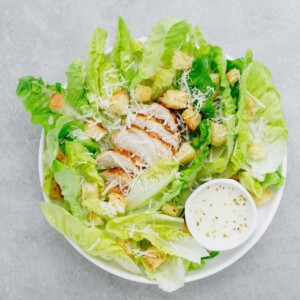 Homemade Caesar salad Dressing
Here is the best homemade Caesar salad dressing to drizzle over crisp romaine lettuce, sharp and nutty Parmesan cheese, and crunchy croutons!
Ingredients
¾ cup mayonnaise
2 small garlic cloves minced
2 tablespoons lemon juice
1 teaspoon Dijon Mustard
½ teaspoon Worcestershire sauce
ground pepper to taste
⅛ teaspoon salt to taste
⅓ cup grated parmesan cheese
1 tablespoon water
Instructions
In a bowl, whisk together the mayonnaise, garlic, lemon juice, Dijon, Worcestershire sauce, and salt until well combined.

Stir in the Parmesan, then the water. Season with freshly ground black pepper to taste.
Notes
You can add more Worcestershire sauce for a more bold dressing or some lemon juice for a more zippy dressing.
Nutrition
Calories: 162kcalCarbohydrates: 1gProtein: 1gFat: 17gSaturated Fat: 3gPolyunsaturated Fat: 9gMonounsaturated Fat: 4gTrans Fat: 0.04gCholesterol: 12mgSodium: 254mgPotassium: 20mgFiber: 0.04gSugar: 0.3gVitamin A: 51IUVitamin C: 2mgCalcium: 40mgIron: 0.1mg