Technology and gadgets have made life so much easier and more relaxing. We all absolutely love to try new and trendy appliances for a better and comfortable lifestyle.
Similarly, there are numerous electronic kitchen appliances with multifunctional abilities that not only enhance your kitchen's interior and style index but also minimize the space and necessity for various cooking appliances.
Over the past decade, countertop appliances have gained enormous hype on social media. The latest debating topic on many social platforms is "Instant Pot vs. Rice Cooker."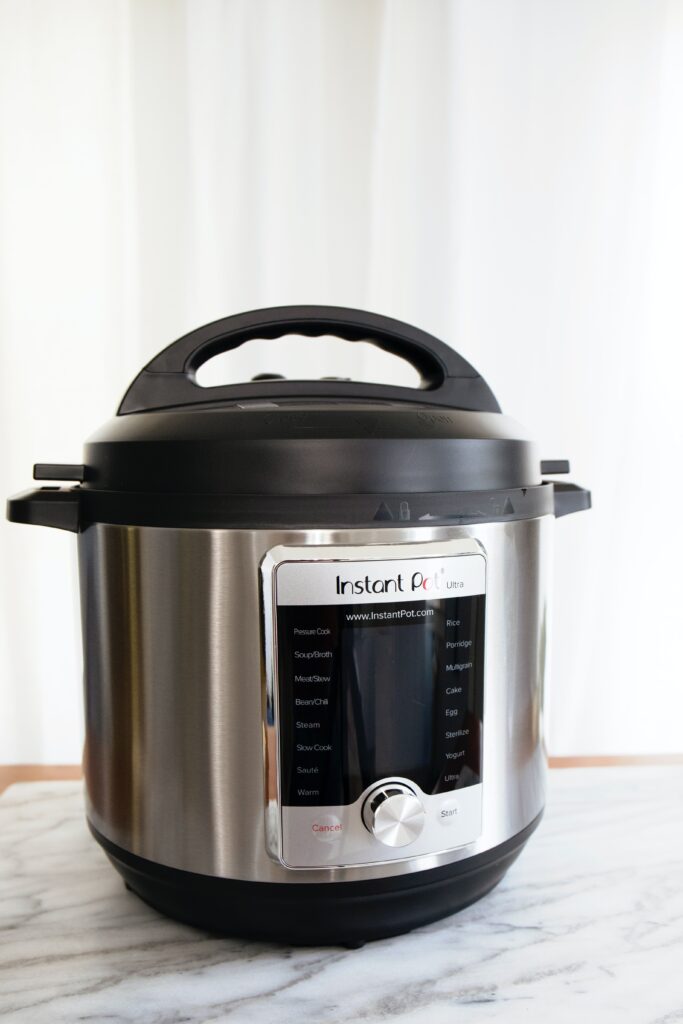 ---
Since rice is a staple food for most of the world's population (over 3.5 billion people), various brands have started to manufacture appliances that can cook rice most efficiently, with minimal effort and better cooking quality.
The instant pots and rice cookers are the top appliances for cooking the most delicious rice meals.
You might still wonder, "what's the difference between both these appliances? After all, they both can cook delicious rice meals." That's where we come to tell you about the diverse functions both these appliances offer and what exactly is different.
In this article, we have listed many comparative points between instant pots and rice cookers. Read along to learn more about these state-of-the-art electronics.
---
---
Instant Pot: An Overview
In the instant pot vs. rice cooker debate, it's important to understand each product. Instant pot is an electronically-controlled multifunctional appliance that works on a combined principle of a pressure cooker and slow cooker.
In addition to its pressure-cooking properties, the instant pot provides a range of cooking functions such as sautéing, slow-cooking, yogurt making, food warming, steaming, and rice cooking.
An instant pot makes your kitchen life so much easier as it does not require you to stand beside or keep an eye on it, while you're cooking. You just have to place the ingredients in the food basket, select cooking presets, customize as you like, and forget about it.
The best part is that it never fails to impress your taste buds and calm your cravings.
---
---
Instant Pot Features
Here are some features of an instant pot:
It replaces many kitchen appliances by offering you a multitude of cooking options.
It is available in a wide range of models for different cooking needs of diverse cuisines. You can choose the instant pot that fits your budget and requirements.
It cooks very efficiently. Moreover, it takes very little time to cook most recipes, so you'll be saving a lot of money with an instant pot at home.
It requires less seasoning, as you enjoy a perfectly sealed lid that does not let steam outside the inner pot.
---
Among the variety of functions, instant pots offer you a cooking preset for your rice meals. To cook rice, you can simply rinse and place rice in the inner pot, apply the settings, and wait. That is it.
Note: The rice-to-water ratio for brown rice and white rice is different; 1:1 for white rice and 1:1½ for brown rice. Ensure keeping this in mind to avoid any confusion.
---
---
Rice Cooker: An Overview
So, in the instant pot vs. rice cooker debate, let's take a closer look at the rice cooker. A rice cooker is an exclusive and automated rice cooking appliance that functions as a food steamer. It is fundamentally designed for cooking different varieties and dishes of rice. However, many brands are trying to launch multipurpose rice cookers, which may step the game up.
In any case, you can efficiently cook white rice, brown rice, wild rice, and any other rice meals in a rice cooker. It is very safe to use, budget-friendly and cooks delicious rice meals.
---
Rice Cooker Features
Perfect for rice lovers, here are some features of rice cookers:
It comes with a modern heating technology that allows your rice cooker to ensure that every grain cooks perfectly, every single time.
It comes in four sizes, so big families can also enjoy the appliance. The largest variant of rice cookers can make up to 14 cups of rice!
You can easily clean a rice cooker, as it comes with a non-stick cooking pot. The non-sticky pot also allows you to cook fried dishes.
It comes with insulated handles, which ensure your safety. You can freely move your hands around the cooker without any fear of getting burnt.
Rice cookers have everything that a rice lover would need. You can easily prepare a range of rice recipes at home with minimal effort.
Although rice cookers are primarily designed to cook rice meals, new models offer the option to cook scrambled eggs, stir-fried veggies, noodles, and many interesting dishes.
---
Instant Pot vs. Rice Cooker
The key differences between both the appliances are as follows:
---
---
Function
Instant pot is a multifunctional pressure cooker that can warm food, cook rice, steam, sauté, slow cook, make yogurt, broil chicken, and cook several vegetables. In addition to that, it can cook rice, cereals, pulses, and various dishes like soup, broth, curry, etc.
On the other hand, a rice cooker is an electronic steamer that is used for cooking rice.
---
Settings
Instant pot provides automatic rice cooking settings with a dedicated button. In most instant pots, this preset is used for cooking long-grained white rice, specifically.
To cook other rice recipes, you will have to select the standard pressure cooking function and adjust the temperature accordingly. It may take a little practice to master the functions of an instant pot.
Contrary to that, rice cookers provide dedicated selections for different rice recipes and have a much easier customization interface. All you need to do is select the variety of rice grain, and it will adjust everything automatically.
---
Cooking Duration Instant Pot vs. Rice Cooker
Instant pot cooks food by generating and maintaining pressure, which significantly reduces the cooking time for rice meals. It also uses less water because of its perfect pressure mechanism.
Compared to instant pots, rice cookers take more time to cook rice—as it doesn't maintain pressure and cooks with the mechanism of boiling and steaming. This is why rice cookers require twice as much water to cook rice.
---
Varieties
An instant pot vs. rice cooker may offer many cooking functions and have several add-on programs. These functions may vary depending on the brand and product range. You can cook non-veg meals, vegetables, cakes, yogurt, pasta, and much more.
Although rice cookers are primarily designed to cook rice meals, the additional cooking programs are only available in the top variants. You can enjoy cooking more simple dishes like noodles, fries, eggs, and stir-fried veggies in these expensive variants.
---
Price Range
The price range for instant pots is much higher than rice cookers. Depending on the features, size, and brands, an instant pot may cost anywhere from $65 to $200.
On the other hand, you can get a great rice cooker for only $20 to $70.
---
---
Frequently Asked Questions:
What else can be cooked in a rice cooker?
While a rice cooker is designed to cook rice, it is basically a steamer. This means that you can use it to steam vegetables and even certain types and cuts of meat. You can also cook other grains, such as barley and oats in a rice cooker. Some would even use it to cook pasta. However, as this appliance was made to cook rice, other types of food aren't guaranteed to taste as great when cooked in it.

What features to look for in an instant pot and a rice cooker?
Instant pots come with many functions and can substitute a slew of other kitchen appliances. Instant cookers are basically pressure cookers that give you the option to use high or low pressure. But that's not all they can do. Depending on the model you choose, your instant pot might double as a slow-cooker, rice-porridge cooker, cake maker, yogurt maker, steamer, warmer, sterilizer, air fryer, attitude adjuster, and an electric skillet that allows you to saute your food.

When you want to get a rice cooker, the first thing you should make sure of is the cooker's capacity. Its size should be suitable for your family's needs. Second, a good rice cooker would have a non-stick inner pot which makes it easier to clean. Some of the most sought-after features in a rice cooker are the keep warm/delay features, digital controls and fuzzy logic, reheat cycle, texture settings to adjust for different kinds of rice, and the ability to cook other grains. You should also look for rice cookers with dishwasher-safe parts to make the cleaning process more convenient.

Is it easy to clean instant pots and rice cookers?
When it comes to these appliances, you need to keep in mind that thorough cleaning after each use will keep them in good shape for a long time. The process of cleaning an instant pot is an easy one. Simply wash the liner and lid with warm soapy water. The sealing ring tends to trap odors. To make sure that yours is odor-free, add vinegar or lemon juice and some water to your pot and run the steam function. Cleaning a rice cooker is just as simple. All you need to do is to soak the inner pot (or detachable lid) in warm soapy water for around 30 minutes. Then, gently wash it with a soft sponge to remove any stuck rice. After that, you rinse and dry it. If the lid isn't detachable, simply wipe it with a soapy rag.
Which one should I get? Which one is the better investment?
Now that is the million dollars question, but the answer depends on your preferences. Are you someone who cooks rice more than two times per week? If your answer is yes, then a rice cooker that will guarantee perfectly cooked rice every time is for you. On the other hand, if you're a big fan of stews, soups, and chilis and often go for them, then an instant pot would be a better investment. In general, an instant pot is significantly more expensive than an average rice cooker, but it has more functions and can easily replace other kitchen appliances.
---
---
Which Will You Invest In?
Instead of following the social media trends and giving in to peer pressure, you must choose according to your requirements and preferences. Whether you require an instant pot or a rice cooker, the choice must be yours.
An instant pot has numerous functions and can easily replace most kitchen appliances like a steamer, food warmer, pressure cooker, etc. If you need a multipurpose kitchen appliance that can efficiently supply your household needs, buy an instant pot.
However, a rice cooker is an exclusive appliance for cooking different rice meals. So if you enjoy rice a lot and love trying new rice recipes, you should buy a rice cooker!
I hope this article helped you finalize your decision and choose between instant pot vs. rice cooker. Please let us know more of your food-related queries in the comment section below; we'd love to help!
---
Try My Instant Pot Recipes
---
Other Must-See Posts
---