We all love a refreshing juice, especially in the sweltering summer months. But what if I told you there was a deliciously invigorating juice that held benefits beyond your imagination?
At the risk of exaggerating how fortifying this juice is, Skin Glow Raw Juice is full of flavor and perks for your body! This tasty revitalizing juice made with four simple ingredients: sweet potatoes, green apples, mandarins, and lemon.
---
---
A rejuvenating drink that's easy to make. You can make it in the evening and drink it before you leave to work in the morning. Make it fresh and drink it on the spot or put it in your favorite bottle and drink it at work!
Wherever or however you choose to drink this, you will be helping keep your skin firm and radiant! Each of the ingredients is rich in vitamin C which is one of the most popular vitamins for youthful skin.
All the ingredients are also packed with antioxidants which create that healthy glow in your skin.
---
Why the
Sweet Potato

You Ask?

You might be questioning the use of the sweet potato in this juice. For starters, the sweet potato helps with the sweet flavor, which is essential for a good-tasting juice. It also helps give it that bright lively color!

But, most importantly, it carries benefits that quite significant in maintaining our health.

I believe that one of the most important benefits of raw sweet potato is the fact that it is so rich in antioxidants. This means it has the ability to help your body protect itself from radical damage which could lead to cancer.

It also helps keep you safe from some chronic diseases. Another great advantage to sweet potato is that it's full of fiber, vitamins, and minerals.

Some of these vitamins and minerals promote good gut health which prevents the growth of unhealthy bacteria. Sweet potatoes are rich in beta-carotene which supports healthy vision and eye-health.

Recently, studies have found that anthocyanins, found in certain sweet potatoes, can help prevent inflammation and enhance memory and learning. This means that it helps enhance brain function!
---
Making and Serving Skin Glow Raw Juice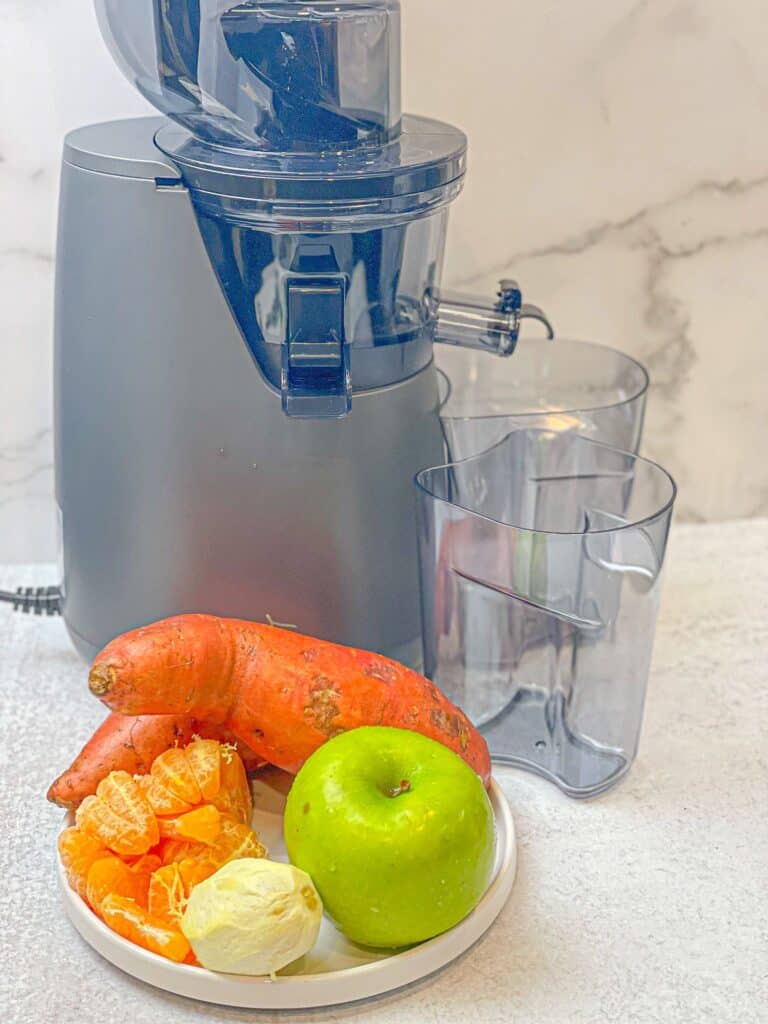 ---
Other Benefits to this Juice
Green Apples:
Great source of fiber and vitamin C
Aid in weight loss because they help you feel fuller with fewer calories than most other fruits
Have been linked to lowering the risk of heart disease
Help in lowering the risk of diabetes
Has pectin, a prebiotic which promotes gut health
Includes vitamin K and other minerals which help prevent or prolong wrinkles, cell damage, and tissue damage
Mandarin:
Packed with so much vitamin C it's known for improving skin health and wound or scar healing
Aids in improving the immune system
Also very rich in antioxidants
Helps reduce risk of kidney stones
Lemon:
Also packed with vitamin C and fiber known to work together to improve heart health
Includes certain compounds that have been linked to weight loss
Improves the absorption of iron into the body
Aids in improving digestive health overall
Check out this hack on storing lemons for a month or more!
---
Tips for Making Skin Glow Raw Juice
If you don't mind the change in color, add a cucumber. Cucumbers have silica which is great for the complexion and are great for hydration because they have high water content.
You can also add carrots for color and sweetness. They also have added benefits for radiant skin and improve vision.
Don't have a juicer? No problem, make them in a high-powered blender. You can strain the pulp as you pour into cups, bottle, or pitcher!
Want less sweet and more of a tang? Add some lime or increase the amount of lemon you use!
Love it sweet? Add a teaspoon of honey to your cup or into the blender if you're blending instead of juicing!
You can add turmeric which will give it a neon glowing color, add flavor, and give it more anti-inflammatory properties!
Looking for a zing or edge of flavor, add some ginger to the juice. Not only will it give it a kick, but can help make you feel better if you have a stomach ache or a cold.
---
Frequently Asked Questions:
How long can I store this in the fridge?
It must be refrigerated right after juicing and lasts about 3 days in a covered pitcher or bottle in the fridge.
Can I substitute other fruits or vegetables?
Sure! Don't want potatoes, go for carrots. Beets are also great for skin glow and add sweetness. You can go green and add spinach or kale as well. It's all about what flavors you enjoy as long as you look for fruits and vegetables rich in vitamin C and antioxidants.
Can I use the pulp for anything?
You can add some of the pulp to your cup for extra added benefits. When you juice, you lose some of the fiber, so, by adding some of the pulp you can retain that fiber. Some people dry out the pulp well and use it as fertilizer for their plants as well.
---
---
Ingredients
sweet potato
green apple
mandarins
lemon
---
Steps to Prep Skin Glow Raw Juice
Wash the sweet potato with skin on. Then chop up to fit into your juicer.
Peel the mandarins and lemon and juice them.
Cut your green apple if needed, and juice it as well.
Serve chilled and enjoy!
---
---
Some Other Great Recipes to Check Out
---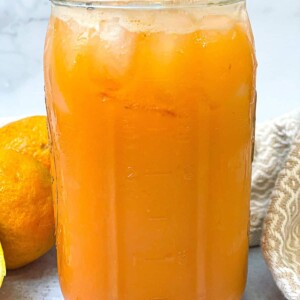 Skin Glow Raw Juice
An all-natural juice made from vegetables and fruits that will leave your skin glowing!
Ingredients
1

medium

sweet potato

1

green apple

4

mandarins

½

lemon
Instructions
Wash the sweet potato with skin on. Then chop up to fit into your juicer.

Peel the mandarins and lemon and juice them.

Cut your green apple if needed, and juice it as well.
Notes
Juicing a day before is perfect so you can enjoy the next morning! This will save you time and give you a head start in the morning! Place in an air tight glass jar in the refrigerator.
Like this recipe? Rate and comment below!