---
---
These creamy cheesy Cajun chicken potato boats were the absolute bomb! I knew I wanted to make something with potato boats and chicken but had no idea what. This recipe came together as I was coring my potatoes and nothing is more fulfilling then when a created recipe turns out so good. If you want a hearty meal, you have got to make this one 🙌🏻
It's quite amazing when a recipe idea pops into your mind, becomes a full-fledged plan, and you get the desired result. Working with potato recipes is fun because potatoes can be transformational in many dishes as is chicken. Those are two ingredients that can be adapted to fulfill so many different desired flavors or cravings.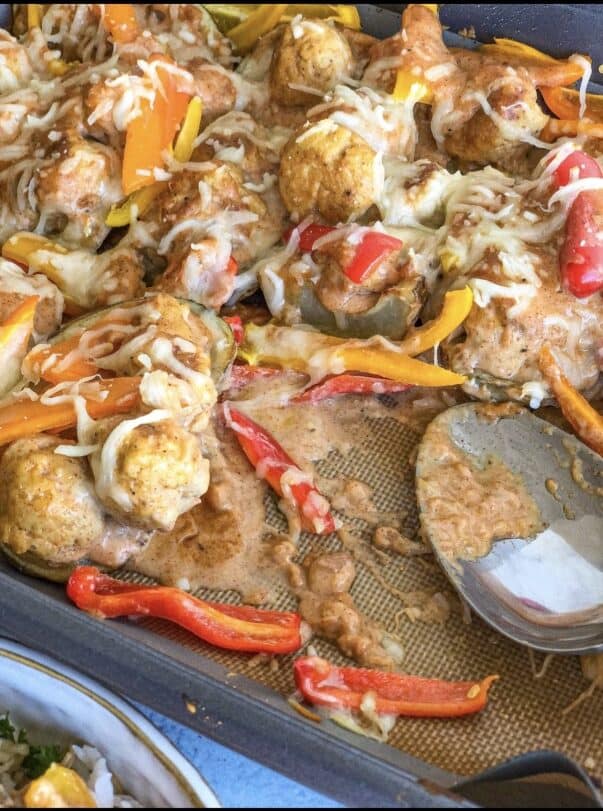 For Cheesy Cajun Chicken Potato Boats you will need:
1 lb. chicken breast, cubed
8 Idaho potatoes
olive oil extra virgin
cup bread crumbs
egg
Cajun seasoning
garlic powder
grated parmesan
salt
Cajun Sauce
5 cups milk whole or 2%
3 tablespoons onions, chopped or dried
1 teaspoon paprika
a tablespoon garlic powder
3 tablespoons all purpose flour
1 bouillon cube
salt and pepper to taste
Toppings
1 cup mozzarella cheese shredded
1 cup mixed peppers, julienne
This sauce works so well with this dish and is actually a great sauce to add to any dry chicken dish. Save the recipe and you can refer back to it for the sauce or the entire recipe.
What's special about this dish?
the sauce is creamy and adds all the wonderful flavor into the dish
the ground chicken is perfect in keeping with the lightness of this recipe
adding the bread crumbs and searing the chicken balls give a little crunch and added texture to the creaminess
of course, the added cheese takes this dish to a whole new level
the peppers add a wonderful stark fruity flavor that add a balance with the Cajun sauce
Tips:
You can serve the potato boats over warm rice, either plain or with vermicelli
You can also serve over warm quinoa
Or serve with a side of cooked bulgur with sautéed onions
You can turn the dish into a gratin by adding a thick layer of cheese and broiling a little extra
Make some extra creamy sauce, heat, and pour over the dish right before serving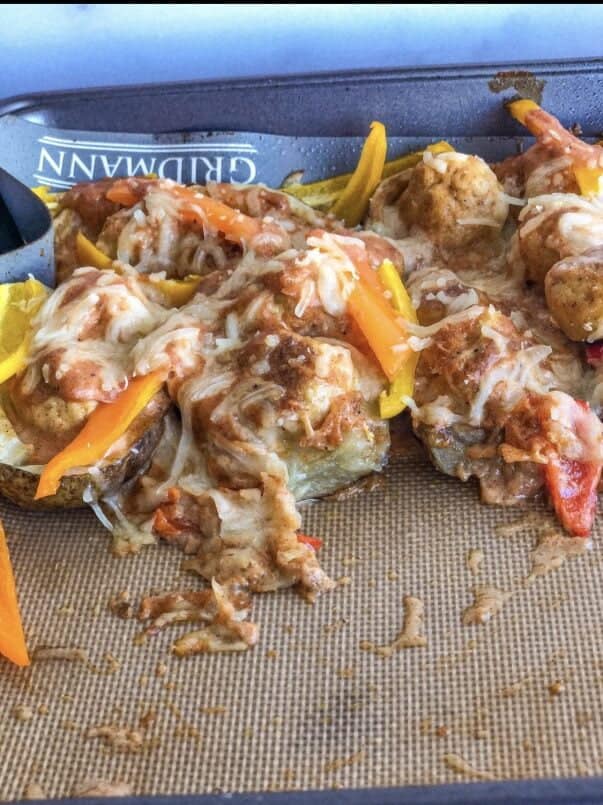 Try out these recipes for yummy desserts after this dish: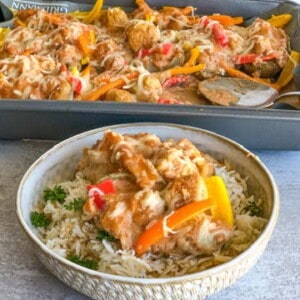 Cheesy Cajun Chicken Potato Boats
A dreamy, cheesy, creamy hearty dish that will warm your soul and satisfy your tummy.
Ingredients
1

lb

chicken breast,

cubed

8

Idaho potatoes

6

tablespoons

olive oil,

extra virgin

¼

cup

bread crumbs

1

egg

1 ½

tablespoons

Cajun seasoning

1

tablespoon

garlic powder

¼

cup

grated parmesan

½

tablespoon

salt
Cajun Sauce
5

cups

milk

,

whole or 2%

3

tablespoons

onions

,

chopped or dried

1

teaspoon

paprika

1

tablespoon

garlic powder

3

tablespoons

all purpose flour

1

bouillon cube

salt and pepper to taste
Toppings
1

cup

mozzarella cheese

,

shredded

1

cup

mixed peppers

,

julienne
Instructions
Cajun Sauce Directions
In a bowl, whisk all ingredients except the bouillon cube
Directions
Wash the potatoes and be sure to rub them clean then pat dry. Do not peel the skin.

Cut the potato in half horizontally from the top. Using a small fruit corer, core the center flesh of the halved potato out to create a boat.

Place the cored potato halves (potato boats) on a prepared and baking sheet sprayed with cooking oil.

Generously pray the potato boats with cooking oil spray. Bake for 35 minutes.

Cut chicken breast into large cubes then add them to a Vitamix blender or food processor. Then add the egg, bread crumbs, 3 tablespoons olive oil, Cajun, garlic powder, parmesan, salt and pepper and blend well until ground and well incorporated.

Form 1/2 inch balls, add 3 tablespoons olive oil to a large skilled on high heat. Add the chicken balls, sear for 7 minutes or until cooked, flipping once half way.

Now add in the bouillon cube and the 'sauce mixture' you whisked in a bowl (read under sauce ingredients) to the skillet. Allow sauce to come to boil, sauce will thicken, turn heat off.

To the baked potato boats add 1/2 cup of mozzarella cheese. Then, add about 2-3 balls per potato and pour the sauce over them. Add the raw mixed chopped peppers all over the stuffed potatoes

Sprinkle he remaining half a cup mozzarella cheese all over the potatoes as the final layer. Bake for 5-6 minutes until cheese melts. Enjoy over warm rice or quinoa.
Notes
Like this recipe? Rate and comment below!