Take your salad game to a whole new level with this Worthy Watermelon Burrata Salad. It's a delicious blend of savory burrata cheese, sweet and juicy watermelon, and peppery arugula.
All dressed with a balsamic reduction that ties all the flavors together. It is a very brave combination, but nevertheless tasty, super light, juicy, fresh and very satisfying!
---
One of my absolute FAVORITE salads!
---
This burrata salad is super easy to jazz up, comes together in five minutes, and will impress your guests with its festive colors and hearty ingredients!

It's great as a side, or you can serve it with grilled fish, chicken, or lamb to turn it into a full meal.
---
Cheese

filled with creamy cheese? That's

Burrata

!
For those of you who haven't yet discovered the wonder that is burrata, it's the most sensational treat. It's a fresh Italian cheese made from cow's milk that comes in ball form.

Each ball is a pouch of mozzarella filled with stringy curd (called stracciatella) and cream. If you slice into it with a knife, the gooey center pours out.
Also, the blend of contrasting textures is heavenly and hard to resist. You can find burrata in specialty cheese shops or most grocery stores.
---
It marries deliciously with most vegetables and many fruits! Furthermore, it makes for a beautiful addition to a cheese tray or charcuterie board!
---
Burrata + Watermelon = The Perfect Match
---
For the Watermelon Burrata Salad You Will

Need

:
Burrata: You can find burrata in most large grocery stores or specialty food stores. It has gotten very popular in recent years.
Watermelon: If available, you can use a seedless watermelon. If not, you must remove the seeds before cutting. The sweeter and fresher the watermelon, the better this salad will taste.
Arugula: Arugula is a superfood. You can rely on to lift up your everyday meals to the next level. It has a mild peppery bite, and is almost spicy in flavor. Moreover, arugula has different names such as "rocket" or "Italian cress". Also, arugula is packed with nutrients and fiber, and has numerous health benefits. In this salad, you can use either standard or baby arugula. I prefer baby arugula for its texture and milder flavor.
Balsamic reduction: Balsamic reduction (also known as balsamic glaze) is my "go-to" daily dressing. It is so easy to make in your very own kitchen. Balsamic vinegar cooks down and turns into a much-loved condiment to drizzle over anything. From salad, chicken, fish, pasta, vegetables, steak, and fruit — the options are endless!
---
How to
Combine

the Ingredients for Watermelon Burrata Salad: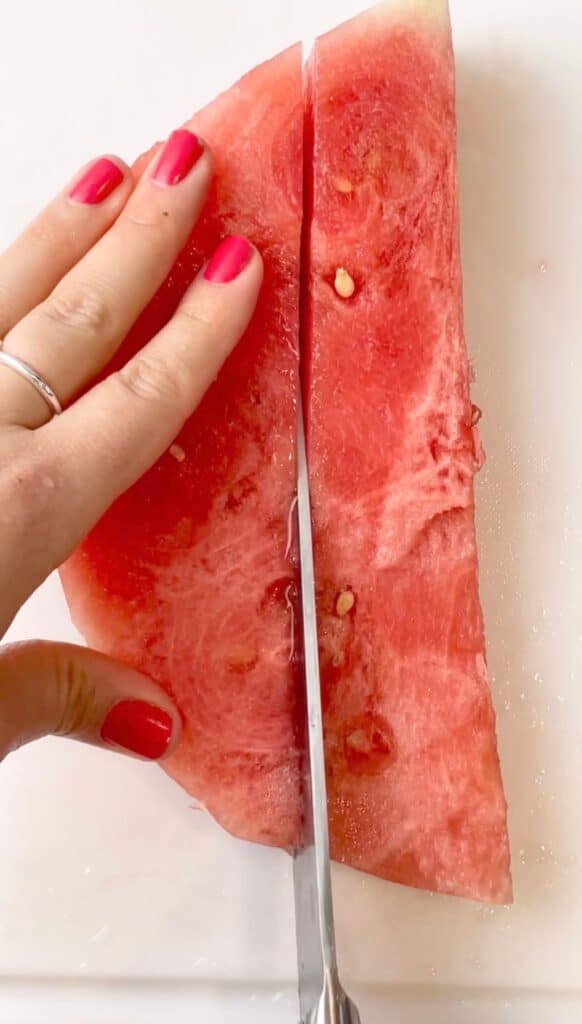 ---
Want to
Make Your Own

Balsamic Reduction?

It is very easy to make balsamic reduction. Simply follow the steps below:
Just add one cup of balsamic vinegar to a small pot.
Bring that to a boil, then reduce heat to medium-low heat and let simmer, stirring occasionally, until the vinegar thickens and is reduced to about 1/2 cup (about 20 minutes). The glaze should be thick enough to coat the back of a spoon.
You can use it immediately or store in a dressing bottle in the fridge.
Notes:
The glaze will thicken slightly as it cools.
You can add brown sugar, honey, or maple syrup before boiling to add a hint of flavor.
---
Burrata is Definitely the Main Event of this Light Summer Salad!
---
Frequently Asked Questions:
What's the difference between Mozzarella Cheese and Burrata?
Fresh mozzarella cheese is a soft Italian cheese made from cow or water buffalo milk while Burrata cheese is mozzarella that's formed into a pouch and then filled with soft curd (called stracciatella) and cream.
What is inside Burrata?
The inside of burrata cheese is made of stracciatella (shreds of fresh cheese) and cream.
Can I eat the Burrata skin?
Of course! The "skin" of burrata cheese is mozzarella, delicious, and safe to eat!
Should Burrata be served at room temperature?
You can serve burrata cold or at room temperature! It all depends on your own personal preferences!
How do you serve Burrata?
You can cut the burrata into fourths for easy serving! Serve this burrata salad with grilled chicken, pasta dishes, etc.
What other greens can I use instead of arugula?
You can substitute arugula with one of its cousins: dandelion green, spinach, or kale.
---
PIN IT!
---
Tips

and

Substitutions

for the Best Watermelon Burrata Salad
Instead of the balsamic reduction, dress the salad with vinaigrette or pesto instead. Better yet, choose your own favorite dressing if that makes you feel better!
Substitute peaches or strawberries for the watermelon. Don't like melon? No problem! This recipe would be delicious with peaches or cantaloupe instead. Juicy peaches give a sweet contrast to creamy burrata and peppery arugula.
You can add more or less watermelon depending on your preference! If you're up for a pop of sweetness, you can mix other fruits together with the watermelon.
If you can't find burrata, use fresh mozzarella packed in water instead.
Not interested in fruits with this salad? Pair the burrata and arugula with tomatoes and cucumbers. You can even sprinkle some shredded carrots on top!
---
A Delectable Salad for Any Occasion!
---
Ingredients for Worthy Watermelon Burrata Salad
Watermelon/ cubed
Arugula/ sliced
Burrata Cheese
Balsamic Reduction
---
How to Make Burrata Salad
Cut the watermelon into roughly 1-inch (2 cm) cubes.
Unwrap the ball of burrata cheese tenderly.
Arrange watermelons over a bed of arugula.
Set a ball of fresh burrata in the center.
Drizzle balsamic reduction in a zigzag motion over the whole salad and enjoy!
---
Other Enjoyable Recipes to Try
---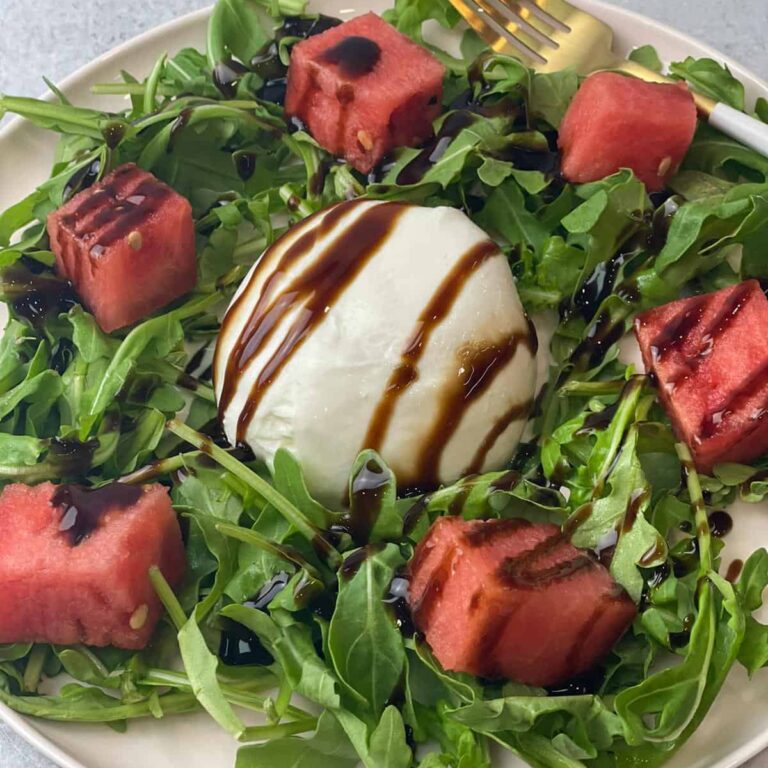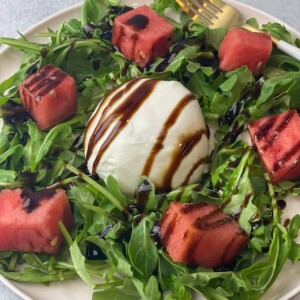 Worthy Watermelon Burrata Salad
A light summer salad that combines tangy, sweet, and savory all in one!
Ingredients
1

cup

Watermelon

,

cubed

4

cups

Fresh Arugula

,

sliced

1

Burrata cheese ball
Instructions
Remove the burrata cheese from the container or drain the water it was sitting in.

Place 4 cups of pre-washed arugula on the serving dish, leaving room in the center to place the burrata cheese.

Place cubes watermelon on the arugula greens.

Drizzle balsamic reduction in a zigzag motion over the whole salad and enjoy!
Notes and Tips:
If you want to make this salad ahead of time, the best way is to pre-cut the watermelon and arugula and store them in separate containers.

Burrata is best served as-is (not baked or melted) at room temperature, because when it's sliced open, the creamy curd spills out into the salad.

You can store this burrata salad in the fridge before adding the dressing.
Like this recipe? Rate and comment below!