Simple, classic Pasta Dishes are always a crowd pleaser and are naturally low in cost. Furthermore, with so many specialty diet-friendly pastas available today, pasta is more versatile than ever.
Here you'll find meaty pastas, lasagnas, chicken pastas, seafood pastas, vegetarian pastas, pasta bakes, pasta salads, and much more! Furthermore, these delectable recipes are easy, and most of them are quite quick, making them ideal for a quick weeknight dinner that the entire family will enjoy.
---
Here Are the Easiest Pasta Dishes You Must Try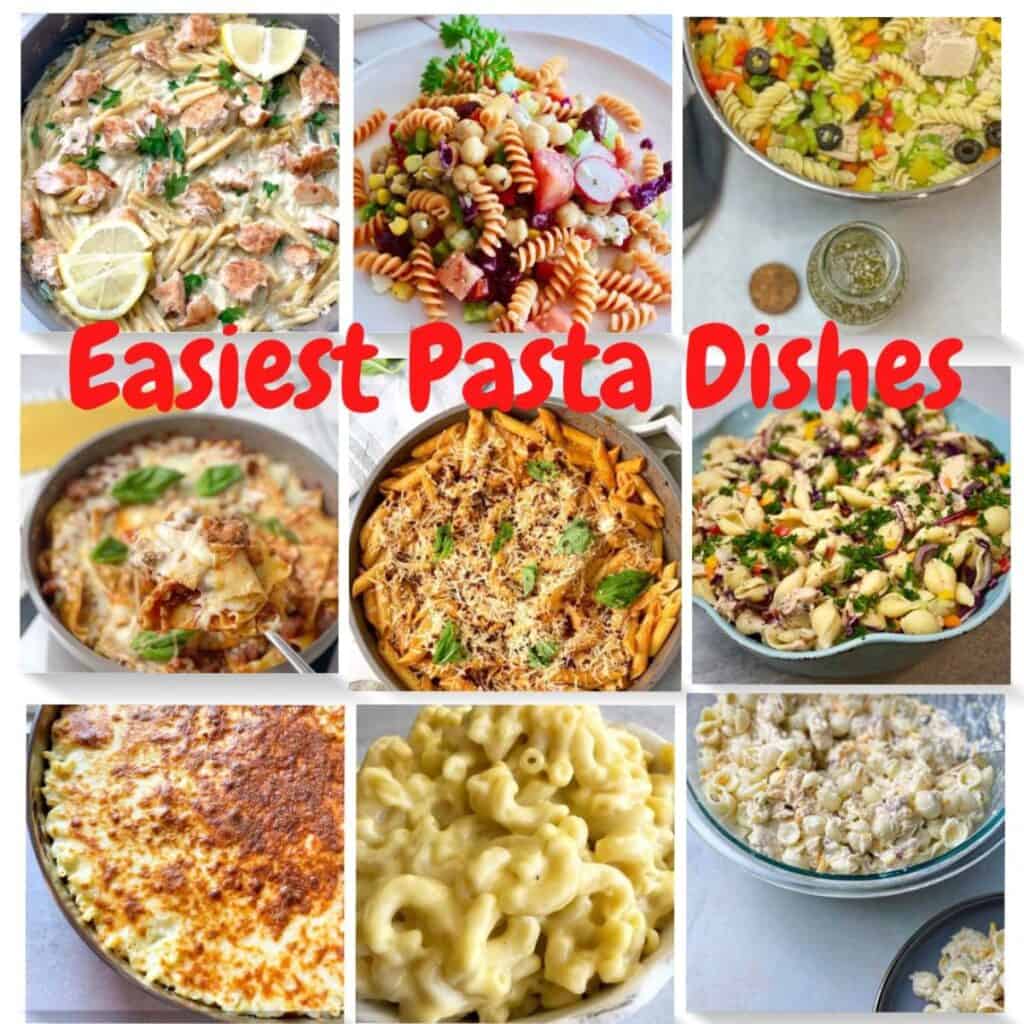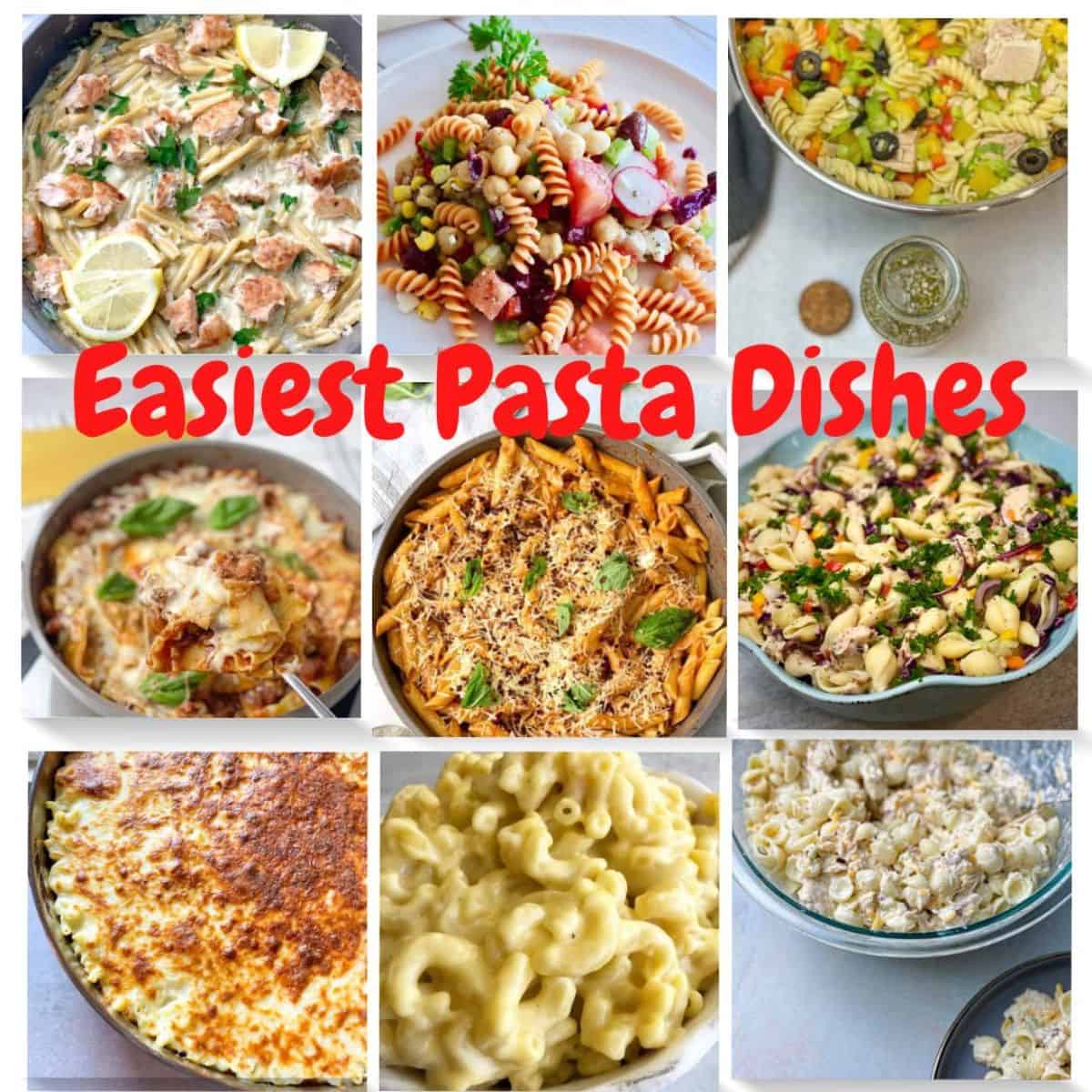 ---
Pasta recipes are among the most versatile dishes available. Are you planning a romantic dinner for two? You'll find a pasta recipe for that. Do you need a quick and easy dinner? There's a pasta recipe for that too. Serving a large group? Don't worry. We've got you covered.
Below are the easiest pasta recipes that we've made and enjoyed on a variety of occasions, including family gatherings, and times when I'm at a loss for what to cook for dinner. Those nights have frequently resulted in the best pasta dinners we've ever had.
It turns out that simple ingredients like olive oil, fresh herbs, and a a sprinkle of cheese are all that is required to create pasta recipes that are worth making again and again.
---
Vegetarian Pasta?
When it comes to vegetarian meals, it's difficult to find anything more satisfying than pasta! There are meatless pasta ideas for every occasion and preference.
---
Let's Start with Our Favorite
Gigi Hadid's Pasta Recipe is addictive for all the right reasons: it's flavorful and cheesy with just a hint of spice.
---
Another Family Favorite
This is the BEST Macaroni and Cheese Recipe you'll ever make! You can have a bowl of this creamy, rich, and cheese-coated plate of noodles in 15 minutes, and your heart will be full!
---
The Colors Speak!
Picture this! Tossed with pasta, feta cheese, and a homemade lemony garlic dressing, this salad features ripe, juicy tomatoes, crisp peppers, cucumbers, and olives. You can even add your preferred protein for a complete meal!
---
An Addictive Pasta Recipe
Spread the word to all pasta fanatics, because I come bearing an effortless and bold spaghetti recipe. This Lemon Parmesan Spaghetti recipe is the enticing definition of the saying "less is more," vibrant with all the savory flavors.
Not only it is sensationally easy to make, but it also yields an impressive addition to your dinner table! My flavorful Lemon Parmesan Spaghetti is a new picturesque dream dish, perfect for a hot summer day!
---
---
The Easiest Pasta Recipe
Did you know this pasta takes 60 seconds to prep? Simply microwave the packet for 1 minute, and this Mediterranean Ready Pasta dish will be ready to eat in NO TIME!
---
Healthy Tuna Salads
Everyone should have a good healthy tuna salad recipe on hand. Tuna salad is a quick and easy meal to make for your child's school lunch or to pack for your workday.
The main ingredient is inexpensive and available in a can; simply combine it with any number of diced vegetables and mayonnaise or another condiment of your choice.
Use the finished product to make sandwiches or as a dip for crackers or pita wedges. There is no doubt that preparing tuna salad can be quick and easy, especially if your tuna salad recipe calls for only basic ingredients.
---
A Salad You'll Be Making All Year Round
The macaroni salad with tuna is so flexible that you can pair it with a wide number of dishes. Its delicious flavor makes it work well with your favorite barbecue recipes and grilled meat, burgers, or hot dogs, as well as potato chips.
---
You need a chilled bowl of this Italian Seasoned Tuna Pasta Salad in your life! You have your perfectly cooked elbow noodles, chunky white albacore tuna, and the crunchiest veggies soaked with the best blend of Italian seasoning and dressing! Complete dinner in a bowl if you ask me!
---
Beef Pasta?
Pasta is the ideal canvas for incorporating other healthy foods. Beef is an excellent choice for a hearty addition to your pasta dish! Try these beef pasta recipes and you won't regret!
---
Middle Eastern food is, once again, in for the win! This Egyptian-inspired Béchamel Pasta Bake, also known as Macarona Béchamel, is a hearty and creamy pasta casserole that is fighting to win a standing ovation from your guests this evening!
A casserole layered with a well-seasoned beef mixture, baked pasta, and a deliciously creamy Béchamel sauce! Topped with a golden layer of Mozzarella cheese? Simply irresistible!
---
This Pasta and Beef in Yogurt Sauce recipe is a testament to the versatility of pasta. It's a Middle Eastern favorite also called macarona bi laban (ma3karona bi laban). It is easy to make and perfect for when you're craving a cool hearty meal.
---
Lasagna Lovers, Check Out These
If you love meaty, cheesy Lasagna that is packed with flavor in every bite, then you must try these two Lasagna recipes. Homemade lasagna is superior to any restaurant version, and it feeds a crowd for a fraction of the cost of dining out.
---
It Couldn't Be More Delicious!
Looking for a quick meal that indulges your family with tons of flavors? Here it is! Creamy Salmon and Asparagus Pasta is creamy, bright, and luscious. It is also a fancy meal perfect for your special cozy occasion.
---
More Delicious Dishes You Must Try: