They say that road trips are not about where you are going to end up at the finish line. It is not about the pot waiting for you at the end of the rainbow. A memorable road trip is about collecting memories at every turn; it is about the smiles associated with random incidents. A road trip is about the journey, not the destination. And here's a glimpse of my family road trip in Las Vegas and Utah!
We spent the last two years reminiscing the privilege of hugging loved ones, admiring God's creation, and experiencing the warmth of drawn smiles amidst silly situations. And because of that, my family and I decided to finally embark on a journey of our own. Our collection of memories involved a hike in beautiful mountains, mouthwatering food, and spectacular shows. So, welcome to the first page of my digital diary: Collecting memories: a trip across Las Vegas and Utah.
---
Days to Remember…
---
This was our first trip as a family outside of Michigan and Florida. There is something so inspiring in seeing the awe struck faces of kids the moment they let their souls wonder in beautiful scenery. We laughed, wandered, and filled our hearts with an abundance of emotions. So without further ado, let me be your virtual tour guide across Las Vegas and Utah's most memorable places!
---
Las Vegas to Zion National Park: A Family Road Trip
Our first destination was Las Vegas, Nevada; widely known as the entertainment capital of the world. The trip took about four and a half, almost five hours, from Florida to Las Vegas. First things first: the accommodation. We stayed at a very nice Airbnb in Summerlin, right by the Red Rock Canyon, Monday through Thursday. The apartment we rented was super clean and situated right next to a park. So basically, our mornings would include watching the sunrise during morning walks, drinking coffee, and enjoying the sound of our kids' laughs as they played.
---
The Condo's View
---
Las Vegas Highlight: Red Rock Canyon
The Red Rock Canyon was definitely the highlight of the trip. The scenery was breathtaking. You get the rare chance of enjoying the quiet echo of your own thoughts amidst peace and quiet. It was simply so serene and soothing.
We chose the easy trails because we had little ones, but that didn't stop us from going higher up the Red Rock Canyon. We even got to see some blue dragonflies, and a big turtle along the way! Fun fact: as we were counting the squares on top of the turtle, we discovered that the Mayans used a turtle's shell as a lunar calendar!
Honestly it was such a fun experience that we all enjoyed. Red Rock Canyon is definitely a place worthy of a family road trip.
---
Mount Zion
---
When it comes to food, we tamed our hunger with sandwiches, snacks, fruits, and plenty of water. My husband and I even indulged in some Suja turmeric shots from Costco. These shots gave us the right kick to our day. The turmeric shot with ginger, probiotics, and black pepper is filled with vitamin D, and is a great boost to your immune system!
---
The City of Entertainment
When it comes to entertainment, Las Vegas never fails to make an impression. We had the amazing opportunity of attending an aquatic masterpiece: "O" by Cirque de Soleil at Bellagio. Although the tickets were extremely pricey, the show was worth it.
It included water acrobatic scenes that left me wondering whether some of these performers were actually human! At some point, the floor turns into a huge pool with major entertainment and music. The show was magnificent and simply oozes passion!
Another great memory was my kids' encounter with dolphins! Kids wouldn't consider it a memorable trip without some water action, so we took them to see the dolphins at the Mirage. We kind of avoided the Mandalay Bay shark aquarium, since a walk in a small tunnel to look at sharks through glass is definitely not worth 40$.
However, the dolphins were much more worth it, especially since you can take a picture, feed, and pet the dolphins for an extra 60$!
Finally, spending our last day at the Mandalay Bay wasn't impressive. To be frank, the hotel was beautiful but extremely pricey! We had to pay 100$ for things that are supposed to be complementary! In my own opinion, the overall stay was disappointing, and I certainly wouldn't recommend.
---
A Walk in Nature… From Las Vegas to Mount Zion
---
Food: Key Factor in a Family Road Trip!
This is the part closest to my heart, so you know I am going to give brutally honest reviews for you all. A trip wouldn't be complete without worthy meals to leave your taste buds satisfied. The first thing I will recommend is using Instacart. This grocery and food delivery service was super convenient since we were trying not to overspend in a short period of time. Now when it comes to actual dining, here are my thoughts:
---
---
Collecting Memories…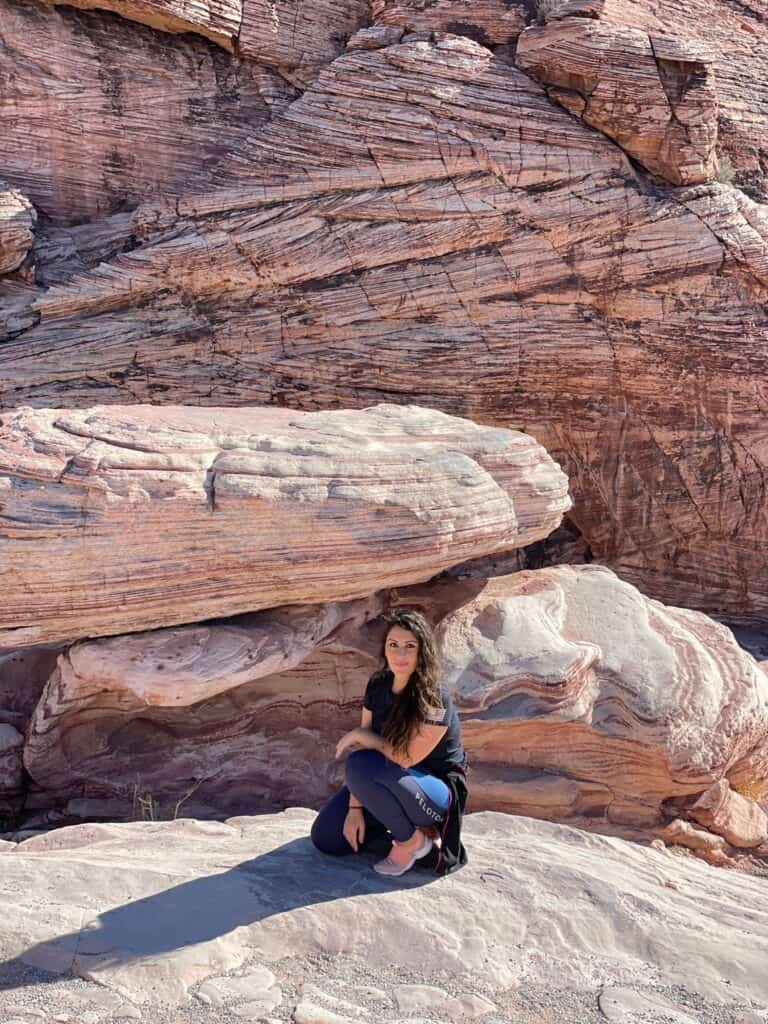 ---
A Family Road Trip to Utah
As our time in Vegas was coming to an end, our brainstorming session led us to decide upon a trip to Mount Zion, Utah. The drive took about three hours, but it was well worth the trip! We left Vegas at seven in the morning, and embarked onto a new adventure towards Utah's Mount Zion.
---
Blue Skies and Good Company
---
Las Vegas to Mount Zion
If you ever plan on visiting Utah's first national park, then you might want to take a few things into consideration. First things first, parking. My family and I had a slight parking issue as there were a lot of people trying to snatch a parking space and we just felt so lost!
So you either have to be patient and wait for your turn, or you can park a mile or two down. A quick stop at the main shuttle of the nine different hiking trails will take you to your desired route, and your exploration journey should begin.
The Zion Natural park was simply fascinating and majestic in all its details. We did the lower Emerald pool hike which was 69 ft. above elevation! Although it seemed a bit scary, the more you dive deep into your hike, you will see streams of water, green landscape, and God' majestic creation of natural beauty.
Because we wouldn't risk any unwanted incidents, especially for the kids, we stopped at the end of the Emerald Pool. We had our lunch in a little spot off-trail, and called it a day well spent.
When it comes to accommodation, I highly recommend staying at the Cable Mountain Lodge. Its price was very reasonable, and of course varies depending on what you ask for.
And if you are aiming for the full experience, indulge in a little outdoor camping. Experience things to the fullest!
The bottom line is; Zion National Park is the ultimate family destination! Prepare your hiking shoes, backpack, and prepare yourself for a trip of a lifetime.
Oh! And if you ever feel yourself craving strenuous hikes, then by all means try the middle and upper Emerald Pool hikes. The trails go up to 150 ft. to 200 ft. with an Angels landing 1500 ft. above sea level. Now THAT'S a memorable hike!
---
A Walk in Nature Walks a Soul Back Home
---
And on that note, I will be drawing a dot on the first page of my digital diary. I will title this one: Collecting memories on a family road trip; because this trip was all about that. We so often allow ourselves to waste away in the rush; forgetting that our souls need to breathe too.
I don't necessarily believe in the saying that goes "You only live once", because every day is a new opportunity to experience life from a different lens. So my fellow foodies, just remember that good company, good food, and positive vibes are all what you need to refresh those dust covered souls back to life! Collecting memories is all what's life is about. So Carpe diem my friend!
---
Check Out My Food Journey: