There's nothing worse than being stuck in a boring salad routine! Do yourself a favor and make this Fantastic Kale Dijon Salad– you'll love it even if you're not a huge kale fan!

This hearty Kale Salad has quickly become my new favorite way to get all my vitamins in for the day! It is so scrumptious with a great balance of sweet, savory, and tangy flavors.

The combination of soft and crunchy textures like fresh kale, juicy strawberries, dried cranberries, pecans, and creamy feta cheese will make you swoon! It's also versatile, comes together in about 10 minutes, and is great for any occasion.
---
This fresh zingy salad is always a crowd pleaser!
---
Whether you want to add more plant-based meals to your diet or are simply looking to change up your salad routine, this green salad is the perfect choice!

Doused in a tangy Dijon dressing, it's hearty enough to be a meal on its own! You only need 6 ingredients and a few minutes to put together this juicy, crisp, tangy, savory combo! What are you waiting for?
---
PIN IT!
---
What's so Fantastic about this Kale Dijon Salad?
This salad works as a side dish for dinner, or a base to top with your favorite things. Add a layer of yummy chicken or shrimp and boom!

Added flavor, texture, and you've got a full meal! Don't want poultry, seafood, or meat? Top it with some quinoa or chickpeas!
The dressing is super simple with just a few ingredients: olive oil, cider vinegar, honey, Dijon mustard, some salt and ground pepper!

Just shake, shake, shake and you're done! This dressing is bright, tangy, and pairs nicely with many types of salads.
---
I'm In Love and You will be too!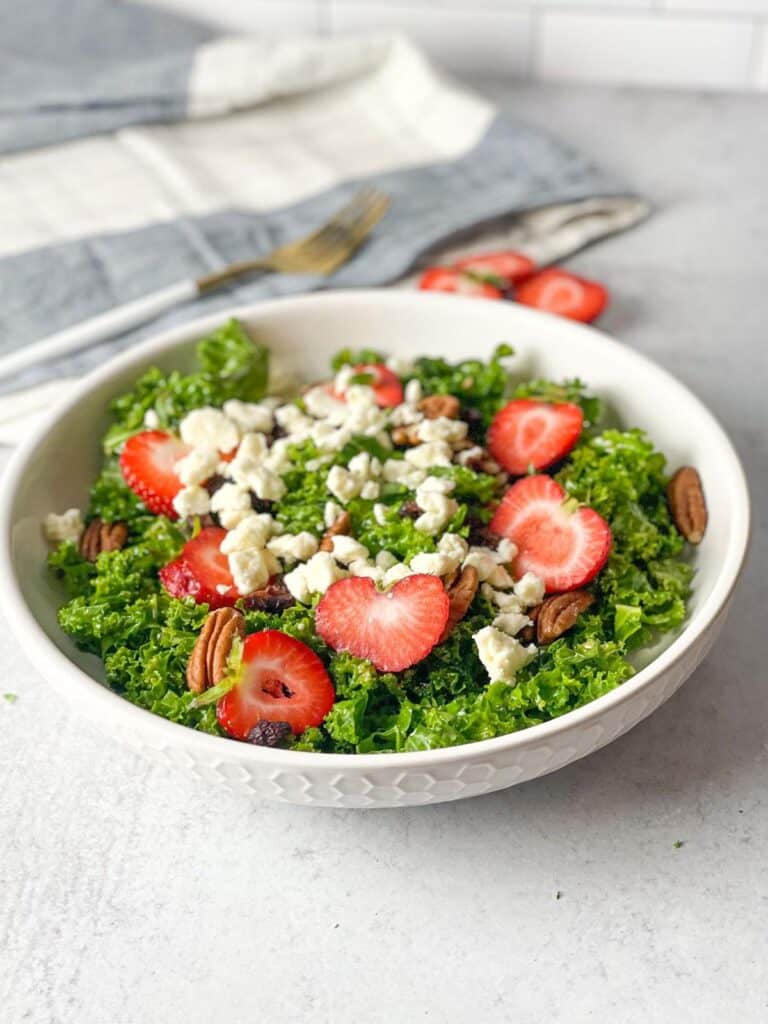 ---
Who Said Salads were Only for vegetables?
Use fruit as a way to instantly kick your salad up a notch and add another dimension of color! Fruits usually provide a sweet counterpart to the sometimes bitter greens.

Do not be afraid to add fruit to your salad to make it a little more exciting. In my Kale Salad, I added some fresh strawberries and dried cranberries to form a marriage of sweet and tangy with the balsamic vinaigrette.
---
Sweet and Tangy Kale Salad!
---
For the salad you will need:
Kale: Kale is the king of healthy greens. It is definitely one of the healthiest and most nutrient-dense plant foods out there. Kale is rich in many beneficial compounds, some of which have powerful medicinal properties.
While raw kale is tough and bitter on its own, a well-prepared kale salad transforms the vegetable into something absolutely decadent.
---
Dried cranberries: Cranberries are a good source of vitamins and minerals, and are exceptionally rich in several unique plant compounds. They give a unique texture and flavor to salads and fair better than their other relatives like raisins.
Strawberries: Strawberries pair well with the acidity of the vinaigrette dressing. They are a good source of vitamin C, contain small amounts of several other vitamins and minerals, and are rich in antioxidants. They also add a splash of color to any salad!
---
Pecans: Crunchy pecans are always a great addition to salads. They have good fats/oils, make a salad heartier and therefore, more fulfilling, and give depth to the salad in terms of texture.
---
Making this Fantastic Kale Dijon Salad is Easy!
---
Don't know how to massage kale? Don't worry, I've got you covered!
How To Make A Really Good Kale Salad?
There's a trick to making a really good kale salad. It's all about massaging. The first few times I made kale salad, I did not like it at all and didn't know what I was doing wrong.

Eventually, I figured it out. Unlike other salads, kale salad needs to be massaged well. Massaging kale is what takes away from the bitter taste and makes it tender and easy to digest.
---
Follow these steps to massage the kale:
First, debone the kale with a knife or your hands by removing the ribs from the leafy part of the kale. Discard ribs and put the leafy part of the kale aside.
Next, once you have removed all ribs, cut the leaves into small pieces and place into a large salad bowl.
Then, drizzle olive oil and salt over the kale and scrunch, release, scrunch, release. Repeat until the kale is fragrant and dark green. This step should take 1-2 minutes.
Finally, make your favorite massaged kale salad!
---
Frequently Asked Questions:
What are the health benefits of kale?
Kale is an important green and is considered a superfood. One cup of kale contains almost 3 grams of protein, which is amazing for a green. It's rich in antioxidants, packs 200% of your daily vitamin C, carotenoids lutein and zeaxanthin, and much more!
How do I eat kale?
There are numerous ways to eat kale. It all depends on how you like it! You can throw kale in a smoothie, in a salad, as kale chips, and more.
Curly or Tuscan Kale?
We usually use curly kale for most of our kale salads. It is cheaper and more widely available. However, you can use any kale you want for your kale salad. Usually, you do not need to massage baby kale because it is already so tender that it does not need to be chopped.
Are there any other cheeses I can use besides Feta?
Feta cheese is the ultimate kale salad topper! If you're more of a goat cheese fan, that works too. Parmesan cheese is also a good choice.
Can I make this salad vegan?
Of course you can. Just replace honey with maple syrup in the dressing, and use vegan feta instead of feta cheese.
---
Save and Share!
---
Tips For a Delicious Kale Dijon Salad
The vinaigrette dressing can be stored in an air tight glass jar for up to two weeks.
You can add or substitute any of the fruits in this salad. Mangoes and avocadoes pair well with kale.
When looking for the perfect kale, make sure the leaves have a firm dark green color. You can tell that the kale has expired or is about to expire when it loses its dark color, softens, and turns yellow.
---
Wash and massage kale days in advance—it's so hard that it rarely wilts. You can stem, slice the leaves, wash them, massage them, and store them, wrapped in a paper towel in a zip-top plastic bag, for up to 4 days.
Do not to over-massage the kale. Over-massaged kale loses that texture we love so much.
Wanna make this salad fancy? This salad versatile. You can add some grilled chicken, salmon, raw fish, roasted chickpeas for a richer taste.
Don't throw away the ribs of the kale if you remove them to make the salad. You can boil or roast them and turn them into a dip. Or, you can juice them for a healthy green drink!
---
The Best Kale Salad
---
Ingredients
Dijon Vinaigrette Dressing
Cider vinegar/ white wine vinegar
Dijon Mustard
Honey
Salt
Pepper
Kale Salad
Fresh kale
Strawberries/ sliced
Dried cranberries
Pecans/ toasted
Feta cheese (Optional)
---
How to Make Fantastic Kale Dijon Salad
1. Make the dressing.
Who says making homemade salad dressing is difficult? Just mix all the ingredients in a small jar, shake it up, and set it aside. It's that easy!
2. Prepare the greens.
Rinse the kale under cold water, then let it dry. Next, cut it up, and don't forget to remove and discard the thick, fibrous ribs.
3. Massage the kale.
Toss the leaves in a clean mixing bowl. Then add a tablespoon of olive oil over the chopped greens and toss to coat evenly. Massage the oil into the greens for a few seconds. Massaging the kale before making the salad will soften the hard fibers, making them easier to chew and digest.
4. Add the other ingredients.
Put the greens in a salad bowl and garnish with the other ingredients: strawberries, dried cranberries, pecans and feta cheese. You can line up the ingredients on top for a prettier presentation. Drizzle the dressing, mix, and enjoy!
---
Other Amazing Salads to Try
---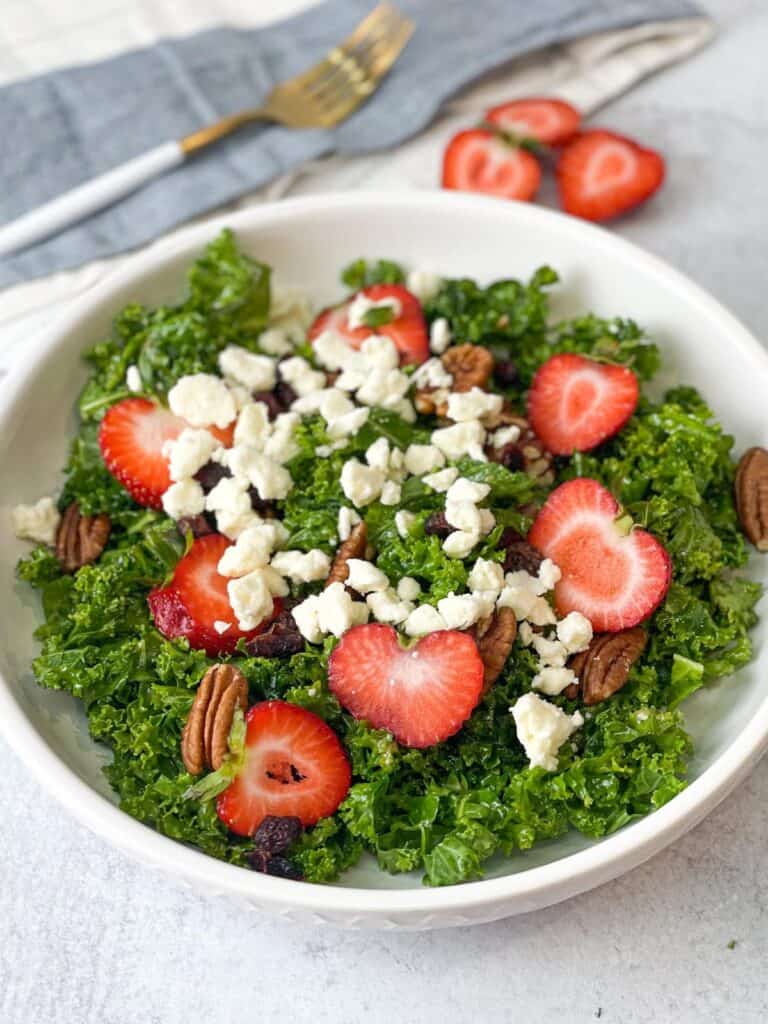 Fantastic Kale Dijon Salad
A delicious sweet, savory, and tangy salad that packs a crunch!
Ingredients
Dijon Dressing
¼ cup olive oil
3 tablespoons apple cider vinegar
2 tablespoons Dijon mustard
2 tablespoons honey or maple syrup
⅛ teaspoon salt
freshly ground pepper to taste
Kale Salad
8 ounces bunch of kale (average bunch is 7-8 oz.)
1 tablespoon olive oil to massage kale
½ cup strawberries sliced
2 tablespoons fried cranberry
¼ cup pecans
½ cup feta cheese optional
Instructions
Dressing
Add all ingredients to a small bowl and mix ! Drizzle over your kale salad and enjoy! Any leftover dressing can be stored in an airtight container for atleast 4 weeks.
Salad
Wash and chop the leaves then place back in the bowl. Add the desired amount of strawberries, dried cranberries, pecans, and feta cheese. Pout the dressing over, mix and enjoy!

Chop the leaves then place back in the bowl. Add the desired amount of strawberries, dried cranberries, pecans, and feta cheese. Pout the dressing over, mix and enjoy!
Notes
If you want to make this salad vegan, simply substitute maple syrup for the honey and skip the cheese or use vegan feta. You can avocados to add some creaminess, so you really won't miss it. You can replace the pecans with a different nut or seed. Toasted walnuts, hazelnuts, sunflower seeds, would be great here as well.