It would be great if we could whip up fresh pasta sauce every time we make pasta, but that's not realistic for most of us, especially busy moms. There are times when we simply do not have the time to properly simmer a pasta sauce.
Store-bought spaghetti sauce is usually easier to buy for a quick, easy weeknight meal. However, jarred pasta sauce can still taste just as good as your grandmother's homemade version with a few kitchen hacks. Let's see how we can Make Jarred Pasta Sauce Better.
---
Jarred Pasta Sauce to the Rescue!
---
If you're looking for an easy way to jazz up jarred pasta sauce and make it taste like the real deal, we've got all the tips and tricks you need. These jarred pasta sauce tricks will make your pasta taste like a gourmet meal.
The recipe I've included here is great for a quick weeknight meal. Just a few simple ingredients are all you need for an amazing dinner that the family will love.
---
How to Make Jarred Pasta Sauce Taste Like Homemade
Season It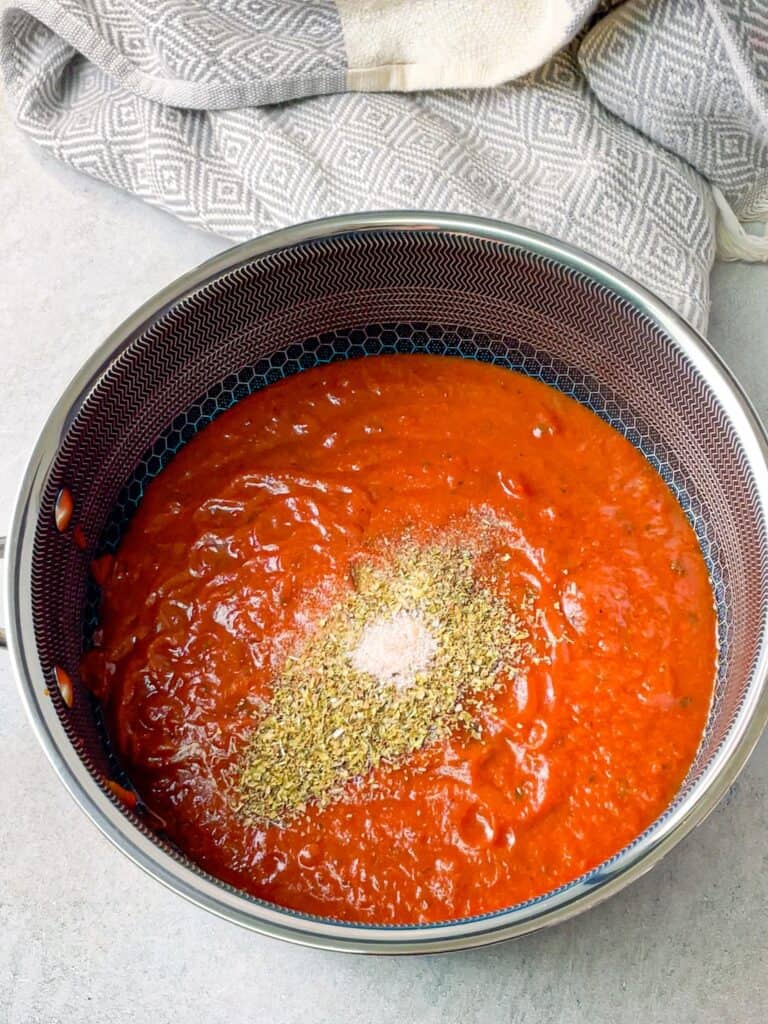 ---
Wanna Make Your Sauce Taste Even Better? Heat It!
To improve the flavor of a jar of pasta sauce, simply simmer it on the stove for a few minutes until it slightly reduces.
This allows the flavors to concentrate and deepen, which is why homemade tomato sauce tastes so good — it has time to develop a richer, more rounded profile. Give jarred sauce some time to do the same, and it will taste much more like homemade.
Simply pour the sauce into a small saucepan while your pasta is cooking. Allow it to come to a boil, then turn down the heat so the sauce gently bubbles.
Continue to simmer for about 10 minutes, or until the sauce has reduced and thickened slightly but is still saucy. Then toss it with your pasta (and a little of the reserved pasta water) and twirl away.
---
Doctor-up Your Spaghetti Sauce
---
Cheese Lovers? We've Got You Covered!
When it comes to making pasta, there is no limit to how much cheese you can use. Cheese can help make your sauce's flavors more complex.
You can use a variety of cheeses, from mozzarella to Parmesan, depending on the type of sauce and pasta dish you're making.
A softer cheese will improve the texture of your pasta. For example, a dollop of ricotta on top of the dish can add a delightfully creamy texture to the sauce.
Consider adding mascarpone, cream cheese, ricotta, or burrata to the pasta sauce to make it smooth and silky.
---
How About Adding Some Meat?
After you've finished cooking your vegetables, you can use the same pan to cook some meat for your sauce.
Mixing meat into your jarred pasta sauce will transform its flavor. Browning and adding meat balls, sausage, turkey, chicken, will boost the flavor, texture, and protein content of your sauce.
To achieve a classic Italian flavor, add Italian sausage to your canned pasta sauce. Italian sausage, whether sliced, ground, or formed into meatballs, can add flavor to any pasta dish.
As an added bonus, incorporating some protein-rich sausage into your pasta sauce will keep your family fuller for longer.
---
Frequently Asked Questions (FAQs)
Can you use this sauce on pizza?
Sure! This sauce tastes amazing on pizza. It adds so much flavor.
How long can I keep an opened jar of pasta sauce in the fridge?
It's recommended that you use your opened jar of pasta sauce anywhere between 3-5 days. Make sure to store it in an airtight container.
Can you freeze jarred pasta sauce?
Yes. You can freeze your pasta sauce up to 4 months. Make sure to label the jar or the container with the date you opened it.
---
Try It On Your Pizza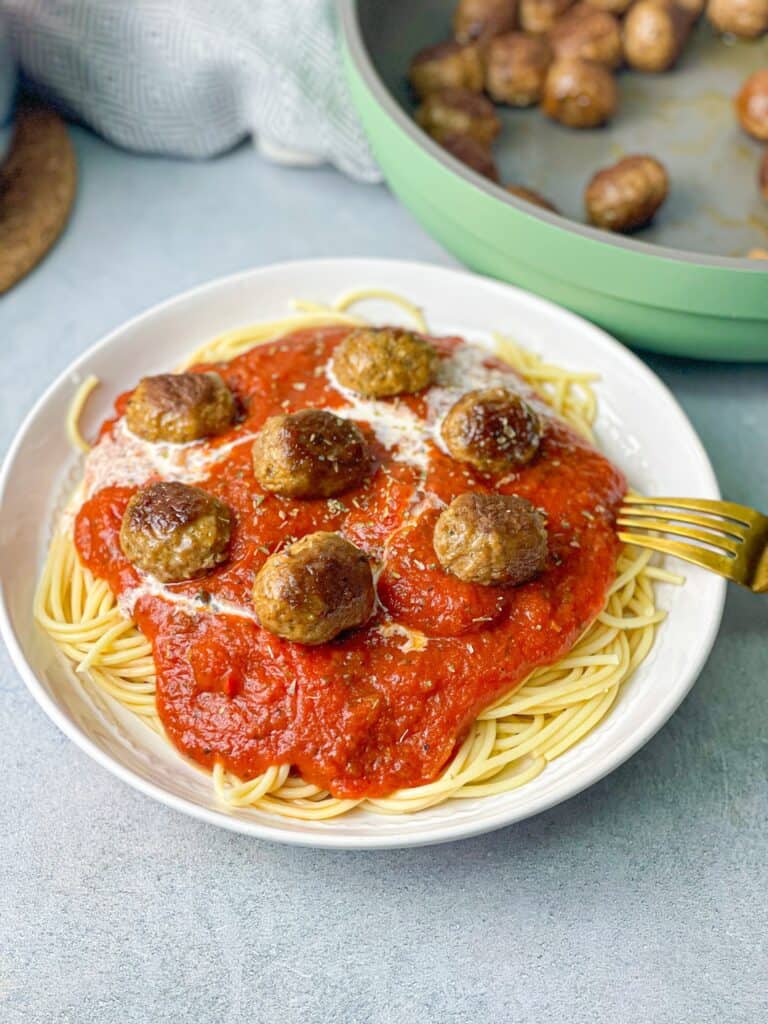 ---
Top Tips
Avoid cooking the sauce and the pasta together. You don't want your pasta to absorb more water and become mushy.
Add some cheese to your pasta. Sprinkling in cheese can take your pasta dish to a whole new level. You can add a wide range of cheeses from mozzarella to Parmesan.
---
How to Make Jarred Sauce Taste Better
Ingredients
pasta sauce jar
garlic powder
dried oregano
onion powder
Italian seasoning
(Scroll down for recipe details)
---
Save It!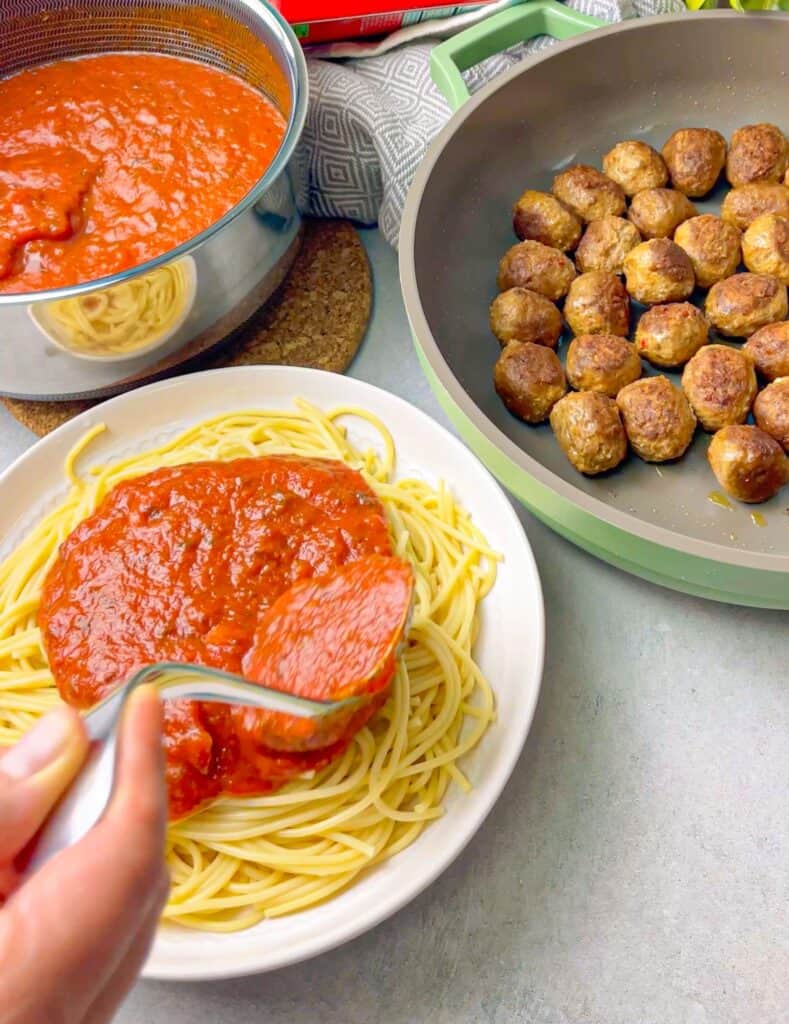 ---
More Sauces to Try:
---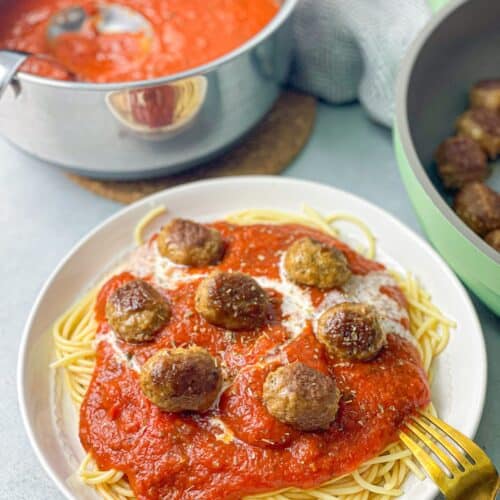 How to Make Jarred Pasta sauce Taste Better
If you're looking for an easy way to jazz up jarred pasta sauce, we've got all the tips and tricks you need.
Ingredients
24

ounces

pasta sauce jar

⅛

teaspoon

black pepper

1

teaspoon

garlic powder

1

teaspoon

Italian seasoning

1

teaspoon

dried oregano

⅛

teaspoon

salt

,

optional
Instructions
Empty the jar of pasta sauce into a sauce pan then whisk in the black pepper, garlic powder, Italian seasoning, dried oregano, and salt.

Cover and heat the sauce on medium heat for 5 minutes.
Like this recipe? Rate and comment below!