Sushi lovers! I will introduce you to my Homemade Mayo Sauce for Sushi that will become your number one condiment when you need a delicious tangy sauce.
This is the perfect sushi side sauce with a unique flavor and rich texture that will enhance the other flavors of your favorite dish.
Let's get ready! It needs simple ingredients and will be ready in a snap. You will need some mayo, melted butter, soy sauce, garlic powder, and some sugar to make the creamy perfect sauce. Heavenly!
---
Best Mayo Sauce to Elevate Your Sushi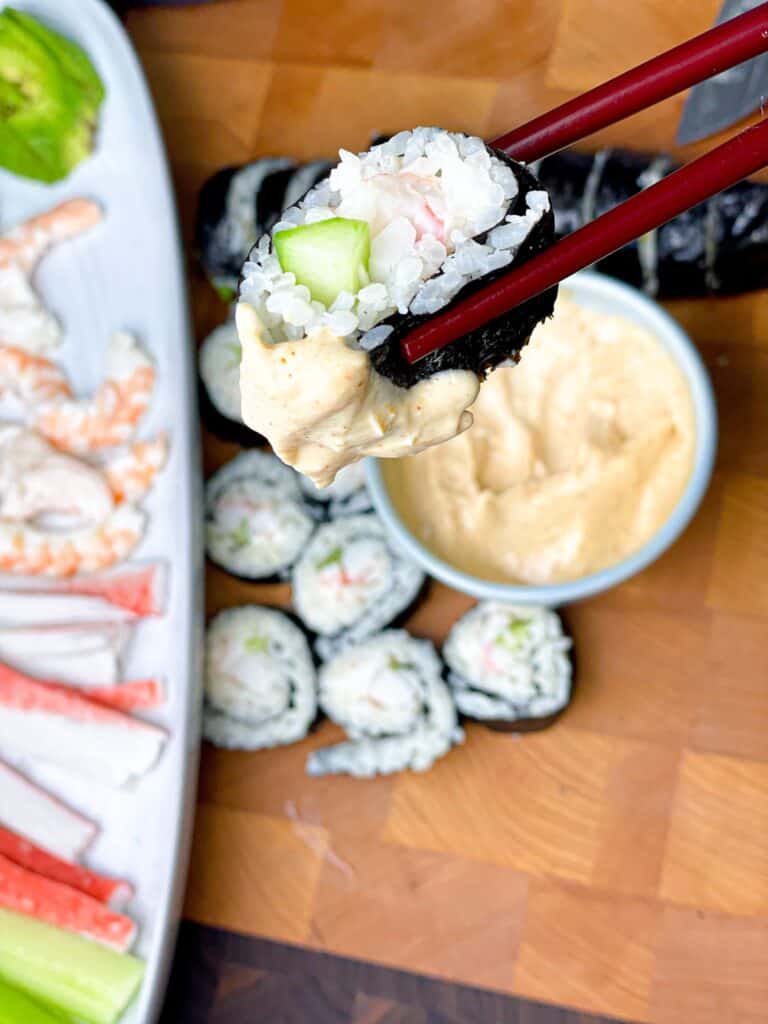 ---
Have you ever wondered about that creamy sauce that they serve you in restaurants? Ask no more! This homemade mayo sauce is the right kick that will elevate the flavors of your sushi rolls.
Not only that, but you can also eat it with any type of fish. Serve it as a dip with fried veggies. Slather it on your hot dog bun or even in your meat burger. The choices are endless!
---
Restaurant Style Sushi Mayo Sauce Bowl!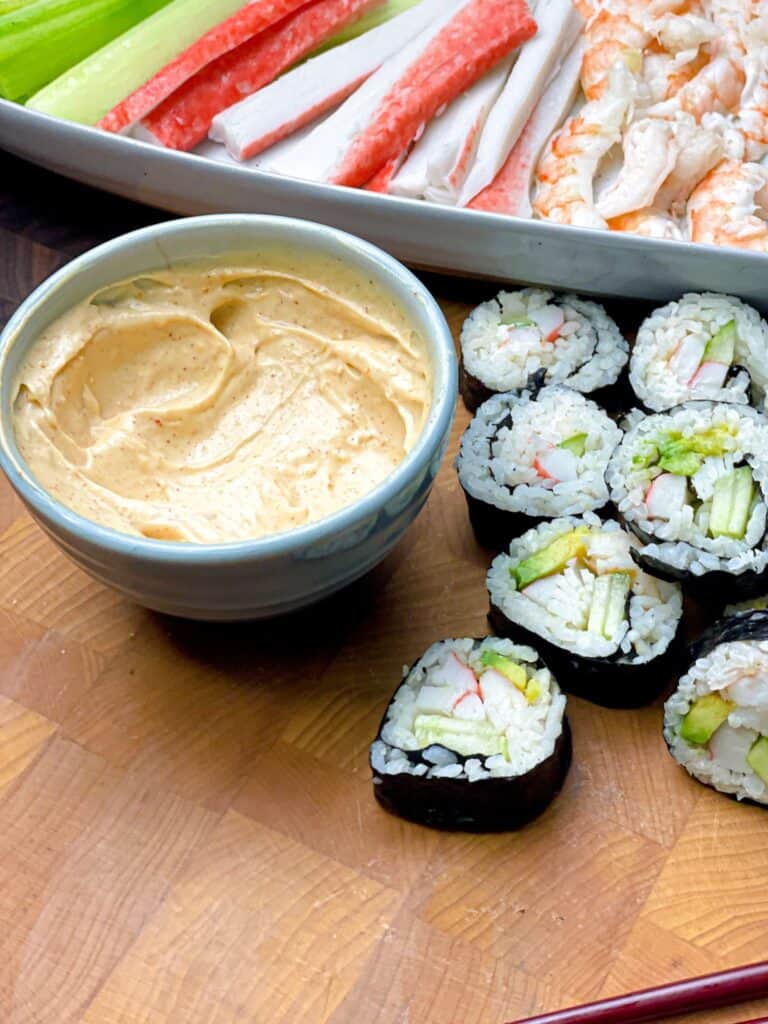 ---
Quick Sushi Lesson Anyone?
Sushi is not a type of fish. It is the seasoned rice on which raw fish is served. The fish itself is called Nigiri. When the fish is served without rice, they call it Sashimi.
Sushi wrapped in seaweed is called Maki. Sushi with seaweed and fish inside wrapped in a layer of rice is called Uramaki.
---
When served wrapped in seaweed in a cone shape, sushi is called Temaki.
Some sushi may be rolled in cucumber rolls. They call them Kappamaki.
---
Totally Versatile! Adaptable to All Levels of Spiciness!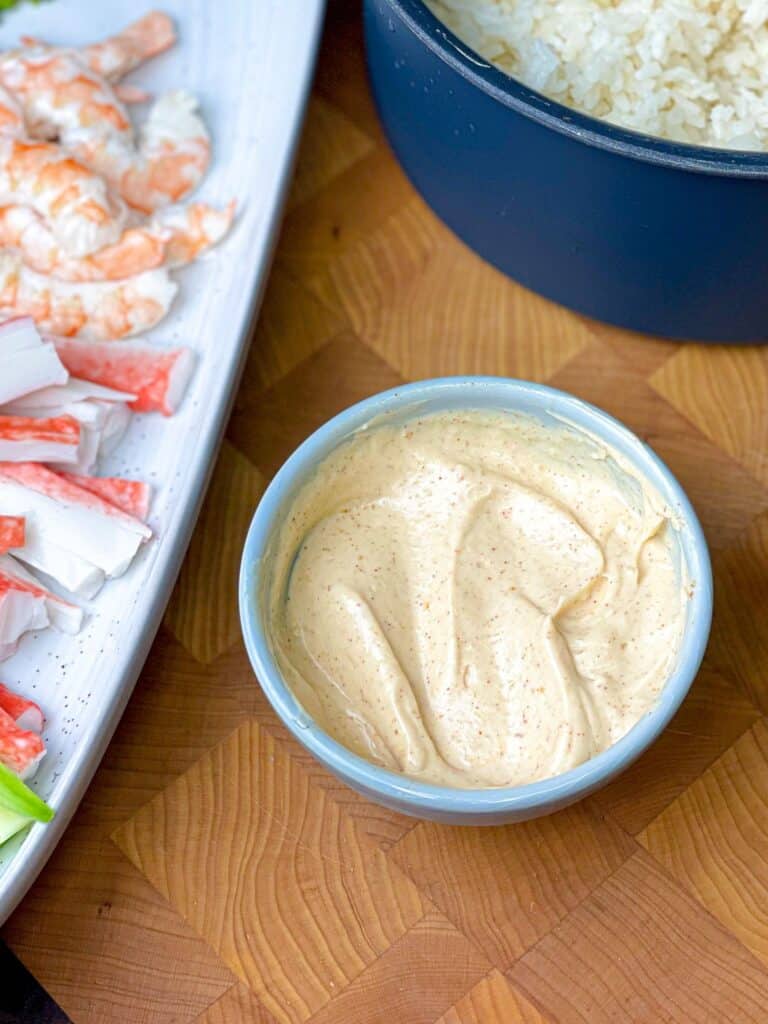 ---
Do You Love Hot Sauces? Give It a Try!
The homemade mayo sauce you add to sushi, shrimp, or burger is not hot. In fact, it is kid-friendly. But if you prefer hot sauces, here are some ingredients you can add to get Spicy Mayo Sauce for sushi.
Hot Sriracha sauce: It is a versatile hot sauce that has a thick texture. It includes garlic powder and sugar. So, you may have to adjust the amount you add to this sauce if you decide to use sriracha.
---
Hot sauce: Add any hot sauce you like. You can get cayenne sauce or green Jalapeno sauce. You can go to the extreme and try some scorpion hot sauce. Up to you to decide. Add, mix, and enjoy!
Hot red pepper flakes: You can choose the hot red pepper flakes with the level of heat that suits your liking. Sprinkle some on top of the bowl and mix them with the other ingredients.
---
A Sauce Like No Other! Try It Now!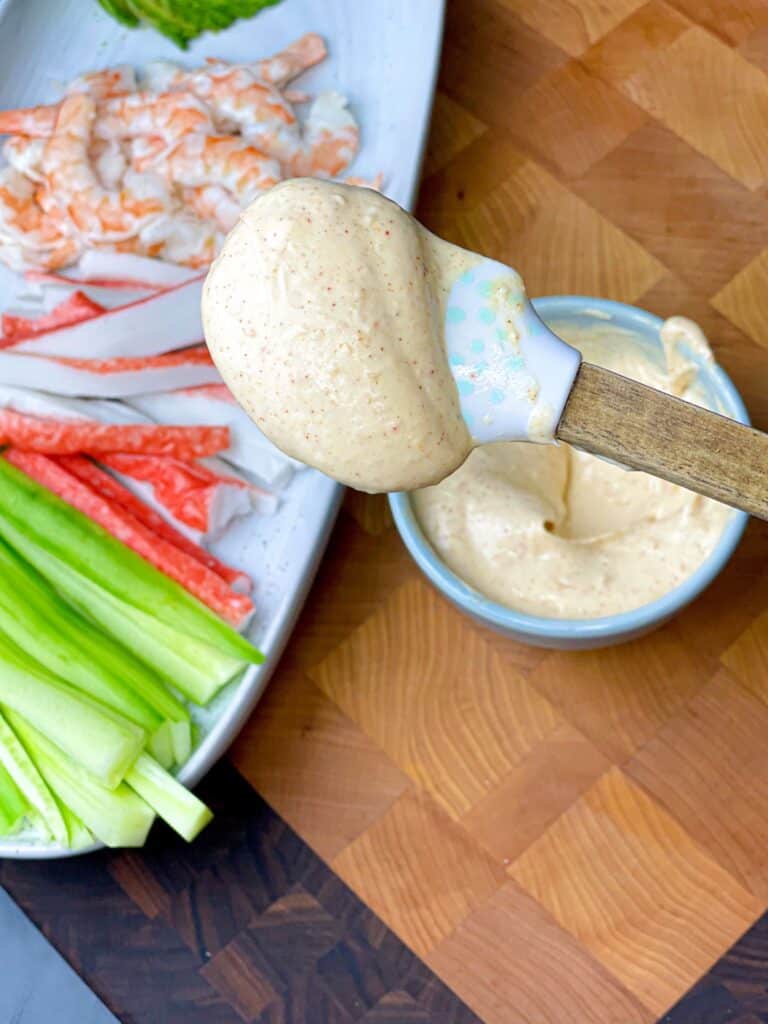 ---
Some Surprising Facts
Sushi was originally made in China, not in Japan as it is commonly known.
Sushi was originally made to preserve fish for a long time. So, Chinese people used gutted fish and salted it. Then, they wrapped it in fermented rice. They used to store fish this way for months without spoiling.
---
Sushi came to America in late 1960. It was when Kawafuku Restaurant opened in Los Angeles' Little Tokyo. It became famous in 1990 with the widespread of Japanese restaurants around the states.
Nowadays, a variety of modern sushi dishes come from Japan, China, and Korea.
---
It Tastes Totally Delicious!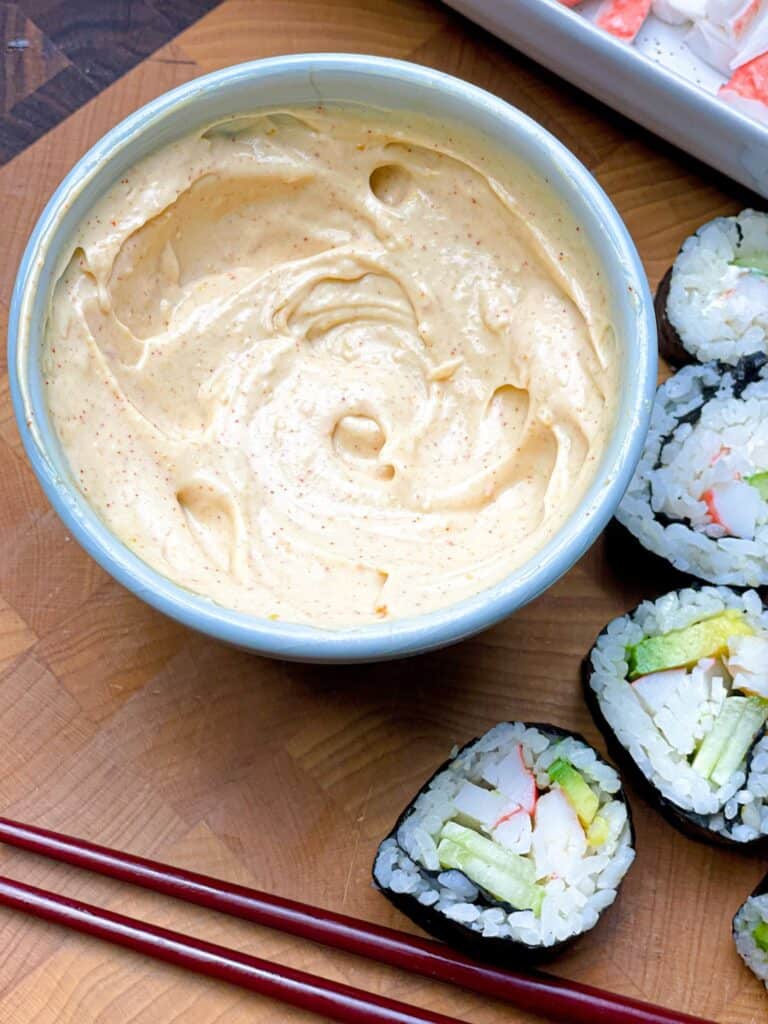 ---
Other Sauces You Can Try
Many people may not prefer a combination of ingredients for their sauce. For instance, they may prefer to dip their sushi in plain soy sauce. It is salty and savory which makes it ideal for any roll. But some changes may bring other amazing tastes.
First, you have the Japanese mayonnaise. If you can not find it in stores, you can make it at home. Start with one cup of American mayonnaise and then add some rice vinegar and a pinch of salt. You can use it for this recipe. The vinegar savory taste will enhance the rest of the flavors.
---
You can also try to dip your rolls in wasabi sauce which is very famous in Japan. It tastes like hot mustard or horseradish and has a powerful spicy taste that stimulates the nose more than the tongue. It is perfect for any fish dish and even for some salad.
For a sweeter taste, you can replace soy sauce with teriyaki sauce. In fact, teriyaki has soy sauce as the main ingredient, but it is less salty.
---
A Mind Blowing Balance of Sweet Tanginess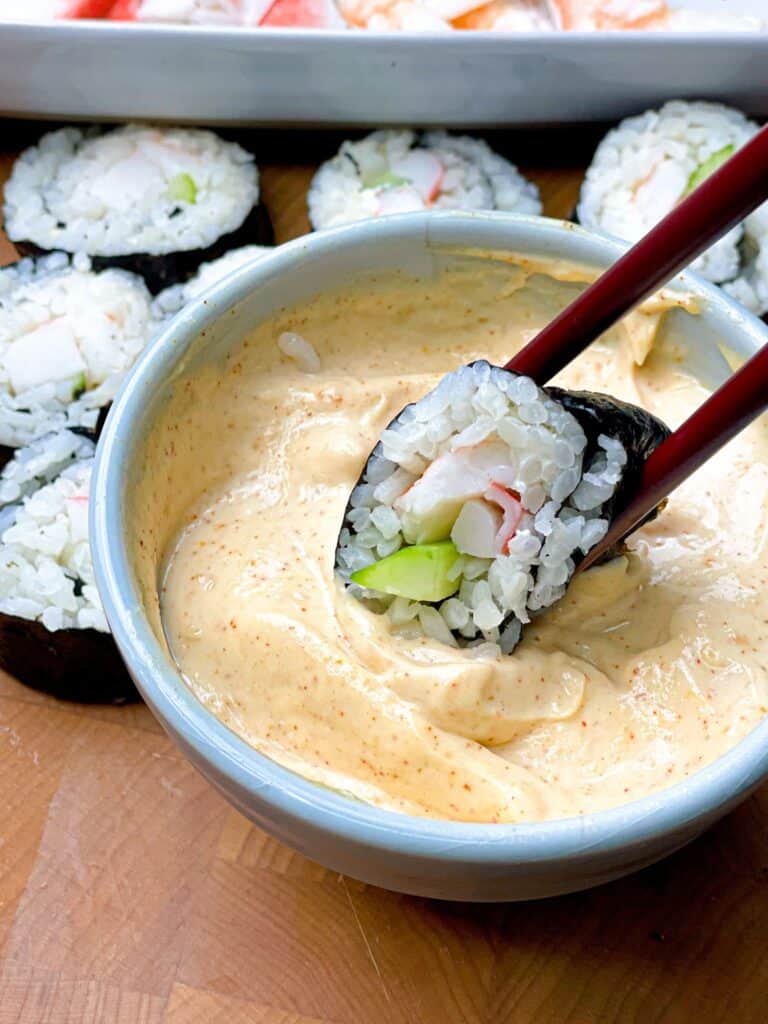 ---
Frequently Asked Questions
What can I do with the mayo sauce leftovers?
Though I doubt that you will; have leftovers, you can keep them in an airtight container in the fridge and use them as a dipping or slather on sandwiches the next day.
Can I make sushi mayo sauce ahead?
Yes of course! Double or even triple the ingredients and keep them in a sealed jar or in a squeeze bottle in the fridge for around a month. Take some out of the jar or drizzle on top of your dish whenever you need.
Can I use Kewpie instead of regular mayo?
kewpie is Japanese mayonnaise. It is made of egg yolks only which makes it closer to a custardy rich and thick texture. So, Kewpie is definitely perfect to make mayo sauce for sushi or any sandwich.
---
So Easy, So Good!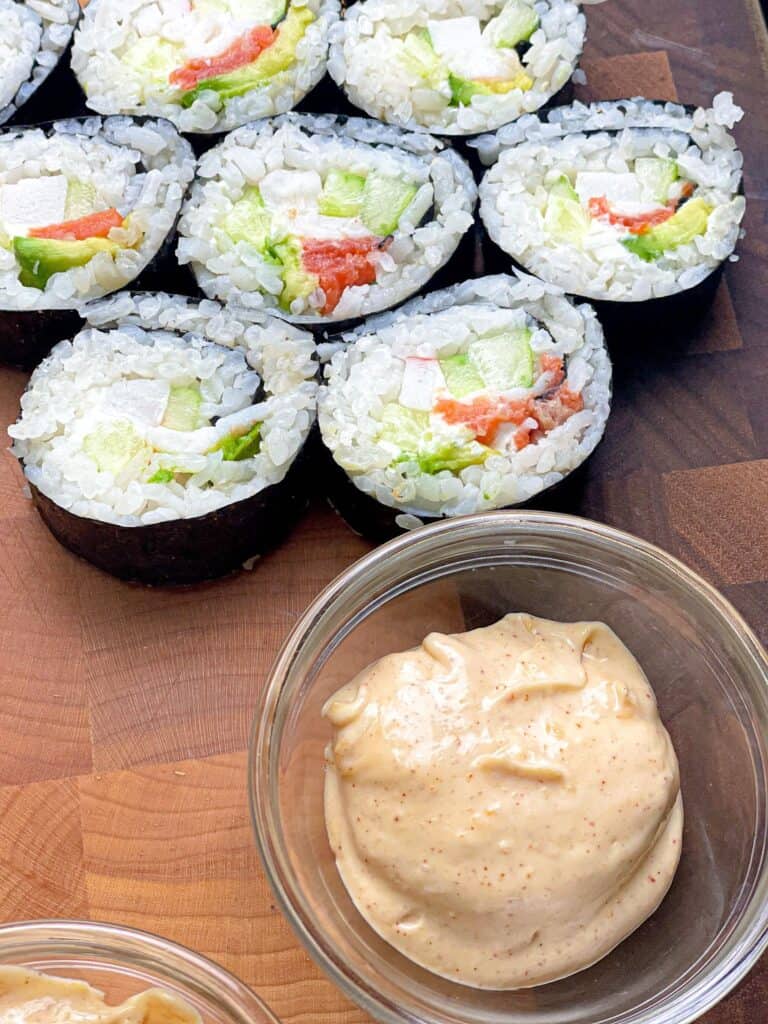 ---
Homemade Mayonnaise Sauce For Sushi
Make sure you save these ingredients or write them on a note paper and stick it on your fridge. You will use it every now and then with your fish, shrimp, and even veggies.
Make some Thai Shrimp Crunch Salad and/or Crunchy Roll Bowls. Enjoy a variety of Asian flavors on one table.
---
Ingredients
Mayonnaise
Soy sauce
Melted butter
Sugar, honey, or syrup
Garlic powder
Paprika
---
A One Step Recipe
Combine the mayonnaise, soy sauce, melted butter, sugar, garlic powder, and paprika in a small bowl until well incorporated.
Use this savory delicious sauce right away with your favorites like sushi, fries, veggies, fried shrimp, cooked shrimp, seaweed wraps, and more.
---
Recipes You Do Not Want to Miss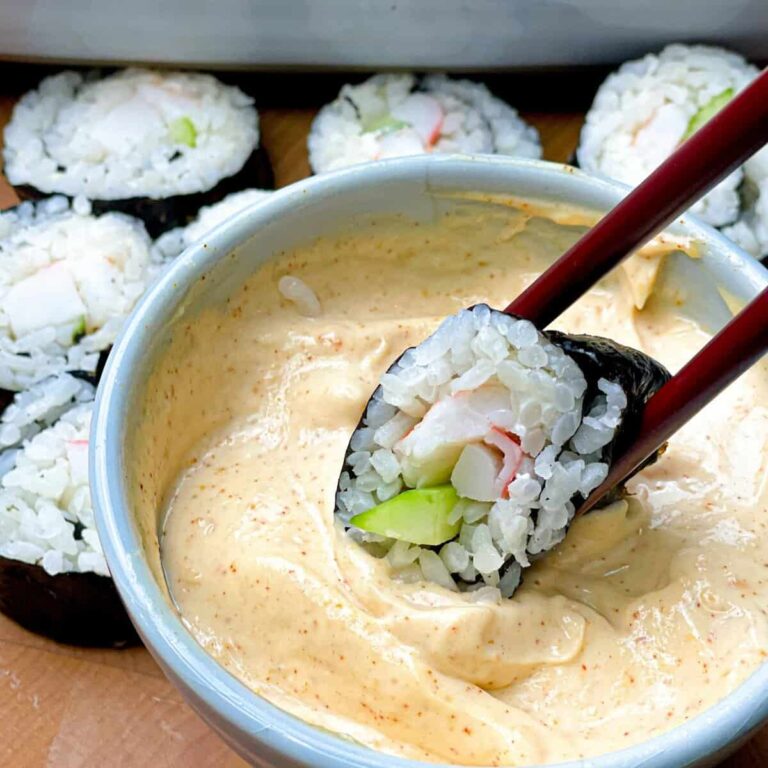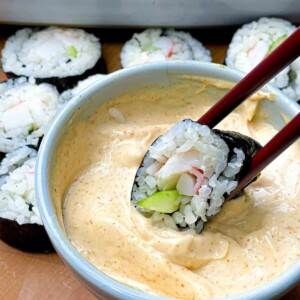 Homemade Mayo Sauce for Sushi
A bowl of creamy tangy mayo sauce will elevate your sushi roll's flavors. You will ask for more sushi to get more of this amazing sauce. Try it now and save the ingredients on your menu for later.
Ingredients
Instructions
Combine the mayonnaise, soy sauce, melted butter, sugar, garlic powder, and paprika in a small bowl until well incorporated.

Use it right away with your favorites like sushi, fries, veggies, fried shrimp, cooked shrimp, seaweed wraps, and more.
Notes
Note 1: Keep leftovers of the mayo sauce in an airtight container in the fridge.
Note 2: Double or triple the ingredients to make a larger amount of sauce and keep them in a sealed jar or a squeeze bottle and keep it in the fridge.
Note 3: To make it hot and spicy, you can add hot red pepper flakes, hot sriracha sauce, or any hot sauce to your bowl. Mix and enjoy!
Like this recipe? Rate and comment below!