It's time to unveil the recipe that will give you everlasting summer vibes this winter! Let me introduce you to the "Classic Thick Hearty Chili," the ideal winter companion in cold days!
Winter has always been a special and unique season and the perfect time to make and collect everlasting memories! However, staying warm during this cold weather isn't easy but achievable when consuming hot yet flavorful food!
In addition to becoming your new favorite recipe, it's a great way to satisfy the family's hunger with something so flavorful, taking the chill out of the cold!
---
Perfect for Cold Winter Days
---
Laying on your couch curled up under a blanket is unbeatable! Everything is great until you start starving after a long, exhausting day. You now have to prepare an easy meal and have some "me" time.
So what is better for you than warming up a bowl of chili, sprinkling some shredded cheddar, curled up on your couch, turning on your favorite TV show, and eating that first spoonful of thick hearty chili. It feels like heaven, right?
One hot meal is enough to give you seamless and everlasting comfort and remind you of summer's best days while it's raining outside!
---
The Perfect Thick Chili Recipe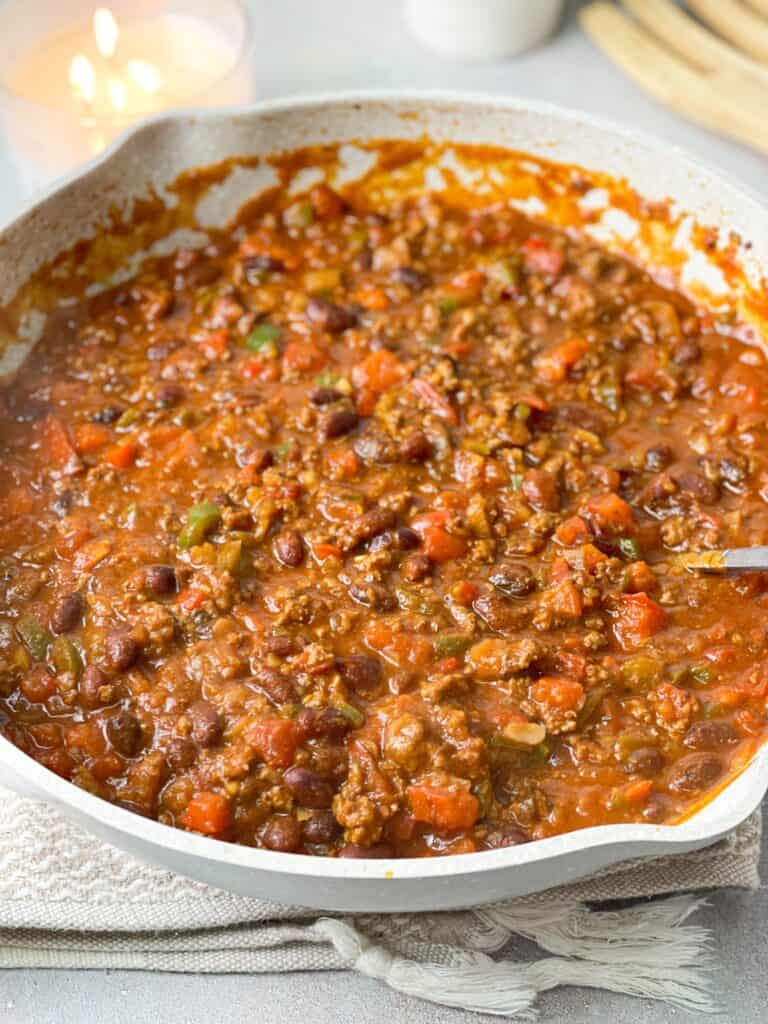 ---
So, What is Chili?
Meat, beans, and spices combined all together to make the perfect chili dish with a thick sauce. The ingredients vary depending on the area you live in and your preferences.
In general, a chili recipe's longer cooking time can help the flavors blend together. To achieve the most flavorful result, the best chili recipes allow for ingredient and time flexibility.
Most people like turkey chili, white chicken chili, and classic beef chili. In some parts of the country, like Texas, beans aren't used in many dishes.
Chili can be cooked in a variety of ways, depending on your preferred equipment (such as a slow cooker, Dutch oven, pressure cooker, or stockpot) and your time availability, since each method requires a different level of attention and cooking time.
---
You Can See the Peppers
---
Reasons for Thin Chili
In order to get the flavor you are looking for, chili has to be thick, intense, and robust. Have you ever tried to make a thick chili but failed? The following are the most common reasons for a thin chili:
Short Cooking Time
Low and slow cooking is the key to thick, aromatic chili. By simmering the chili for a long time, the remaining liquid is absorbed by the heat, resulting in a thick consistency. Besides enhancing the flavor of chili, slow cooking lets the spices marinate and blend together.
Excessive Use of Fresh Tomatoes
Fresh tomatoes are frequently used in chili recipes to add flavor to the dish. Tomatoes release water when heated, resulting in watery chili. Make sure the chili is thickened before cooking by keeping in mind the number of tomatoes.
---
Save This Chili Recipe for Cold Hectic Days
---
Top Tips
There is no specific time to enjoy or have this mouthwatering meal; feel free to have it for lunch, dinner, or even both! You can have it once you ask for it.
If you want to thicken the chili without adding any additional ingredients, simply remove the lid from the pot and leave the chili to thicken for 20–30 minutes while you stir constantly. The stew will thicken as the liquid in the chili reduces.
---
Flavor and Texture in Every Bite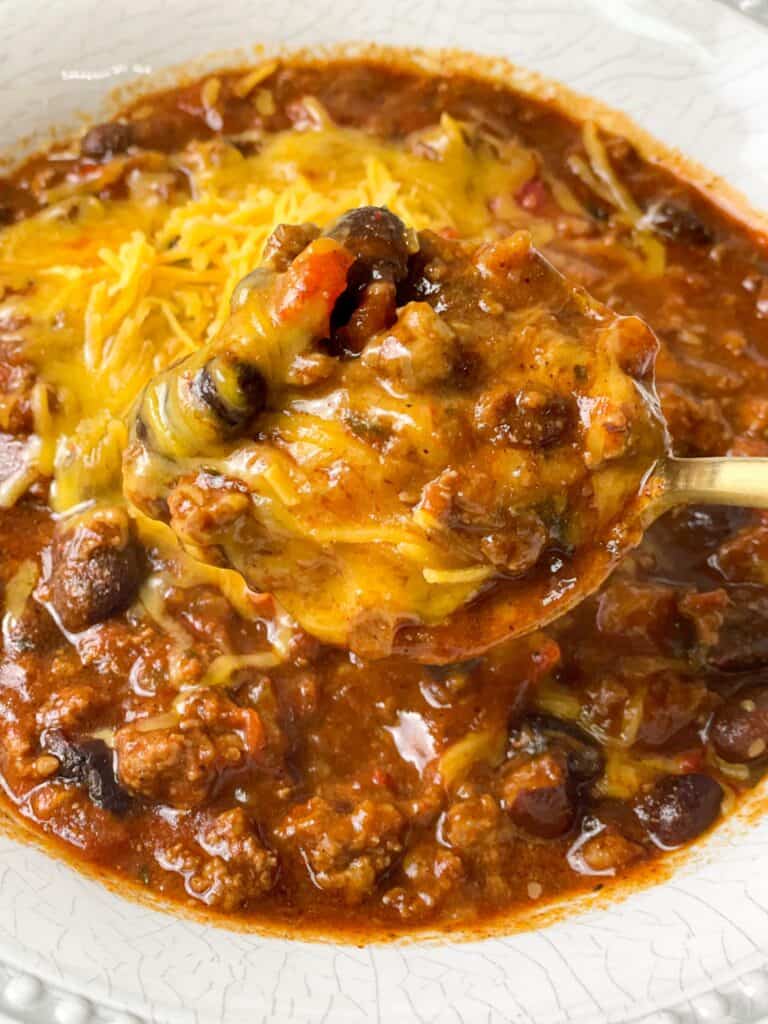 ---
Frequently Asked Questions (FAQS)
Is there a secret ingredient to deepen the flavor of chili?
You can add an acidic ingredient at the end, like vinegar or lime juice, to bring the flavors together.
What is the most important ingredient in Chili?
Finding the right balance of spices and flavors is the key to making a great chili recipe. Diced carrots and sweet potatoes, as well as ground cinnamon and chili powder, all add depth, warmth, and flavor.
Does chili get better the longer it cooks?
The longer the chili simmers, the more the flavors combine. In fact, chili is the type of dish you want to make ahead of time because it improves with a night in the fridge.
---
Every Spoon Tells a Story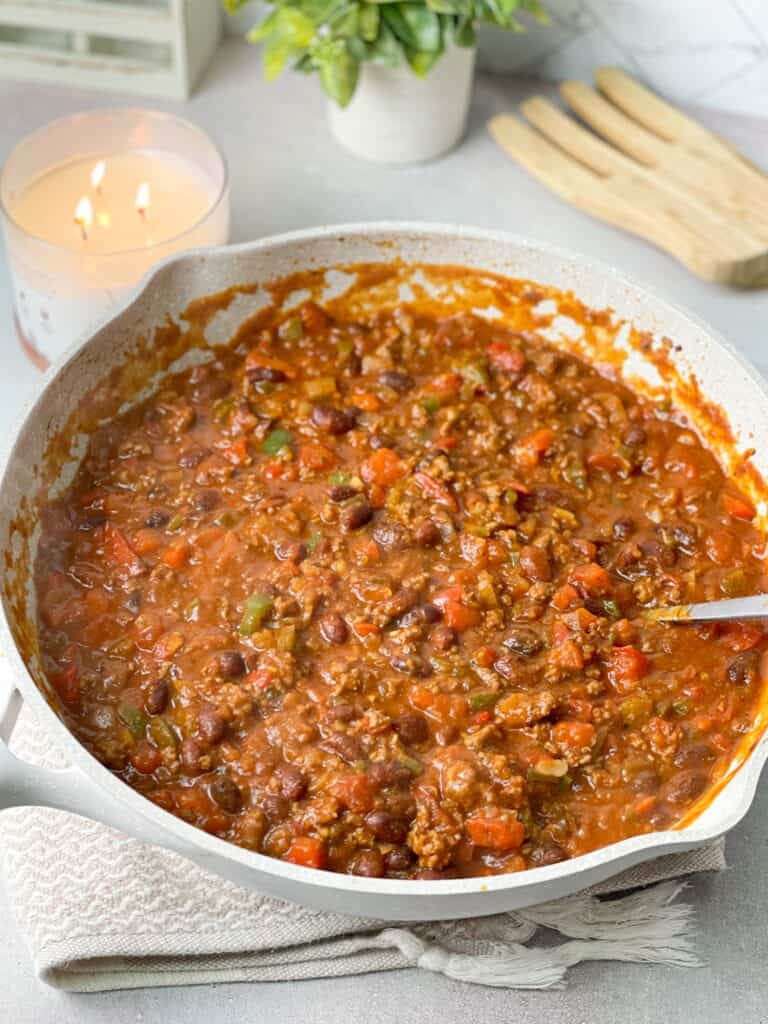 ---
Ingredients for Thick Hearty Chili
With its minimal ingredients and easy preparation, this meal has proven that making a fantastic meal does not have to be difficult! It's going to be your absolutely delicious answer to cozy winter days this season!
Here's what you will need:
lean ground meat
onion diced
chili seasoning mix
garlic powder
cumin
red and green peppers
water
bouillon cubes
tomatoes
tomato and garlic pasta sauce
pinto beans or red beans
Salt if needed
Cayenne pepper (optional)
(Scroll down for recipe details)
---
Must Try Recipes
---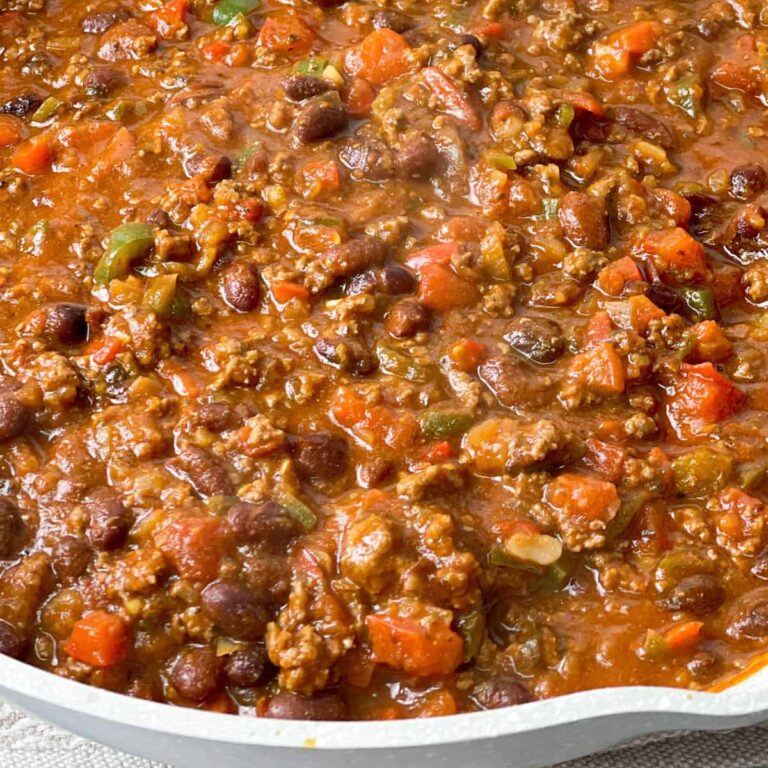 Classic Thick Hearty Chili
Thick hearty bowl of chili is a great dish to feed the family that will fill their bellies and satisfy their souls. Here is an easy to make version that you be making on repeat!
Ingredients
1

pound

lean ground meat

1

medium

onion

,

diced

3

tablespoons

olive oil

2

packets

chili seasoning mix

1

tablespoon

garlic powder

1

teaspoon

cumin

2

cups

diced red and green peppers

1

cup

water

2

cubes

bouillon

,

(your choice)

2

medium

tomatoes

,

diced

1

jar

tomato and garlic pasta sauce

,

(24 oz)

1

can

pinto beans or red beans

,

(16 oz) drained

Salt

,

if needed

Cayenne pepper

,

(optional)
Instructions
To a medium pot heat the olive oil and saute' onions and the peppers for a few minutes. Then add the meat and sauté' for another 7 minutes until meat is cooked.

Add 2 packets of chili powder, garlic powder, cumin, bouillon cubes, 1 cup water, diced tomatoes,1 jar of tomato and garlic pasta sauce (or original), and then add pinto or red beans.

Mix gently until ingredients are well incorporated. Bring to boil, cover and simmer for 20 minutes stirring occasionally.

Add Cayenne pepper for some heat, or just add to your own bowl. Enjoy warm with shredded cheddar cheese and your choice of chips.
Notes
If you want to thicken the chili without adding any additional ingredients, simply remove the lid from the pot and leave the chili to thicken for 20–30 minutes while you stir constantly. The stew will thicken as the liquid in the chili reduces.
Nutrition
Calories:
160
kcal
|
Carbohydrates:
12
g
|
Protein:
13
g
|
Fat:
7
g
|
Saturated Fat:
2
g
|
Polyunsaturated Fat:
1
g
|
Monounsaturated Fat:
4
g
|
Trans Fat:
0.2
g
|
Cholesterol:
28
mg
|
Sodium:
360
mg
|
Potassium:
552
mg
|
Fiber:
4
g
|
Sugar:
4
g
|
Vitamin A:
601
IU
|
Vitamin C:
9
mg
|
Calcium:
29
mg
|
Iron:
3
mg
Like this recipe? Rate and comment below!