Ready to take your everyday hummus dish to a whole new level? My Hummus with Spiced Meat recipe is perfect for a heartier and more filling take on an already perfect dip option.
Many of us already thoroughly enjoy our hummus dip as part of a more well-rounded snack, a side dish or appetizer, or even as a main meal for a lighter lunch or dinner. This recipe takes a classic fill-me-up dish and turns into an even more nourishing and fulfilling option.
---
Heartier Hummus Dip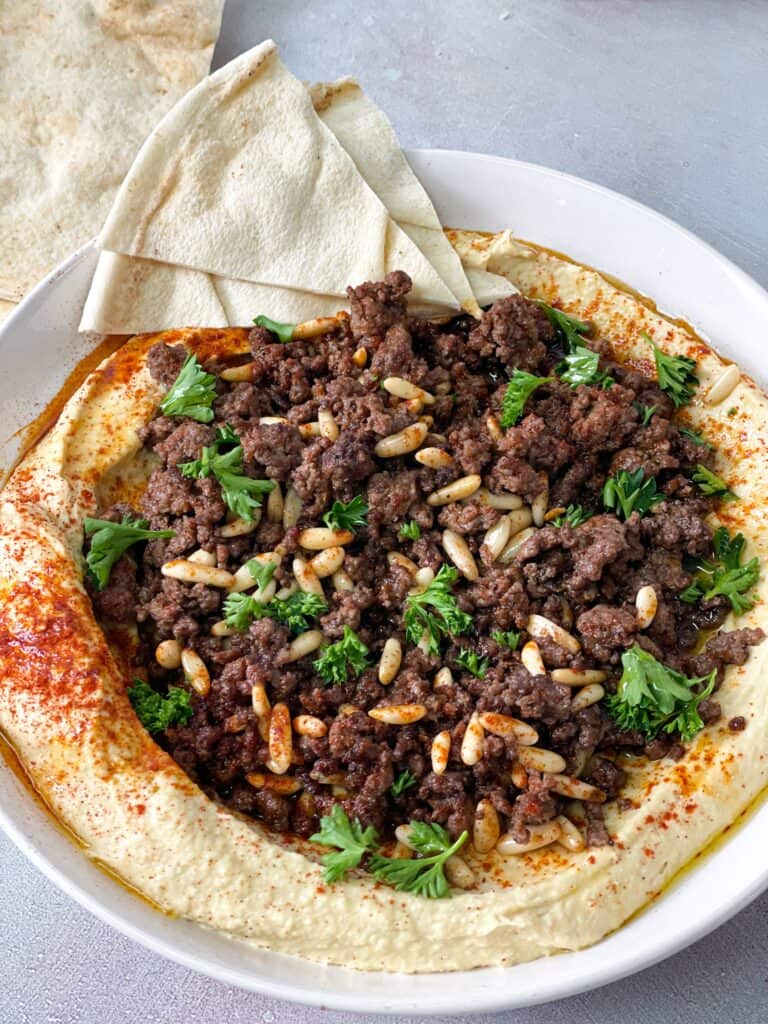 ---
Hummus is one of those dishes that just completes the table in many Middle Eastern homes. But, of late, Hummus has become an international dip phenomenon.
Hummus has proven its versatility and ability to take on complex flavors, be combined with varying textures, and be served for any occasion while remaining the star of the show time and again.
If you're a fan of hummus recipes, I'm sure you'd like to try my: Spicy Roasted Red Pepper Hummus, Layered Hummus Veggie Dip Recipe, Smooth Vegan Hummus Recipe, and Best Creamy Hummus with Tahini!
---
Have Fun Garnishing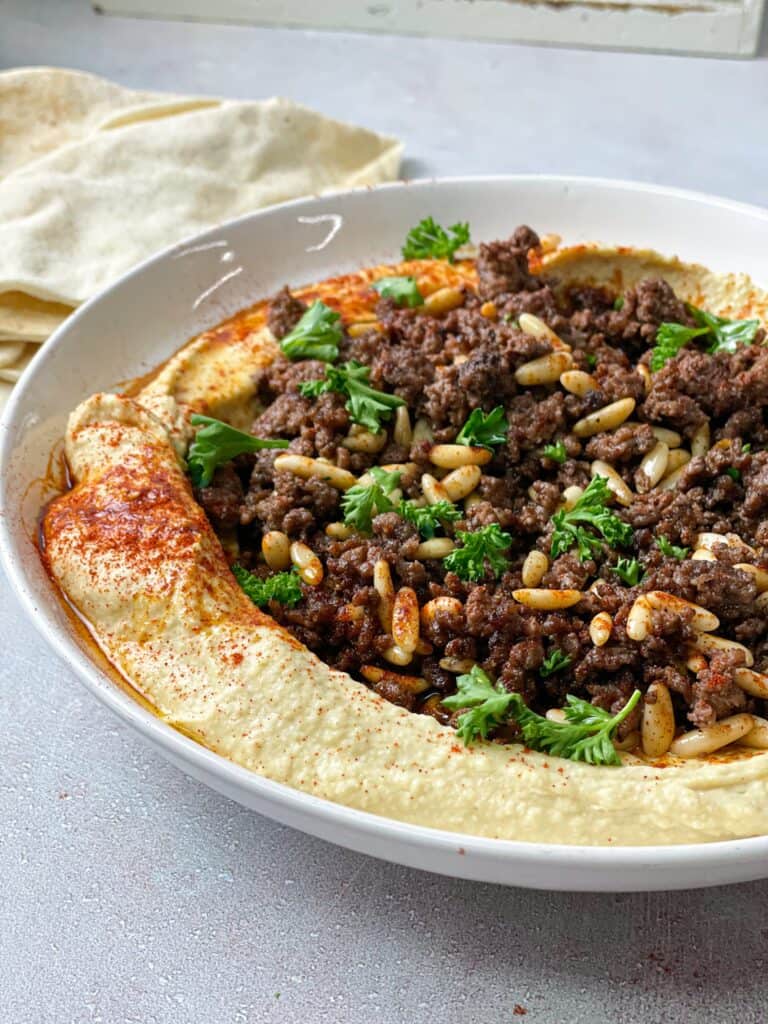 ---
Why You'll Love this Recipe
You'll enjoy preparing and serving this simple and healthy traditional dish. It's a filling recipe which is loved by both younger and older family members.
Another reason you'll love making this spiced beef with hummus is how quick it is to prepare. You can prepare and serve a filling dish for your family in less than 20 minutes. This is especially useful on busy weeknights when you just want to throw something together quickly.
If you like to meal prep, you can make the hummus and spiced beef mixture ahead of time. Simply store them separately and reheat the spiced meat mixture before serving.
---
Save this Recipe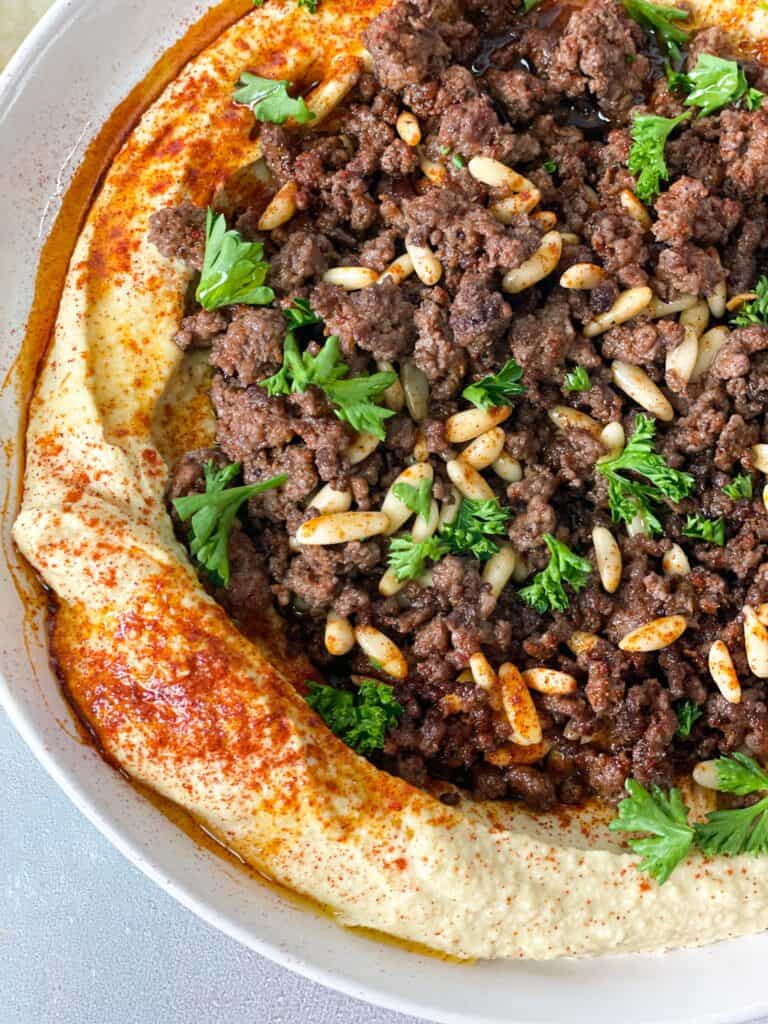 ---
Serve up Hummus with Spiced Meat
This dish can be served in so many ways. If you're serving it as a heartier option to plain hummus, you may want to serve it with:
Regular pita bread
Toasted/fried pita slices
Tortilla chips
Veggies (celery, carrots, mini peppers, etc.)
If you're serving up as an appetizer or side dish, you may want to:
Serve it layered in lettuce or mini pepper boats
Place toasted or fried pita pieces all around the hummus dish
Put them in mini tortillas or triangular shaped pita breads and serve as wraps
---
Who Wants the First Bite?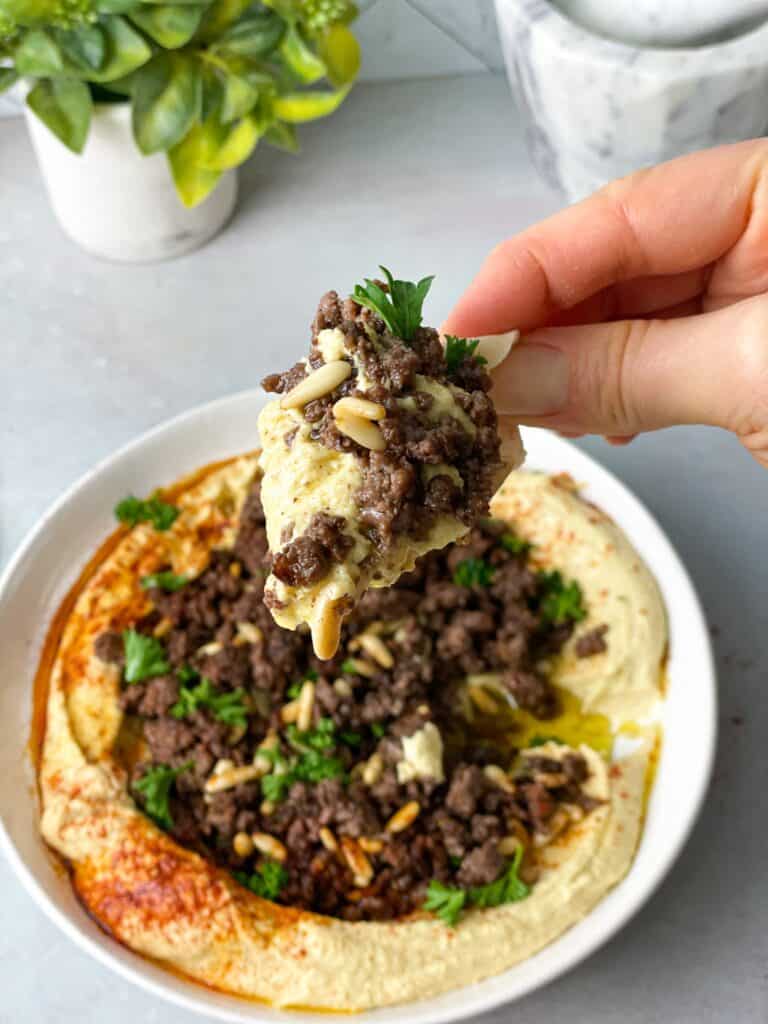 ---
Frequently Asked Questions (FAQs):
How do you toast pine nuts?
I usually toast the pine nuts in olive oil with the ground beef. You can also toast them in the oven. Simply line a rimmed baking sheet with parchment paper and bake the nuts at 350°F for 5-7 minutes. Shake or turn the pine nuts halfway through to prevent them from burning or toasting too much.
Can you freeze hummus?
Hummus freezes well, so you can make it in large batches! However, do not freeze the hummus with the ground beef topping. Transfer the hummus to an airtight container and store in the refrigerator for up to 3 months. Thaw it in the refrigerator before serving with the toppings.
Can I add veggies to the ground beef with hummus?
Yes, you can sauté some mushrooms with the ground beef, spice it up a bit more, and make sure all the moisture is dried off so it doesn't get soggy on top of the hummus.
Can I make this recipe in advance?
If you like to meal prep, you can make the hummus and spiced beef mixture ahead of time. Simply store them separately and reheat the spiced meat mixture before serving.
What is the seven spices seasoning?
It is one of the most commonly used spice blends in Lebanon. It is made from a mixture of black pepper, cinnamon, ground cloves, cumin, ground coriander, and white pepper. I like to make my own seven spices blend.
---
Pin this Recipe and Share it!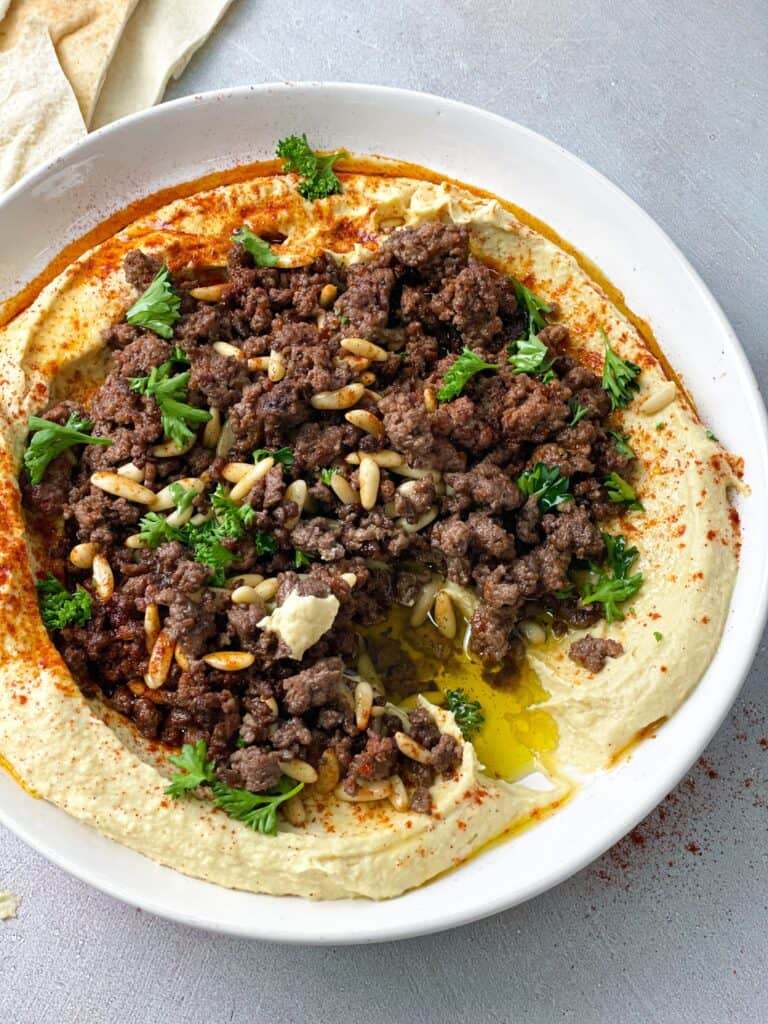 ---
Top Tips
Store leftovers in an airtight container in the fridge. They will keep for about a week.
Use good quality tahini. Tahini can be found in Middle Eastern markets, natural food stores, and even large supermarkets, alongside other Middle Eastern ingredients. If you are allergic to tahini, I would recommend substituting olive oil.
To make smooth and creamy hummus, I recommend using a food processor.
Adding ice cubes to the hummus while blending helps in whipping the hummus into a creamier texture.
You can make this dish with ground lamb in place of the ground beef.
---
Warning: You May Not Want to Share 😉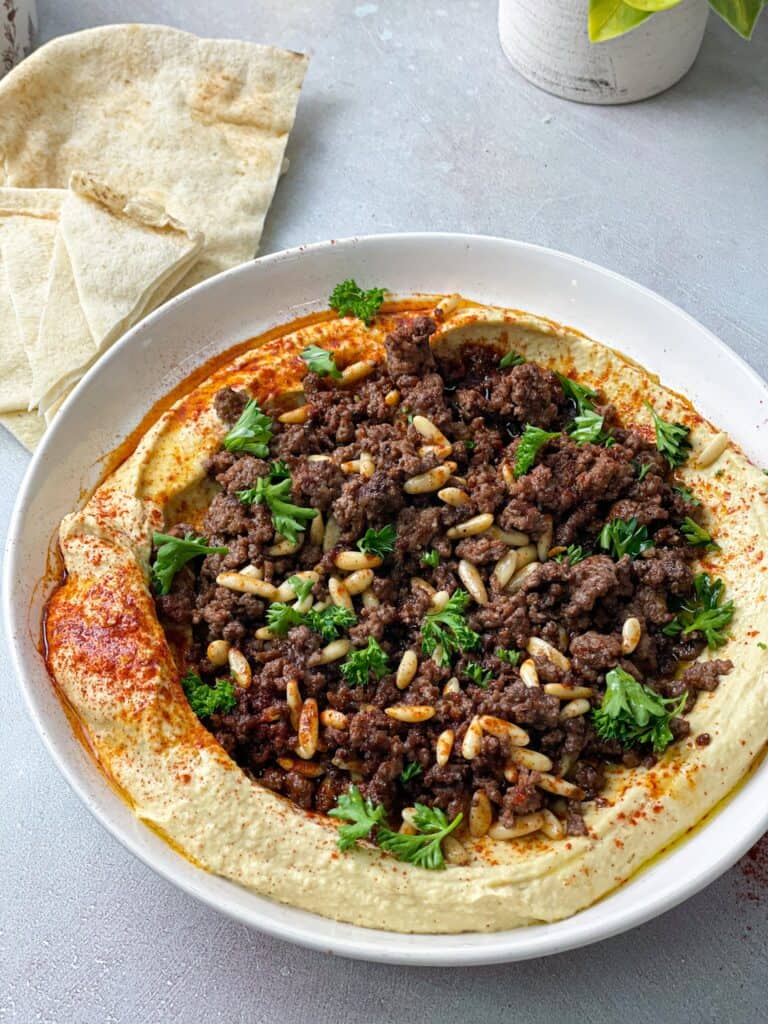 ---
Hummus with Spiced Meat Ingredients
Hummus
garbanzo chickpeas/ drained
tahini (sesame seed paste)
lemon juice
salt
garlic
ice cubes
Spiced Meat
ground beef
pine nuts
seven spices
salt (to taste)
(Scroll down for recipe details)
---
Must Try Recipes:
---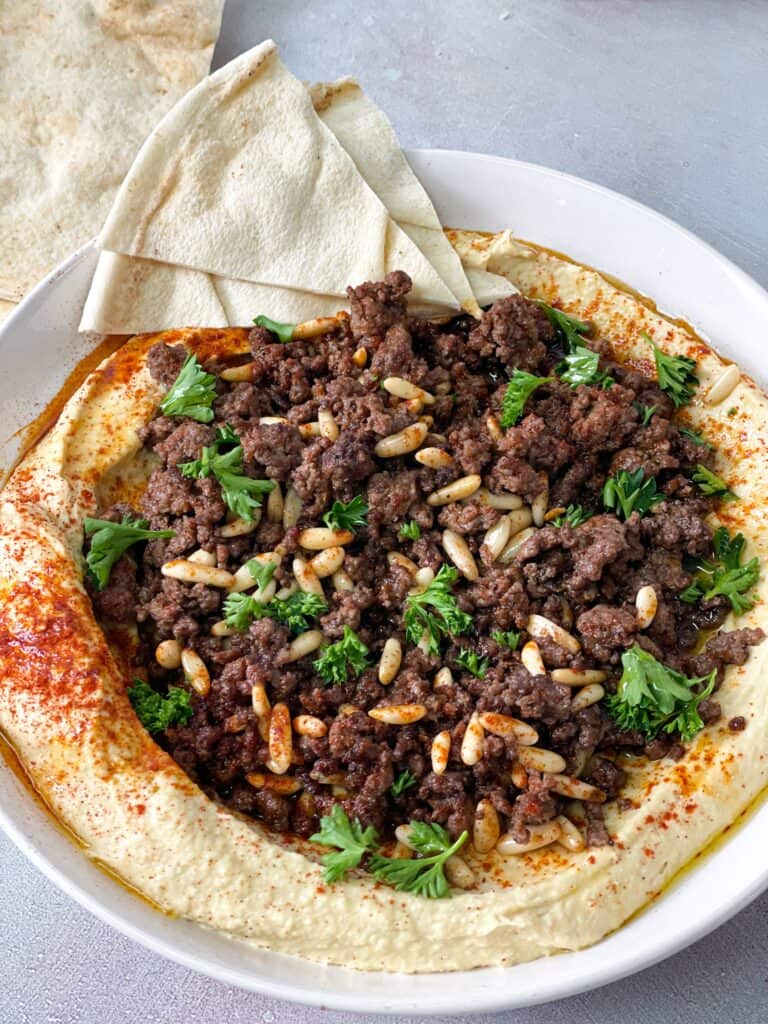 Hummus with Spiced Meat
My creamy and delicious hummus recipe topped with perfectly seasoned spiced meat.
Ingredients
Hummus
1 can can garbanzo chickpeas (15 ounces) drained
½ cup tahini (sesame seed paste)
½ cup lemon juice
¼ cup olive oil
½ teaspoon salt
2 cloves garlic
3 cubes ice
Spiced Meat
½ lb ground beef
3 tablespoons olive oil
3 tablespoons pine nuts
½ teaspoon seven spices
¼ teaspoon salt (to taste)
Instructions
In a food processor place a drained can of garbanzo beans, tahini paste, lemon, olive oil, garlic, salt and ice cubes.

Turn on the food processor for about 5 minutes, stop in between to scrape the sides down.

Place the creamy hummus in a serving dish.

To a skillet, add olive oil on high heat then add the ground beef. Lower heat to medium, then add raw pine nuts

Sear the beef with the pine nuts for about 6-7 minutes or until cooked.

Place over the plated hummus. Garnish with paprika then drizzle olive oil. Serve with pita bread.
Nutrition
Calories: 360kcalCarbohydrates: 8gProtein: 5gFat: 36gSaturated Fat: 5gPolyunsaturated Fat: 10gMonounsaturated Fat: 20gSodium: 359mgPotassium: 178mgFiber: 2gSugar: 1gVitamin A: 20IUVitamin C: 11mgCalcium: 41mgIron: 2mg