Honestly, few foods are as adored as pasta. It is one of the favorite meals all over the world! So, check out these Top 10 Healthy Pastas if you are a real pasta lover!
From high-protein chickpea pasta to whole-wheat pasta and lentil pasta brands, they are all so healthy and nutritious! These pastas will surely keep your blood sugar at a steady level and help you stay full after your meal.
---
Healthy Pastas Rich in Protein and Fiber
---
What about Traditional Pasta?
Even though pasta is surely a comfort food everyone enjoys, it's not always the most nutritious and healthiest food choice. Actually, just one cup of traditional wheat spaghetti has only 2 grams of fiber and around 7 grams of protein, according to the USDA.
Luckily, there are plenty of pasta alternatives that have gut-healthy fiber, much more protein, and valuable nutrients! These top 10 healthy pastas are often made from vegetables. They are greatly increasing the nutritional value without altering the familiar taste of pasta.
---
Why Choose Healthy Pastas
When you swap regular pasta for a high-protein alternative, you can still enjoy a simple dish like spaghetti with tomato sauce. However, a simple meal becomes healthier when protein is added.
Also, high-protein pasta dishes will keep you full for a long time and help control unnecessary cravings. Note that most chickpea pastas have many options for gluten-free pasta.
Plus, healthy pasta has more fiber in it. Fiber is a huge benefit that comes with vegetable-based pasta options. Fiber is also necessary for proper digestion. Also, it normalizes blood sugar and cholesterol.
When you're shopping for high-protein pasta, scan its nutrition label. You should aim for a pasta brand that has at least 4 grams of fiber and 10 grams of protein per serving.
Also, pay attention to reading the label on how to prepare your high-protein pasta. Many high-protein pastas will have a mushy texture if you overcook them. Also, make sure to rinse your pasta right after cooking.
---
Chewy And Easy Fresh Pasta
---
Top 10 Healthy Pastas Rich in Protein and Fiber
The grocery store nowadays has so many pasta options that it's really a challenge to choose the right one on the pasta aisle. Among the various types of pastas out there, look at the 10 healthiest choices.
1. Chickpea Pasta
Thanks to chickpeas' impressive nutrient profile, they are perfectly used to create a delicious and nutritious plant-based pasta. Also, chickpea pasta alternative is my favorite one in this top 10 healthy pastas!
While chickpea pasta has a similar taste to traditional pasta, it is also very nutritious. It's packed with antioxidants, high protein, high fiber, and key nutrients such as calcium. Also, it has a chewy and nutty texture that's so delicious!
Banza's high-protein chickpea pasta is made primarily of garbanzo beans. Also, it has 11 grams of protein per 2-ounce serving.
Made from chickpeas and lentils, this pasta contains 13 grams of protein.
This pasta has a very similar taste and texture to traditional wheat pasta. Also, it has 11 grams of protein per serving.​
Made from chickpeas and lentils as well as spinach and kale, this high-fiber pasta contains 24 grams of protein.
Also, don't forget to make this delicious Béchamel Pasta Bake (Macarona Béchamel) using Banza chickpea elbows pasta!
---
Different Flavor, But Better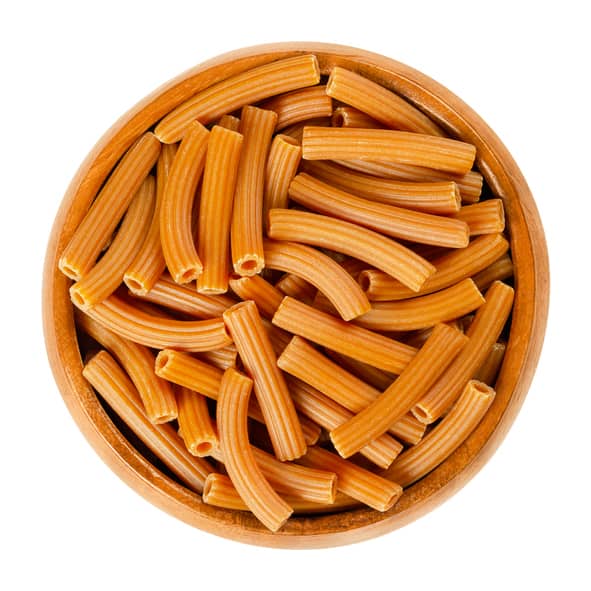 ---
2. Edamame Pasta
Edamame beans are young soybeans harvested before they ripen or harden. This is definitely one of the high-protein pasta choices out of the top 8 healthy pastas!
Simply Nature Edamame Pasta
It is an organic, soy-based pasta that's made solely of edamame. The texture of this pasta is so smooth! It has 24 grams of protein along with 13 grams of fiber. It will surely keep you fuller for a couple of hours!
Explore Cuisine Edamame Mung Bean Fettucini Pasta
It's made with two types of plant-based protein, edamame beans and mung beans. It has 24 grams of protein per serving, fully organic, and deliciously satisfying.
The Only Bean Organic Edamame Spaghetti Pasta.
Made from edamame beans, this tasty green spaghetti is full of gut-nourishing fiber. It has 25 grams of protein, 11 grams of fiber, along with your daily calcium and potassium needs.
---
3. Fava Beans Pasta
Fava beans are an incredibly nutritious food! Mostly because they contain nutrients like gut-friendly soluble fiber, folate, iron, and magnesium.
Explore Cuisine Organic Fava Bean Fusilli
With 14 grams of protein and 5 grams of fiber per serving, explore a natural stand-in for whole-wheat pasta. Also, its taste and texture are very similar to regular pasta. This bean pasta is such a comfort food!
---
4. Pea Pasta
Pastas made from yellow and green peas serve as one of the best plant-based sources of protein! Also, they're satisfying and filling as well!
Zenb's yellow pea protein pasta comes in a tight corkscrew shape and is really great for saucy pasta dishes. It has 17 grams of protein and 11 grams of fiber.
---
5. Egg Pasta
Eggs offer lots of beneficial nutrients, including iron and carotenoids. Also, they are a good source of animal protein. This is a good idea for your dinner in case you are not on a plant-based diet.
This egg-based pasta is high in protein and fiber yet low in calories and carbs. It contains 15 grams of protein, 8 grams of fiber, and only 17 grams of net carbs.
Tartuflanghe N18 Tagliolini Egg Pasta with Truffle
Made with semolina flour, eggs, and truffles, this high-protein pasta has a unique taste that truffle fans will surely adore.
---
6. Cauliflower Pasta
Cauliflower has found its way into pasta, bringing so many important nutrients to your pasta salad or pasta plate. It's really one of the top 10 healthy pastas.
Veggiecraft Farms Cauliflower Pasta
This high-protein pasta is made exclusively of cauliflower, pea, and lentil flours. Also, its fiber content is high, and it has 13 grams of protein.
Veggiecraft Farms Mac & Cheese Cups
Enjoy 11 grams of protein along with potassium, calcium, and iron in this fiber-rich pasta. Also, its glycemic index is so low _ just perfect for your overall health and weight loss.
---
7. Zucchini Noodle Pasta
Made from fresh zucchini, this pasta is a great alternative for gluten-intolerant people or those who have celiac disease. It's also a good source of antioxidants and vitamin C, making it an essential nutrient.
Green Giant Zucchini Veggie Spirals
The only ingredient is 100% zucchini. Besides, it has no added sugar, sauce, or seasoning! Gluten-free, delicious, and so healthy! Enjoy it with creamy sauces and sun-dried tomatoes.
Veggiecraft Farms Penne Pasta Made with Zucchini
This pasta is made from lentil, pea, and zucchini flours. It has a high protein content and a delicious taste while containing no carbs.
---
8. Brown Rice Pasta
This type of pasta is a good source of fiber, minerals, and antioxidants that can optimize your health and prevent chronic heart disease.
Nature's Greatest Foods, Organic Brown Rice Noodles
These gluten-free rice noodles are made with the finest organic brown rice. You can surely expect a delicious and nutty flavor in every bite. These noodles are also high in minerals and provide a good source of fiber.
---
9. Wheat Pasta
Regular wheat pasta can also be healthy and nutritious if you choose the white pasta flour ingredients correctly.
Made from a mixture of whole grains such as golden wheat, pea protein, lentil flour, and chickpea flour, this whole wheat pasta has a classic penne taste and texture. 10 grams of protein and 4 grams of dietary fiber make this whole-wheat pasta one of the best pasta options.
Pastabilities Mighty Pasta
This pasta from durum wheat flour has 11 g protein and 12 grams of fiber. It's an ideal pasta to enjoy with a tomato sauce.
Enjoy your classic wheat pasta in Gigi Hadid's Viral Pasta Recipe (without the vodka) for an amazing pasta meal!
---
Feel Saturated For Longer
---
10. Lentil Pasta
Although lentil pasta is made entirely from lentils, this high-protein pasta has a very similar taste and texture to that of traditional varieties.
This pasta is made from red lentil flour. It is one of the best pasta options, and it has 13 grams of protein and 6 grams of fiber to keep your blood sugar steady. Also, it will help you stay full much longer after a meal.
Tolerant Organic Green Lentil Rotini
This high-protein pasta has 21 grams of muscle-building protein! Also, it's rich in digestion-helping fiber and a group of energizing B vitamins. In addition, you can easily keep your healthy diet. So you will really enjoy it with a tomato sauce, a drizzle of olive oil, and parmesan cheese.
---
Best Healthy Pasta Recipes and Pasta Dishes: