Are you breakfast and lunch fanatic? If yes, then this gourmet-looking but super-easy-to-prepare Zaatar and Grilled Cheese Sandwich with Eggs recipe is going to save your day.
The unique marriage of Middle Eastern ingredients-namely zaatar and Akawi cheese- and Western French toast makes this recipe an original novelty that will definitely leave you drooling.
---
Golden Crunchy Toast with Yummy Zaatar, Cheese, and Eggs for Your Pleasure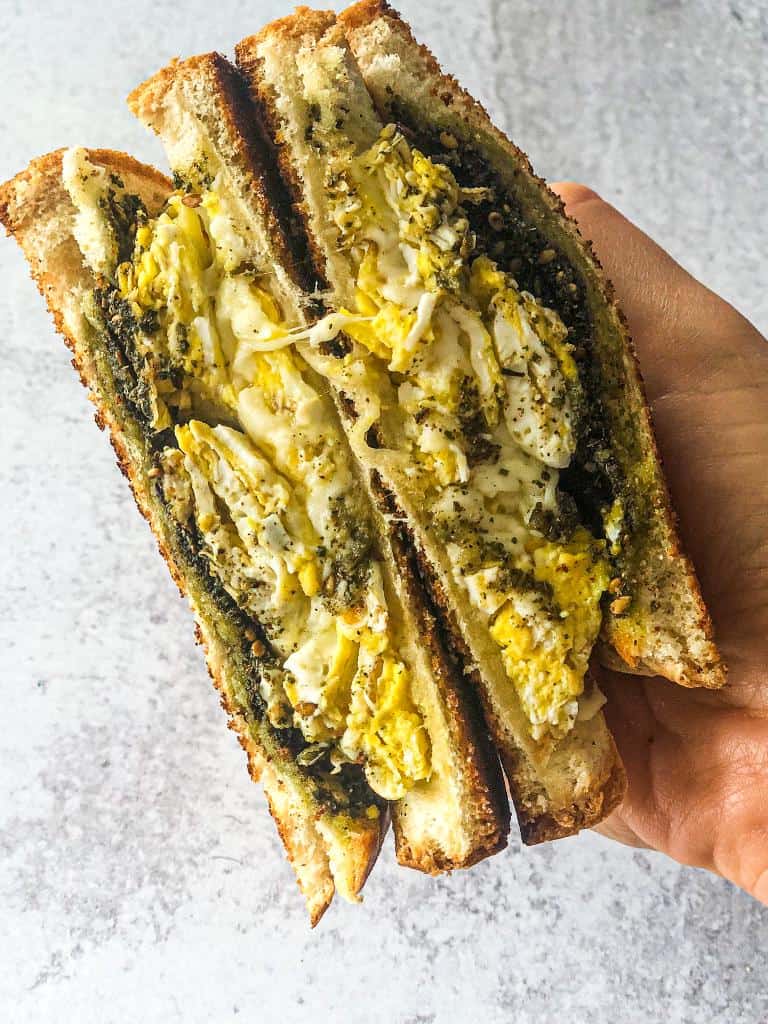 ---
Start Your Day with a Freshening Dose of Zaatar
Native to the Middle East, mainly the Levant region, the beloved zaatar (or Za'atar) blend takes its name from its main ingredient: Zaatar or wild thyme.
Besides being a staple in the Middle Eastern cuisine for it's delicious flavor, this aromatic herb has been used by housewives as a home remedy for coughing and bronchitis for years.
No wonder it's a favorite ingredient in home remedies as this fragrant herb is also rich with vitamin A, vitamin C, copper, fiber, and iron.
Some studies suggest that because of its active substance, carvacrol, zaatar may increase the levels of serotonin and dopamine that regulate the mood.
---
Zaatar: The Amazing Blend
But other than its main and star ingredient, zaatar is a popular blend that Middle Easterners enjoy for their most delicious sharable breakfasts or packed school lunch sandwiches.
It is available in most, if not all, Middle Eastern grocery stores. So what is it exactly made of?
This rich and aromatic blend is a combination of earthy dried ground wild thyme leaves, tangy sumac powder, and crunchy toasted sesame seeds.
Then, the addition of oh-so-famous extra olive oil transforms it from being a dry powder to a spreadable paste ready to compliment all types of wraps and sandwiches and easy as a breakfast recipe.
---
The blend of zaatar changes according to the setting of its production. There are many variants with more or less ingredients producing different tastes. But all of them have the "absolutely delish" factor in common!
---
Now enough with zaatar and back to our savory sandwich! Having eggs and cheese alongside this major ingredient – zaatar, sandwiched between crispy toasted bread, makes the Zaatar and Grilled Cheese Sandwich with Fried Eggs recipe a must-try for breakfast, but you can always enjoy it at any time of the day.
---
Hold It Firmly! Bite It Scrumptiously!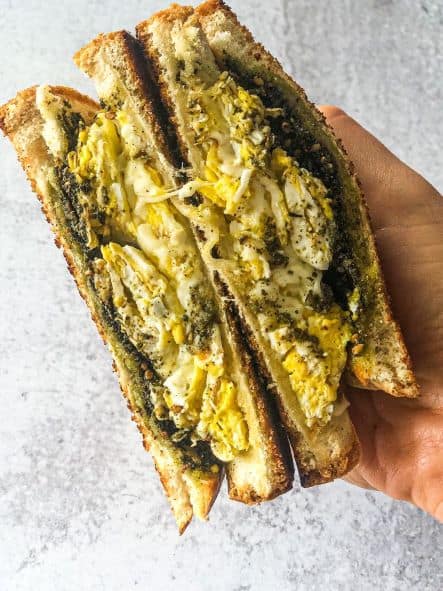 ---
Zaatar Paste Mix
It is true that the term Zaatar indicates the herb which is akin to Thyme, yet the mixture that is added to bread and its categories includes more than the herb itself. In fact, the various forms of buns, manakish, toasted bread,.. that contain zaatar have it as a paste.
To prepare this ingenious mixture, you need to add olive (or any vegetable) oil and sesame seeds as well as dried za'atar to get a somehow thick blend and a perfect dish with the most satisfying taste ever.
---
Oozing Akawi Cheese
Another interesting, main ingredient in this recipe is Akawi cheese, a Middle Eastern cheese, which is originally salty.
This type of cheese gives the recipe a distinct and authentic flavor. With its gooey and buttery texture, the Akawi cheese will take your sandwich to the next level once its melts.
However, you can make this cheese salt-free. How to do that, you ask? Worry not! The perfect recipe is to simply soak the sliced cheese chunks in warm water for, at least, an hour before using them. Then, drain excess water from the cheese and you're ready to go. I don't do this but if you are watching your salt intake, you can apply this step.
---
Frequently Asked Questions
Is using Akawi or Mozzarella a must?
Not at all! You can substitute it with any kind of stretchy or gooey cheese, such as mild cheddar, Ques Blanco, Gouda, American cheese, etc..
Can toast be substituted with another kind of bread?
Yes, definitely! Different types of bread as French toast, gluten-free buns, brioche bun, tortillas, bagels, or pita bread works well. You'll get the same appetizing texture and taste no matter what type of bread you'll decide to use.
What can I substitute the Akawi for?
Instead of Akawi, a mixture of feta cheese and fresh mozzarella works beautifully for this sandwich, yielding the same cheesy goodness. Ques Blanco is another great option to opt for as well.
Does za'atar oil or the zaatar paste mix need to be refrigerated?
No, that's not necessary all. You can store it in a pantry or spice cabinet, but make sure to keep it away from heat-sources as the oven or stovetop.
---
Munch and Crunch It!
---
Make It All Work with These Tips
Heat the skillet very well before putting the sandwich on. Or else, your sandwich will be dry and stale before you know it.
Also, heat the olive oil on medium heat before frying the eggs. Make sure you don't overdo it as overheating olive oil has adverse health effects.
Want to go extra gourmet? Butter your skillet or grill before toasting the sandwich for that fine flavor.
Make sure that you use a non-stick skillet or grill. Otherwise, parts of the sandwich will stick to the pan floor, especially the middle of each bun. This might mess up the whole sandwich.
A great way of enjoying this grilled cheese sandwich and egg buns is to have it with a cup of warm tea.
---
Zaatar and Cheese Sandwich with Eggs Ingredients
An easy recipe as Zaatar and Grilled Cheese Sandwich with Fried Eggs has all of its simple and affordable ingredients right inside your kitchen.
To make this yummy sandwich, you need to have some eggs and shredded akawi or fresh mozzarella cheese.
You also need zaatar and olive oil. Finally, you can get toasts or any bread of your choice.
---
Steps to Prep Zaatar and Cheese Sandwich with Eggs
The simplicity of this recipe is not only in its components but also in the steps of preparation.
To create this tasteful sandwich, first, you have to drizzle some olive oil on a medium-sized skillet.
Next, cook the eggs in the skillet for about 2-3 minutes and scramble them.
Then, prepare the zaatar paste by mixing the zaatar spice with olive oil. Spread the zaatar paste on one side of each toast, and then top that side with the fried eggs.
After that, sprinkle your favorite shredded cheese like akawi or mozzarella over on top of the eggs.
Then, cover this side of the sandwich with the 2nd piece of toast. Then, place it in your grill or on a skillet (that is previously heated to medium) for about 2-3 minutes on each side or until the outside toast is golden brown.
Finally, sink your teeth into this gorgeous sandwich right away or store it in an airtight container to eat it later on once it cools. Reheat it on low heat, and it will be as good as new.
---
An original, quick-and-easy-to-make breakfast sandwich of toast with zaatar, grilled cheese, and fried eggs is an optimal choice for a hearty meal or snack. But if want to have ideas about similar tasty snacks, check out the list below.
---
Other Recipes You Must Try
Check out these epic recipes for non-traditional meals and snacks:
---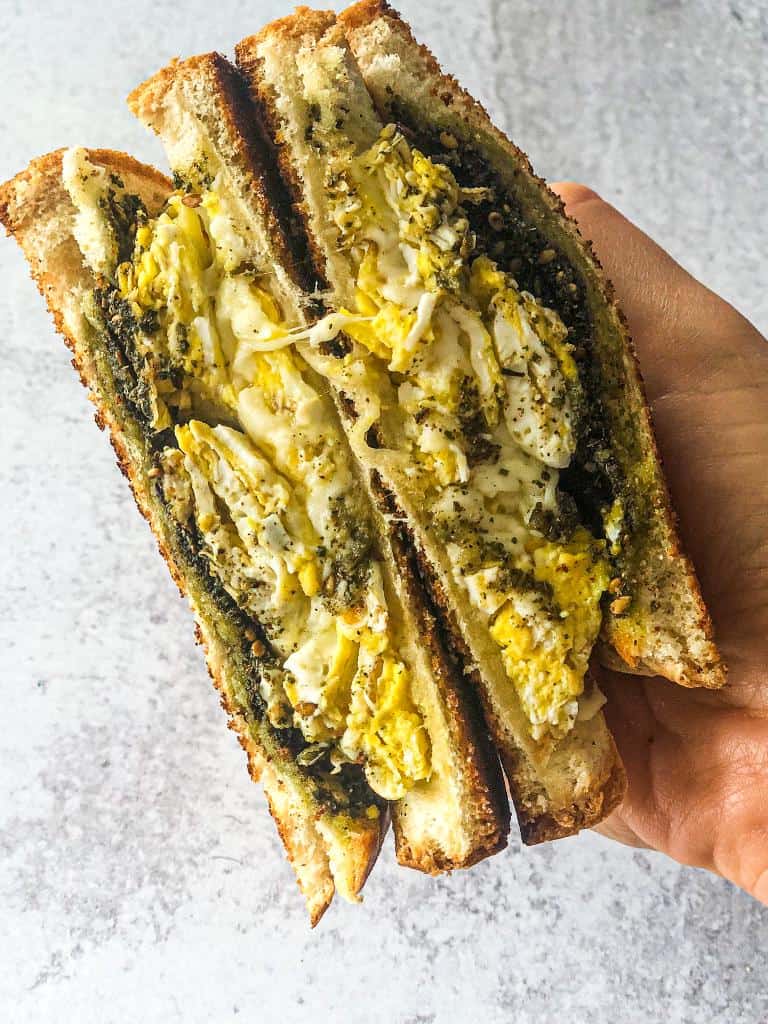 Zaatar and Grilled Cheese Sandwich with Fried Eggs
A yummy sandwich of two layers of toast filled with a delicious combination of zaatar, cheese, and eggs grilled in a skillet
Ingredients
1 egg
3 tablespoons shredded cheese (Akawi or Mozzarella)
3 tablespoons Za'atar
1 tablespoon olive oil
2 slices Toast Bread (or any other type of bread)
Instructions
In a medium skillet, cook 2 eggs with a drizzle of olive oil for about 2-3 minutes and scramble them well.

Mix the zaatar spice with 3 tablespoons of olive oil until you have a zaatar paste.

Spread the zaatar paste on one side of each toast, and then top this side with the scrambled eggs.

Cover the eggs with your favorite shredded cheese like akawi or mozzarella.

Put the second piece of toast on the first slice that contains the zaatar, cheese, and eggs on top.

Place the sandwich on a grill or a skillet, and medium heat it for about 2-3 minutes on each side or until the outside toast is golden brown.
Notes
The Zaatar and Grilled Cheese Sandwich with Fried Eggs is best when you have it hot right off the skillet. However, if you feel you want to pack it to be eaten later on, you can wait till it cools down, and then store it in an airtight container. An easy way is to heat it slightly in an ovenproof dish in the microwave when you want to have it, and then enjoy its savory taste. It is also optional to cover the grill or hot skillet with a thin layer of butter before placing the sandwich on it. This reinforces the rich flavor and gives the toast a marvelously golden brown color and a crunchy crisp.
Nutrition
Calories: 474kcalCarbohydrates: 33gProtein: 22gFat: 29gSaturated Fat: 9gPolyunsaturated Fat: 4gMonounsaturated Fat: 14gTrans Fat: 0.02gCholesterol: 192mgSodium: 674mgPotassium: 257mgFiber: 6gSugar: 3gVitamin A: 954IUVitamin C: 6mgCalcium: 814mgIron: 17mg