If you have been a plant-based eater your whole life, or just a newbie, then we have got you covered with this hearty collection of Vegetarian Dishes.
Furthermore, not only vegetarians are interested in meatless recipes. There are plenty of people who are just looking forward to testing out new flavors. While others might be trying to cut meat out of their diet. As, There are people spontaneously searching for delicious recipe ideas for extra special Meatless Mondays!
Besides, it doesn't really matter if you are a vegetarian or not. These appetizing Vegetarian Dishes are going to beat all stereotypes on meatless dishes being plain, bland, and unwholsome.
---
Nutritious and Filling Meals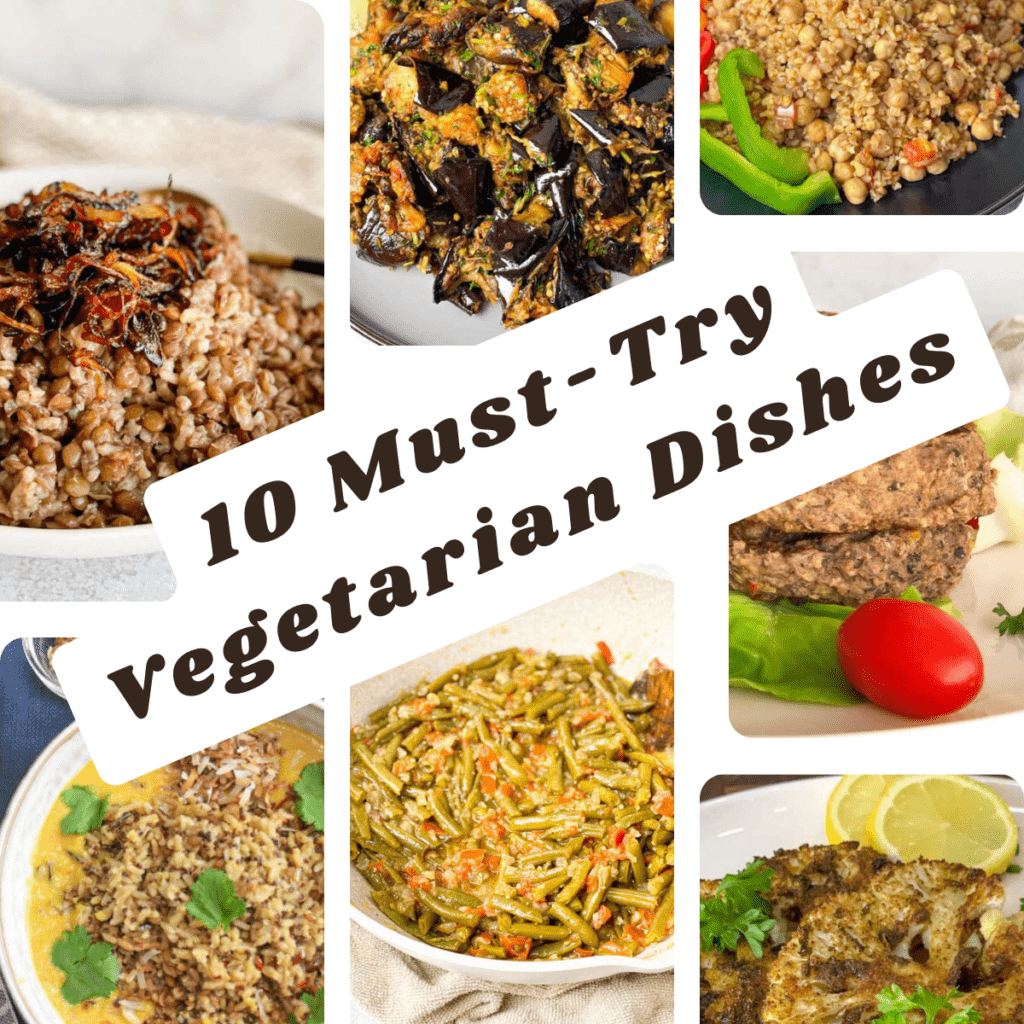 ---
Vegetarian Diet Health Benefits
Originally, people tend to cut meat out of their diet for various reasons. Some reasons might be related to religious beliefs, certain health conditions, or even concerns about animal rights.
Indeed, following a vegetarian diet has its benefits. To start with, most plant based dishes contain high-fiber whole grains and legumes. Which is good for the heart health. Since, it reduces cholesterol levels and lowers the risk of heart attack and type 2 diabetes.
Adding to that, vegetarians consume more vegetables and fruits that are rich in potassium which lowers blood pressure. Vegetarianism is also considered a healthier diet option, since vegetarians do not consume harmful hormones given to animals.
---
Vegetarian Friendly Meat-Based Meals
Besides, people claim that a recipe with no meat, is not as delicious or packed with flavors as it supposed to be. Well, this is absolutely wrong! As plant-based meals can be just as tasty and jammed with exotic flavors as any other recipe with meat in it. Vegetarians are playing around with the ingredients which is resulting in appetizing creations.
Basically, the most delicious vegetarian dishes are not originally vegetarian. As mentioned above, people have altered recipes to best fit the plant-based diet. So, if you are a vegetarian craving a burger or a luscious shepard's pie, then you are in the right place!
---
Must Try Vegan Recipes
Healthy and packed with delicious flavors, The Supreme Vegan Black Bean Burger will make you forget all about meat. This mouth-watering burger can be enjoyed with delicious toppings and sides, such as, sweet potato fries, roasted veggies, or even guacamole.
The Supreme Vegan Black Bean Burger
If you are craving a delicious beef burger, but you don't want to feel guilty. This easy Vegan Black Bean Burger is here for you! It is loaded with nutritious legumes, aromatic spices, and fresh bell peppers. The mouth-watering patty is served in a fresh bun with your favorite toppings, vegetables, or condiments. This succulent burger is so good, you will not even miss the meat!
Check out this recipe
---
Nothing beats a wholsome, warm, and hearty Vegetarian Lentil Shepard's Pie. It deliciously combines fresh veggies and rich lentils in one irresistible casserole.
Vegetarian Lentil Shepard's Pie
This dish, is the vegan version of the classic Shepard's Pie. Vegetarian Shepard's Pie is the ultimate comfort meal that you will fall in love with! It is a luscious meal packed with healthy lentils and fresh veggies. Trust me it will not disappoint you!
Check out this recipe
---
Vegetarian Middle Eastern Dishes
To start with, Middle Eastern cuisine is famous for its colorful and healthy food options that are packed in legumes and fresh veggies.
Plus, It is not all about Falafel and Hummus, there are plenty of insanely good dishes that are popular in the region and considered a great option for plant-based eaters.
---
Lebanese Lentils and Rice (mujadaret Roz), is the ultimate "go to" meal for all moms. For this meal is so easy, healthy, and rich in protein, fiber, magnesium, and zinc. Rice and Lentils is a low-cost meal that works pretty well when you are on a budget.
Lebanese Lentils and Rice Recipe
Lebanese cuisine has many lentil-based recipes. Lentils and Rice got to be the most famous one. This recipe is extremely easy and simple. All of its ingredients are availabe in every household's pantry. It is simply an appetizing combination of rice and lentils garnished with golden brown caramelized onions.
Check out this recipe
---
A satisfying, authentic Middle Eastern meal served as a main dish or as an appetizer. Vegetarian Grape Leaves has been and will always be, everyone's favorite, till the end of times.
Vegetarian Grape Leaves (Instant Pot)
A flavorful filling of rice, tomatoes, parsley, onions and aromatic spices stuffed in an incredibly tasty grape leaves and drenched in olive oil and lemon juice. Vegetarian Grape Leaves is a beautiful creation, that might be time consuming, but the result is definitely worth it!
Check out this recipe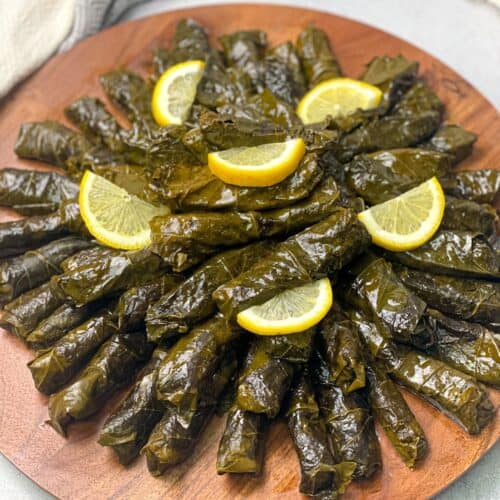 ---
A summer meal that is served as a main dish, side dish, or as an appetizer and enjoyed with a side of fresh tray of veggies. Braised Green Beans (Loubieh Bzeit) is a refreshing dish rich in tangy and sweet flavors of tomatoes.
Braised Green Beans-Loubieh Bzeit
Hot or cold it doesn't really matter. Braised Green Beans-Loubieh Bzeit is a juicy vegan-friendly recipe that combines fresh green beans, tomatoes, onions, and garlic. It is a delectable dish loaded with flavors!
Check out this recipe
---
Skip on pasta and rice, and choose bulgar as a healthier source of carbs. Bulgur is a whole grain that looks like quinoa. Vegetarian Bulgar and Tomato Pilaf (Burghul w Banadoura) is a nourishing bulgar based dish, that is made with simple yet flavorful ingredients.
Vegetarian Bulgar and Tomato Pilaf (Burghul w Banadoura)
This authentic Lebanese dish is deliciously filling. Bulgur and Tomato Pilaf is an easy meal of bulgur, tomatoes, chickpeas, onions, and a combination of aromatic spices all mixed together. It can be enjoyed with a side of Greek yogurt or fattoush salad.
Check out this recipe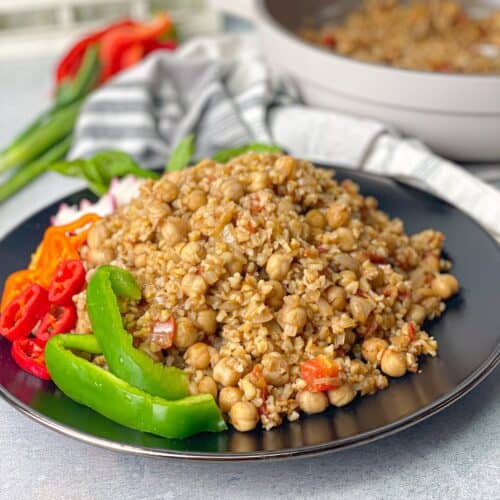 ---
Vegetarian Food With a Twist
Meatless meals have never been tastier! There is nothing wrong with upgrading a certain recipe and taking it to the next level. On the contrary, boosting some dishes with bursting spices and flavors will help you fight food boredom.
---
A must have dish that is devoured in seconds. Spicy Eggplant Cilantro is a phenomenal baked meal with an exquisite taste.
Spicy Eggplant Cilantro Recipe (Vegan)
A heavenly dish with a spicy kick, I advice no one to miss. Spicy Eggplant Cilantro is a great meal made of baked eggplant added to a combination of fresh cilantro, aromatic garlic, pungent spices and, olive oil, topped with a squeeze of tangy lemon juice.
Check out this recipe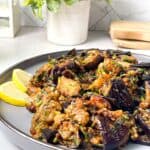 ---
If you are looking for a comforting meal packed with nourishing ingredients and spices, then this Vegan Golden Coconut Milk Lentil Stew is the answer to your prayer!
Vegan Golden Coconut Milk Lentil Stew
This is a winner stew option when you are seeking a healthy and a filling meal. Red Lentil Stew with Coconut Milk is not only delicious but it is beautifully looking too. It may seem like it needs a lot of work, but truly it is very simple. You just have to combine the red lentils with nourishing vegetables in a creamy aromatic coconut stew.
Check out this recipe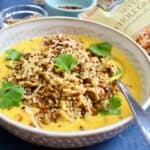 ---
Whether you are looking for a delicious side dish, or you just want to impress your guests with a creative twist, this crowd pleaser over here is there for you! Smoked Cauliflower Steaks Recipe is a healthy snack option that introduces special smokey flavors and unique textures. I bet that you will get addicted to it!
Smoked Cauliflower Steaks Recipe
This delightful recipe presents cauliflower as steak-like slices that are topped with a mixture of pungent spices and olive oil then baked to perfection. Smoked Cauliflower recipe is effortless and requires no time at all. You can enjoy it at any time!
Check out this recipe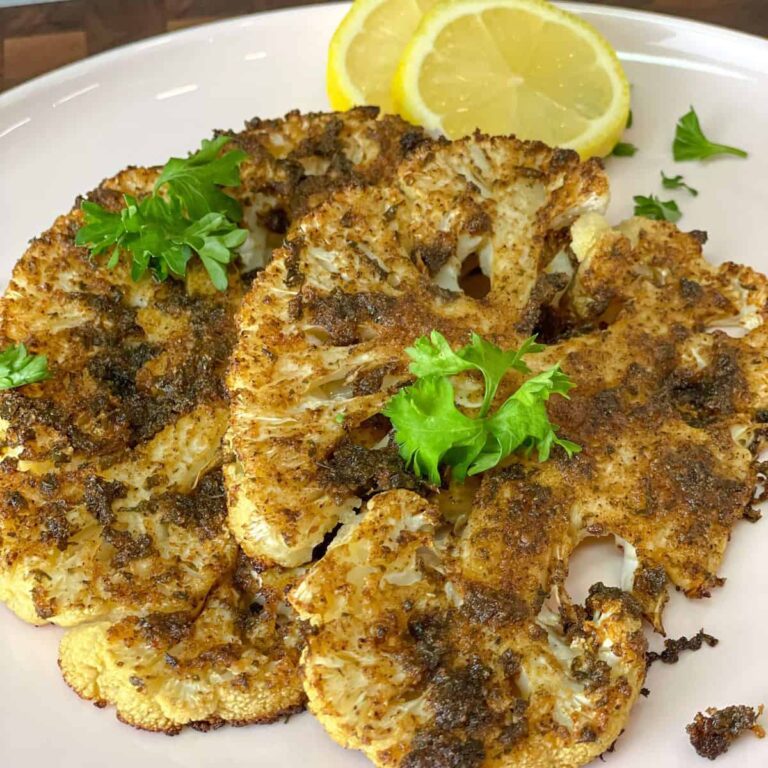 ---
If you are a pie fan, then you must stick around. Spinach Pie Pockets are vegetarian hand-held pies, that are so easy to make and absolutely delectable. They are ideal as an appetizers served in family gatherings or if you just need a quick on the go snack. They are baked flaky pies filled with well-seasoned spinach mix. Spinach Pie Pockets can be frozen and defrosted when needed at a time later.
Spinach Pie Pockets
This dish is for everyone. Literally both plant-based eaters and non-vegetarians will fall in love with these Spinach Pie Pockets. They are golden brown pies stuffed in tangy spinach mixture of onions, sumac, cumin, lemon juice, olive oil, and seven spices. This crispy pie has an unbeaten taste!
Check out this recipe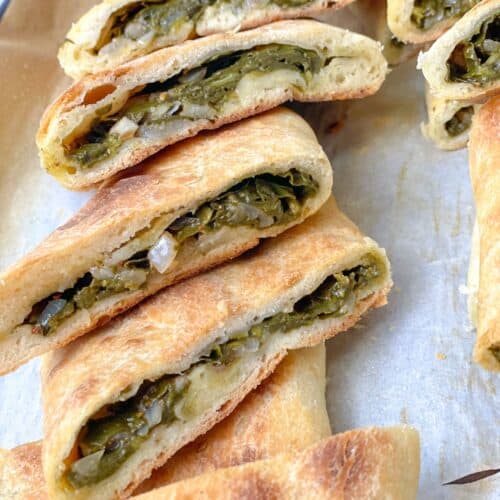 ---
More Plant-Based Recipes To Try
---