You've been eating wheat pasta for years. You have enjoyed every slurp and bite of the yummy noodles. Suddenly, a new trend emerges and demands that you replace your favorite pasta with a gluten-free one for health benefits.
You hear about a rising kind of pasta which is the trendy chickpea pasta, and you just wonder: Is Chickpea Pasta Really Healthy?
---
Chickpeas Converted into Pasta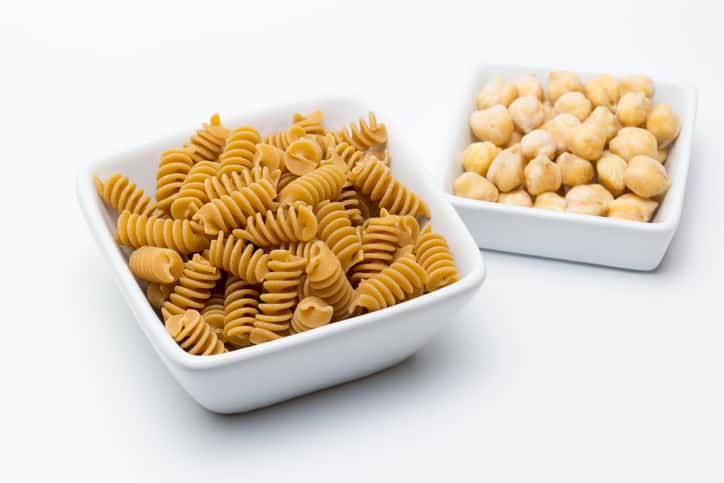 ---
Now, since you have made up your mind to eat properly, you feel curious about chickpea pasta and decide to detect its benefits first. You also want to know if it's better than regular, whole-wheat pasta.
Well, then,come and join us in our errand exploring the constituents and nutritional value of chickpea pasta alongside some tips and tricks of cooking it delectably.
---
What Is Chickpea Pasta?
Instead of using wheat, this kind of pasta comes from chickpeas ground into flour. While chickpea flour is the major component, some brands combine it with other ingredients as brown rice flour, xanthan gum, or red lentil flour.
This type of pasta is available from brands such as Barilla and Banza chickpea pasta. You can also find it in a variety of shapes as spaghetti, rotini, and penne.
It has recently become a healthy alternative replacing regular pasta. But the question is: How does chickpea pasta differ from traditional pasta, and is it actually a healthier option than wheat-based pasta?
---
Chickpea Pasta vs Normal Pasta: The Flavor
Chickpea pasta is different from whole wheat pasta in many ways. In terms of flavor, chickpea pasta has a softer texture; thus, you can cook it in less time. It also has a nutty flavor making you enjoy a unique and matchless taste of a pasta form.
Chickpea pasta is flexible in the sense that you can incorporate it into a wide variety of dishes, just like regular pasta. The best cooking suggestion is to prepare it with pesto sauce or tomato-based sauces.
However, chickpea pasta tastes better when mixed with veggies. Just combine it with your favorite vegetables and season it with virgin olive oil, herbs, and spices of your choice to get the most delicious pasta salad.
One thing you have to consider is that chickpea pasta needs less cooking time than regular pasta. So don't overcook it; otherwise, it becomes mushy.
---
Is Chickpea Pasta Healthier Than Regular Pasta?
Now comes the question that requires a clear answer: Is chickpea pasta actually healthy? In other words, can we consider it a great alternative to whole-wheat pasta?
To answer this question, let's analyze the nutrient profile of each type of pasta in relation to the following categories.
---
Gluten Intolerance
All wheat pastas, including white pasta, contain gluten that is a major cause of celiac disease. In fact, each serving of wheat pasta has gluten by 11% of its weight. While this might seem acceptable to many people, it does pose an issue to people with gluten intolerance.
That's why a healthier option, chickpea pasta, ranks among the gluten-free pasta alternatives.
Therefore, you don't have to give up on your favorite pasta dishes if you suffer from gluten intolerance. Just let chickpea pasta satisfy your craving for an al dente pasta in case you follow a gluten-free diet.
---
Gluten-Free Pasta Is Real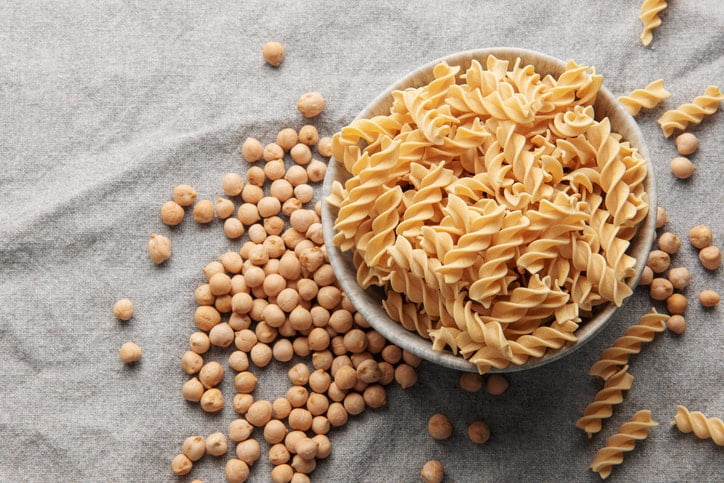 ---
Weight Management and Loss
Real pasta contains less fiber and protein than chickpea pasta. This encourages you to eat more and more of regular pasta to feel full. Here, you end up having more calories and weight as well.
Chickpea pasta, on the other hand, has more grams of fiber and grams of protein in its constituents. The result is the healthiest pasta that you can ever aim for if you're looking for weight management or weight loss.
Then, it is a great choice for a low-carb diet with fewer grams of carbohydrates and less calories as well.
The type of carbs is essential, too. While some foods, such as sugar contain simple carbs that are relatively unhealthy, chickpea pasta is rich in complex carbs.
These total carbs alongside the high protein and fiber content make chick pea pasta a good choice of plant-based protein that is low carb.
---
Managing Glucose Levels and Digestion
The high fiber and protein content in chickpea pasta makes it especially useful for digestion. It makes digestion slower and manages the pace of glucose entering the bloodstream.
So, the fewer grams of net carbs contained in legume-based pastas as chickpea pasta control blood-sugar levels due to their fewer carbs and low glycemic index.
More than that, consuming gluten-free noodles such as black bean pasta and chickpea pasta reduces the fermentation of bacteria in the gut.
Hence, they boost digestive health in general and gut health in particular by matching nutritional profiles of red lentil pasta as an example.
---
It's the Era of Gluten-Free Pasta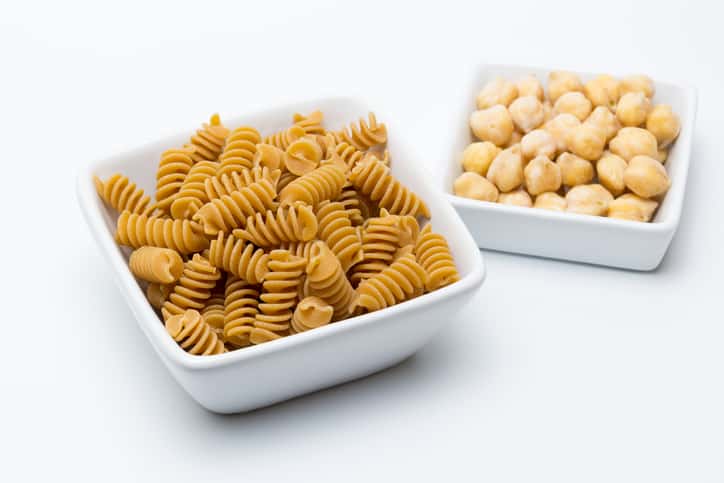 ---
Chickpea Pasta and Cardiovascular Health
The nutritious layers of whole grains such as chickpeas, the major constituent of chickpea pasta, provide the body with fiber that is healthy for the heart.
In this way, chickpea pasta stands out as an excellent choice of whole foods that boost cardiovascular health.
The polyunsaturated fats enclosed in chickpeas decrease the risk of heart disease by managing the levels of cholesterol.
In addition, the low levels of sodium in chickpea play an important role in preventing the rise in blood pressure and thus protect the body from cardiovascular disease.
---
Nutritional Summary
A two-ounce serving of chickpea pasta has 10 grams less carbohydrates than the same serving size of regular pasta.
It contains double the amount of protein found in both whole-wheat flour pasta and white pasta. More importantly, it has quadruple the amount of fiber in white pasta.
---
The Clear Answer
In short, the aforementioned nutritional benefits and the daily value of each nutrient provide us with the long-waited answer of the question: Is chickpea pasta really healthy? And the answer is simply and definitely YES.
In fact, chickpea pasta is a great option of a complete protein that is obtained solely from whole chickpeas. It actually works as a good alternative of animal protein whether you're vegan or vegetarian.
Therefore, the next time you go shopping for food, don't forget to fetch a jar of tomato sauce and a box of chickpea pasta and check the ingredient lists to make sure it's whole pea protein.
Then, you are one step from preparing the yummiest pasta dish and enjoying every nutrition of your pasta dish!
---
Other Nutritious Options
Check out the following links for similar healthy tips and recipes.