If you are looking for a healthy side dish that will add some green to your plate, then you've come to the right place! With this Perfectly Boiled and Seasoned Broccoli Recipe, you can say goodbye to soggy, tasteless broccoli!
This flavorful broccoli recipe is perfectly seasoned with olive oil and black pepper. Ten minutes and it's ready! Low-calorie, low-fat, low-carb, delicious, and healthy Perfectly Boiled & Seasoned Broccoli!
---
Perfectly Boiled and Seasoned Broccoli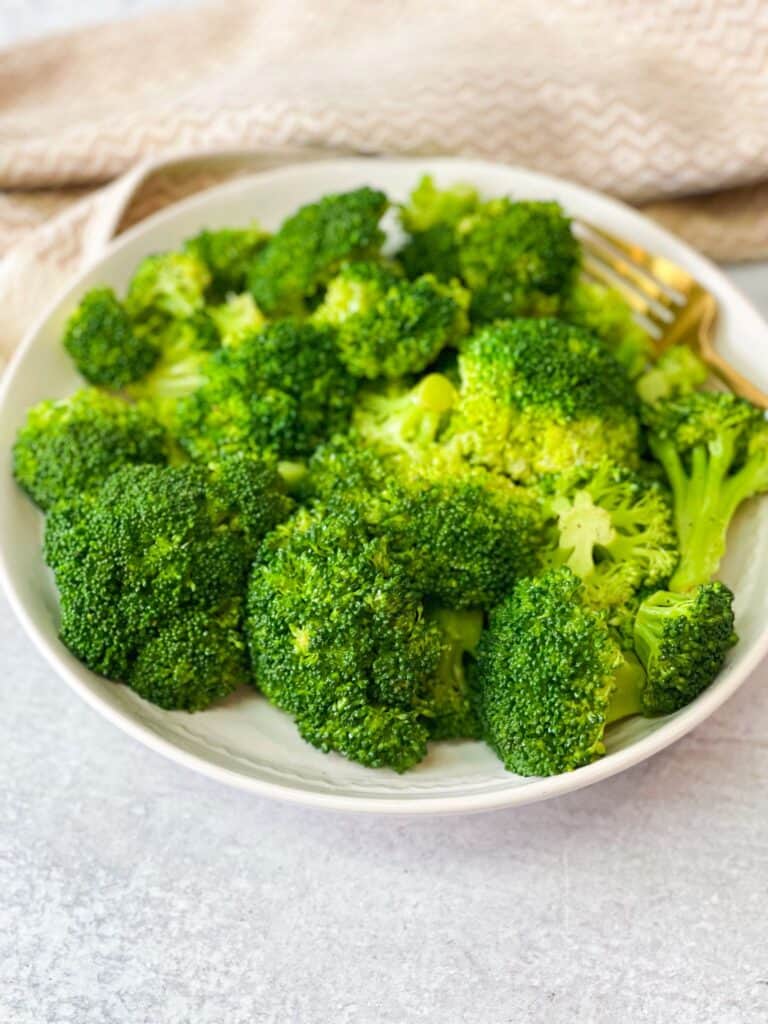 ---
My kids have been eating broccoli this way since they were as little as 1 and they still love it with this easy method! I have even made it for my kids while their friends were over and their parents were shocked to see that their kids grabbed for some and more.
So, I definitely encourage you to try my easy broccoli recipe, and you will see how good they are.
Broccoli pairs well with almost everything. It is the vegetable we reach out for when we need something extra to round out a meal.
It is the perfect addition to pizza, pasta, salads, chicken breast, veggie burgers, proteins, and many other main courses. Roasted broccoli or sautéed broccoli are other flavorful ways to enjoy this green veggie. You can also cook broccoli in an air fryer.
---
The Benefits of eating Broccoli
Broccoli is a nutritional powerhouse, rich in vitamins B6, E, B1, and A. However, you will be surprised when you know that a cup of broccoli contains as much vitamin C as an orange.
It's a source of phosphorus, potassium, magnesium, omega-3 fatty acids, protein, zinc, iron, and niacin. It's also packed with minerals, dietary fiber, and antioxidants.
This nutrient-rich vegetable may enhance your health in numerous ways, such as reducing inflammation, improving blood sugar control, boosting immunity and promoting heart health.
---
Perfect Boiled and Seasoned Broccoli Ingredients
You only need 4 simple ingredients to make the perfect boiled and Seasoned Broccoli.
Broccoli Florets: In this recipe, you will use the tops of fresh raw broccoli (called florets). Frozen broccoli florets will also work well.
Olive Oil: For the best flavor, use a high-quality olive oil. If you don't have olive oil, you can use any neutral oil, such as avocado oil, canola oil, etc.
Black pepper: For the best flavor, use freshly ground pepper!
---
Look at These Delicious Miniature Trees!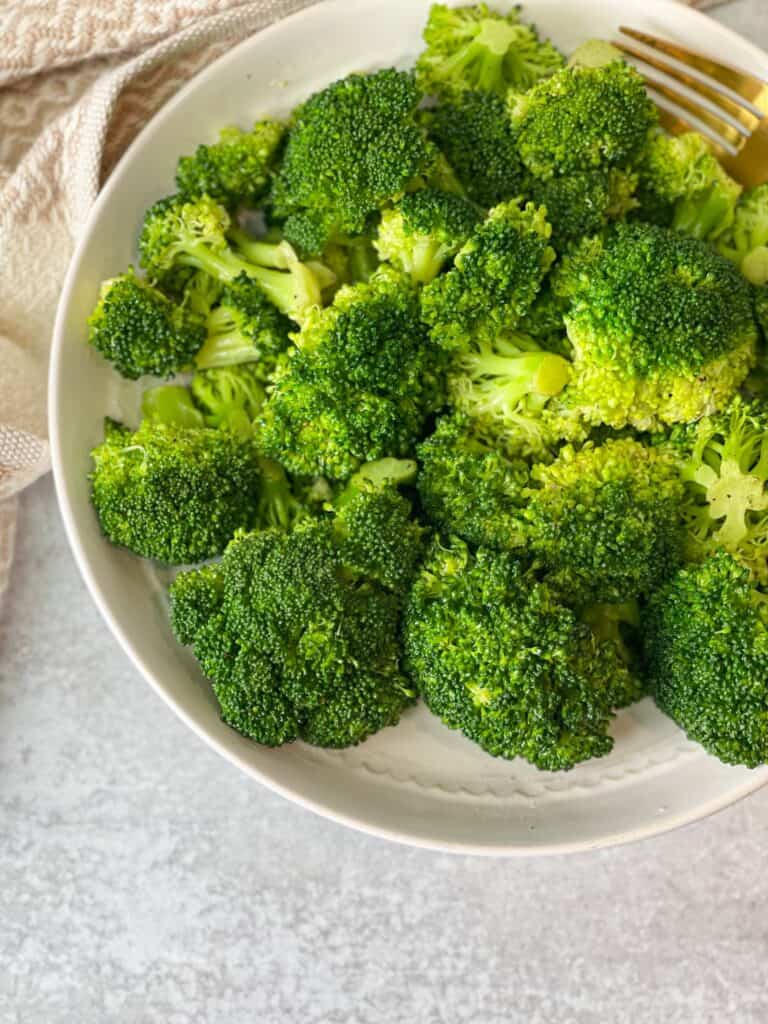 ---
What Is the Healthiest Way to Cook Broccoli?
Boiling
One of the healthiest ways to cook broccoli is to boil it. Rapid boiling does not add calories, but can add incredible flavors if you use the right seasonings.
Steaming
Steaming preserves the most nutrients in the simple steamed broccoli because the cooking process in a steamer basket is brief and water exposure is as low as possible.
---
How to Purchase the Best Broccoli
Broccoli is a veggie that grows in cool weather. So it's freshest from October through April, though it can be found all year round.
When you purchase fresh broccoli florets, make sure the tops are dark green and the stalks are firm, with no soft spots. Florets should be tightly grouped together without yellowing edges.
It's very important that the stalks feel crisp and firm, not limp or wilted. Also, look for broccoli heads that are moist and fresh-looking, not browned where the stem has been cut.
---
How to Cut Broccoli

One important tip is that: How you chop it matters! The best way to cut it is to keep the stems as long as possible – it looks best on the plate.
If the stems are short and stubby, you will end up with tiny florets that will mess up the plate and look less appetizing.
Make sure not to cut the stems into too small pieces. Chop the floret at its base, where it attaches to the main stem. You will get the best shape.
The florets should be in bite-sized pieces, preferably similar in size to each other. This way they will cook at the same rate.
---
The Perfect Side Dish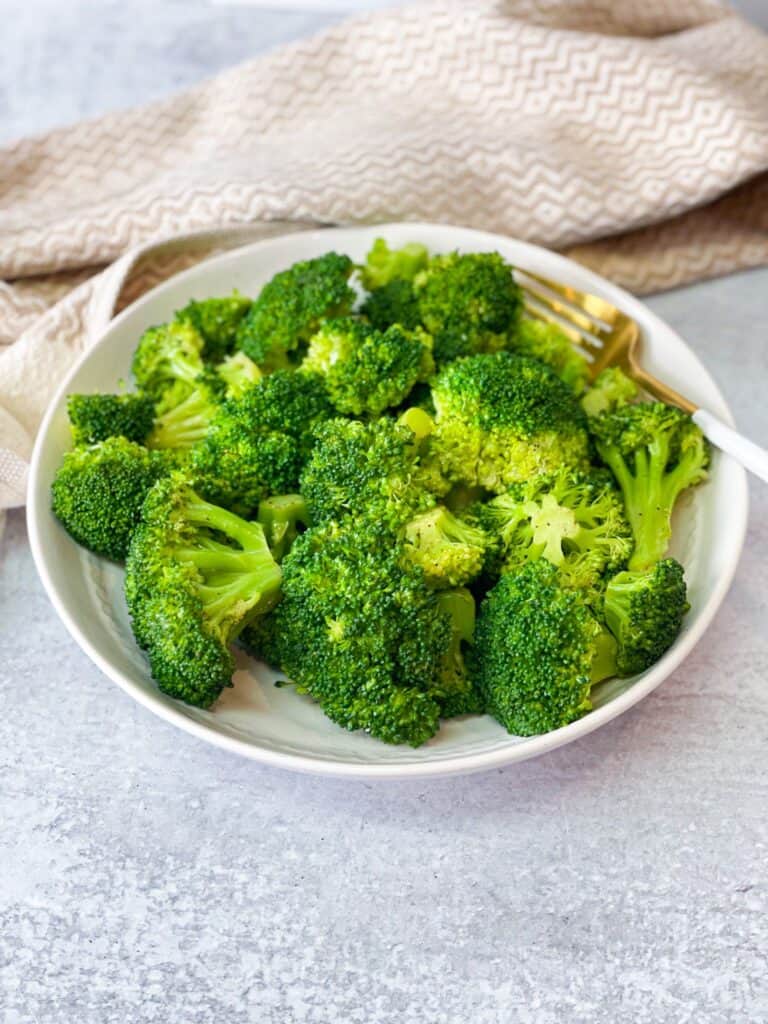 ---
How to Boil Broccoli
Cooking broccoli has never been easier! Why? You don't need any special techniques. The only thing to remember is not to overcook the broccoli! If it sits in that boiling water for even one minute longer, you will get yellowish and mushy broccoli. Here's exactly what to do:
First, bring a large pot of water to a boil. It's the longest step!
Next, cut the broccoli into medium-size florets, keeping the stems long.
Boil the broccoli for 2 ½ to 3 minutes! Taste the broccoli and stop cooking when you get tender crisp broccoli. It cooks quickly, so be sure not to leave the stove!
Finally, in a colander, drain the broccoli. Taste it! It's the perfect boiled broccoli. It couldn't get easier!
---
What is Blanching?
Blanching is a cooking technique that involves boiling vegetables until they are crisp tender, then immersing them in a bowl of ice water to stop the cooking method.
Is this Blanched Broccoli?
Because there is no ice water in this recipe, it is not technically blanching. The purpose of the ice water is to keep the vegetables as colorful as possible. You'll notice that the broccoli in this recipe is still beautifully vibrant green, so there's no need for blanching them.
However, it's recommended that you blanch broccoli before freezing to maintain its texture and bright green color and to avoid the loss of nutrients.
---
Greens Are Always Good for You!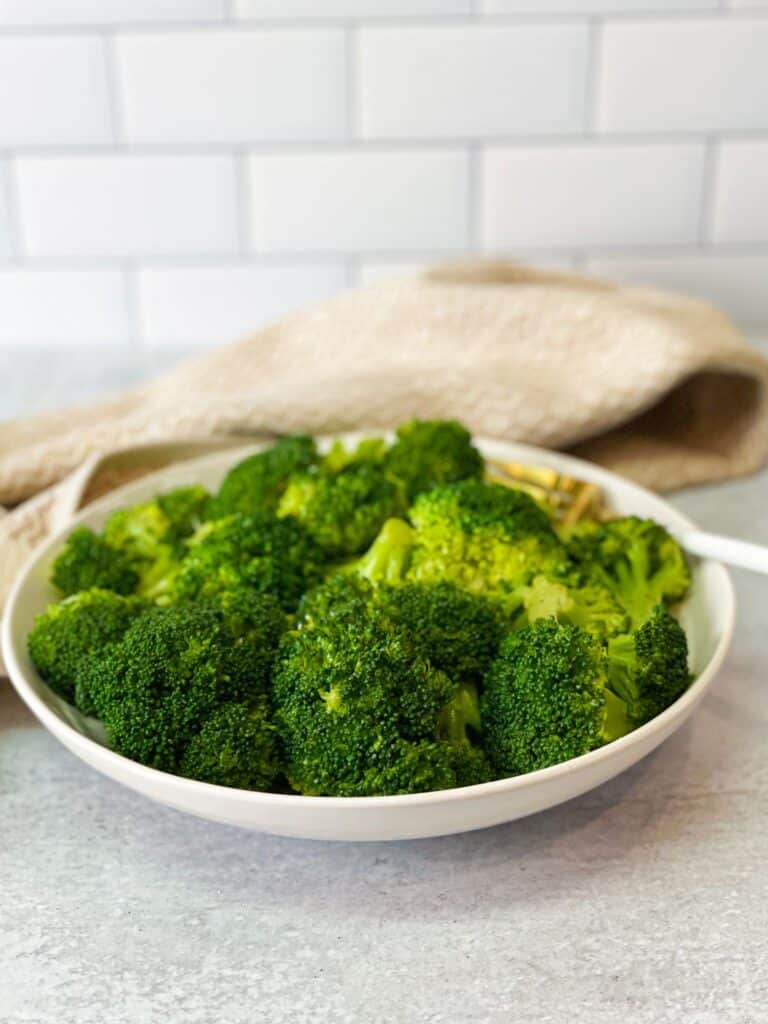 ---
How to Season Boiled Broccoli
This boiled broccoli seasoning is not only delicious, but also simple and quick way to make! In this recipe, I chose to season them with olive oil, kosher salt, and black pepper. Feel free to experiment with other seasonings you like.
You can go for flavor groups like:
Indian spices: A dash of cumin, ginger, salt, and butter. Luscious!
Asian spices: Ginger, sesame oil, and garlic with a dose of red pepper! Delicious!
Mexican spices: Salt, Chili powder, red pepper flakes, coriander, and cumin! Dynamite!
For a great taste sensation, you can add melted parmesan cheese, garlic powder, and butter. Soy sauce also works well with boiled broccoli.
---
Frequently Asked Questions
What to add to broccoli to make it taste better?
The broccoli will come out with a nice crisp-tender texture! Olive oil and black pepper help make broccoli taste irresistible. You can also add a squeeze of lemon if desired.
What spice goes well on broccoli?
Garlic, pepper, and any classic herbs (basil, rosemary, sage, parsley, tarragon, thyme, etc.,) are a surefire way to treat these green vegetables right.
Can I refrigerate cooked broccoli?
Refrigerate cooked broccoli in an airtight container to extend its shelf life for safety and quality. Cooked broccoli will keep in the refrigerator for 3 to 5 days if properly stored.
How long does fresh broccoli keep in the fridge?
When stored unwashed, dry, and tightly wrapped in a plastic bag, broccoli can keep for up to two weeks. Keep in mind that broccoli loses nutritional value over time, so it's best to eat it as soon as possible.
---
Best Tips for Best Results
In order to keep broccoli perfectly green and a bit crunchy, you should steam or boil it just a few minutes.
If using frozen broccoli, don't thaw it. Just drop the broccoli florets in the boiling pan.
Try to make the size of the florets similar to each other. This way they will cook at the same cooking time.
There are numerous ways to prepare broccoli, but if you want to get the most nutritional value out of it, boil or steam it for a few minutes, keeping it green and slightly crunchy.
Remember that the stalk is just as tasty as the florets, so don't throw it away – chop it up and cook it as well!
---
Save, Pin, and Share!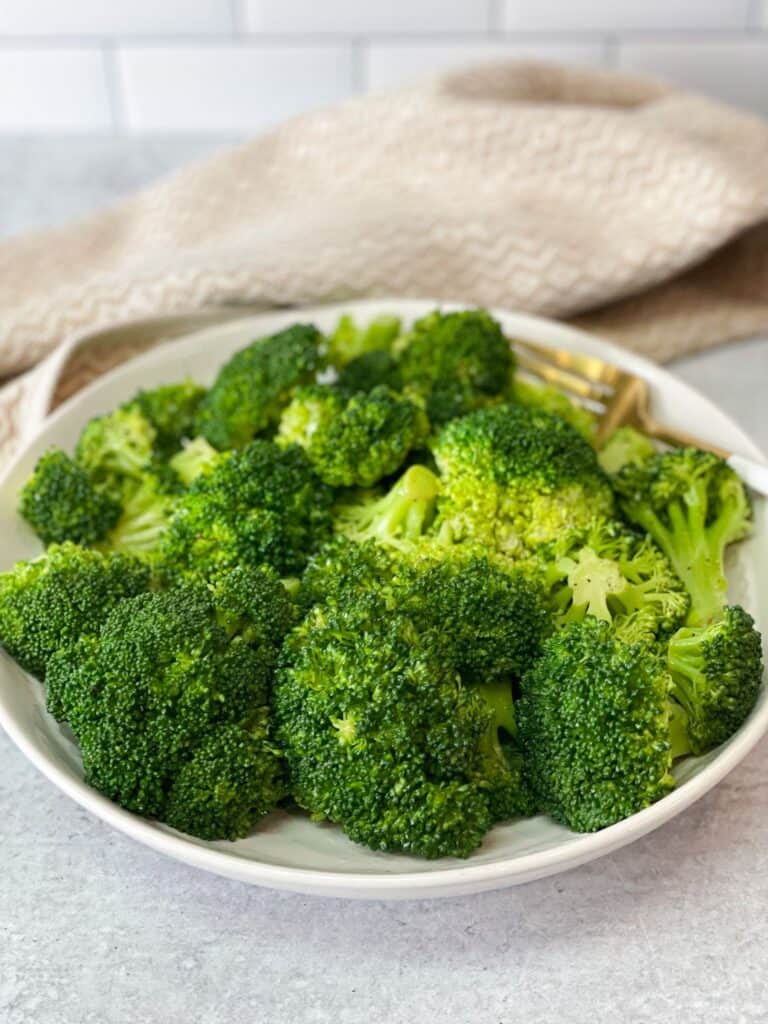 ---
Perfectly Boiled and Seasoned Broccoli Ingredients
You only need a few simple ingredients to make this tasty recipe.
Broccoli florets
Water
Olive oil
Salt
Black pepper
Check the recipe card for quantities.
---
How to Make the Perfectly Boiled and Seasoned Broccoli
First, fill a medium pot with cold water half way. Bring the water to a boil then drop in the broccoli florets.
Next, boil for 3-4 minutes on medium-high heat then strain.
Finally, drizzle olive oil, salt and black pepper all over the boiled broccoli and toss around to evenly coat.
Enjoy warm alone or with rice and protein.
---
Here Are Some Recipes You Must Try:
---
Perfectly Boiled & Seasoned Broccoli
If you're looking for a healthy yet delectable dish, this Perfectly Boiled and Seasoned Broccoli recipe is a must-try! What's more? It is simple to prepare and can be cooked in a few minutes with minimal effort.
Ingredients
6 cups Broccoli florets
3 tablespoons Olive oil
Water
Salt to taste
Black pepper to taste
Instructions
First, Fill a medium pot with water half way. Bring the water to a boil then drop in the broccoli florets.

Next, boil for 3 minutes then strain

Finally, drizzle olive oil, salt and black pepper all over the boiled broccoli and toss around to evenly coat.

Enjoy warm alone or with rice and protein.
Nutrition
Calories: 139kcalCarbohydrates: 9gProtein: 4gFat: 11gSaturated Fat: 2gPolyunsaturated Fat: 1gMonounsaturated Fat: 8gSodium: 45mgPotassium: 431mgFiber: 4gSugar: 2gVitamin A: 850IUVitamin C: 122mgCalcium: 64mgIron: 1mg
---