There is no doubt that potatoes are one of the staple foods of many homes. It's easy to turn them into many delicious options, and they're relatively inexpensive.
This Boiled Potatoes with Dried Herbs recipe is one of our family's favorite dishes! It is also great for tight budget meals and pairs well with salads, proteins, or on it's own.
---
Creamy, Perfectly-Cooked
Boiled Potatoes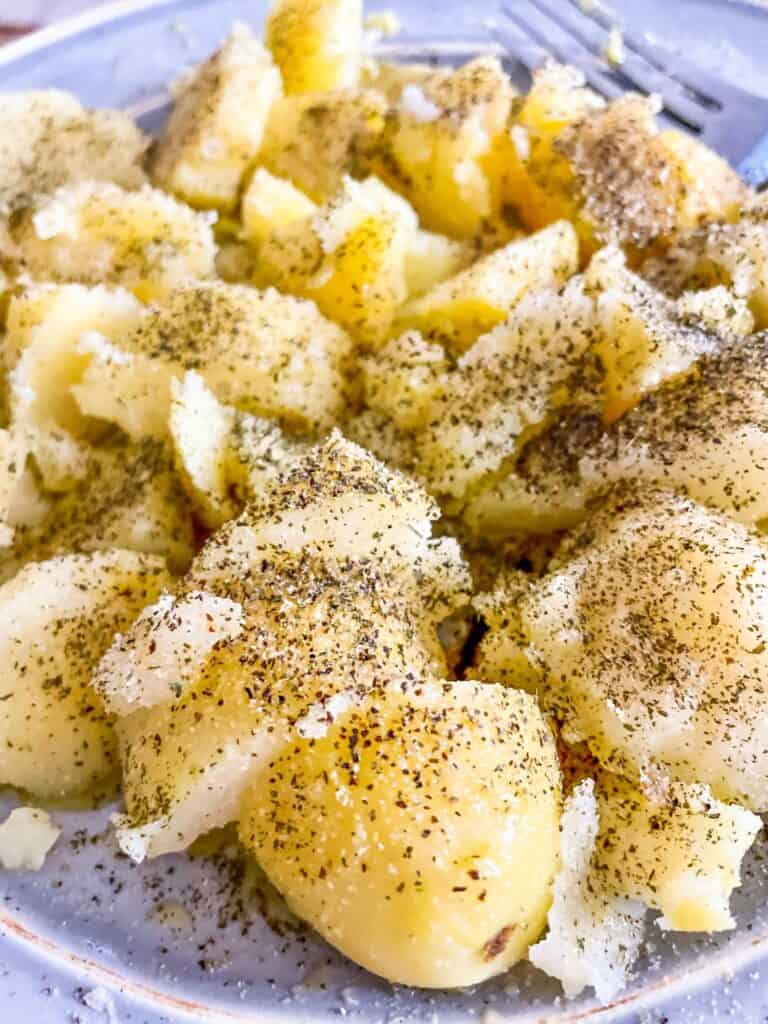 ---
But why do we boil potatoes? Boiling potatoes is one of the simplest ways to cook them. Boiled potatoes are quick to prepare, usually taking between 10 and 20 minutes. And once you've mastered the art of boiling potatoes, the possibilities are limitless!
Most of the times, we boil potatoes if want to mash them, but that is not the only use for boiled potatoes! You can spice up your potatoes, or make them into a delicious herby side dish to go with fish, chicken, or meat!
---
Health Benefits of
Potatoes
Several studies have linked potatoes and their nutrients to a variety of remarkable health benefits. Potatoes are packed with vitamins and minerals. They are also high in antioxidants, which may lower the risk of chronic diseases such as heart disease, diabetes, and certain cancers.
Potatoes contain resistant starch, which may aid in the reduction of insulin resistance. As a result, blood sugar control may improve.
Studies have shown that potatoes are among the most filling foods. They may increase the levels of fullness hormones in the body.
---
How to Boil
Potatoes
To boil potatoes, you need a saucepan, water and salt. First, scrub the potatoes clean with a vegetable scrubber. You can also cut your potatoes into smaller pieces if you like. You can either leave the skin on or peel it off. However, leaving the skin on helps them keep their shape while boiling.
Next, transfer the potatoes to a saucepan/ stockpot and cover with an inch of cold water. Add ½ teaspoon salt and bring the water to a boil. Then, reduce heat to medium low. Cover the pot with a lid and let simmer until fork-tender, about 10-15 minutes for small and/or cubed potatoes or 20-25 minutes for large potatoes.
When potatoes are done, dump into a colander to drain.
---
How Long to Boil
Potatoes
You will need to adjust the cooking time for your potatoes depending on their size.
12-15 minutes for baby potatoes (approximately 1 inch)
15-20 minutes for small potatoes (approximately 2-inch)
20-25 minutes for medium-sized (approximately 3-inch) potatoes
20-25 minutes for large potatoes (approximately 4-inch)
30+ minutes for extra-large (approximately 6-inch) potatoes
---
Best Boiling
Potatoes
All types of potatoes can technically be boiled. Some potatoes work better than others depending on the recipe or method of cooking. When it comes to boiled potatoes, however, waxy potatoes are the best.
Waxy Potatoes: They have a low starch content but a high moisture and sugar content. These potatoes are typically small and round, though some varieties can be larger. Waxy potatoes are ideal for boiling because they hold their shape well and have a firm yet creamy texture that is great for potato salads!
---
What Herbs Pair Well with
Boiled Potatoes

?

The easy boiled potatoes recipe can be made with any herbs and spices you desire. Among my favorite herbs and spices are rosemary, garlic, and thyme, but you can use any herbs, spices, or seasonings. Basil, parsley, butter, paprika, curry powder, sumac, cumin…whatever you like!
---
Save It, Pin It, and Share It!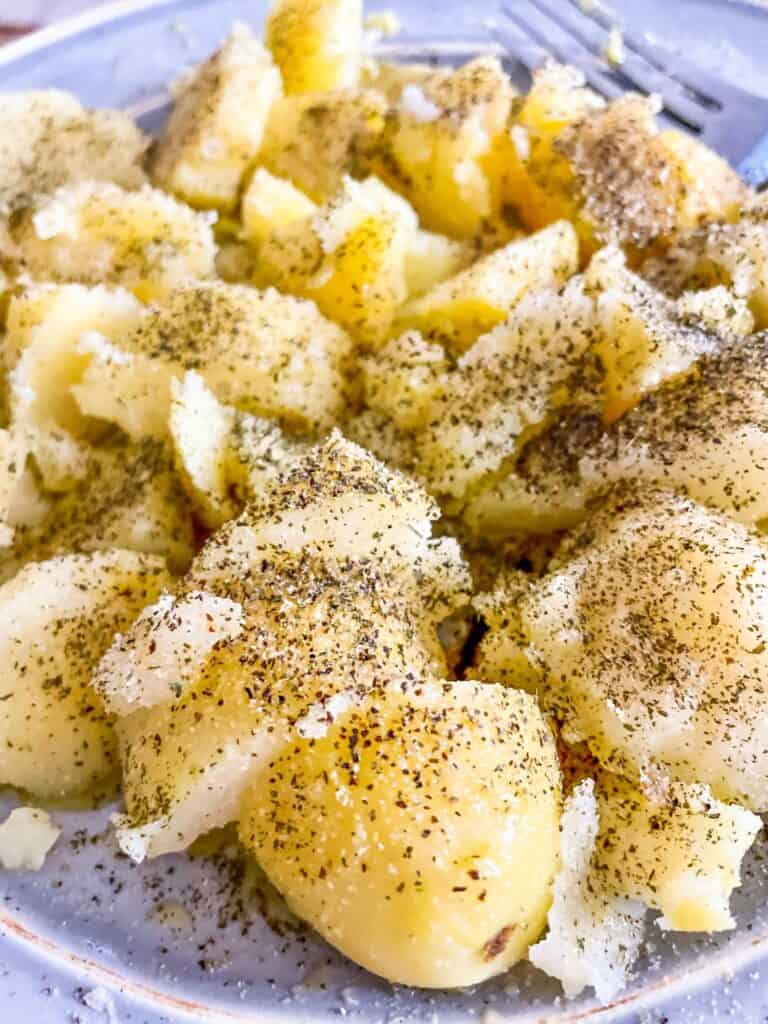 ---
Tips for Cooking the
Best Boiled Potatoes with Dried Herbs
When buying potatoes, look for ones with smooth skin, that are firm to the touch, and that don't have any brown spots or blemishes.
Always begin with cold water to ensure that the potatoes cook evenly. When you put potatoes in boiling water, the outside will become mush before the insides are fully cooked.
Remember to salt the water! To taste flavorful, potatoes require a lot of salt, and it all starts with the pot of water.
You can cut the potatoes into smaller pieces to reduce the cooking time.
Try to choose potatoes that are almost the same size so that they cook in the same amount of time.
Do not peel your whole potatoes before boiling.
---
Frequently asked Questions
What is the difference between waxy and starchy potatoes?
Starchy potatoes have a high starch content but low moisture and sugar levels. Waxy potatoes are the polar opposite, with a high moisture content and a low starch content.
How do you boil potatoes fast?

You can use the microwave or the instant pot for faster results.
If using the instant pot/ pressure cooker, place potatoes in Instant Pot or pressure cooker, cover with water and cook on high pressure for (2-3 minutes). Drain and presto – your potatoes are ready!
If using the microwave, place the potatoes on the microwave turntable. Place a glass of water in the center to prevent them from getting wrinkled. Microwave on high for seven minutes or until cooked.

How do you store boiled potatoes in the refrigerator?

Allow the potatoes to cool to room temperature. Do not leave out more than 1-2 hours. Then place them into a small airtight container or a plastic bag that seals well in the fridge. Store your boiled potatoes for 3-5 days.
How do you prevent potatoes from sprouting?
To prevent sprouting, store potatoes with an apple. Keep them in a cool, dark place, away from onions. The ethylene gas emitted by apples prevents potatoes from sprouting, whereas keeping onions nearby causes them to sprout.
---
Ingredients for the
Boiled Potatoes with Dried Herbs
4 Idaho potatoes
olive oil
garlic powder
sumac
dried mint
black pepper
salt

---
How to Make
Boiled Potatoes with Dried Herbs

:
First, boil potatoes until fork tender, about 20 minutes.
Once the potatoes have cooled, peel off the skin using your hands or you can run the hot potatoes under cool water and peel.
Then, slice the potato in half vertically, then cut into cubes.
Finally, drizzle with olive oil, sumac, garlic powder, dried mind, salt and black pepper.
---
Recipes You Must Try:
Chicken and Potato Béchamel Bake
Easy Chicken Curry with Vegetables
Skillet-Sautéed Potatoes and Onions
Spicy Potato and Cilantro (BATATA HARRA)
Carrot and Sweet Potato Thai Soup
Perfect Lemon Parmesan Spaghetti
A Worthy Watermelon Burrata Salad
---
Boiled Potatoes with Dried Herbs
These simple and delicious boiled potatoes, tossed in extra virgin olive oil with garlic and fresh herbs will give your typical potatoes a boost of flavor.
Ingredients
4

Idaho Potatoes

3

tablespoons

Olive Oil

½

teaspoon

garlic powder

½

teaspoon

sumac

½

teaspoon

dried mint

½

teaspoon

black pepper

½

teaspoon

salt
Instructions
Boil potatoes until fork tender ,about 20 minutes.

Once the potatoes have cooled, peel off the skin using your hands or you can run the hot potatoes under cool water and peel.

Slice the potato in half vertically, then cut into cubes.

Drizzle with olive oil, sumac, garlic powder, dried mind, salt and black pepper.
Notes
You can use any type of potatoes in this recipe, but I like to use Idaho/ Russet/ Yukon/ Golden potatoes. They have a creamy texture that isn't too starchy or waxy.
Leftovers: If you have any of these boiled garlic potatoes left, store them in a tightly sealed container in the refrigerator for 2-3 days.
Like this recipe? Rate and comment below!
---