Grilled Lime and Cilantro Shrimp
This shop has been compensated by Inmar Intelligence and its advertiser. All opinions are mine alone. #SavortheSizzle #TexasPete #SauceLikeYouMeanIt
---
An easy and quick grilled shrimp recipe that takes on a life of its own! This Grilled Lime Cilantro Shrimp is marinated in a tangy refreshing mix great for summer food fun. Using Texas Pete® Seafood Cocktail Sauce, the grilled shrimp achieves a level of flavor that will WOW friends and family!
---
---
Summer is all about gathering with loved ones under the sun outside in nature and just enjoying life. Even though we've been socially distancing this past year, there's no reason we can't enjoy each other's company while still following precautions. The best way to get your friends and family together is always over a delicious meal. We all love breaking out the grill in summer and showing off our cooking skills! It's also a well-known fact that nothing completes a grilled meal like a great dipping sauce or yummy marinade to brush on whatever protein you've got smoking on your grill!
---
All about
Grilled Lime Cilantro Shrimp

Marinade and Dipping Sauce
All about Grilled Lime Cilantro Shrimp Marinade and Dipping Sauce
Any type of seafood, poultry, or meat you plan to grill, should be marinated. A marinade helps keep your choice of protein tender and juicy. This is important because grilling can dry out any cut of meat, chicken, or seafood. In this recipe, I'm grilling shrimp which is considered even more sensitive than any other proteins. So what are my secrets?
Preparing the Marinade
Well, for this particular recipe one of my secrets is Texas Pete®! The seafood cocktail sauce sets the perfect tone for a bold and flavorful marinade. The marinade also includes olive oil, fresh cilantro, lime, paprika, cumin, garlic powder, and black pepper. I love using olive oil pressed fresh from the old country. It has such a pure earthy taste and adds a great texture! The fresh lime and cilantro give a summery feel to the shrimp's flavor and create a refreshing taste. The seasonings liven up the savory flavor of the marinade!
Combine your ingredients in a blender or use an immersion mixer. Blend the ingredients until the cilantro is finely chopped but not so much that it's turns to paste.
---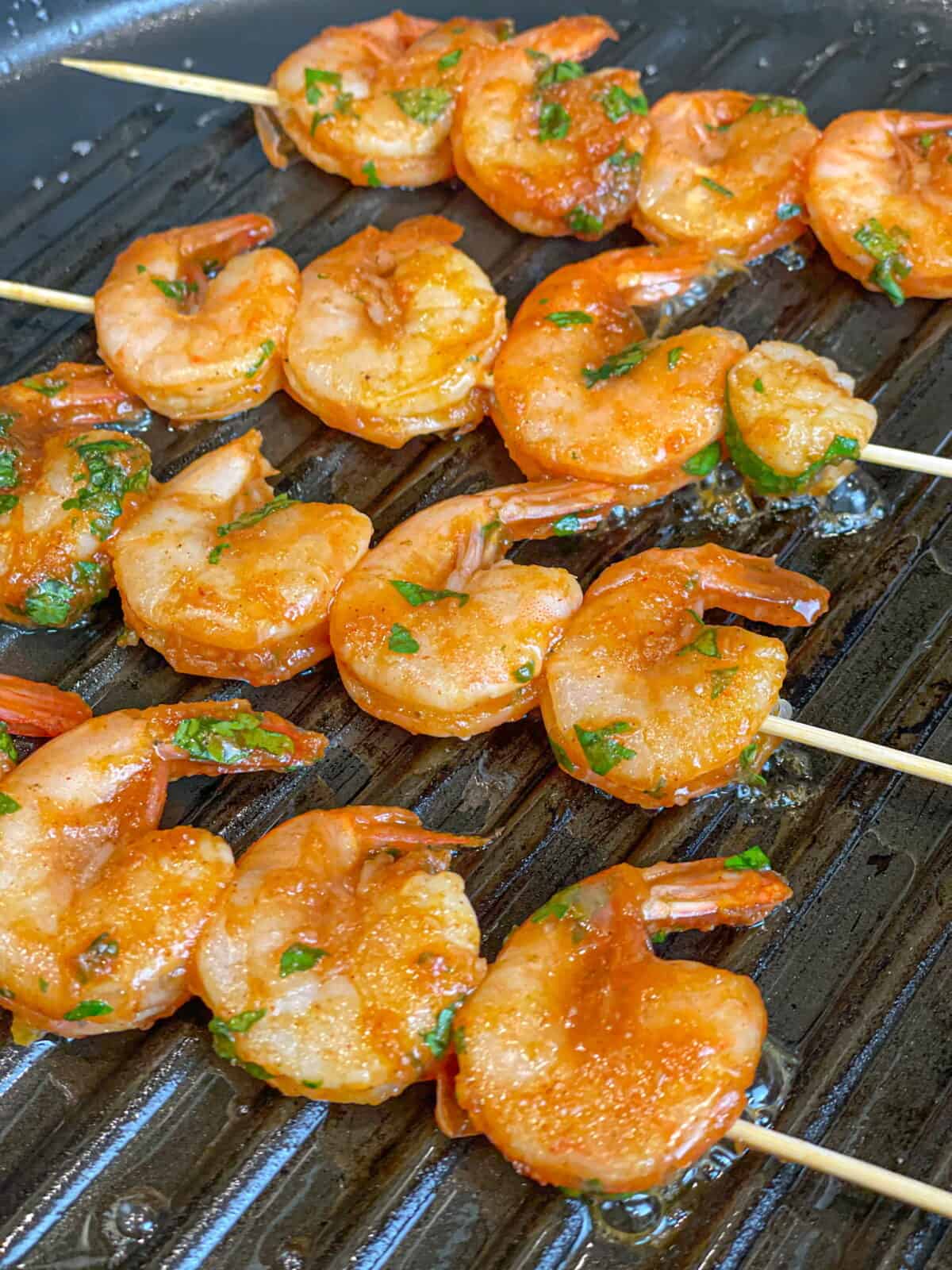 ---
How to Properly Marinade
Shrimp
As I mentioned before, shrimp is a sensitive food. Seafood in general is very delicate unlike meat and poultry. That being said, there are a few important things to keep in mind when marinating shrimp to get the perfect textures and flavors.
Don't overdo the lime or any acidic ingredients. Too much lime, lemon, or even orange juice can turn your shrimp into mush!
Use fresh cilantro and lime because they give the marinade a more refreshing taste and the shrimp will absorb the flavors that much more.
You can marinade in a narrow pan with shrimp already on the skewers. This is helpful because puncturing the shrimp onto the skewer helps the marinade really get into the shrimp.
Soak wooden skewers in water ahead of time by at least 10 to 15 minutes so that they don't catch fire or smoke up when you put them on the grill.
Pour the marinade over the shrimp into the pan, or if not on skewers, onto the shrimp in a bowl. Place them in the fridge to help intensify the flavors before grilling.
Only marinade 15 to 20 minutes max before grilling because shrimp can become too soft if it's marinated too long.
---
---
Grilled Lime Cilantro Shrimp Dipping Sauce
The great news about the dipping sauce is it's the same ingredients as the marinade! Yay! You already have everything you need. In fact, you can double the amount when you prepare the marinade and put some off to the side to use as a dip after grilling. In fact, you can even use some of the extra sauce to brush onto the shrimp while grilling.
Another option, is to hand-chop the cilantro to keep them a little bigger for an extra kick. Blend all the other ingredients and then add the cilantro and mix with a spoon. That way your sauce has bursting flavor and is a little thicker.
If you're looking to change up flavors and don't want to use the same dipping sauce as the marinade, I have a great option! Use Texas Pete® Seafood Cocktail Sauce on its own to dip in. It's a great way to Sauce Like You Mean It™! You can even use it to brush right onto the shrimp right after removing from the grill.
---
---
Grilling
Shrimp
I prepared my Grilled Lime Cilantro Shrimp on an indoor grill. It works just as great! But of course an outdoor grill party with friends and family is always a great summer activity. After your shrimp has marinated just the right amount of time and you've got them on skewers, fire up that grill!
While Grilling
Keep a close eye on the shrimp while grilling. This is simply because shrimp cooks through quickly. You will be looking for a nice pink or opaque color on them. Once that's achieved on one side, flip to the other side. You can brush on some of the marinade as they cook to keep them tender.
Serving the
Grilled Lime and Cilantro Shrimp
There are plenty of fun ways to serve the grilled shrimp once it's ready. I served with our favorite grilled vegetables and yummy rice! You can serve it with roasted vegetables, a garden salad, or your favorite pasta! You can even make them into shrimp tacos! Go extra wild and enhance your shrimp eating experience and add some extra Texas Pete® sauce right on top of your rice, pasta, or taco dish! You'll feel that extra edge and boldness in every bite and in your experience!
---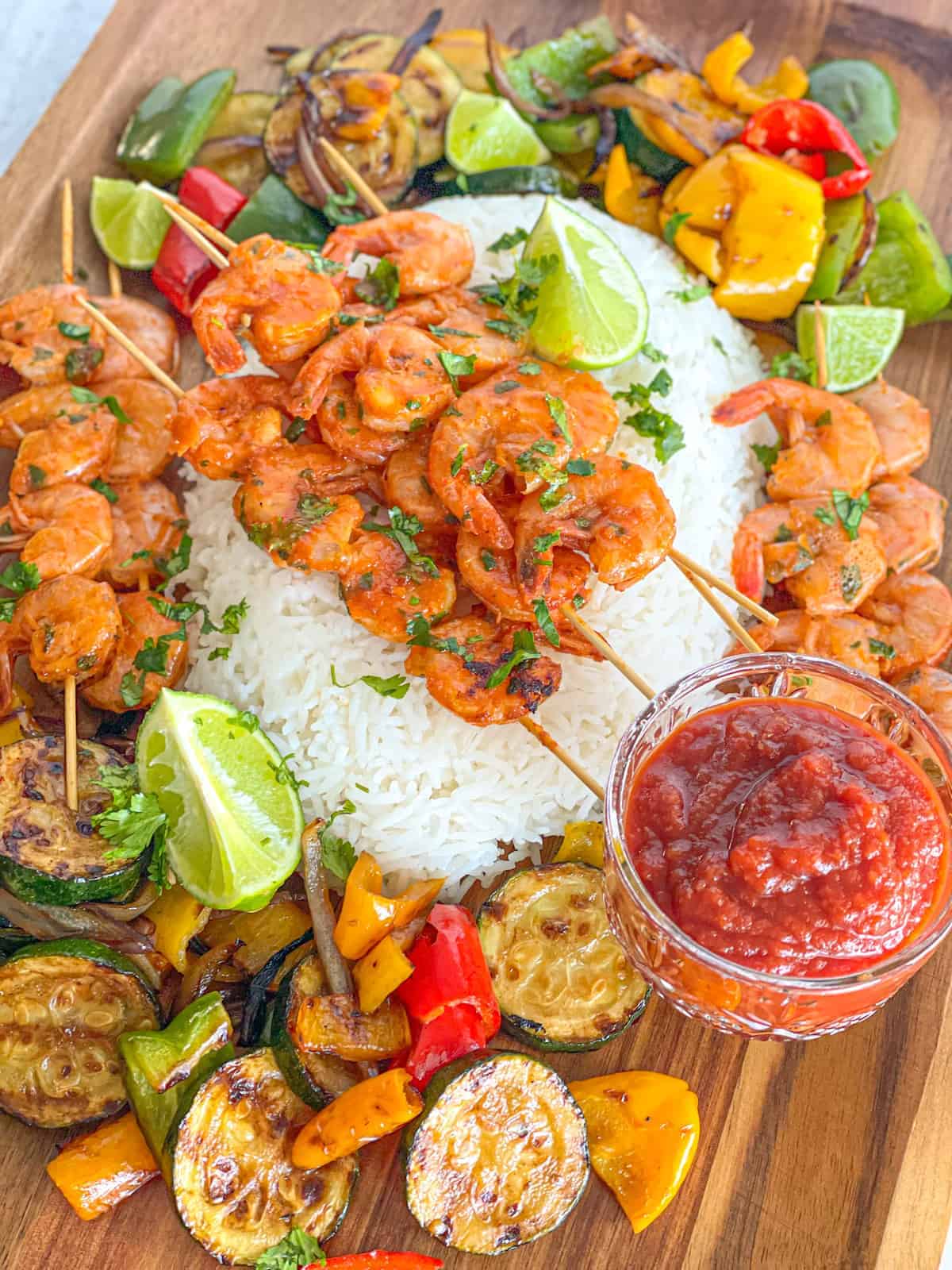 ---
Tips for an amazing
Grilled Lime Cilantro Shrimp
Want extra oomph in your marinade and have some extra time? Roast some garlic and throw it into the mix before you blend for an aromatic blast!
If you like it spicy, you can add red chili flakes or cayenne pepper to the marinade or add hot sauce to the dip!
Cut the tails off the shrimp while frozen to make for easier removal.
Soak the shrimp in water until they thaw out.
Don't have lime? Use lemon juice!
If you don't like cilantro you can use basil, parsley, or oregano instead.
Swap out or add seasonings of your choice like Cajun, Italian, or Curry.
---
Ingredients
Marinade and Dipping Sauce
Texas Pete® Seafood Cocktail Sauce
Lime juice
Cilantro
Olive Oil
Paprika
Cumin
Garlic Powder
Black Pepper
Other Ingredients
How to Make
Remove tails off of shrimp and soak in water until they thaw.
Combine ingredients in blender or with immersion mixer to make marinade.
Place shrimp in bowl and pour marinade over, or place on skewers in shallow pan and pour marinade over them.
Let them sit in marinade in fridge for 15 to 20 minutes max.
Heat up grill and put the shrimp on until pink on the outside.
Serve with the lime cilantro dipping sauce made from the same ingredients as the marinade. Enjoy!
---
Other Fun Summer Recipes to Enjoy
---
Grilled Lime Cilantro Shrimp
A tangy refreshing grilled shrimp recipe perfect for summer weather!
Ingredients
¼

cup

Texas Pete® Seafood Cocktail Sauce

1

tablespoon

Olive oil

3

tablespoons

Lime juice

2

tablespoon

Cilantro

,

finely chopped

½

teaspoon

Paprika

⅛

tablespoon

Cumin

⅛

tablespoon

Garlic powder

⅛

tablespoon

Black pepper

1

lb

Shrimp

,

cooked
Instructions
Soak the shrimp in water until they thaw.

Combine Texas Pete® Seafood Cocktail Sauce, olive oil, cilantro, lime, garlic powder, paprika, black pepper and cumin in a small bowl to make marinade.

Place shrimp in bowl and pour marinade over for about 5-10 minutes, while you prepare grilled veggies or rice. Place the shrimp on skewers.

Heat up grill and place shrimp for 2 minutes on each side. You can use a stove top griddle by greasing it with cooking oil on medium heat. Cook for 2-3 minutes on each side.

Serve with the lime cilantro dipping sauce made from the same ingredients as the marinade or simply dip into Texas Pete® Seafood Cocktail Sauce. Enjoy!
Like this recipe? Rate and comment below!