Garlic is one of the most important and vital food staples in the kitchen. Everybody loves them and they're the root of unique flavor and exquisite taste in any dish. One of the hardest or most tedious things about garlic is the peeling process but these Ways To Prep Raw Garlic For Future Use make the process much simpler!
Garlic can be prepared in a number of ways and stored for easy reach. When we find ourselves in a rush and need to put together a quick dinner, our prepped raw garlic is ready for use.
---
Garlic, Garlic, And More Garlic
---
We can harvest garlic ourselves in our back gardens! The most appropriate time to do this depends on the time they are planted, and the local climate. But of course, we don't need to worry about that as they are not scarce and come ready in their bulbs at the supermarket.
All it comes down to is buying the garlic from the store. The best garlic to choose from are the ones that look clean, are firm with tight, unbroken skin, and show no signs of molding or sprouting.
A small trick to look out for is the garlic weight. Garlic that tends to be heavy for its size is the one to go for. Those that are light in weight for their size may be a sign of shriveled or decayed cloves.
Once you've brought your garlic, you're ready to use it in any dish. Because of its powerful flavor, you only need a few cloves at any one time, so you might find yourself with a few garlic heads left over. Here's where these Ways To Prep Raw Garlic For Future Use come in handy.
---
Ways To Prep Raw Garlic And Storing It the Right Way
With garlic, its taste goes a long way. That makes it even more important that we learn how to store them properly to avoid them going bad. When garlic starts to sprout, they turn bitter.
Storing garlic at room temperature
I see a lot of my friends and family keeping their garlic in the fridge! Unlike some other staple foods, garlic is actually best stored in your pantry or on the counter in the kitchen.
I keep my garlic in a large mesh bag I brought from the store, which gives good airflow, keeping the garlic fresh for longer. If you don't have a mesh bag, you can always keep them in any cool, dry place.
Storing peeled garlic in the fridge
The fridge may not be the best place for a whole head of garlic, but it works wonders on peeled ones and is one of the best Ways To Prep Raw Garlic For Future Use.
Whether you peel them into individual cloves, slice them, or mince the garlic, they can be stored in the fridge to last longer. For sliced garlic or minced garlic, remember to store them in an airtight container and use them within 2 to 3 days.
---
So Many Ways To Prep Your Garlic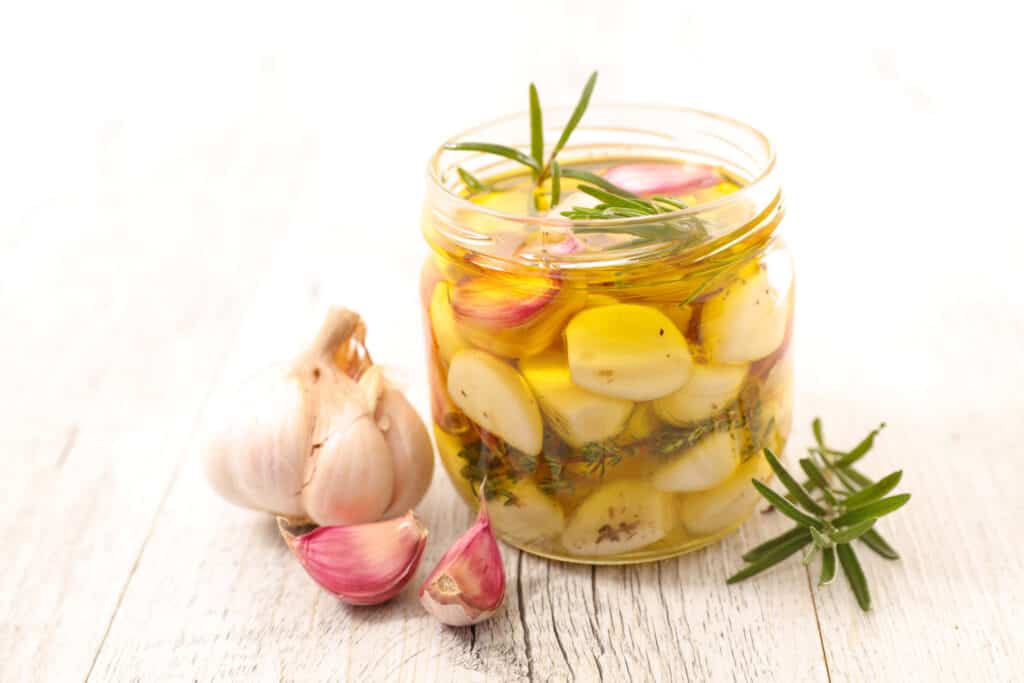 ---
Storing Garlic in the Freezer
If you ever find yourself with heaps of garlic heads and are not sure what to do with them, just store them in the freezer! I have a very easy and tasty way to do this.
Trim about 1 inch of the top of the garlic heads and place them on a piece of kitchen foil, drizzled in olive, and seasoned the way you like, with salt and pepper. Wrap the kitchen foil with the garlic heads tightly, and place them in a baking dish, inside the oven at 400 degrees Fahrenheit.
They need about 50 to 60 minutes in the oven to roast well. Once done, let them cool slightly then squeeze out the garlic from their skins into ice trays, into the small sections. Cover the ice tray and freeze, ready to use whenever you need them next.
---
Frozen Garlic In Ice Trays? Yes!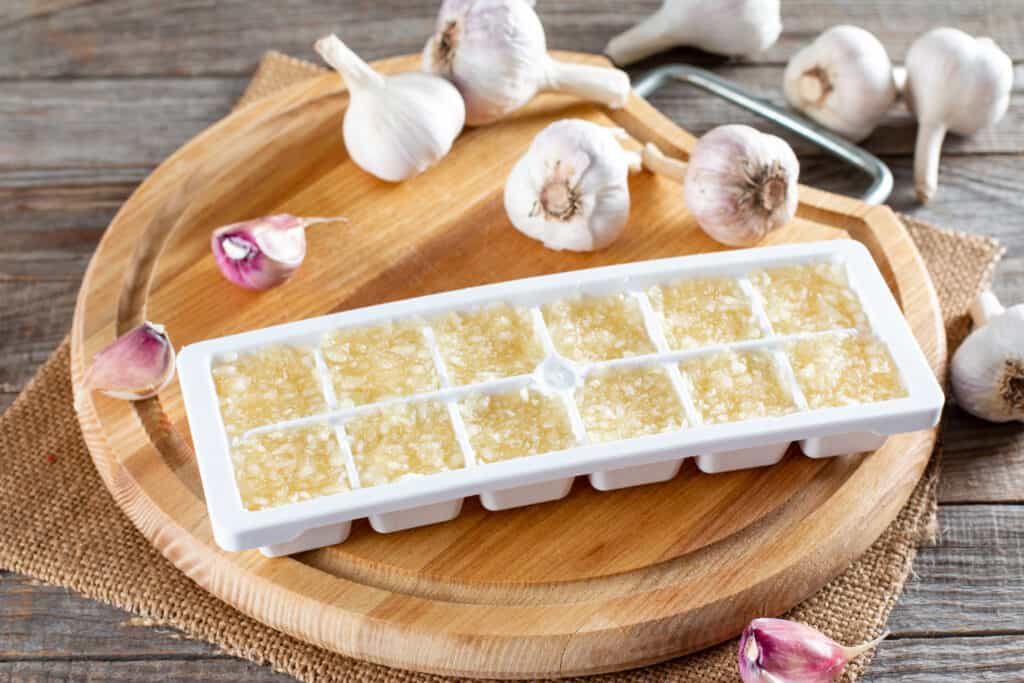 ---
Top Tips On The Best Ways To Prep Raw Garlic
Be careful with placing garlic in the fridge, it can stimulate sprouting, making your garlic taste bitter. To put garlic in the fridge, either peel them as whole cloves, slice them, or mince them.
If you don't want to roast your garlic for freezing, you can finely chop them instead, grate or press the raw garlic cloves and divide them into small sections of the ice tray. Make sure to freeze the ice tray right away to avoid holding it or storing it at room temperature.
The ultimate way to use up garlic if you feel they are about to go bad is to make a few of my favorite recipes. Try my Smoked Paprika and Garlic Baked Roasted Cauliflower, my Crispy Parmesan Rosemary Garlic Baked Potatoes, or my delicious Flavorful Garlic Butter Rice.
There are so many sauce recipes you can make using garlic to give your dish that awesome burst of flavor. Why not try to make your own Chinese Garlic Sauce Recipe or Homemade Garlic Aioli Sauce Recipe?
---
Frequently Asked Questions (FAQs)
How do you store garlic for a long time?
One of the best Ways To Prep Raw Garlic For Future Use is to store garlic at room temperature to use for all your recipes but the best way to store garlic for the longest time is in the freezer.
Can I freeze fresh garlic?
Definitely! Garlic is very versatile when it comes to freezing. You can freeze them as whole unpeeled bulbs, individually, both peeled and unpeeled and also chopped.
What is the healthiest way to preserve garlic?
The healthiest way is in mesh bags, in a cool, dry, and well-ventilated place.
Do I have to roast garlic before freezing?
It is not a must to roast the garlic before freezing, but roasted garlic freezes well for 2 to 3 months.
What is the safest way to store garlic?
Chop the garlic, wrap it tightly in a plastic freezer bag or plastic wrap, and freeze it.
---
Top Tip Recipes