Spring is here and that means summer is just around the corner, yay! Nothing screams summer like ice cream. Here are top 5 desserts best served with ice cream
---
Chewy Gooey Brownie with Ice Cream Anyone?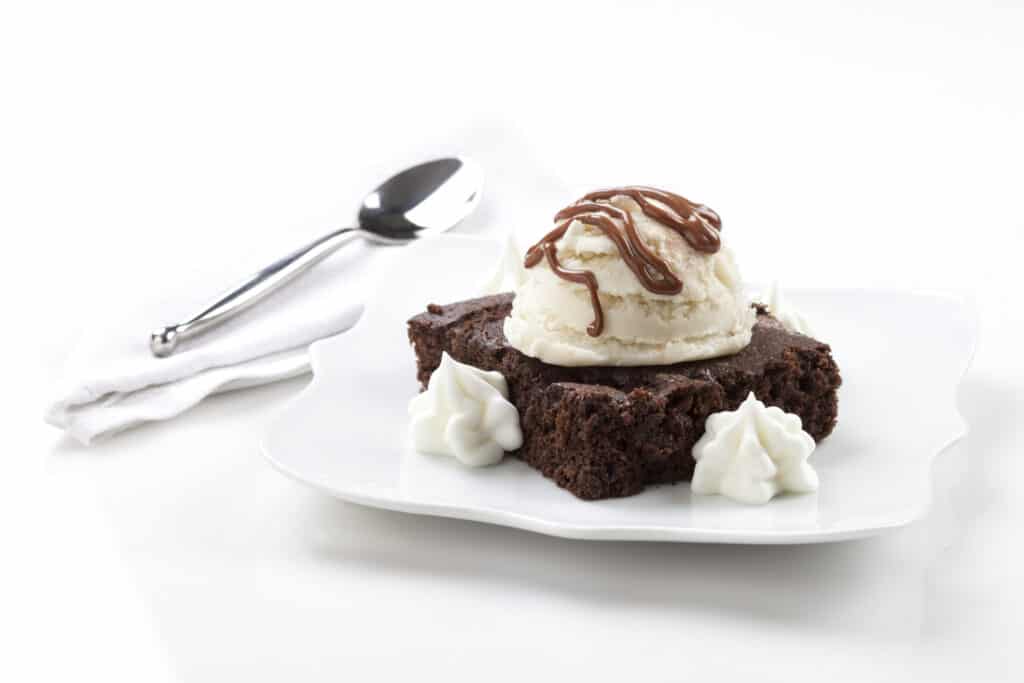 ---
We all have our preferences and we can agree to disagree on what pairs better with a scoop of ice cream. What I can say is that we all like variations of things.
So, if you find something you'd rather serve up with that ice cream in your freezer, by all means. These are just a few suggestions of common desserts that are enhanced by pairing them with ice cream.
---
Brownies Are Definitely Best Served with Ice Cream
Fudgy Brownies are a piece of heaven. Brownies a la mode? That's a YES from me, and probably all of you 😅.
Serving a warm, fudgy, gooey brownie doesn't hit the spot if it doesn't have vanilla ice cream melting slowly on top. You can take it up a notch by drizzling chocolate sauce on the ice cream.
The chocolatey goodness of the chewy brownie with the softness of the ice cream is the taste of childhood.
How to Serve Brownies A La Mode
The great thing about this dessert? There isn't anything fancy about it. You can make your homemade brownie recipe or a box mix or even grab some from a local bakery.
You can try my Brownie Baked Oatmeal (gluten free vegan) recipe and enjoy it a la mode!
The trick is to warm up the brownie to bring out the gooey texture and then adding the ice cream. Then, you can put the scoop of ice cream right on top or next to it and top with chocolate syrup or drizzle hot fudge.
However you serve it, it's sure to be gobbled up by those you're serving it to, including yourself. That's why it made the list of 5 desserts best served with ice cream!
---
Apple Pie Best Served with Ice Cream
Good old-fashioned apple pie is always a filling and delightful dessert on its own. But if ever there was a way to serve it with perfection, it's to top it off with a scoop of ice cream.
The warm flavors of the cinnamon apple filling, with the crispy crust, and an added scoop of melting cool ice cream combine to give you autumn on a plate.
Sure whip cream is the traditional dairy to go with when it comes to pies. But, truth be told, ice cream gives pies so much more depth. The soft cold dairy brings out the flavors and textures of pie like nothing else can.
Want a shortcut to a warm filling dessert that still goes great with a scoop of ice cream? Try my Apple Pie Roll Ups , Classic Apple Crisp and make them using my Homemade Apple Pie Spice Blend.
---
Warm Apple Pie Isn't as Good without a Scoop of Ice Cream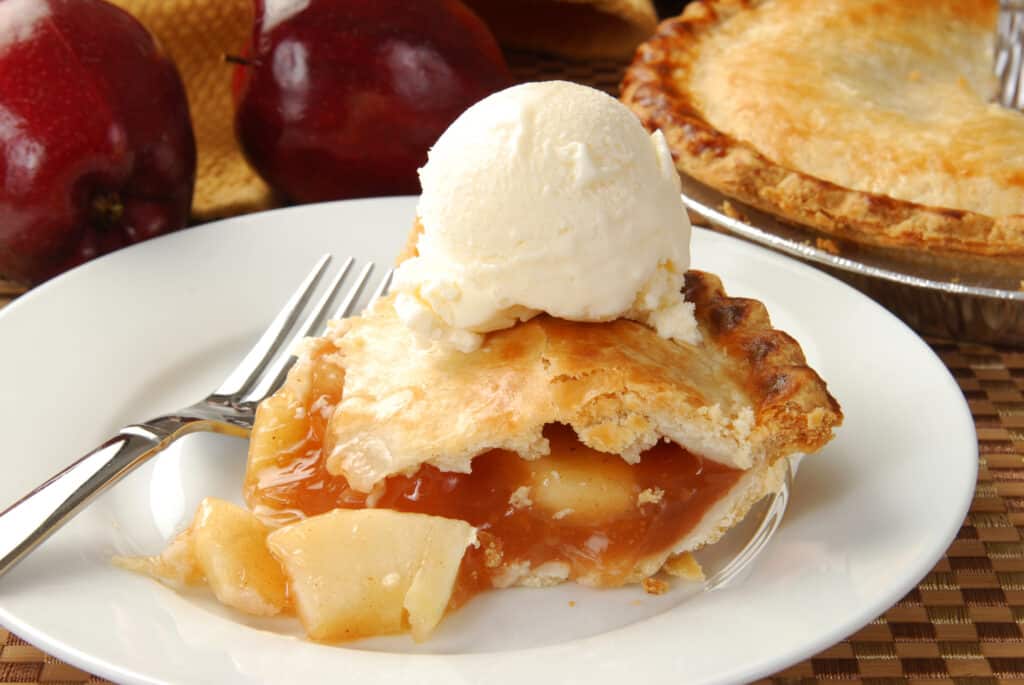 ---
Milkshakes and Ice Cream
Milkshakes are dessert. Ok, ok, they don't have to be considered dessert for those of us who consider them as simply a beverage to enjoy alongside dessert 😉.
Either way, a great way to enjoy a milkshake is to add one or even two scoops of your favorite ice cream to it. You can let them melt in the shake and drink them up. Or, you can eat your shake with a spoon and get the best of both worlds.
---
Chocolate Fondant or Mug Cake with Ice Cream
As I previously stated, any warm dessert pairs perfectly with ice cream. There's something special about combining warm and cool into one spoonful. What's another great way to do that? Chocolate fondant with ice cream.
The best part of the chocolate fondant is the gooey chocolatey center that oozes out once the spoon tears into it. Getting a spoonful of the center melted chocolate with a piece of the outer cake and running the spoon through the ice cream and straight into your mouth…all I can say is: Mmmmm.
What's close to fondant and easier to make? A mug cake! Mug cake also pairs perfectly with a scoop of ice cream. Try this Chocolate Caramel Mug Cake recipe I've made, you'll be glad you did.
---
Warm Gooiness with Cool Melted Ice Cream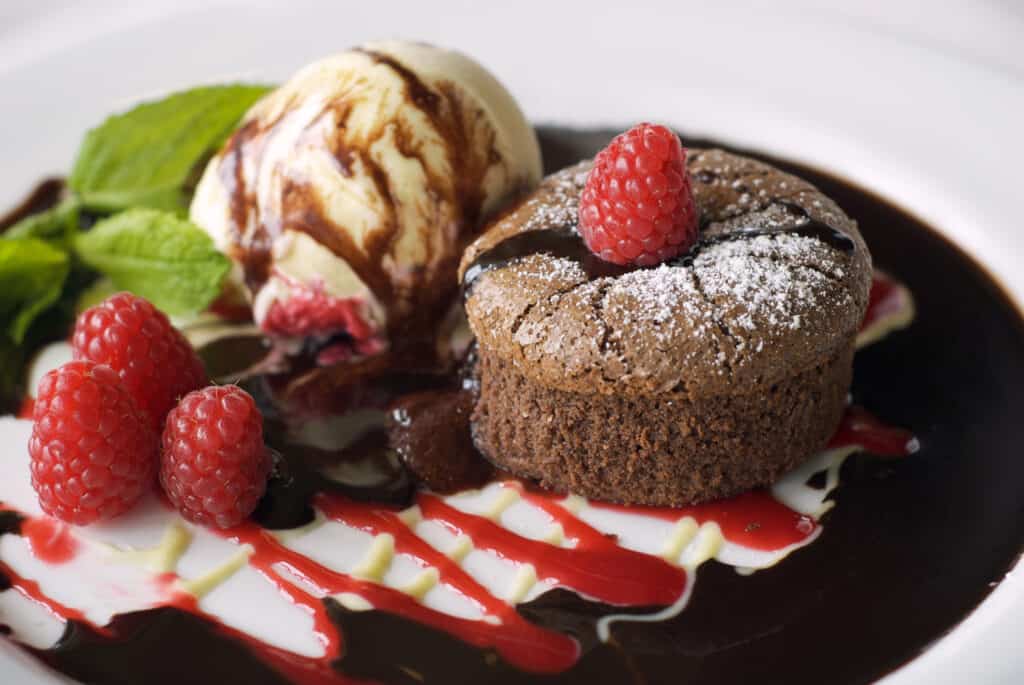 ---
Fruits Best Served with a Scoop of Ice Cream
One of my personal favorite desserts is fruit. There's so much you can do with fruit other than baking into pies. For starters, you can make a Satisfying Fruit Salad!
Imagine a beautifully colorful fruit salad, packed with sweet flavors, topped with a scoop of your favorite ice cream. YUM! It's definitely worth a try.
Another great way to dish up fruits is in a healthy shake. For example, you can add your favorite fruits to this Acai Peanut Butter Shake and instead of topping with whip cream, pour it into a bowl of ice cream!
Fruits can be grilled, poached, or roasted and served warm with a glaze and a side scoop of ice cream. You can't go wrong!
---
Other Tips and Tricks to Check Out: