Every cheese board has to be the life of the party. It is the magnet that brings people together.
You can make a cheese board the main dish on your table by simply choosing great cheese. After all, it is the star of every charcuterie board and unlocks the door to a world of extraordinary flavor. When you choose the best cheeses for your charcuterie board, you can guarantee an amazing taste and texture experience. Help your charcuterie board live its best life!
---
Make it Colorful!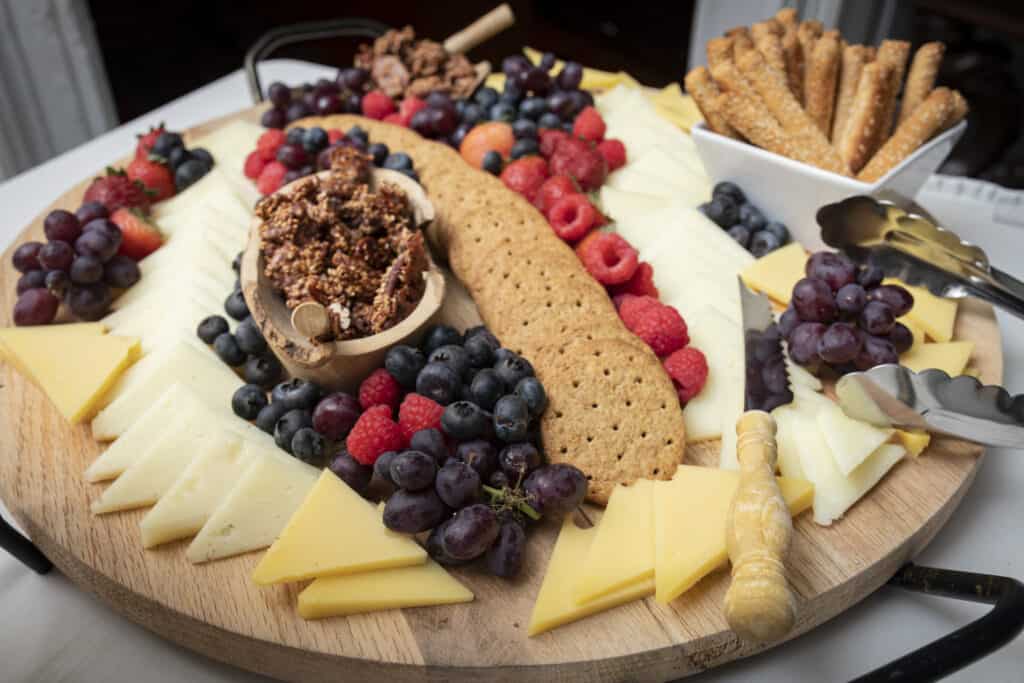 ---
Types of Cheese to Serve on a Charcuterie Board
You should choose a mix of soft cheeses, often spread-able and easy to cut with a butter knife and hard cheeses which you need a sharp knife to cut to put on your charcuterie board. The cheese categories are mainly:
Familiar flavor: such as a sharp white cheddar or a parmesan
Exciting flavor: like tangy goat cheese or flavor-infused cheese
Milk cheeses: like cow and goat milk cheeses
Aged cheese: in order to mix up the flavor
---
Best Cheese for Charcuterie Board
Goat cheese
Brie cheese
This French cheese is derived from cow's milk. It has a soft, creamy texture with a slightly nutty flavour. You can eat it with apples, grape jam, and crusty bread. Brie can also be rolled up in salty cured meat, such as prosciutto or salami.
Cheddar cheese
This English cheese is very famous for its sharp flavor. Adding apple slices, honey, and whole grain crackers helps reduce the sharpness of this cheese.
Gouda cheese
This cheese is actually Dutch and famous for its yellowish color, firm texture, and slightly sweet, nutty flavor. You can add salami to this cheese and get a heavenly taste. The sweetness of the cheese helps to balance out the saltiness and spice of the salami.
Gruyère cheese
This Swiss cheese is derived from cow milk. It is salty and nutty and goes well with pecans and almonds.
Havarti cheese
This Danish cheese is a good melting cheese, so if you have extra left over after the event, it's perfect for making grilled cheese sandwiches.
Burrata
This is a soft Italian cow's milk cheese. Its consistency is very soft, creamy, and wet.
---
Cheese Never Looked Better!
---
Tips and Tricks
Use a large, flat board
You won't be in need of anything fancy – a plain cutting board is enough! You just need to make sure that the board is big enough to fit everything comfortably. You can use a circular wooden cutting board, but large plastic cutting boards should also do the work.
Prepare the material in advance
Set out your cutting board.
Assemble the cheese board a few hours then cover it with reusable beeswax wrap or plastic wrap and stick it back in the fridge. Once you do this, you should add the nuts or greenery at the last minute in order to preserve texture.
Cut the hard cheeses ahead of time and store them in a container in the fridge until you're ready to use them. You can either wrap cut cheese in beeswax wrap or throw it in a glass storage container.
Keep It Fresh
If you are going to let your cheese plate sit out for a while, then you should put the cheese out one step at a time.
This means that if you have a board, put half the ingredients out and then add others after. Another option is that you can prepare two small identical cheese boards and refrigerate one until the first one is done. It is very simple to add some crackers or nuts afterwards, so you should not put every single item out at once.
Add your own touch
You should prepare your cheese plate the way YOU want it to! Building super-duper full cheese plates is more attractive to look at, but if you prefer to leave some space on the board, feel free to leave more space between each item!
---
Frequently Asked Questions:
Should I put the cheese outside the fridge ahead of time?
Yes, you should take the cheese board out of the fridge approximately 30 minutes or an hour before serving. Just make sure to take it out at least half an hour before you need it so the cheese can come to room temperature.
Can I prepare a cheese plate quickly?
You can assemble a cheese plate in 10–20 minutes; all you have to do is gather the materials and ingredients ahead of time, and it will be a quick and easy process.
How much cheese do I need?
If you are serving the cheese board as an appetizer, then you should prepare 2–3 ounces of cheese. But if the cheese plate is for dinner, then you will need 4-5 ounces of cheese. In case you feel like the portion is extreme , you can always cut it in half and keep the other half in the fridge for later. However, if the cheese is running out, cut it into small pieces and make sure to spread it on the board.
How long should cheese sit out for a charcuterie board?
Normally, you should not keep your board outside the fridge for more than 2 hours. If it's a hot day, you should only leave it out for 60 to 90 minutes.
---
You Can Make it You Own Way!
---
Prepare Cheese Board on a Budget!
Some people assume that preparing a cheese board is going to cost them a lot of money since cheese is usually expensive, but this is not always the case. You can always prepare any meal on a budget and here is how:
Reduce the number of items on the plate. It is unnecessary to go crazy with the preparation and add five types of cheese, you can simply choose two types of cheese and put them in multiple places on the board.
---
More Tips and Tricks to Try: