Picture this, you go back home after a long, exhausting day at work, and all you can think about is your leftover pasta from the day before. So, you reheat your pasta and you're ready to dig in.
After taking the first bite, you realize that it is not what you waited the entire day for. It is sticky and mushy. At this point, nothing seems worth it in your eyes. But hold on! I've got you covered! I'll show you the Best Way to Perfectly Reheat Pasta!
---
Reheat Pasta The Right Way!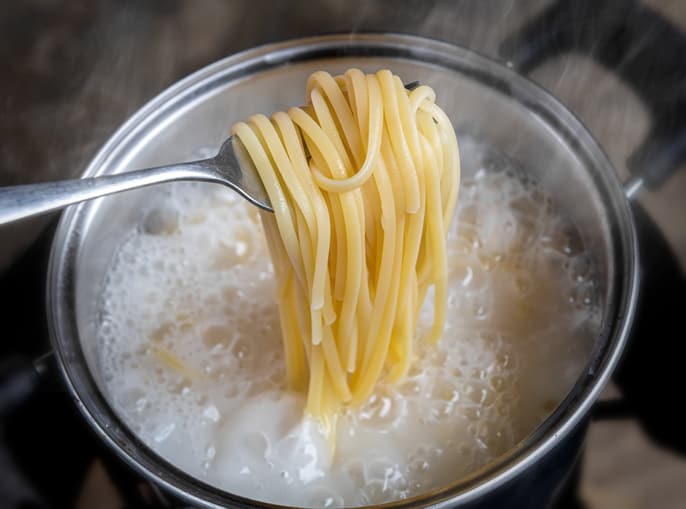 ---
Reheat Your Pasta Perfectly!
Pasta is comfort food that could cheer anyone up, but when not reheated properly? Uhhh not so much… So, allow me to teach you the easiest ways to do it so you can enjoy it on a weeknight!
---
Boil it
This is the best method if you have plain pasta leftovers. First, start by rinsing your pasta with cold water to prevent it from getting mushy.
Then, place your leftover noodles in salted boiling water. Using a heat-safe colander is great for dipping your pasta. If it's not available for you, that's fine. Submerge for 30 seconds, remove, then drain. Add your pasta sauce, serve, and enjoy!
---
Bake it!
There are different ways you can go about baking your pasta. If you want the quick way, place your pasta in an oven-safe shallow bowl then cover it with aluminum foil.
Feel free to add extra sauce if you like. Preheat your oven at 350 degrees and cook for 20 minutes.
Do you want your pasta just a little crispy? Here's how to do it! Spread your leftover pasta on a baking sheet, then cook for 15 to 20 minutes at 350 degrees.
---
Reheat Pasta To Perfection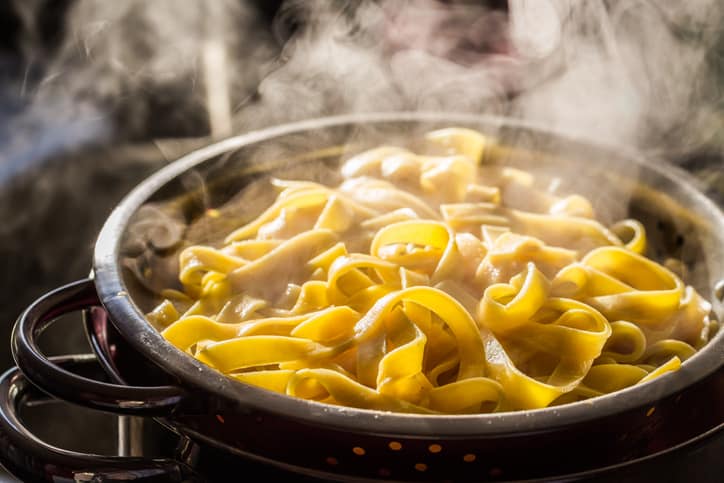 ---
Microwave it
This is the best option if you're planning on taking your pasta with you to school or work, it's super quick, mess-free and your pasta will come out very soft!
So what you are going to do is first bring your pasta in a microwave-safe bowl, and add a little water or pasta sauce.
This will prevent it from drying out or sticking together. Reheat for a couple of minutes. Feel free to increase the time if it's not heated all the way through.
---
Sauté It
Heating your pasta on the stove is another great way to go about it. This method works just fine whether your pasta is plain or sauced. But you don't just turn on the heat, and eat.
For best results, you will have to add a little bit of olive oil or any other oil of your preference to a frying pan on medium heat.
Add your pasta, your leftover sauce, and any additional ingredients you like, and sauté for 5 minutes.
But when reheating creamy pasta dishes, it's always best to use a splash of milk. You can use whole milk or any milk of your choice.
---
You Have Endless Options!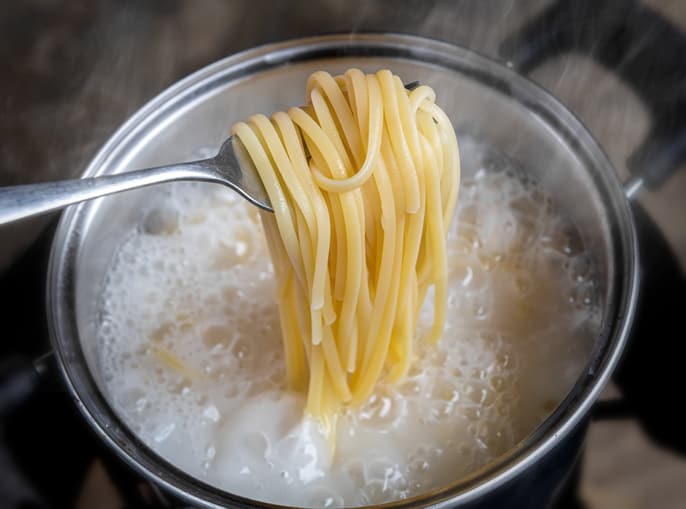 ---
What's After Reheating Pasta?
Now that you successfully reheated your pasta, how are you going to serve it? Well, let me help you out a little here!
Salad is the most famous pasta companion, so I highly recommend you try this Roasted Eggplant with Burrata Salad Recipe! But it's always great to have a variety of options especially if you're expecting guests.
Roasted vegetables make an excellent companion, but do you know what is my favorite? Whole roasted carrots! I can see you rolling your eyes but hear me out! It's really not a boring side dish, trust me!
They're sweet and savory, plus, they're super easy to cook and they add a pop of color to your dish!
This might be a little surprising but did you know that pasta pairs well with meatballs? Meatballs with tomato sauce or with cream sauce.
---
Reheat Your Pasta, Then Spice it Up!
When reheating your pasta the next day, you might want to try something new without wasting your cooked pasta from the day before.
Well lucky for you, there are different types of pasta so you can experiment and try new sauces and toppings to take things up a notch.
A ridiculously delicious pasta recipe is fettuccine alfredo, or alfredo pasta. It is super creamy, only requires five ingredients, and is very easy to make.
The good news is that there are so many variations of this dish! You can try french onion alfredo, chicken Tikka alfredo, or Chicken Fettuccine Alfredo. I'm telling you, you will fall in love.
If you feel like switching things up, maybe you could try making pasta salad! It is a versatile dish that comes together in 15 minutes. For a healthier version, try this Healthy Pasta Salad and Dressing and your taste buds will thank you!
If you are working with your spaghetti noodles leftovers, I have a few mouthwatering suggestions. Perfect Lemon Parmesan Spaghetti is such an impressive addition to your dinner table, especially during scorching hot summer days.
How could I forget my vegan peeps?! I would never! Let me introduce you to the Easiest Vegan Spaghetti Bolognese. Try it once and you will want to make it on regular basis!
Tomato Parmesan Spaghetti is a dish that fills your tummy and captures your heart! With only 7 ingredients you will have a delicious meal to enjoy by yourself, with friends, or family!
---
You Can Now Enjoy It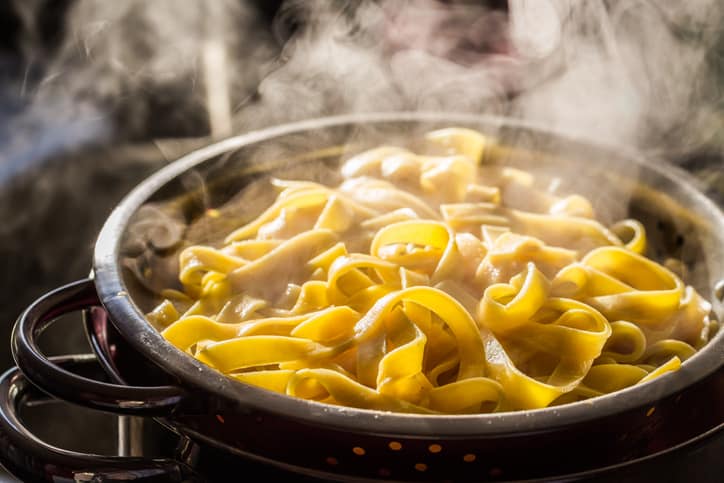 ---
Pro Tips To Reheat Pasta
When making fresh homemade pasta, try to estimate how much you'll eat that day, then rinse the remaining plain leftover pasta and save it for the next day.
When baking pasta, make sure you line your baking tray with parchment paper to prevent it from sticking.
If you decide to sauté your pasta, be sure to stir frequently so the sauce doesn't burn.
---
Frequently Asked Questions
How to store leftover pasta?
Store your plain or sauced pasta in an airtight container in the refrigerator. It should last you about 5 days.
Why should I boil pasta in salted water?
Adding salt to your pasta water isn't just for flavor, but it also prevents it from getting slimy.
Can I reheat cooked pasta twice?
Reheating pasta multiple times is safe but it's always better to limit the times you do so. After a few days, you might even notice that the pasta taste has changed.
---
Don't Miss Out On These Recipes