In a unique collaboration with Tommy Hilfiger Holiday Experience, I am proud to announce a distinctive twist to an old go-to comfort-drink: none other than hot chocolate! Create a close and cozy atmosphere this holiday season with a warm cup of this simple, yet utterly satisfying recipe.
This won't be your ordinary hot chocolate experience, so bundle up and feel the enveloping warmness. Prepare your taste buds for a rich… creamy… chocolatey… spicy caramel cup of heaven. Drink it while enjoying your favorite person, book, or TV time next to a fire, tucked under some blankets!
@TommyHilfiger knows that hot chocolate is a staple for the holiday season so go ahead and WOW your friends and family with this one-of-a-kind recipe! #Tommypartner
Visit the Tommy Hilfiger Holiday Experience here http://tom.my/taste-great-foodie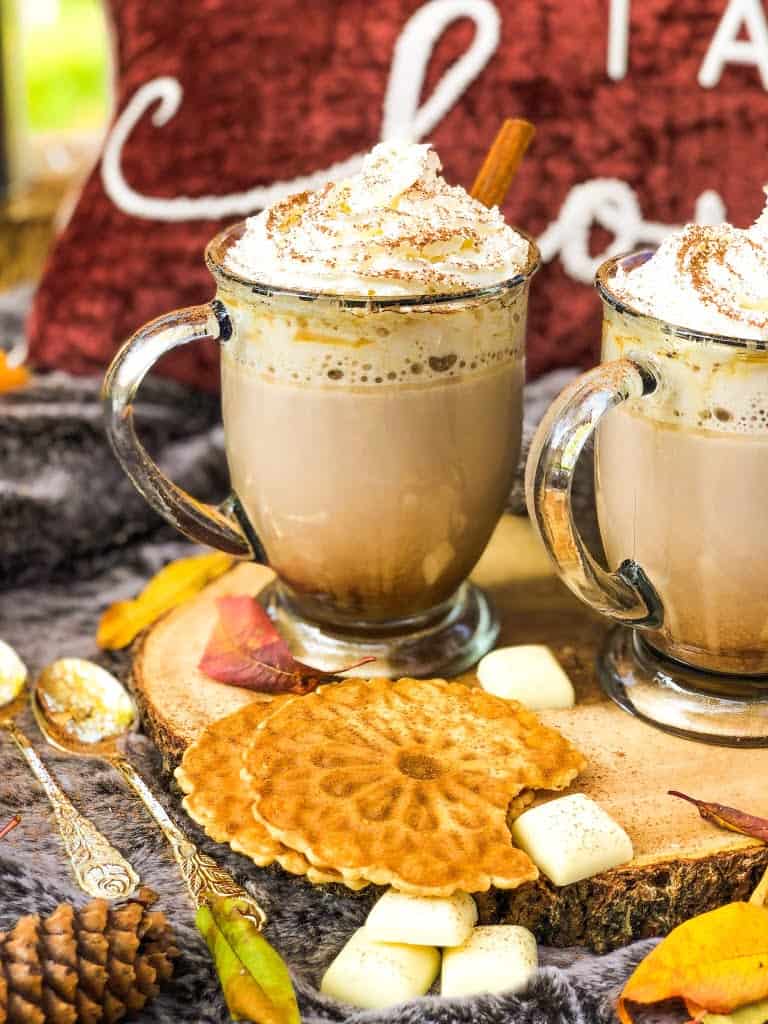 Hot chocolate is a historic drink that is a family favorite in nearly every household internationally. This recipe stands out because it's the perfect take on this holiday favorite for any occasion, event, season, or emotional state. Chocolate in general improves mood, imagine turning it into a dreamy drink that will awaken your inner child while reviving your soul.
Tommy Hilfiger knows that hot chocolate is a staple for the holiday season so go ahead and WOW your friends and family with this one-of-a-kind recipe!
Frequently asked questions
What is white hot chocolate made of?
Steamed milk, white chocolate, cacao powder and it is optional to add pumpkin spice and caramel! Top it off with a fluff of whipped cream.
What does white hot chocolate taste like?

It's basically the white chocolate version of hot coco. I add a bit of cocoa to my drink but traditionally it is made just with white chocolate. It has a sweet and smooth taste distinctive of white chocolate with the addition of pumpkin spice which is optional.
There is nothing quite like hot chocolate especially in the fall and winter seasons! When I shot this photo of the Caramel Spice White Hot Chocolate, the weather was just perfect! The smell of burning wood, the clean crisp air, fuzzy blankets, colorful leaves in mid October is everything I wait for. What really gives me that fall vibe is a warm cup of hot cacao. This time I experimented and came up with an unbelievably tasty hot drink that soothed my soul.
---
What goes into this creamy rich hot chocolate?
whole milk
white chocolate
cacao powder
pumpkin spice
caramel syrup
---
Recipes you may want to try
---
Caramel Spice White Hot Chocolate
Ingredients
2

cups

whole milk

4

tablespoons

white chocolate

2

tablespoons

cacao powder

1

teaspoon

pumpkin spice

1

tablespoon

caramel syrup
Instructions
In a medium sauce pan combine milk, chocolate chips, cacao powder, pumpkin spice and caramel syrup

Continuously whisk over medium- high heat until milk has reached a rolling boil. Remove from heat and serve warm. Top with your favorite whipped cream then garnish with cinnamon or cacao powder
Like this recipe? Rate and comment below!