Who can believe that mixing boiling water and sugar will form a whipped thick foam we are all falling for? So cool! Dalgona Coffee is the new iced coffee trend that originated in South Korea and now has gone viral on TikTok.
This chilled cup of coffee is so simple, yet so unique! It is frothy, refreshing, and actually soothing to make. You can now enjoy the trendy drink that a lot of people order in coffee shops.
---
Refreshing Morning Coffee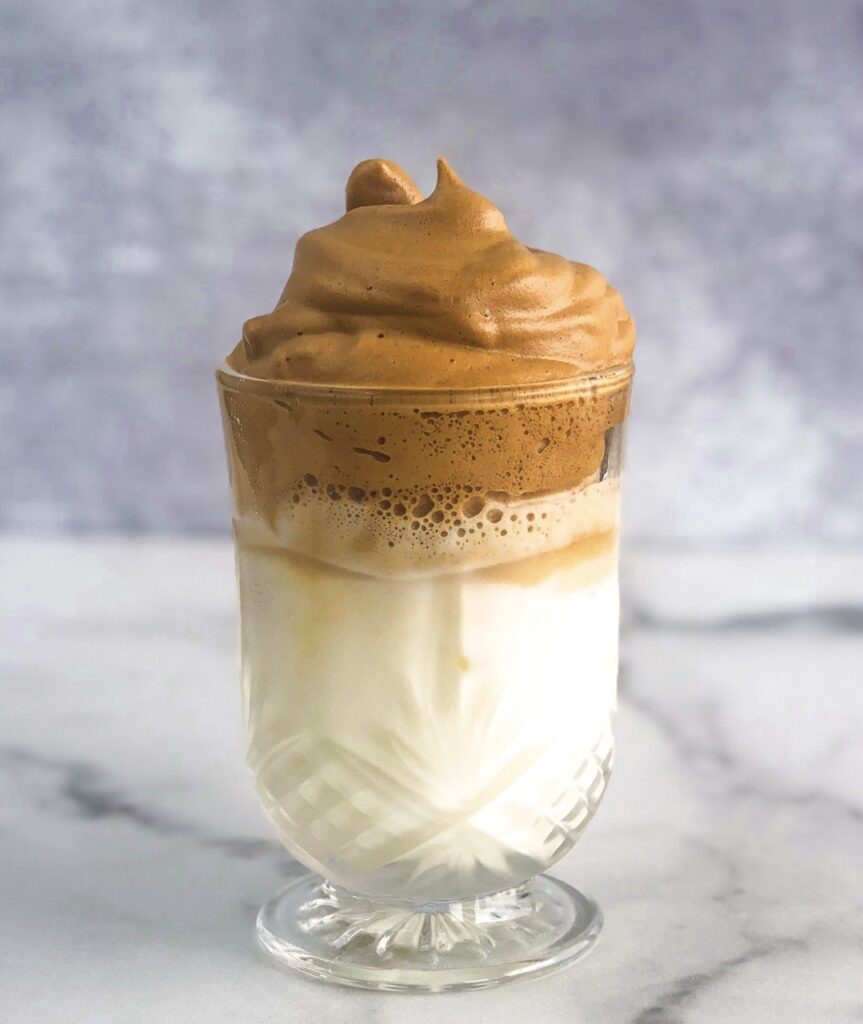 ---
So What is Dalgona Coffee?
Dalgona coffee is a refreshing two layers drink made with iced milk and sweet coffee foam on top. This delicious cold coffee is also known as whipped coffee.
The name of dalgona coffee is credited to the South Korean actor Jung Il-Woo who ordered this drink during his appearance on a TV show called Stars' Top Recipe at Fun-Staurant.
Immediately, the actor links the taste of this coffee to the Korean dalgona candy and called it dalgona coffee.
During the Covid-19 pandemic, this Korean Dalgona coffee was popularized on social media, especially on tiktok.
Since this tiktok coffee is spread among the world, then it is known under different names according to other cultures and countries.
The Similar Drink is known as Frappe Coffee in Greece and Phenti Hui Coffee or hand-beaten coffee in India.
---
Different Ways to Enjoy the Dalgona
This cup of frothy milk topped with whipped coffee is so refreshing and really delicious if you ask me. I would totally serve this for my guests so they can think I am all fancy.
In your favorite glass cup, add the cold milk of your choice over ice cubes. Top it with the whipped dalgona coffee and stir using a straw or spoon.
Sip deeply and feel it in your bones! I personally loved this glass of milk since it felt like having a wholesome hefty treat.
If you prefer hot coffee, the good news is that you can also enjoy Dalgona coffee as a hot drink. All you have to do is to heat the milk and add whipped coffee on the top without ice cubes.
---
Like Dessert in a Cup!!
If you ask me about the best part, then the immediate answer is enjoying this whipped coffee.
However, if you ask about the good news. Then you will be amazed that this is an easy drink to serve on special occasions like a birthday party or a friendly gathering.
Be creative by sprinkling on the top of each serving different types of toppings. You can garnish cocoa powder or crumbled cookies. A drizzle of chocolate or honey syrup will also add a heavenly taste to your cup.
You will not be mistaken if you serve this ultimate treat with Double Chocolate Banana Bread Recipe, Chocolate Peanut Butter Oatmeal Cookies, Chocolate Quinoa Cookies, etc.
---
Dalgona Coffee Variations
Vegan: One way to make this drink available for vegans is to use almond milk, coconut milk, oat milk, soy milk, or any milk your heart desires. Then simply add the whipped water, sugar, and coffee!
Low carb-Keto: The way to enjoy Dalgona and keep it low-carb and sugar-free (perfect for diabetics as well) is by adding heavy whipping cream over ice. You can whip the coffee using water and if you want to go all out like me, you can replace the water with heavy cream!
---
Incredibly Delicious Fluffy Coffee
---
Pro Tips for Best Results
I prefer using a tall glass cup since it looks so pretty!
To get as much air whipped into the coffee, you need to whip water/milk and coffee in a heat-proof large bowl at the highest speed using an electric whisk. Don't whisk them in a mug.
You can adjust the sweetness of the coffee by increasing or decreasing the amount of sugar you add.
The best instant coffee to use for dalgona coffee is the instant coffee granules that have a bit of a sour flavor. Any brand works well.
Don't opt for regular ground coffee beans you use to make drip coffee.
---
Frequently Asked Questions
How does dalgona coffee taste?
The taste of dalgona coffee has a mildly sweet flavor that is similar to coffee ice cream.
What kind of sugar can I use to make dalgona whipped coffee?
To make dalgona whipped coffee, you should use granulated sugar. White sugar, brown sugar, raw sugar, and even coconut sugar work well.
I don't have a handheld mixer, so how can I make this dalgona Korean coffee?
You can make dalgona Korean coffee using a milk frother, stand mixer, or hand whisk.
How to store dalgona whipped coffee?
Store whipped coffee leftovers in an airtight container in the fridge for about 4-6 days. After that, it will slowly break down.
Can I make this South Korean coffee drink without sugar?
Yes, you can. The coffee will whip on its own, however, it doesn't last long as the best results happen when adding white granulated sugar.
---
Ingredients
To make this dalgona coffee recipe, you need the following 4 simple ingredients:
instant coffee
sugar or xylitol for a sugar-free option
water
whole milk or almond milk
---
Instructions
First, heat milk or water until hot.
Then, in a medium bowl, whip hot water or hot milk with instant coffee and sugar or xylitol Use an electric hand mixer. Whip on high speed for about 3 to 4 minutes or until stiff peaks form.
After that, in a tall glass cup, add ice cubes and your choice of milk.
Finally, pour the frothy coffee on top of the milk. Mix and enjoy!
---
Be sure to try this ASAP and watch the video below that I put together so you can get a better idea of how to make it!
---
Don't forget to visit my YouTube Channel and subscribe! Tastegreatfoodie
---
Recipes You May Want To Try
---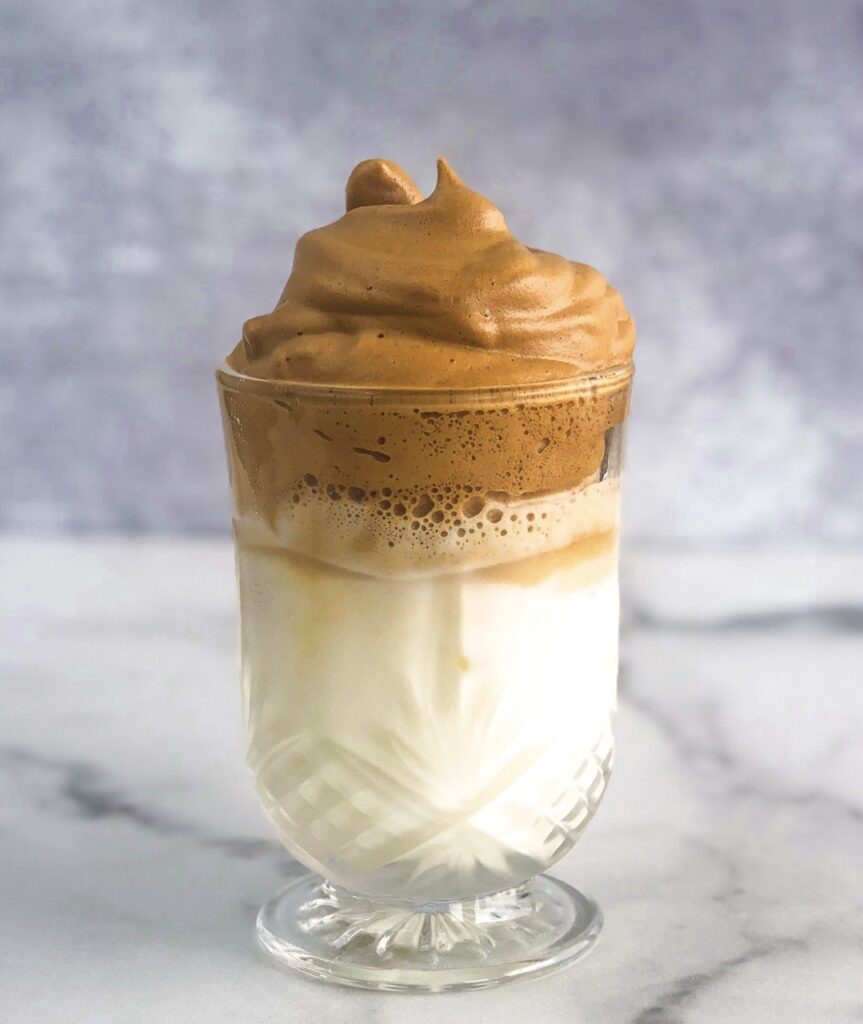 Dalgona Coffee
Catch up to the Dalgona Coffee trend with this recipe and have this treat any time of day your heart desires.
Ingredients
2 tablespoons instant coffee
1½ tablespoons sugar or xylitol for sugar free option
2 tablespoons water
8 oz. milk or almond milk
Instructions
Heat milk or water until hot.

In a medium bowl, whip hot water or hot milk with instant coffee and sugar or xylitol Use an electric hand mixer. Whip on high speed for about 3 to 4 minutes or until stiff peaks form.

in a tall glass cup, add ice cubes and your choice of milk.

Pour the frothy coffee on top of the milk. Mix and enjoy!
Notes
Don't opt regular ground coffee beans you used to make drip coffee.
To make this drink vegan, simply replace the kind of milk you use with almond, oat, or coconut milk.
To make this drink Low Carb or Keto simply replace the milk with heavy cream!
Note that I used milk instead of water to whip the coffee. It is just a personal preference to make it richer. You can stick to using water if making any of the above variations.