Who doesn't love to start their day with an easy, quick, and fulfilling breakfast? This Asparagus and Eggs Skillet is the perfect match most people look for.
Always in a rush? Well, take a step back and pamper yourself with a hearty and nutritious breakfast.
We've heard it plenty of times: Breakfast is the most important meal of the day. This is a recipe that will help you fuel your body to get through the day and help you focus more on your responsibilities.
---
A Good Start to Your Day
---
One of the great things about this skillet meal is it's also welcomed any time of the day like brunch, dinner, or a midnight snack.
Asparagus is a low-calorie vegetable. It's also a good source of vitamins, which enable the accumulation of radicals and reduce the risk of chronic diseases.
That being said, it is important to note that it promotes the digestive system and contains a mineral that helps lower blood pressure since it is rich in fiber and high in water.
---
A Hearty and Healthy Meal for You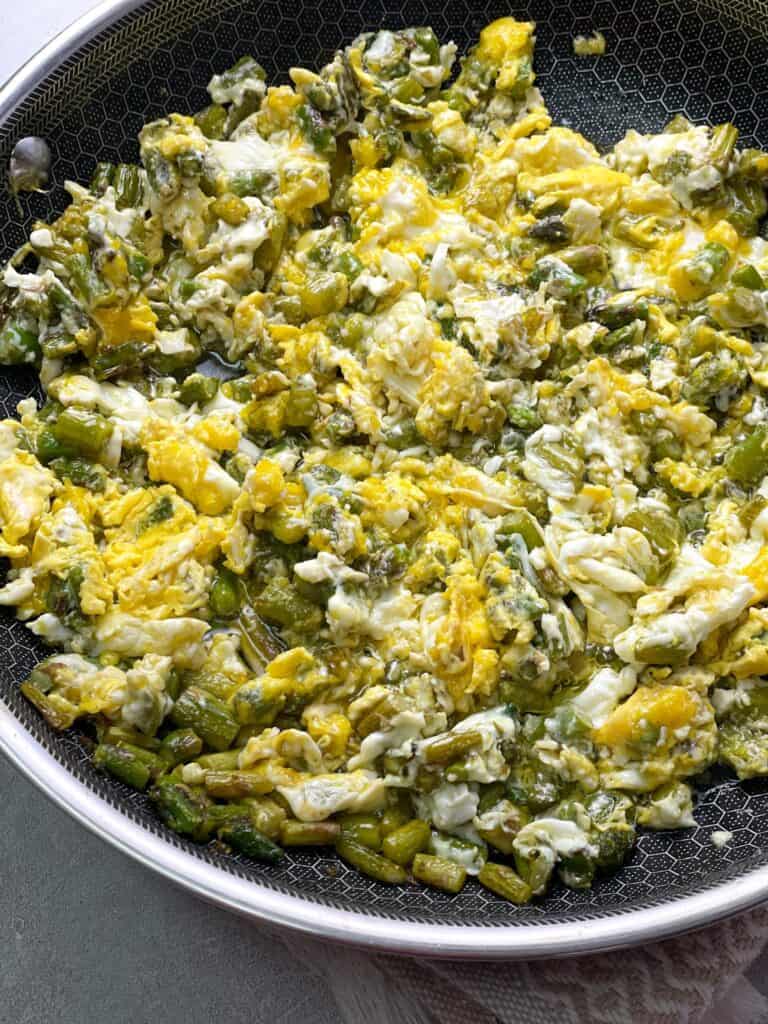 ---
This Asparagus and Eggs Skillet recipe is so simple to make and comes together in less than 15 minutes. Sauté the asparagus spears, then crack the eggs over them. Cook for a few minutes, and your meal is ready!
---
Easy Breakfast Recipe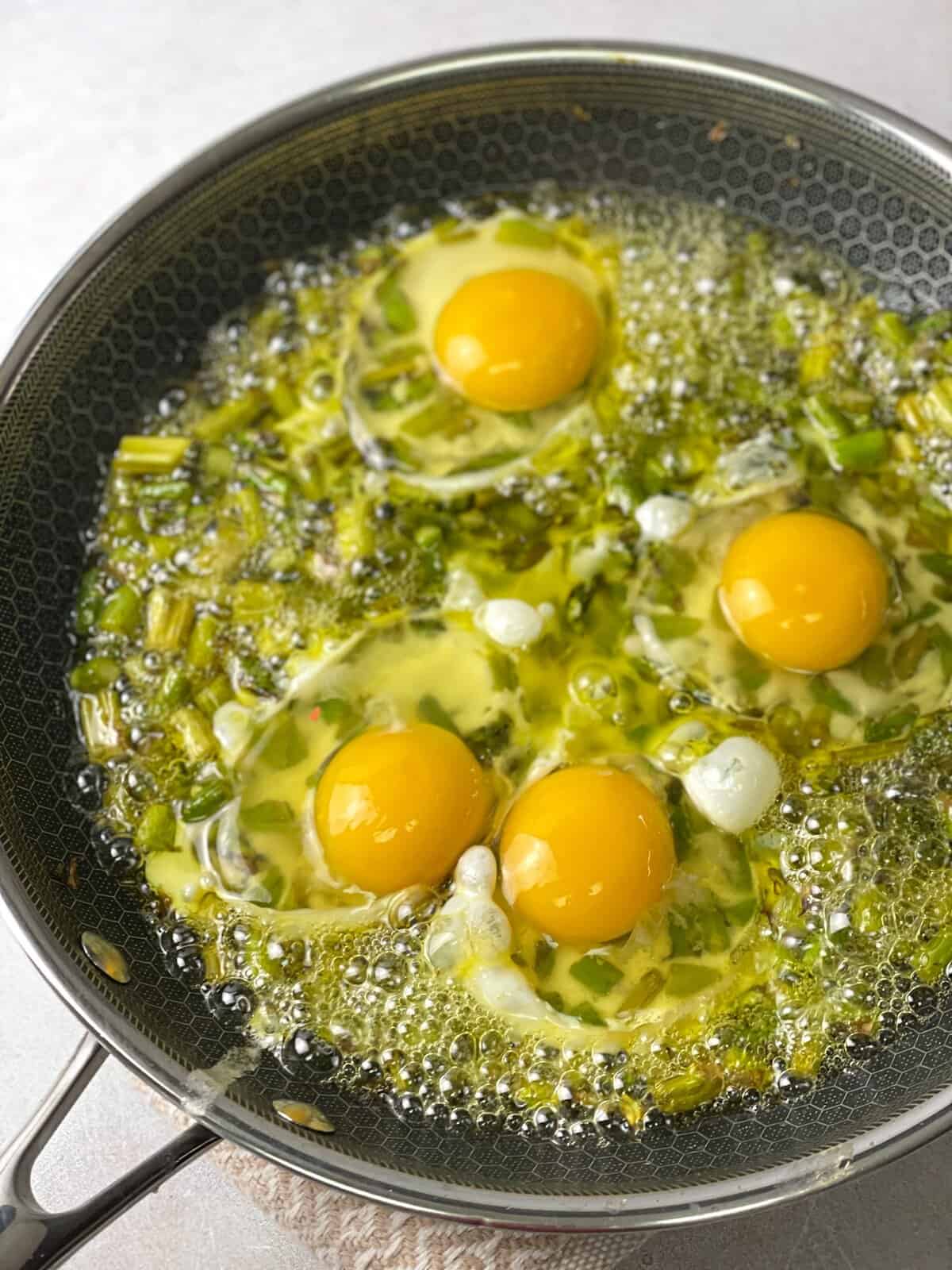 ---
Serving Suggestions
Enjoy your breakfast warm with Simple Skillet Flat Bread or Gluten-Free Flat Bread-10 Minute Dough (No Yeast).
Sprinkle black pepper or paprika on your skillet before serving it. You can also add shredded cheese on top and some fresh basil leaves.
It can be served with a side salad for lunch or dinner.
---
My Favorite Wrap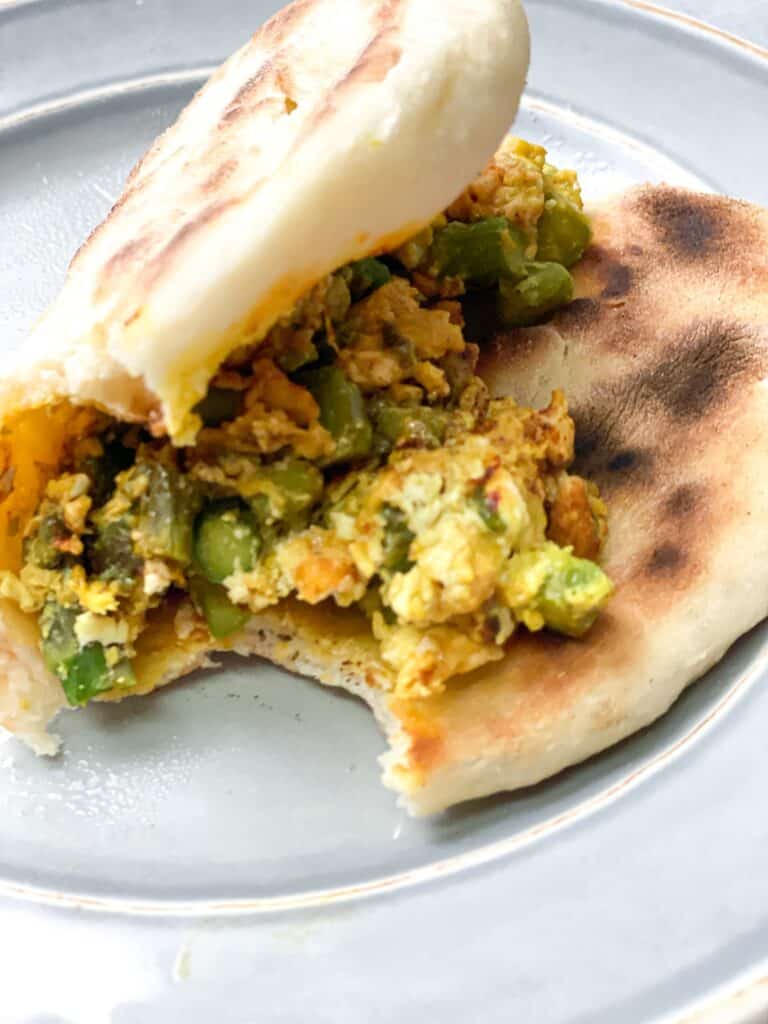 ---
Pin it for Later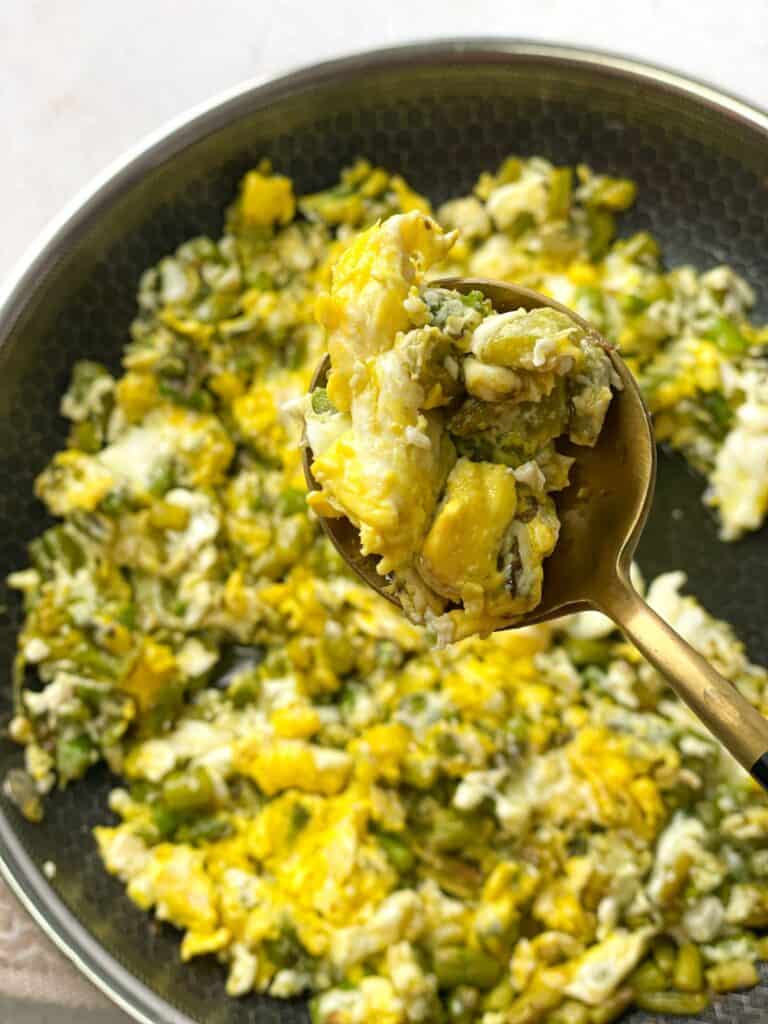 ---
Frequently Asked Questions (FAQs):
How do I know if I am cooking it the right way?
You must stir until the asparagus is brown and tender. If the asparagus is thicker or larger, than it might take some extra time to be done.
Can you refrigerate the asparagus and egg skillet?
It can be kept in the fridge for an average of two days; after that, it can become soggy. However, once the eggs are cooked, it is preferred to eat them fresh.
Which pan do you recommend using?
This dish is usually cooked in an iron skillet; it is oven-safe, and when the eggs are well-seasoned, they do not stick to it. This pan can be used both in the oven and on the stove.
---
To Make your Skillet, you Will Need
asparagus spears
eggs
turmeric
paprika a pinch for garnish
salt to taste
pepper to taste
(Scroll down for recipe details)
---
Variations
Since this is an easy recipe to prepare and it does not require many ingredients, you can always add seasonings to change up flavor.
You can also opt to add more texture and umami flavors. For example, adding cheese that melts gives food a crispy taste when it is cooked.
Also, adding vegetables on the side can make it rich in vitamins in addition to making it look colorful and delicious.
---
Incredible Vegetable-Packed Breakfast
---
Top Tips
The asparagus can be stored the day before in the refrigerator. However, once you take it out and decide to cook the asparagus, it is preferable to preheat it in the same pan in which the eggs are going to be cooked.
Green asparagus is the most common kind; it is cultivated on earthy soil, and requires sunlight to stay fresh. However, white asparagus can also be used, but its taste is less intense.
Another common type is wild asparagus, which is thinner, very intense, and has a slightly bitter taste.
You can serve this dish with a side salad for lunch or dinner.
---
Must Try Recipes:
---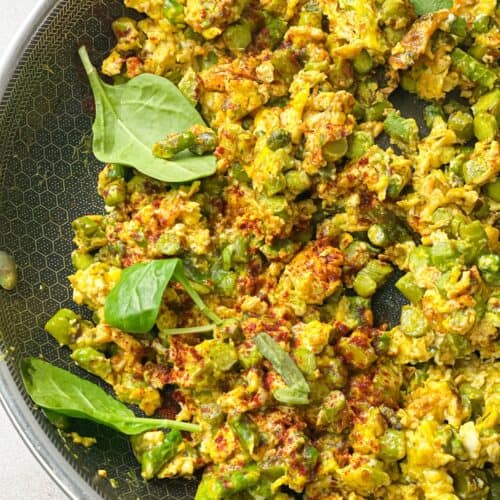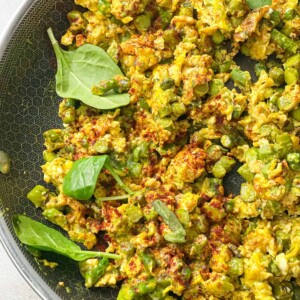 Asparagus and Eggs Skillet
This Asparagus and Eggs Skillet is the perfect match for an easy, quick, and fulfilling breakfast. Try it and let me know how much you enjoyed it!
Ingredients
8

asparagus spears

4

eggs

2

tablespoons

butter

½

tablespoon

extra-virgin olive oil

⅛

tablespoon

turmeric

paprika

,

a pinch for garnish

salt

,

to taste

pepper

,

to taste
Instructions
Wash the asparagus then cut the ends off (about 2 inches) that are woody or tough.

Slice the asparagus. To a skillet add both the butter, olive oil, and the cut asparagus on medium-high heat to sauté for about 4-5 minutes stirring occasionally.

Crack the eggs over the cooked asparagus. Cover to cook for 2 minutes sunny side up or scramble for about 20 seconds and turn off the heat immediately. The eggs continue to cook from the heat of the burner. Remove after 1-2 minutes.

Sprinkle salt and black pepper, then garnish with paprika. If you prefer, add shredded cheese.
Like this recipe? Rate and comment below!