While every cook has a different experience in the kitchen, one thing everyone has encountered is something splashing or boiling over their stovetop. That's why it is essential to know How to Maintain a Clean Electric Stovetop.
Cleaning the stovetop is not a complicated task, but it can be challenging due to the accumulation of grease and food residue. But with the right supplies and a few simple steps, the job can be done quickly and efficiently and, it can stay spotless!
---
As Good As New!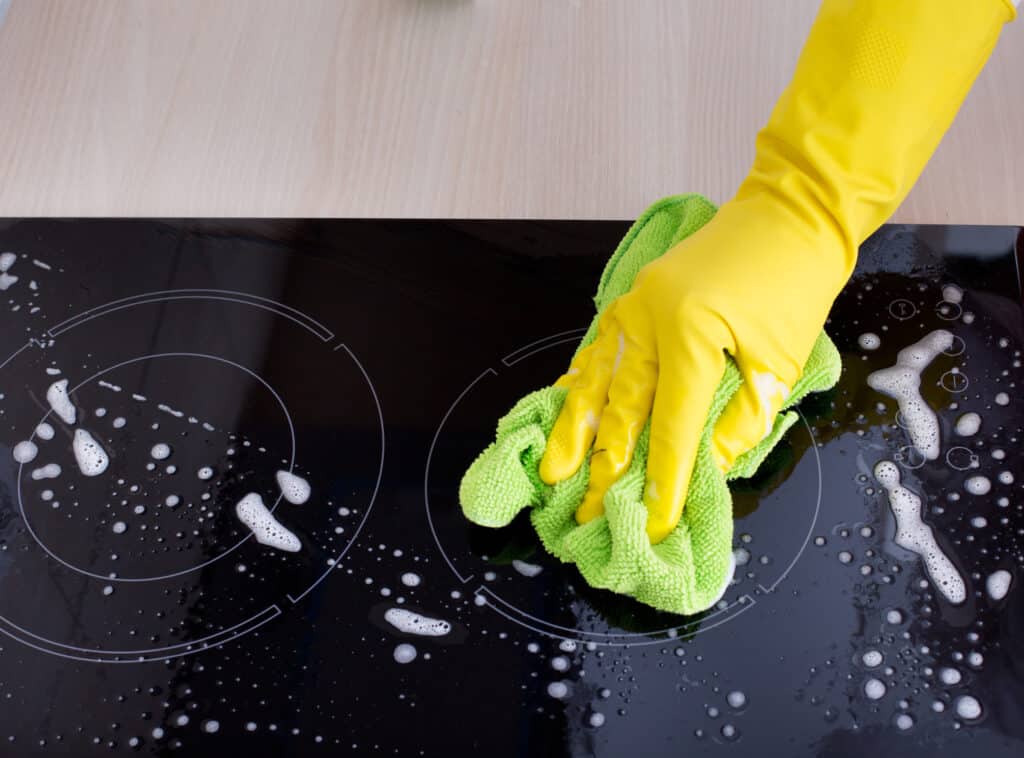 ---
The Importance of Cleaning Your Electric Stovetop
Keeping your electric stovetop clean is more important than you think.
The most obvious reason is that cleaning your stovetop prevents grease from accumulating and bacteria buildup. Cleaning the stovetop regularly will help to keep it sanitized and safe to use.
Not only that, but it also allows you to cook more efficiently, because a clean stovetop conducts heat more evenly, which means your food will cook faster and more evenly.
Not cleaning your electric stovetop regularly might result in shortening its life span. It also creates an unpleasant smell in your kitchen, who would want that?
---
Clean and Shiny!
---
Supplies Needed
Water
Baking soda
Towel
Soap
Lemon
---
How To Achieve A Clean Stovetop
Despite the fact that electric stovetops are supposed to be self-cleaning, sometimes they do require a little more effort, especially since cleaning them regularly prevents buildup.
---
First Method
If your electric stovetop has coils, make sure to remove them first and clean them if needed. Then, combine half a cup of baking soda with a bit of water to make a paste, then adjust the amount until you achieve a spreadable consistency.
Apply the paste to your stovetop and let it sit for 3 to 5 minutes. After a few minutes, wipe it gently to avoid any scratches. Concerning the outside of the stove, you can simply clean it with water and soap.
---
Second Method
This is the perfect way to scrap away tough stains from a glass stovetop. What you will need is a lemon and baking soda.
Make sure that the surface is cool, then wipe everything down with a wet sponge. Razor scrapers work well for caked-on crusted pieces; hold the razor at a 45-degree angle and scrape away the crusted bits.
Now slice your lemon in half and dip it in some baking soda. Next, rub the stovetop with the lemon, squeezing it as you scrub.
While baking soda helps scrub away all the grease, lemon juice works to cut through it. Finally, with a sponge or a microfiber cloth wipe everything up.
---
The Cleanliness You Deserve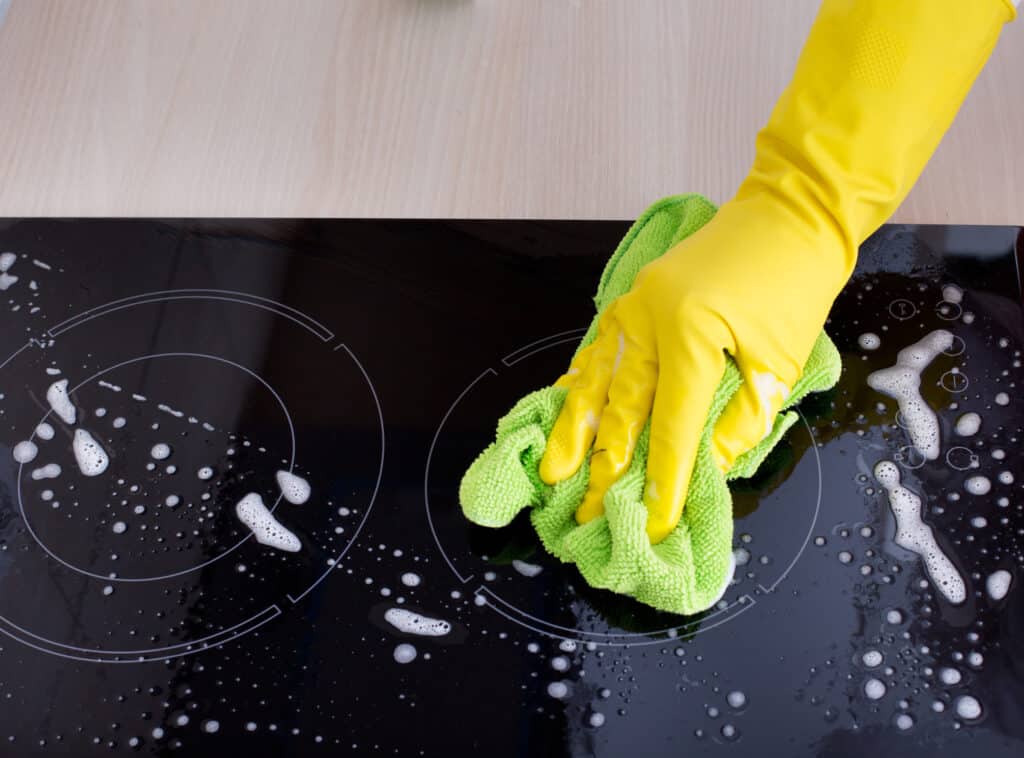 ---
How To Clean Electric Stovetop Burners?
To clean the burners, you are going to dampen a clean lint-free cloth, squeeze out any excess water then lightly wipe the surface of your stovetop. After that, turn your burners to their highest setting.
This step ensures that any dirtiness is removed from the coiled burners. And don't worry, it is natural to see smoke after this. Wait for the burners to cool, then carefully remove them.
Now, to clean them properly, dampen a towel with water and soap scrub. Then, apply some baking soda paste to the burners and keep them for 20 minutes.
Finally, on a cleaning pad, put some warm water and soap to clean beneath the burners and wipe everything up, and you're done!
Another super easy way to clean your burners is to place them in a deep cup, then add your favorite cleaning product, squeeze some lemon, and add 1 tablespoon of baking soda in addition to hot water. Soak for 10 minutes, then scrub it and wash it well with water.
---
Electric Stovetop Maintenance Tips
Regular maintenance is key. It is recommended to clean your electric stovetop after each use. But always make sure that your stove has cooled off. This simple habit could facilitate the cleaning process and extends the lifespan of your kitchen appliances.
Abrasive cleaners, scrubs, or metal pads can cause serious scratches that can only be repaired by replacing the cooktop, so NEVER use them.
It is better to use warm water when making a baking soda paste because it breaks down grease faster.
You could prevent messes by using drip pan liners as this area tends to get dirty very quickly, so by doing that, you save yourself plenty of time. If you couldn't find drip pan liners at your local supermarket, you could simply make your own using aluminum foil.
Avoid dragging heavy pots as this might cause scratches on your cooktop.
Always make sure that the bottom of your pots is clean before placing them on your stovetop to prevent any rings from forming.
---
Make it Shine!
---
Frequently Asked Questions
Can I use window cleaners to clean my electric stovetop?
I do not recommend using glass cleaners such as Windex to clean a stovetop. Such products are not suitable for cooktops and might cause permanent stains.
How to deep clean my stovetop?
If you have neglected cleaning up your cooktop for a while you need baking soda and hydrogen peroxide. What you will do is put some baking soda all over your cooktop, then pour hydrogen peroxide and lay it over a damp kitchen towel. Let this sit for a couple of hours or overnight. Then wipe it down and you're good to go!
---
Make Sure To Check Out These Blogs