Let's settle this debate once and for all! Instant Pot vs. Slow Cooker: Which one do you think is better?
keep reading to learn more about the key differences between the 2, and how they both measure up in the kitchen!
Let's start spending less time worrying about working around endless pots on the stovetop and enjoy the cooking session itself!
---
Instant Pot Vs. Slow Cooker: Which One You Will Use?
---
Home cooks everywhere are always bombarded with new kitchen gadgets, but how do we know if they are really worth the money?
I mean, I'll take anything and everything that will make my life easier; and I surely can't be the only one! But why juggle many gadgets all at once?
Instant pot vs. slow cooker: learn whether you actually need it before buying!
---
Instant Pot vs Slow Cooker
Basic Function
When it comes to a traditional slow cooker, the name says it all really. The universal agreement is that a regular slow cooker cooks food on low heat for a long period of time.
So, let's put it this way. Instead of wishing you'd have more hands and feet while preparing dinner for your guests, you can simply build the dish in the slow cooker and then leave it to bubble away all by its sweet self!
The bottom line is, you can set something to cook, then forget about it until serving time. No Rush, no hassle! Slow cooking in its finest!
On the other hand, instant pots, also known as electric pressure cookers, are a type of kitchen appliance that uses high pressure and high temperature to cook food faster. You can consider it a slow cooker, steamer, and sauté machine all rolled into one.
---
Cooking Time
I think we established the fact that a slow cooker takes a long time to get the job done, while an instant pot doesn't take as much time to cook up a hot meal. A great way to master fast cooking!
But this is where it gets interesting!
Let's say you forgot to thaw whatever that is you are cooking, then using the pressure cooker would definitely be a better option than a slow cooker; since the latter wouldn't be able to maintain the meat in a safe temperature range.
---
Ease of Use
A traditional slow cooker is mainly appreciated for its ease of use. You don't have to worry about searching for the slow cooker setting or the manual book.
The slow cooker function is as simple as it can be. However, some might be a bit frightened when it comes to an instant pot.
All the features and uses might throw people off; despite the fact that this all-in-one countertop appliance is a breeze to work around once you get the hang of it.
---
Slow Cooker for Hearty Recipes
---
Versatility
A slow cooker, also known as a crock pot, is by far my go-to kitchen appliance when it comes to one-pot meals!
Nothing complicated really; you just throw any big piece of meat (chicken breasts, whole chicken, etc.) and wait for a few hours.
On the other hand, an instant pot is not called a multi cooker by coincidence. Their various cooking functions/cooking methods include pressure cooker, steamer, slow cooker, and warming pot.
So if you don't have the space for many appliances in your kitchen, then investing in an 8-in-1 pressure cooker makes more sense.
However, if you already have a slow cooker and don't mind cooking up some of your favorite recipes on the stovetop, then buying a pressure cooker is not really obligatory.
It is not necessarily better than a rice cooker (check out my Instant pot vs Rice cooker blog for more details) or an air fryer, but it is a nice all-in-one investment when you lack the space and means to buy new kitchen gadgets.
---
Volume
The most important part here is knowing how kitchen appliances fit into your cooking plans. So think about how you are planning to use the machine.
If you are into meal prep, and planning on cooking large batches of a certain recipe, then a slow cooker would be the best option.
However, for a quick dinner meal, I recommend using the instant pot.
The amount of time saved with this appliance will never cease to amaze me! It is all about minimum fuss and making cooking a breeze!
---
Usage
When it comes to slow cooker recipes, I found that a nice hearty beef casserole, pot roast, honey roast ham, roast chicken, or an oh-so-delicious roast beef makes a soul-warming and satisfying meal for the family!
Keep in mind that you can't use a slow cooker for tender cuts of meat, delicate vegetables, anything with milk, cream, or too much liquid, seafood, rice, or frozen food.
As for recipes using the instant pot, the possibilities are literally endless! I use it to make all kinds of different things; here are a few personal favorites!
A hearty and cozy ramen noodle chicken soup, Durum Wheat soup with beef shanks, Vegetarian grape leaves (YUM!), or even cooked beets! You can also learn how to cook a whole chicken! An expert multitasker!
---
Things to Keep in Mind Before Buying
1: While you can open the Slow Cooker's glass lid to stir or season, that will not be an option with an Instant cooker, since the lid is locked. So, if you are a hands-on cook, then a slow cooker is a great option for you.
2: There is no need to sauté your meat or chicken if you plan on using an Instant pot.
3: Despite the fact that an Instant Pot revolves around pressure cooking at low temperatures, it has a bunch of safety features and is completely safe, if used properly.
---
Instant Pot: A Must in Your Kitchen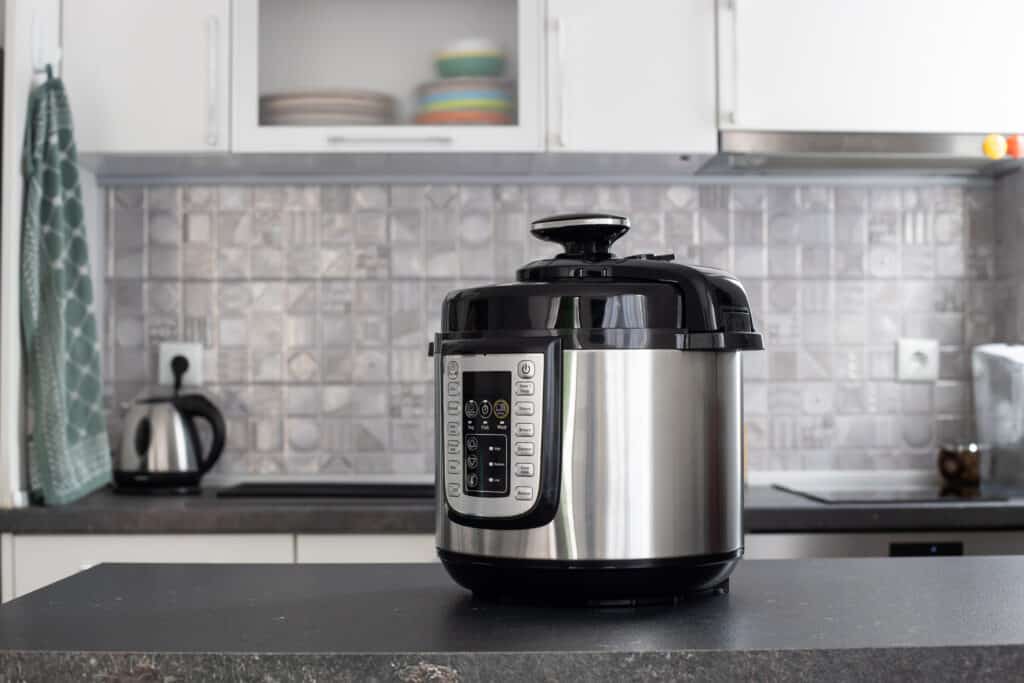 ---
Frequently Asked Questions
Which appliance consumes less energy?
The instant pot is a definite win for this one. Because this appliance speeds up the overall cooking process, it consumes less energy than a slow cooker.
How much time will an instant pot get a meal ready?
Well, despite the obvious name, an instant pot isn't exactly instant or a matter of minutes. It takes about 15 minutes to reach pressure, and another 30 minutes to release it. So, you might have to wait for a little bit with this appliance too.
Why can't I open the Instant Pot's lid?
An Instant Pot functions on pressure. Unlocking the lid releases all the pressure trapped inside, which ultimately compromises the cooking process.
---
Enjoy Reading These Blogs!
---