Lemons and limes have endless uses, not just for eating or flavoring! These two fresh fruits are widely used around the world.
You can feel the taste of acidity in your mouth when you say the name. What a powerful fruit! So, the best thing is to find out how to store lemon and lime for 3 months.
Lemons and limes must be in your kitchen any time. Therefore, people store them in various ways.
I have various perfect lemon and lime storage hacks that will help keep your lemons fresh and wrinkle-free! Let me show you how to store lemon and lime for 3 months!!!
---
Fresh Lemon and Lime Can Be Stored Up to 3 Months!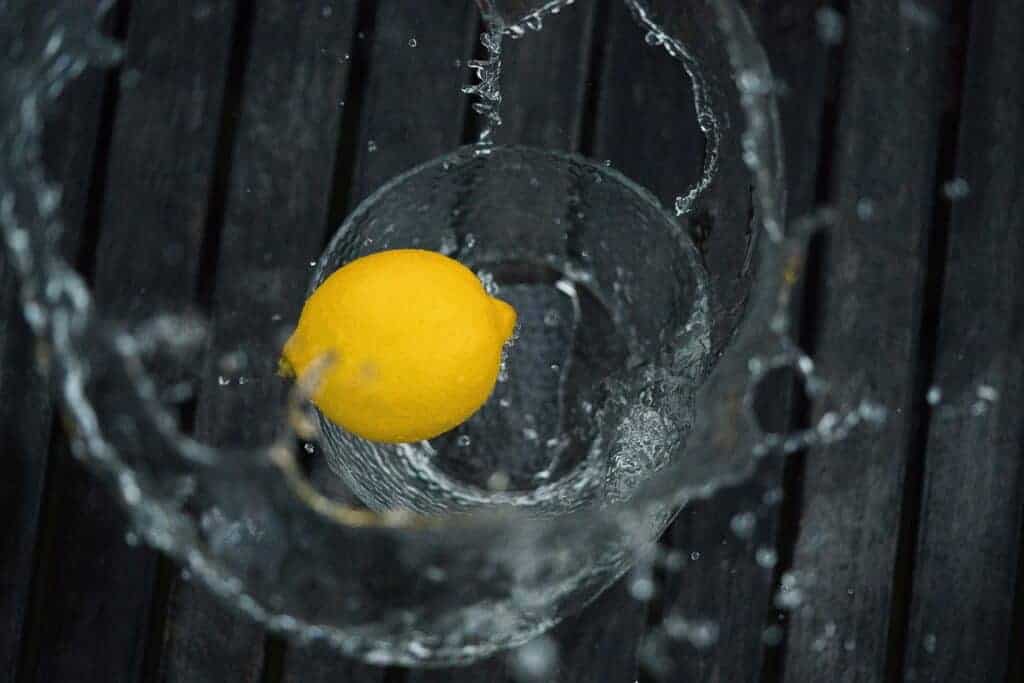 ---
Buying the Perfect
Lemon

and

Lime

to Store Up to 3 Months

Lemons and limes are definitely a kitchen grocery staple. They are used for so many different delicious and healthy recipes, salad dressings, and so much more. So, buying the perfect lemons and limes is important because it affects flavor and shelf life.
---
What to Look for When Buying
Lemon

or

Lime

that You Want to Store

When you head to the supermarket to buy groceries for the next months, you definitely have to get some lemons and limes. So, head to the vegetable department. Let's be smart and picky! We need the best lemon and lime to get best results of storage.

First, make sure that the lemons and limes you choose do not have bruises, wrinkly skin, soft spots, or moldy areas. Then, go ahead and press each one you choose. Lemons should not be spongy nor very soft.

It has to be a little firm when you press it, but not rock-hard.

Also, it is better to look for lemons with thinner skin since they are juicier. If you feet that the lemon is too light, do not take it.

This means it does not have much juice. In fact, good lemons and limes are a bit heavier for their size.
---
Choose the Best Lemon and Lime to Store!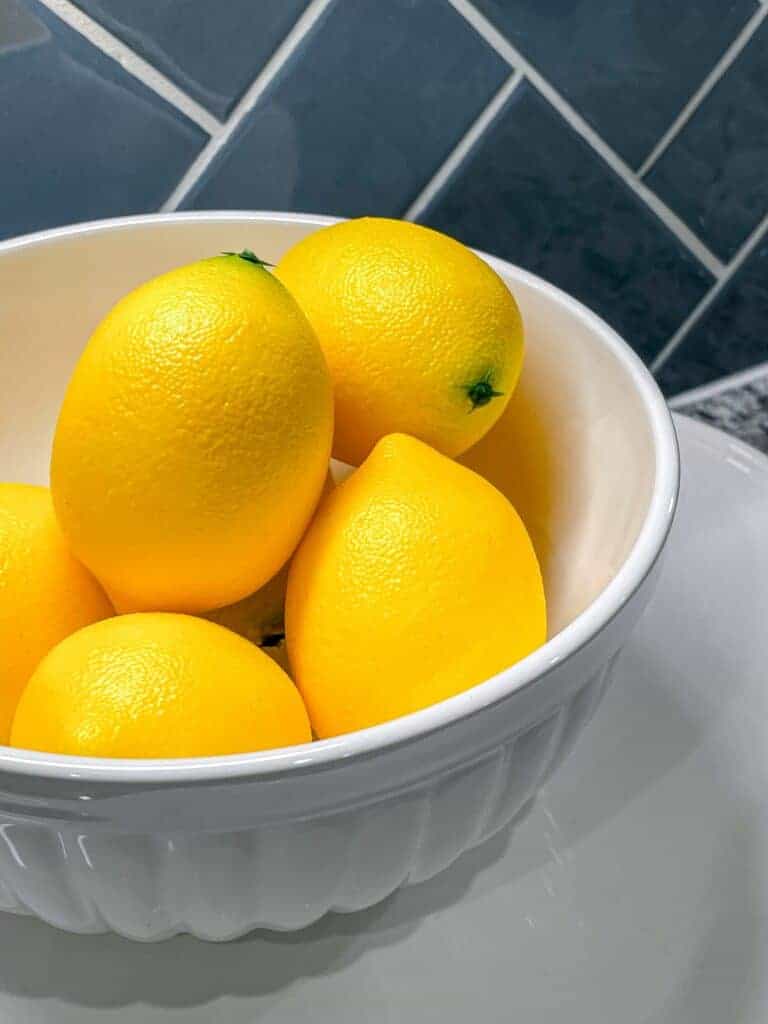 ---
Best Way To Store Lemon and Lime Up to 3 months
There is more than one way to store lemons and limes. I'm going to give you an idea of the most popular, beginning with my own way of storing lemon and lime for 3 months without using any natural preservatives!
---
Clean the
Lemon

and

Lime

to Store for the Next 3 Months

But before I delve into the details of how to store lemons and limes for 3 months, let's talk a little about cleaning them. Before storage, you should ensure that you've appropriately cleaned them.

Lots of whole citrus fruits have a layer of wax on the outside, either naturally or sprayed on.
---
First, you should wash your hands with soap and warm water before handling lemons or limes. You can wash lemons in two different ways.
You can put them in a large bowl with a drop of dishwashing soap and fill the bowl halfway with cold water.
Then, start scrubbing them with a fruit brush one by one and put them under running water.
Finally, you can put them in a strainer to dry or dry them with a hand towel.
---
The second way is simply to soak them in water and vinegar for a few minutes.
Then, scrub them with your hands under cool running water, one by one. One process is a little longer and maybe a bit more tedious, while the other is simple and quick. Your choice!
Wondering how to store lemon and lime for 3 months? Keep reading!
---
Green Fresh Lime Is Just What You Need for Savory Dishes!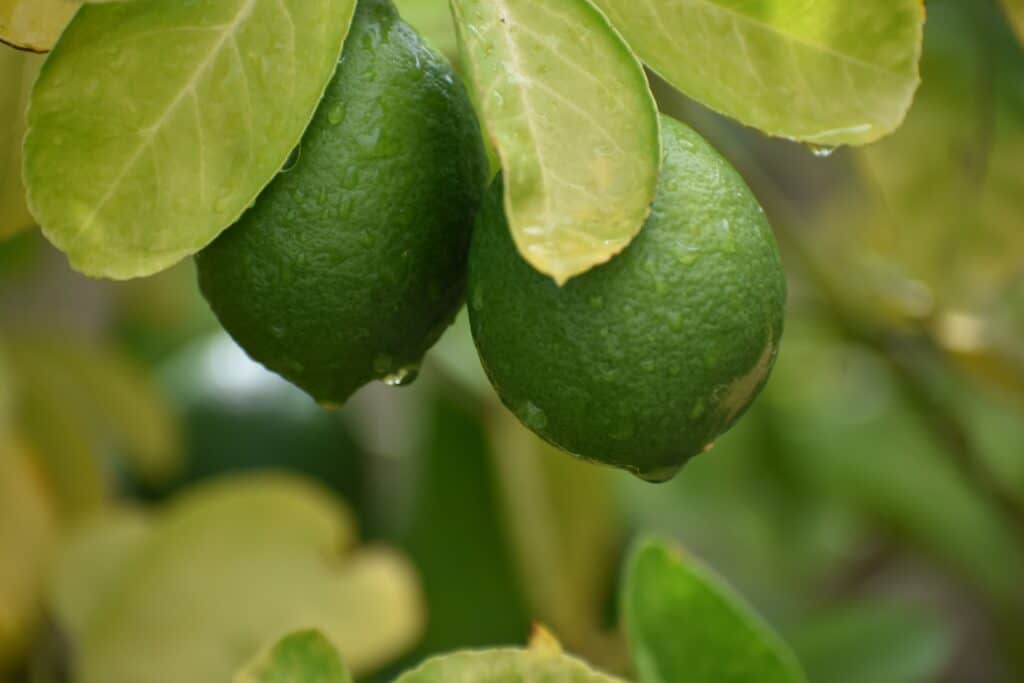 ---
Better Way To Store Lemon and Lime for 3 months
In fact, I store my fresh lemons and limes in a bowl submerged in water in my fridge! It's the perfect way to store lemons because it ensures they stay wrinkle-free and fresh.
They can last up to three months stored this ideal way in your fridge. This duration is much lot longer than other lemon and lime storage hacks!
This is a great way since most proper storage methods ask that you don't pile lemons on top of each other to avoid bruising or squishing.
This will require more space in the drawers or compartments. In water, they basically float around or at least don't have their weight bearing down on each other even if they were touching.
The water in the bowl also helps in replenishing the moisture that gets lost over time from the lemons.
When lemons lose moisture, they start to mold or rot. So, not only does it preserve them, but it also helps keep them juicy!
---
Other
Lemon

and

Lime

Storage Methods

If you are sure that you will use the lemons and limes soon, you can simply devote a compartment or crisper drawer just for lemons.

Then, store them by placing them next to each other. If it's not in the fridge, make sure it's in an airy space. In this simple way, they may last about 7 to 10 days.

Your fridge might be small, or there is no space for the coming lemons. No worries! You can store it in an airtight container or closed plastic bag at room temperature with the air sucked out. This will take less space!

To remove air from plastic bags, place a straw in the side of the bag and suck out the air before closing. Lemons and limes in airtight containers might last for nearly a month.
---
Keep your Limes and Lemons Fresh and Shiny!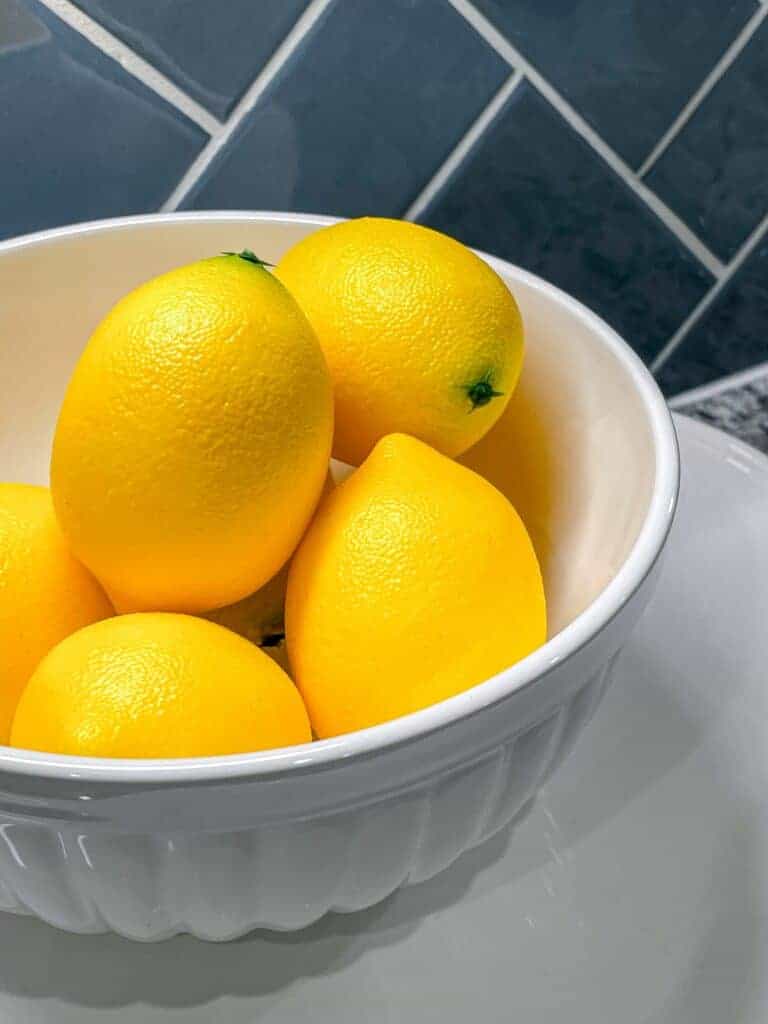 ---
Check This out! Lemon Halves, Lemon Zest, and Lemon Juice Can Also Be Stored!
---
How to Store a Half Lemon
If you have a small bowl of salad, you might not need to squeeze a complete lemon. So, you can use a half lemon and then put the other half in an airtight container.
Another good idea to store lemon wedges is to cover them with food wrap. You have to use them as soon as possible. If not, you can keep lemon slices covered with plastic wrap in the refrigerator for up to a week.
---
How to Store Fresh Lemon Zest
Do you have a shiny bright lemon? Does it smell wonderful? Well, you should not lose that fragrance.
So, go ahead and zest the lemon rind before you throw it. Don't throw the lemon peels without zesting them even if you do not need them right away. They are great for cakes and tarts.
Zest is a great addition to your veggie favorite recipes. When you zest your lemon, it can stay fresh up to a week in the refrigerator.
Do you want to keep them longer? A simple trick is to put them in a zip freezer bag and toss them in the freezer. You never know when you might need them!
---
How to Store Fresh Lemon Juice
If the lemons do not look so well, why not squeeze them? Go ahead and squeeze the lemons.
Put the juice in the fridge. They stay fresh for two days. After that, it is better to use them for baking or cooking.
If you don't want to use them, you can put them in the ice cube trays. Once hardened, put lemon ice cubes in a zip-top bag or a sealed container in the fridge to use them when needed.
---
Squeeze your Lemon Without Cutting It!
Do you know that you can squeeze the lemon without cutting it? It is the best option if you do not need a whole lemon juice. It is also less messy! You can keep the lemon fresh for a longer time.
All what you need is a skewer! You can poke the non-stem end of the lemon with the skewer.
Head it over the bowl or glass jar. Then, squeeze it to get a stream of juice. It is better to roll the lemon on the counter first. But, you do not have to use much force.
In fact, if the lemon still has juice, you can out it back in the fridge. Even if it doesn't, you can keep it for zesting when you need to.
---
Uses for
Lemons

and

Limes

outside of cooking

Now that you know my secret for storing whole lemons and whole limes for a long time, you can buy some extra lemons from a grocery store and keep them stored for their many later uses!

Sure, we love the zest of citrus in many different dishes we eat, but lemons are much more versatile than just for flavoring foods.

Surprisingly, you can use lemons to wash your hands. Then, you can remove grease or oil from your hands along with killing bacteria. You can also scrub greasy pots and pans to get them clean and shiny again.

When you have dirty walls or countertops, you can cut limes and lemons up and put them with water in a bowl and microwave. Use the water in getting things clean and shiny.

Lastly, you can use lemon juice on the stains of white linens and let them dry in direct sunlight for a bleach-type effect. For dirty glasses, you can add lemon juice to vinegar to make a cleaning spray.
---
Keep your Limes and Lemons in your Fridge up to 3 months!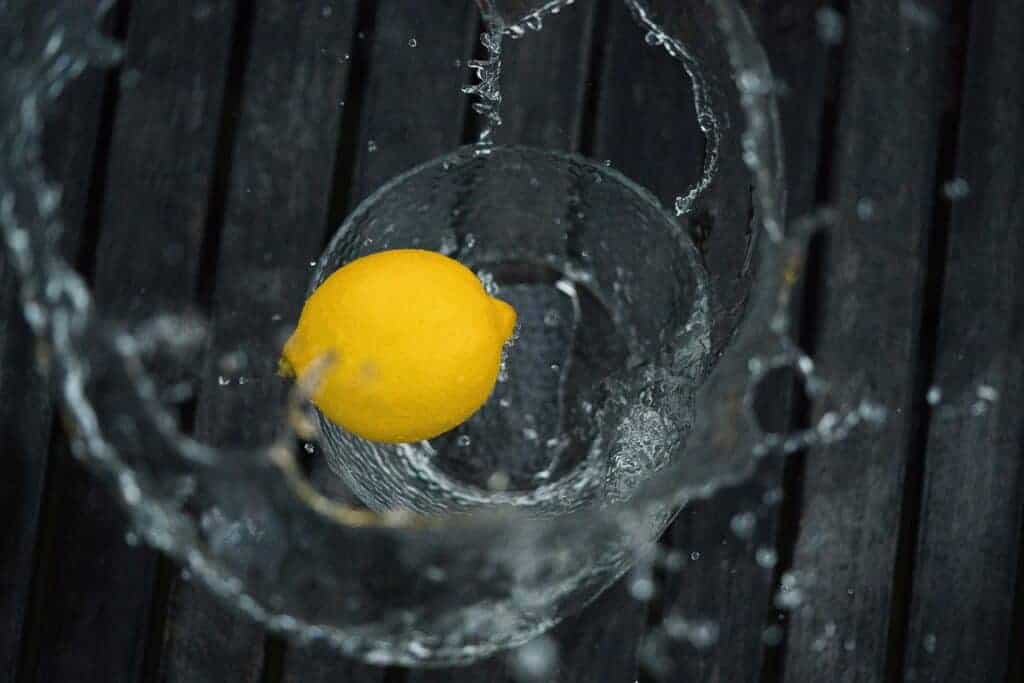 ---
How Long Does Lemon Last
Lemons should keep for about a week on the counter and a few days longer in the pantry!
If you transfer them to the refrigerator, you can expect them to last about 3-4 weeks. Now, if you take the extra step and seal the lemons tightly in a sealed bag, they can last for about 5 weeks.
---
Frequently Asked Questions
What can be done with lemons if not frozen?
If you have stored enough lemons and you still have more, you can make some fresh lemonade. It is an easy refreshing drink especially in summer.
Are lemons the same as limes?
Both are versatile citrus fruits. While lemons are usually yellow and a bit sourer, limes are green and more bitter. Also, limes are usually smaller than lemons with a thicker rind.
How can lemons and limes give extra juice?
There are two ways to get extra juice from lemon or lime. You can preheat it in the microwave for around 20 seconds. Another way is to roll the whole fruit on the kitchen counter for around 10 seconds. You do not need much force.
How can frozen lemons and limes be used after being frozen?
When you need to use a frozen lemon or lime, you can simply thaw it in the microwave for 20 seconds or run some warm water over it. In fact, it will give more juice.
---
Easy-Peasy Way To Get A Healthy Living Environment
A new easy way to reach a positive environmental impact is Lomi. With a single touch of a button, you can turn your food waste into odorless, organic plant-friendly dirt.
Lomi has many advantages! It decreases waste in the kitchen by about 75%, brings down bad kitchen smells, reduces your carbon footprint, decreases food waste which is great for the environment, etc.
Order your Lomi machine from here!
Here's everything you need to know about Lomi! Lomi Composter Review: Is It Worth The Hype?
---
Some Enjoyable Recipes You Must Check
---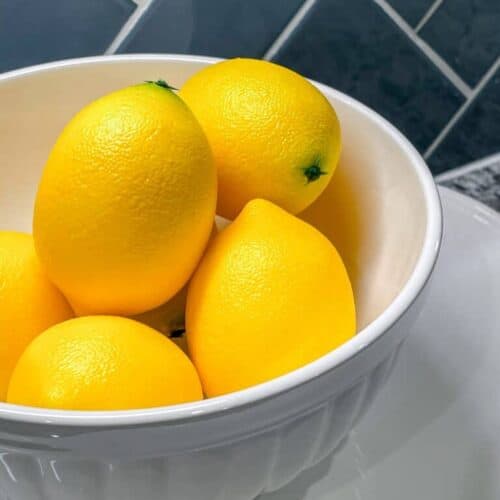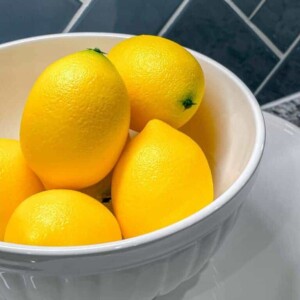 How to Store Lemons and Limes
The best way to store lemons and limes for maximum time!
Instructions
Soak and wash well. Best to soak in vinegar for about 15 minutes to cleanse and remove dirt.

Submerge in water in a bowl or an airtight container.

Put the container in the fridge.

Lasts up to three months wrinkle free and fresh!
Notes
Other
Lemon

and

Lime

Storage Methods
Devote a compartment or drawer just for lemons and store by placing them next to each other. If it's not in the fridge, make sure it's an airy space. Lasts about 7 to 10 days.
Store in an airtight container or closed plastic bag in room temperature with the air sucked out. You can remove air from the plastic bag by placing a straw in the side of the bag and sucking out the air before closing. Lasts nearly a month.
If you ask me, it is BEST to store your lemons and lime in the fridge. I never store them outside since they will go bad much faster.
Nutrition
Calories:
8
kcal
|
Carbohydrates:
3
g
|
Protein:
1
g
|
Fat:
1
g
|
Saturated Fat:
1
g
|
Polyunsaturated Fat:
1
g
|
Monounsaturated Fat:
1
g
|
Sodium:
1
mg
|
Potassium:
37
mg
|
Fiber:
1
g
|
Sugar:
1
g
|
Vitamin A:
6
IU
|
Vitamin C:
14
mg
|
Calcium:
7
mg
|
Iron:
1
mg
Like this recipe? Rate and comment below!