---
A Great Way to Start the Day!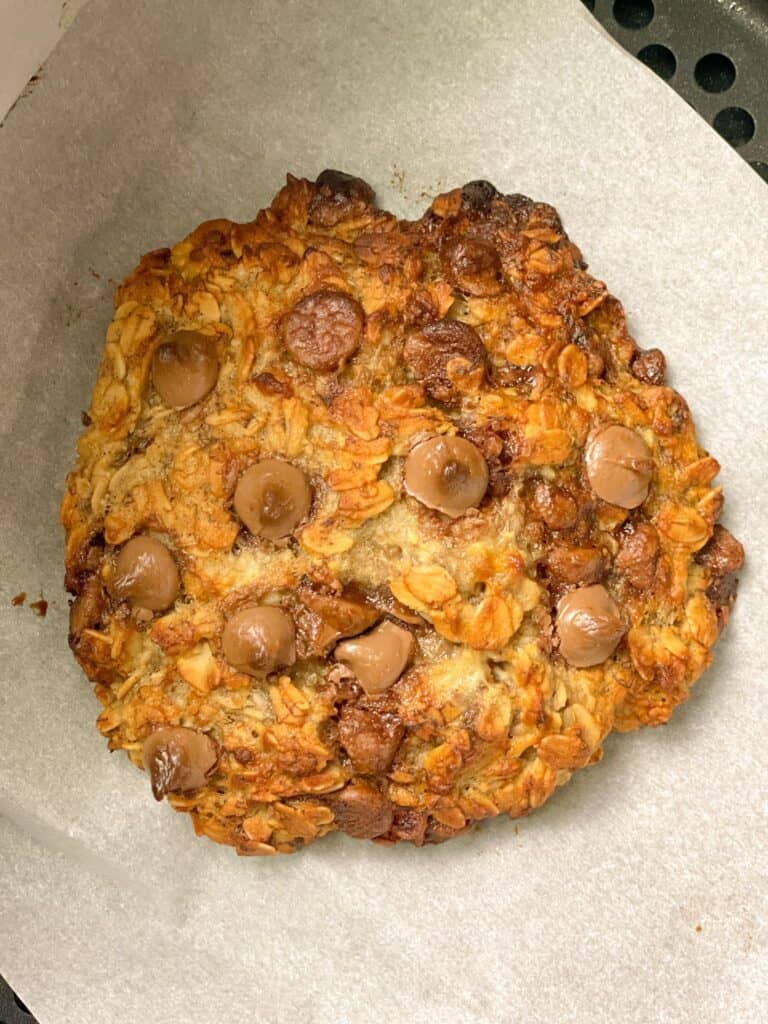 ---
If you're a TikTok user, I'm sure you've come across many TikTok recipes but could be afraid to try them. Don't worry, this cookie recipe is failproof!
---
Cookie for Breakfast?
---
Why You'll Love this Air Fried Breakfast Cookie
Quick Recipe made in one single bowl
Naturally gluten-free (if using certified GF oats)
There is no refined sugar.
Hearty, nutritious, and filling
There is a lot of room for ingredient customization.
Incredibly tasty
Each bite is packed with flavor.
And most important of all, it's a breakfast cookies!!!
---
Why Bake Cookies in the Air Fryer?
---
This Is All What You'll Need!
---
Air Fried Breakfast Cookie Ingredients
Chocolate Chips: A good breakfast cookie isn't complete without a little chocolate! Again, this is optional, but it is highly recommended in my opinion. If you are lactose intolerant or vegan, use dairy-free chocolate chips!
Milk: You need some milk for a little extra moisture, but keep in mind that you might not need this! It all depends on the thickness of your peanut butter/coconut oil and the size of your banana!
---
Healthy Ingredients for An Easy Breakfast
---
Substitutions
Oats: Use either quick or whole oats. I've discovered that there is no difference in the outcome over the years. If you are gluten intolerant, make sure you use gluten-free oats.
Apple Sauce: While apple butter adds an unrivaled flavor, the same amount of unsweetened applesauce could be substituted. Apple butter can be found in almost any grocery store's peanut butter or applesauce aisle. Other possibilities include mashed banana (which is already in the recipe!), mango butter, or pumpkin butter.
Banana: Instead of mashed banana, substitute ½ cup apple butter or applesauce (or any other fruit butter).
Sweetener: In addition to apple butter and banana, we sweeten the cookies with ¼ cup pure maple syrup. You can substitute honey for the maple syrup, but the cookies will no longer be vegan.
Add-Ins are entirely up to you! Use about 1 ½ cups of your favorite "extras" in total. Dried cranberries, raisins, pumpkin seeds, sesame seeds, honey-roasted peanuts, pecans, sunflower seeds, or dried apples are some of my favorite add-ins. I used dried cranberries, pumpkin seeds, and regular raisins in this breakfast recipe.
---
Your Favorite Cookies in Less Time
---
Frequently Asked Questions (FAQs):
Are breakfast cookies nutritious?
Homemade breakfast cookies are a healthy way to start the day. They are high in slow-releasing carbs (oats), healthy fats, and protein (protein powder).
Can you add protein powder?
Sure. Feel free to add ½ tablespoon of protein powder with vanilla or chocolate flavor.
Can you use aluminum foil in an air fryer for cookies?
You can use both aluminum foil and parchment paper in the air fryer. However, parchment paper works much better for cookies because the cookies never stick to the bottom.
---
Crispy Edges, and Soft Center!
---
Top Tips
---
Air Fried Breakfast Cookie Ingredients
banana
oats
baking powder
coconut oil, melted
milk of choice
chocolate chips
cinnamon
Steps to Prep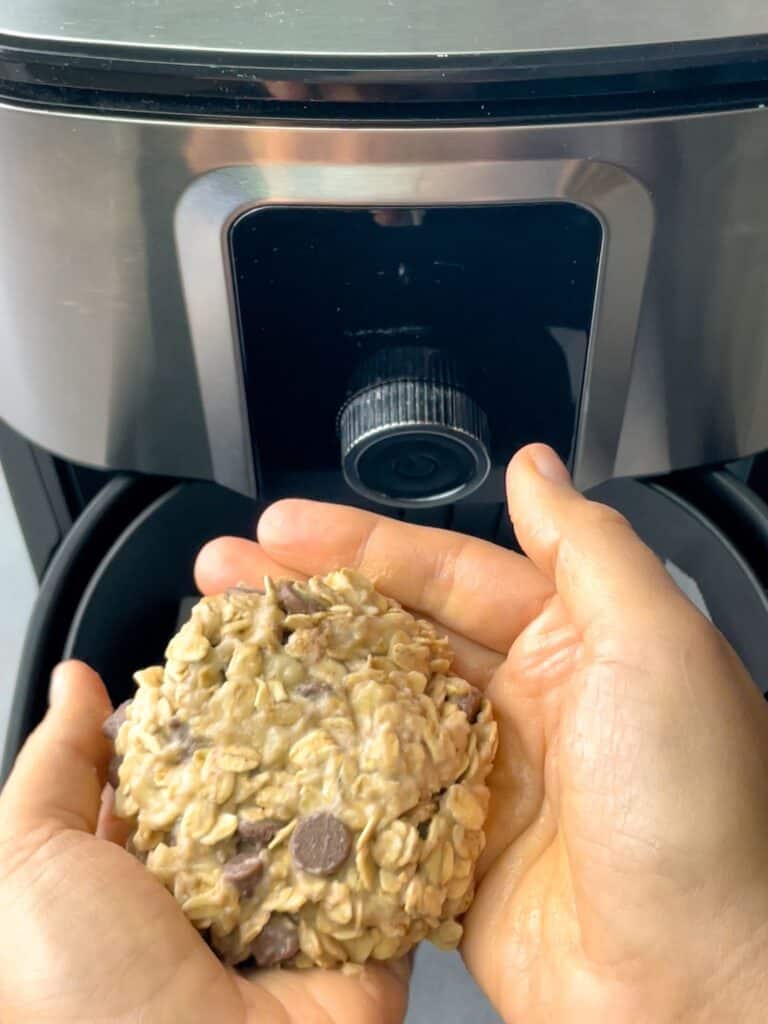 ---
More Breakfast Options to Try:
---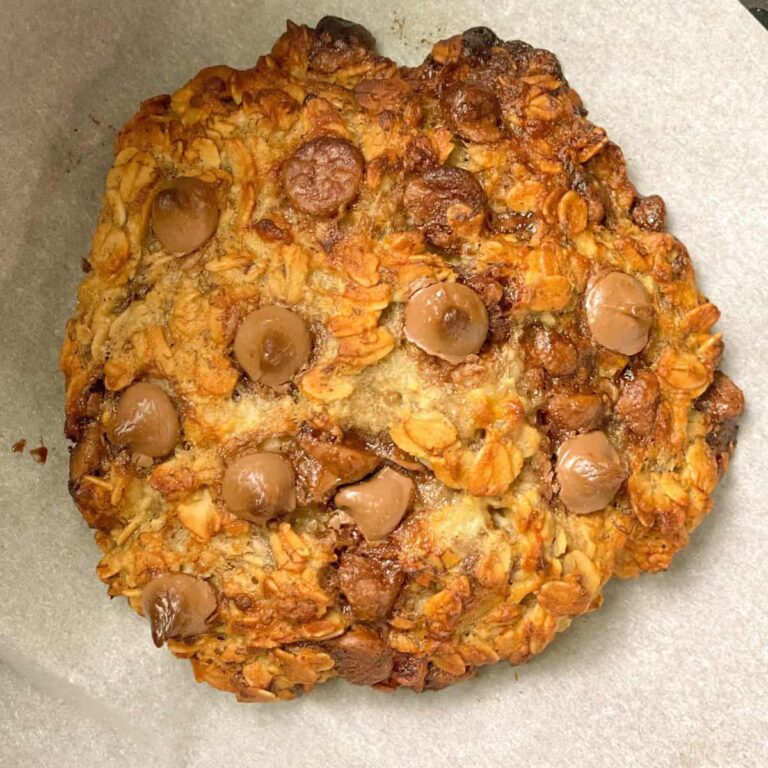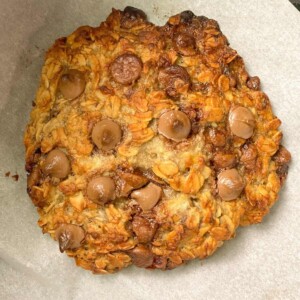 10 Minute Air Fried Viral Breakfast Cookie
Breakfast cookie, anyone? This hearty 10 Minute Breakfast Cookie is naturally gluten free, vegan, low in sugar, and tastes incredible.
Equipment
Ingredients
½ banana medium
⅓ cup oats
1 teaspoon baking powder
1 tablespoon coconut oil melted
1 tablespoon milk of choice
2 tablespoons chocolate chips
cinnamon sprinkle
Instructions
In a shallow bowl, mash half of a medium banana then mix in the oats, baking powder, coconut oil, milk, chocolate chips and cinnamon if desired.

Place in the freezer for 5 minutes, then slightly wet hands to mold the dough into a large round cookie .

Place the cookie on a baking sheet in the air fryer basket.

Air Fry at 360°F for 8-10 min.
Notes
Top Tips
To replace the coconut oil, use the same amount of any natural peanut butter as long as it is runny (you want some natural oils in it, not the dry part at the bottom of the container!)
If you want to use protein powder, simply add 1 teaspoon to ½ tablespoon if you choose to.
Freezing: If you want to freeze these cookies, allow them to cool completely before freezing. Freeze them in an airtight container or zip-top bag for up to 3 months. Thaw in the refrigerator before serving, or microwave for a few seconds.
Storing: After the cookies have completely cooled, store them on the counter in an airtight container for up to 4 days.
To make a larger batch, simply double the recipe.
Nutrition
Calories: 453kcalCarbohydrates: 25gProtein: 15gFat: 35gSaturated Fat: 26gPolyunsaturated Fat: 1gMonounsaturated Fat: 5gCholesterol: 41mgSodium: 714mgPotassium: 254mgFiber: 2gSugar: 17gVitamin A: 844IUVitamin C: 5mgCalcium: 363mgIron: 2mg