Spring, the season of rebirth, is around the corner. Asparagus is a delicious spring vegetable that has numerous health benefits. So if you want to reap the benefits of asparagus but lack the time to prepare it, don't worry; I've got you covered with an easy and quick recipe for Cooked and Seasoned Boiled Asparagus.
---
The Easiest and Healthiest Side Dish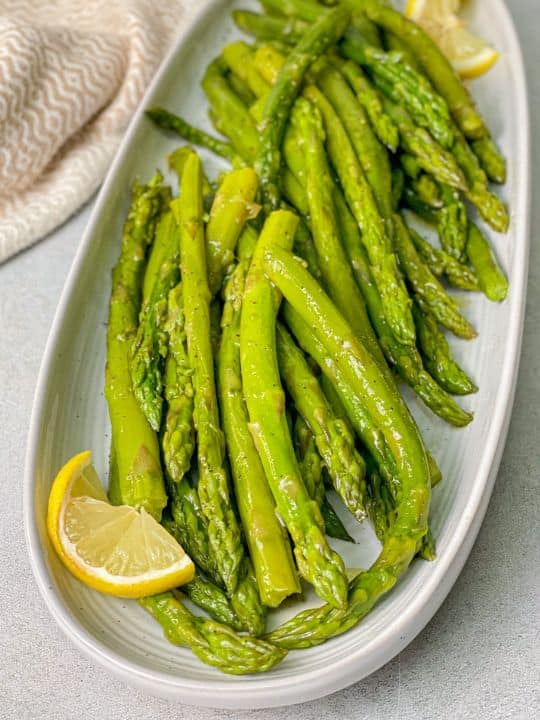 ---
Do you want to adopt a healthy lifestyle but feel bored of eating salads? Cooked and seasoned boiled asparagus is an excellent way to keep your meal balanced and healthy.
Asparagus, seasoned and prepared the right way, pairs perfectly with many side dishes and meat, of course. Low in calories and high in benefits, asparagus will be your new favorite go-to vegetable source for a well-balanced diet.
---
An Asparagus a Day Keeps the Doctor Away!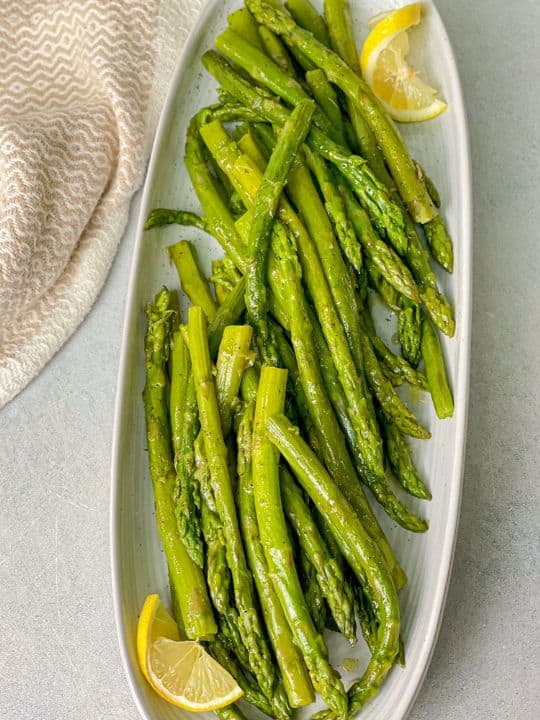 ---
Why Should You Add Asparagus to Your Diet?
Asparagus is an underrated vegetable with several health benefits, like helping you lose weight, improving digestion, and helping the body get rid of excess salt and fluid.
Also, asparagus helps in the cleansing process by activating the functions of the liver and kidneys that eliminate toxins. Interesting, right?
---
You Can Have It for Breakfast, Lunch, or Even Dinner!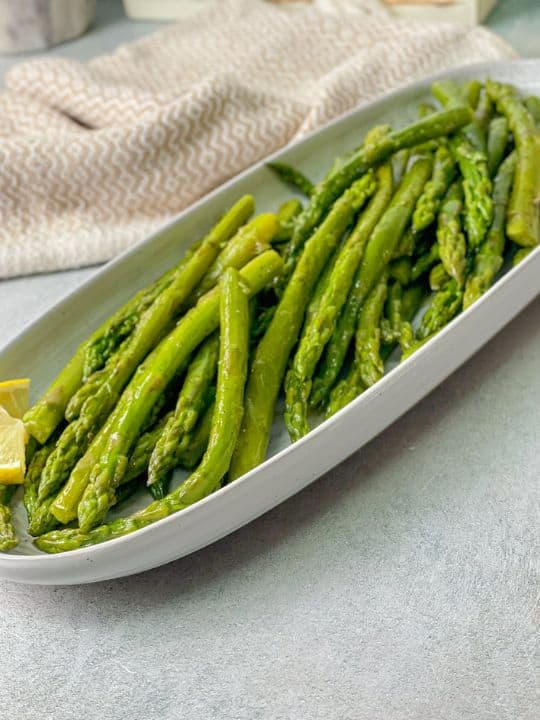 ---
What to Serve Asparagus With?
There are many ways to incorporate asparagus into your meal without just eating it alone, and I've rounded up a list of main dishes and ideas that will help you out.
First, after boiling it, asparagus can be an additional ingredient in any salad of your choice.
You can also cook it with eggs. My Asparagus and Eggs Skillet is a must try!
Also, asparagus can be topped with any cheese, and this meal goes perfectly for breakfast and dinner.
Last but not least, asparagus can be served as a soup along with soy milk, yogurt, lemon juice, and Parmesan cheese.
Feel free to choose whatever suits your taste. There is no limit to what you can do!
---
A Bright Green Spring Vegetable
---
What are the Varieties of Asparagus?
We only eat the young asparagus plant. As the asparagus tips begin to open, the stalks become very woody. In general, the younger and more tender the asparagus, the thinner the stalk.
The most common variety of asparagus is the green one that hits the farmers' markets during spring.
The other one is the white variety, which is grown by completely covering the asparagus with soil, which prevents it from seeing sunlight and allows it to photosynthesize. This variety is less bitter and more tender.
The last variety is the purple one hailing from Italy, and it has less fiber than the green variety.
---
Your New Favorite Veggie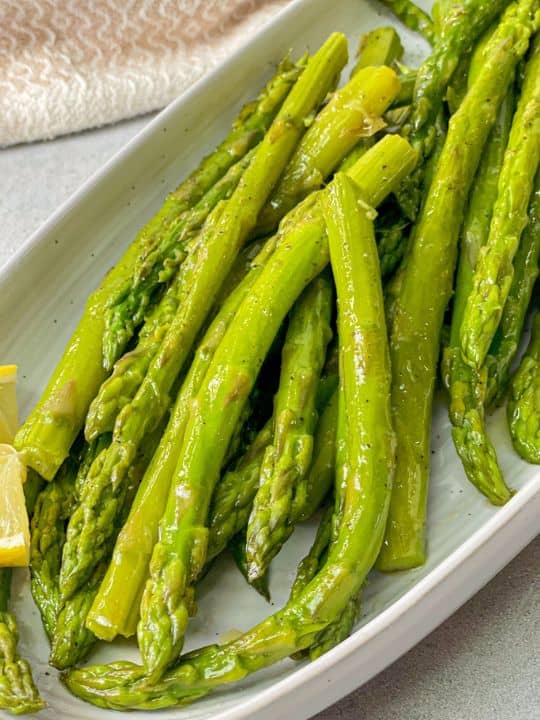 ---
Asparagus Selection and Storage
Seek out spears with unopened tips that are equally sized. Wrap the ends of the asparagus in slightly moist paper towels and store them in the refrigerator.
A second option is to bundle them and place them upright in a glass of water, with about an inch or two of water at the base
Then wrap them loosely in plastic wrap. Following these steps, the Asparagus should last for a week.
---
How to season boiled Asparagus?
In order to give the boiled Asparagus a great taste, you have to add a decent amount of seasonings. The below ingredients are enough, but you can add any cheese of your choice such as Feta or Parmesan.
As mentioned before, this side dish goes perfectly with any main dish, especially salmon, shrimp, pasta, and risotto.
---
Seasoned Boiled Asparagus Is a Natural Detox
---
Top Tips
Washing the asparagus will help you get rid of the fine grit. Fill a bowl with cold water and soak the asparagus for a few minutes before rinsing to remove any sand.
Choose the freshest asparagus. The less time your asparagus has spent in storage, the better it will be. Also, make sure to eat asparagus within a few days of purchasing it.
Don't overcook the asparagus to avoid the mushy texture.
---
Frequently Asked Questions (FAQS)
How to pick the best Asparagus?
Look for firm, fresh spears with closed, compact tips and a uniform diameter to ensure that all spears cook at the same rate. Tenderness is higher in larger spears.
How long should I boil Asparagus?
Trim the stem ends slightly and cook fresh asparagus for about 7 minutes in boiling water in order to get a crisp and tender result.
Can I peel the Asparagus?
Although asparagus does not need to be peeled, some people prefer it that way. Peel the skin from the stalk with a potato or vegetable peeler, paying special attention to the base.
---
Seasoned Boiled Asparagus Ingredients
This mouthwatering Cooked and Seasoned Boiled Asparagus can be prepared easily with minimal ingredients. All you need is the following:
Asparagus
Olive oil
Black pepper
Salt or Himalayan salt to taste
(Scroll down for recipe details)
---
Must Try Recipes:
---
Cooked and Seasoned Boiled Asparagus
Cooked and Seasoned Boiled Asparagus is a mouthwatering recipe you shouldn't miss. It is going to be your go-to side dish due to its minimal ingredients and simple instructions.
Ingredients
2 pounds Asparagus
4 tablespoons olive oil
¼ teaspoon black pepper
¼ teaspoon salt or Himalayan salt for tasting
Instructions
Wash the asparagus then using a kitchen knife cut off 2 inches of the ends or stems.

Bring a large pot of water to boil then drop the asparagus in on medium high heat for 7 minutes.

Drain the water, then place back the cooked asparagus back into the pot.

Drizzle olive oil than season with salt and black pepper. Using a tong, gently toss the cooked asparagus with the olive oil and the seasonings until very well coated.

Enjoy alone or with a side of protein like salmon, roast beef, or chicken.
Notes
Choose the freshest asparagus. The less time your asparagus has spent in storage, the better it will be. Also, make sure to eat asparagus within a few days of purchasing it. Don't overcook the asparagus to avoid the mushy texture.