Who does not have at least one mason jar at home? These charming storage jars are considered the most popular and versatile glass containers ever to exist. Mason jar uses vary as they come in handy for different purposes.
Mason jars and the concept of storage are intertwined. However, these containers can serve beyond your expectations. So, if you have a stack of them in your cupboard, and looking for ways to put them in use other than pickling and preserving sauces and jam we are here to guide your way.
---
The Most Magical Containers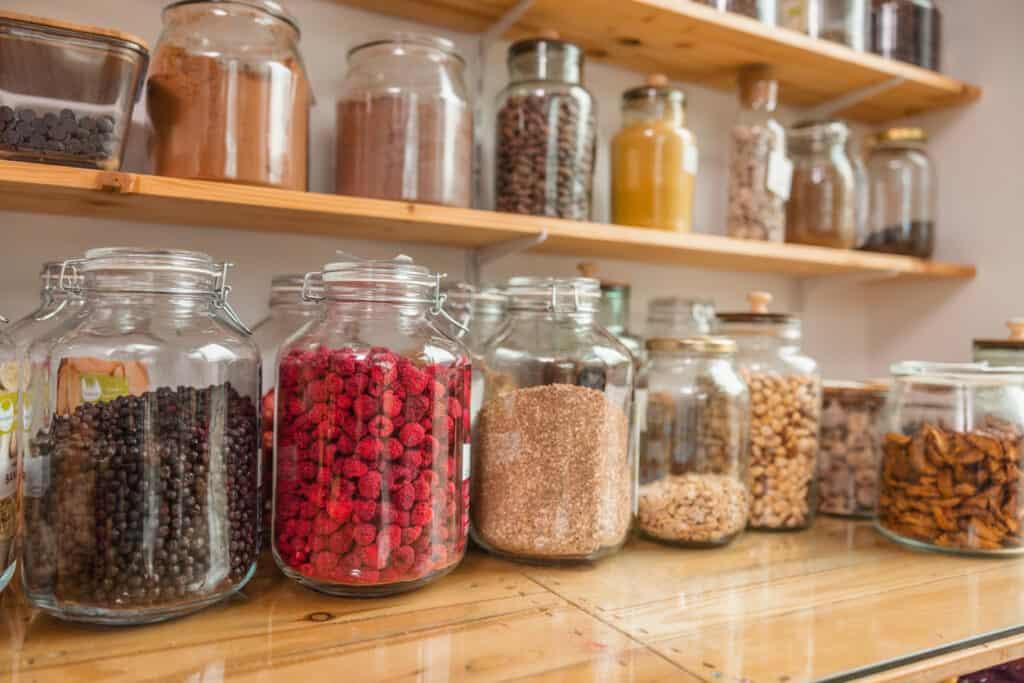 ---
History of Mason Jars
Initially, these old-fashioned jars are glass containers that have a metal lid that perfectly seals the insides. They are very stylish and convenient for they can come in different sizes.
Mason jars were invented and named after a person, a shocker right? They got their name from John Landis Mason, the man who created this applicable concept. As these charming jars were invented on November 30, 1858, in New Jersey, where they were a big hit.
They became (and still are) popular because of their air-tight lid that serves the purpose of preservation and canning of sauces, jams, veggies, fruits, and other edible and nonedible things.
Besides, the second best thing about them, is that their shape and uses have evolved throughout the years to fit a variety of purposes.
---
Mason Jar Uses
Originally, mason jars were commonly used in storing and preserving food. This is their main purpose. People fit a variety of edible items in these jars, such as spices, flour, sugar, honey, jam, and the list goes on.
Though the major mason jar perk is that the lid closes tightly. Due to the rubber seal that secures the components of the jar from going bad. So, if you haven't got a clue on where and how to store your pantry staples, stick around.
---
Creative Mason Jar Uses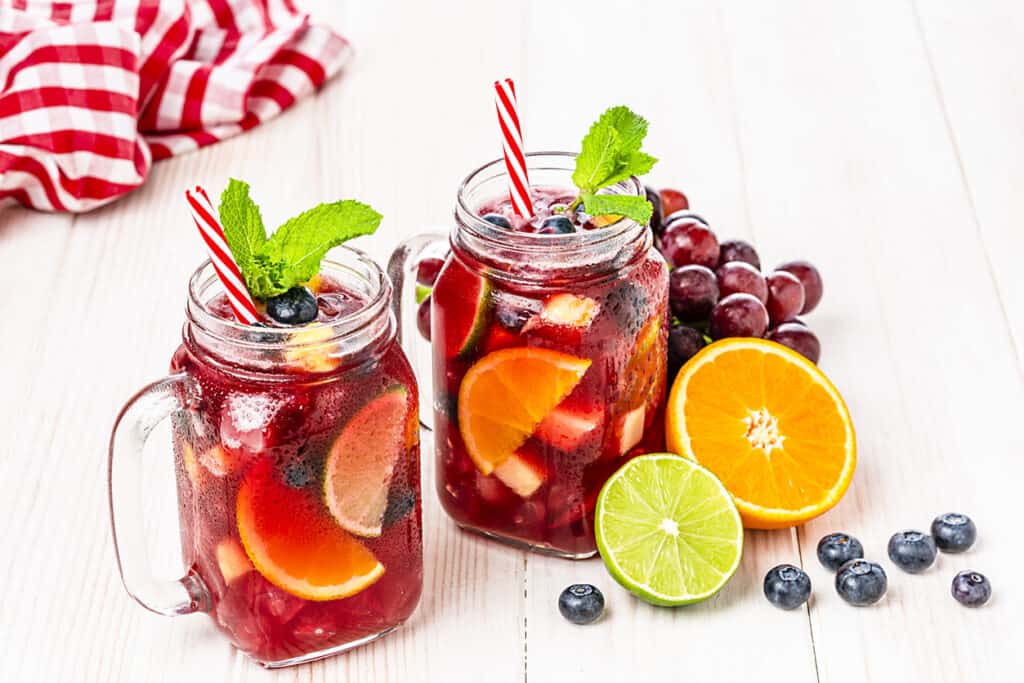 ---
Food You Can Store in Mason Jars
Spices
You can choose a bunch of mini mason jars to store your spice mix and seasonings. And why mini mason jars you ask? It is mainly because you can make small holes in the lid to create affordable DIY spice jars.
Here are some seasoning blends you can mix and store in mason jars, some of which are Chipotle Seasoning Mix, Homemade Apple Pie Spice Blend, and Homemade Fajita Seasoning Mix.
---
Sourdough Starter
Grab a big mason jar to create, store, and maintain a sourdough starter. The reason behind choosing this size is that it gives the latter a better chance to double in size. Make sure to place the jar in a cool and dark place for a successful outcome.
---
Baking Soda and Other Pantry Staples
If you buy pantry staples in bulk instead of small packages, then it is way better to store them in mason jars. These jars completely prevent moisture to seep into the container, because once moisture seeps in it hardens some staples like baking soda.
Check this Different Uses Of Baking Soda out to learn more about storing baking soda.
---
Pasta, Beans, and Rice
You can display different pasta shapes, rice, and beans in mason jars. Just imagine how eye-catching your pantry would be!
---
Milk, Water, and Yogurt Kefir
When making yogurt or milk kefir from scratch, you cannot skip the mason jar part. They play an essential role in the whole process since both homemade yogurt kefir and regular yogurt are made and stored in sterile jars. Check out this Homemade Delicious Creamy Yogurt Kefir recipe for a more thorough explanation.
---
Sauces, Salsas, Dressings, and Dips
If you rarely buy pre-made sauces and dips, and instead you make your own from scratch, then a mason jar is definitely your best friend.
Once you cook or prepare the sauce you can grab a mason jar and fill it up with the home-made goodness. Some of these amazing sauces and salsas are Vegan Pesto Sauce, Best Homemade Pasta Sauce Recipe, and Marinara vs Tomato Sauce.
Or, you can rather mix your salad dressing in the chosen mason jar, before storing it in the fridge for later.
---
Pickles
Originally, mason jars were created to pickle vegetables. And it was proven throughout the years how incredible they were in holding pickles. Take a look at this How to Pickle Onions blog, to know more about the secrets of pickling in glass jars.
---
Herbs
Dried herbs must not be placed where they are exposed to oxygen. That is why a mason jar is the perfect option for preserving and storing dried herbs. Here's a step-by-step blog on How to Store Dry Herbs Properly.
---
Jams
The best way possible to preserve your flavorful homemade jam from year to year is in an airtight mason jar.
---
DIY Edible Gifts
Get creative and prepare some homey edible gifts in mason jars. You can choose to make granola mix, acai smoothie, cookie mix, or even homemade jam to grant as a cute gift depending on the person and occasion. Get creative with the decoration!
---
Meal Preps
Wanting to maintain a healthy lifestyle despite your cramped and busy schedule is not impossible. With mason jars, you can easily prepare ahead of time fresh salads, smoothies, chia pudding, parfaits, or even jar burrito bowls.
---
A Charming Display of Mason Jars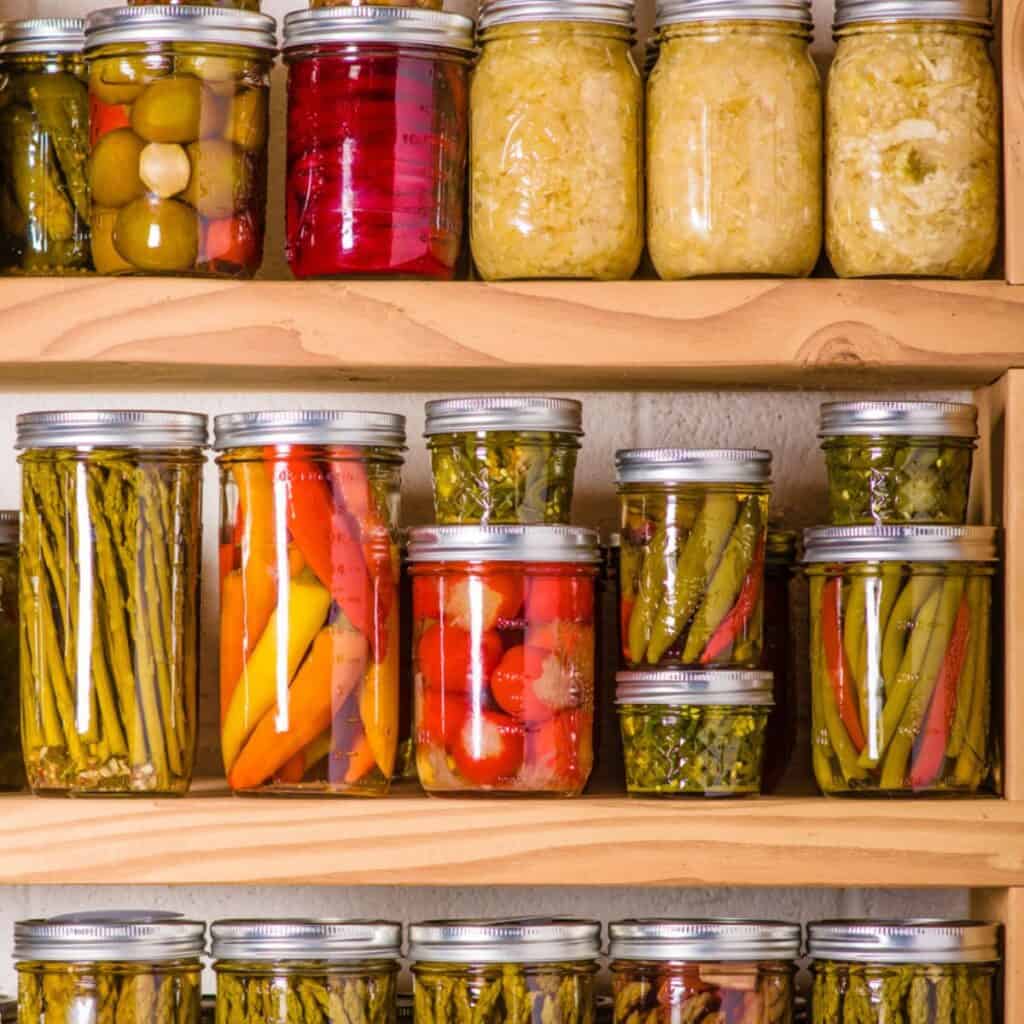 ---
Mason Jars Storage Ideas
We have mentioned before that mason jar uses vary which allows these charming containers to be utilized beyond food storage. Mason jars can be a great benefit when used in home decoration and organization.
---
DIY Mason Jars in the Bathroom
If you make your own body butter or scrubs, then you can easily preserve your homemade skincare in mason jars. Also, you can fill them up with cotton balls, pads, and swabs, or even place your toothbrush and paste in it.
---
Mason Jars in the Office
Vintage and colorful mason jars add a charming touch to your desk. You have the freedom of whether to put colorful pens, pencils, or even other craft supplies.
---
Storing Straws
Displaying colorful and festive straws at birthday parties in an aesthetic way is easily achieved when placed in mason jars.
---
Festive Decorations
Honestly, mason jars work with literally everything. Whether you're hosting a romantic dinner, a birthday party, or any other festive occasion, mason jars add a magical touch to the decoration.
Thus, you can create a wonderful and budget-friendly centerpiece or arrangements from literally mason jars and a bunch of flowers of your choice. Also, you can use them as candle holders which can be suitable for several celebrations.
---
Frequently Asked Questions
How can I properly clean mason jars?
Don't stress about it. Mason jars can be easily cleaned when washed with warm water and soap. But if you're planning to use them for canning, then it is better to sterilize them. And to do so, mason jars must be placed in hot water for at least 10 minutes.
Is it possible to freeze mason jars?
Don't take the risk of putting mason jars in the freezer, for they might break. So it is better to place them in the fridge to avoid such a problem. However, make sure not to keep them for more than 3 days.
Can I clean mason jars in the dishwasher?
Unfortunately, old mason jars cannot be cleaned in the dishwasher. However, new ones are mostly dishwasher-safe. But make sure to read the symbol that indicates that at the bottom.
How should the lids be cleaned?
They can be cleaned separately with warm water and soap. But before that, it is recommended to add a bit of baking soda and white vinegar. After they react together, rinse the lids properly with warm water and soap.
---
Other Useful Blogs
---