If only we knew how easy it is to make Cream Cheese, we would have been doing it this way for years, but don't you worry… I have this easy, 2 Ingredient Cream Cheese recipe.
It's made with only two ingredients, as the title suggests—ingredients you probably already have in your pantry. This Cream Cheese recipe is what you have always been looking for! If you find yourself ever in a rush and in need of a quick fix to make cream cheese, in a few easy steps, you're all set to go!
---
A Thick and Creamy Texture
---
This recipe could not be any easier to make. With a few cups of fresh milk, tablespoons of lemon juice, salt to taste, and quick and simple steps, you will get a rich, soft, and creamy cheese, ready to be used as a tasty snack.
Have you tried cream cheese on a toasted bagel? It's absolutely amazing! Not only is it perfect for a tasty breakfast, but you will always have your go-to cream cheese ready for baking, cooking, and experimenting with new desserts.
Prep your cream cheese and try it with my Avocado Cream Cheese Veggie Bites as an appetizing breakfast or to make my Pumpkin Cream Cheese Swirl Muffin recipe for a tasty dessert!
---
Do You Have 20 Minutes?
In just 20 minutes, you can have your very own, easy-to-make, cream cheese. Not only does the entire process take 20 minutes, but the steps are pretty straightforward. It's all about the stir!
Keep stirring constantly until your milk boils, and as you add your lemon juice to the pan, you keep stirring. It's as easy as that.
Once your twenty minutes are up, pour the milk and lemon juice mix through a strainer. The curd you are left with goes into a food processor for about four to five minutes to get your soft and delicious cream cheese.
---
You Can't Resist the Taste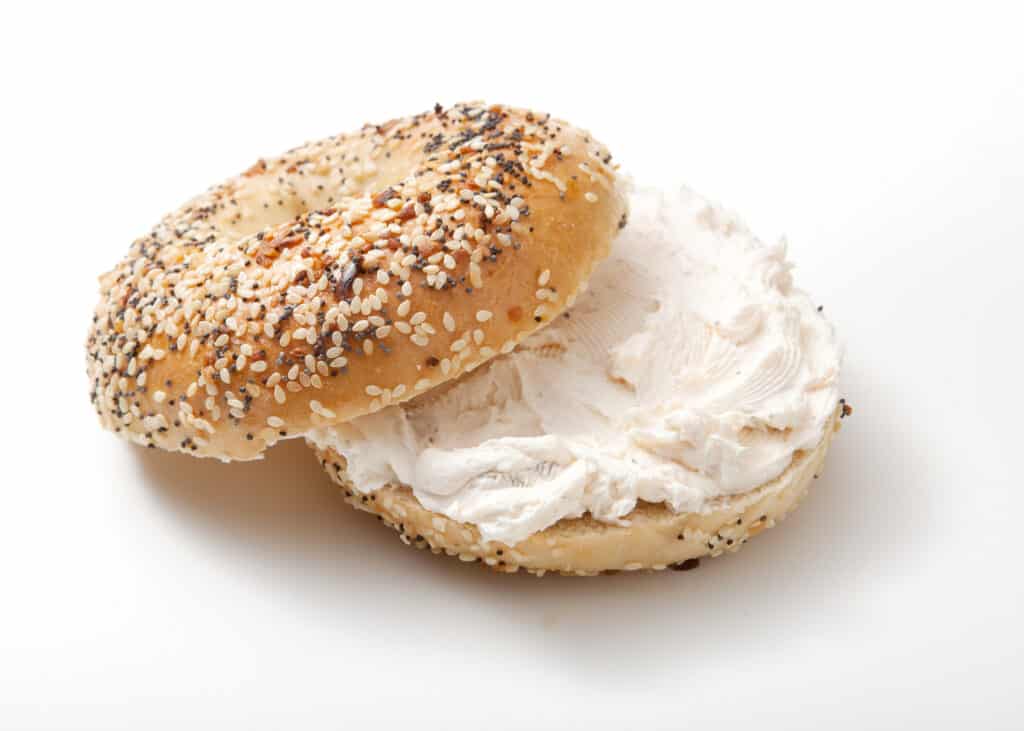 ---
A Perfect Go-To Recipe
This 2 Ingredient Cream Cheese is a simple and easy go-to recipe that you can enjoy as a light snack, for breakfast, lunch, or dinner with a selection of cream filled desserts on the side.
You can alter any dessert you try it with to suit your own taste, making a wide selection of platters for friends, family and guests.
I'm sure you can easily get cream cheese in any supermarket close to home, but one that tastes as good as this recipe is hard to find! And, the thought of getting dressed to pop to the shops in this cold and gloomy weather, when you can easily make cream cheese at home, what would you go for?
As a bonus, because of how easy this recipe is to make, you can get your kids involved, stirring away and watching the milk separate into curdles and float to the surface. It's almost like a science experiment!
---
Nothing Beats This Creamy Texture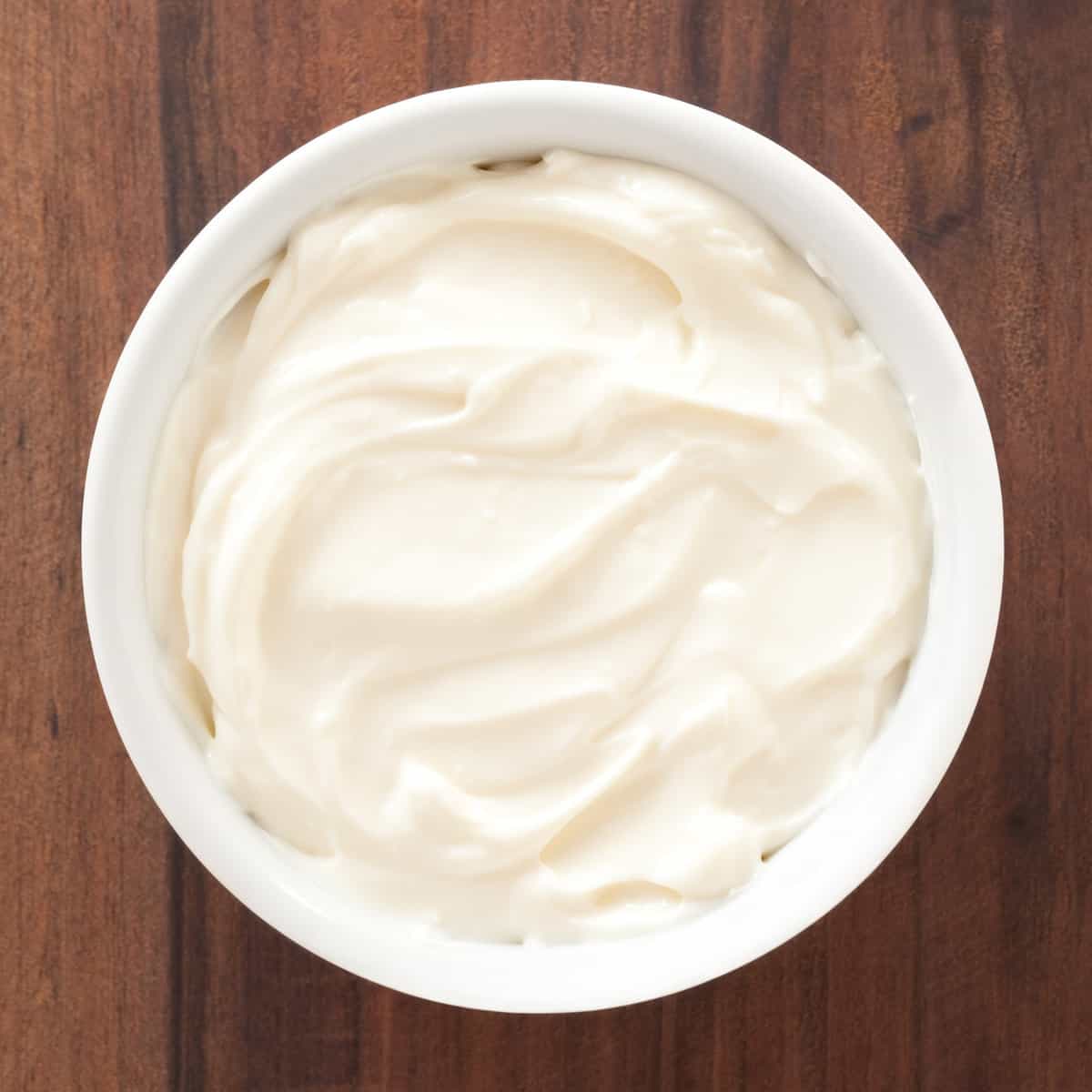 ---
Why Make this Recipe?
With just two simple ingredients and a pinch of salt, this recipe is simple to make and quick to prepare. In little to no time at all, you will have the tastiest cream cheese ready for your morning rush to work or for putting together breakfast for the family and kids.
I know that for many, cream cheese is not a staple ingredient readily available in their fridges, but this recipe allows you to use two very staple ingredients you already have, making this recipe ideal.
There is no need to think about how to make it; all you need are milk and lemon juice, and there you have it!
Milk is nutritious, and this recipe uses milk as its basis! It's a recipe that suits everyone you know and whose taste can be adjusted to suit your every dish.
---
Frequently Asked Questions (FAQs)
How can I store my cream cheese?
Place your cream cheese in an airtight container in the refrigerator, and it can last for up to 2 to 3 weeks.
Why do we use full fat whole milk?
We use whole milk to get the richness and perfect thickness we need for our 2 Ingredient Cream Cheese.
What can I use cream cheese for?
I absolutely love cream cheese on a freshly toasted bagel. It can also be used for baking and cooking all types of recipes.
Can I substitute full fat milk for something else?
Yes, you can choose to use half fat or skimmed milk to lower the calories and the fat content in your cream cheese, but it may alter its texture.
Is 2 ingredient cream cheese practical?
Sure! Being able to make cream cheese in your own home, with just 2 ingredients and in less than half hour makes this recipe ideal.
How can i add more flavour?
You can choose to add your own herbs to this recipe for your own flavour and taste.
---
Tips To Perfect Your 2 Ingredient Cream Cheese
In my recipe, I use half a teaspoon of salt to get the taste just right, but you can add a little more salt or any other herbs to your cream cheese for a more unique flavor.
This cream cheese recipe acts as the perfect substitute for yogurt in many recipes. Its versatility is open, and the different recipes you can use it in are endless.
Instead of lemon juice, you can substitute white vinegar.
---
2 Ingredient Cream Cheese Recipe Ingredients
Whole milk, full fat
Lemon Juice (or white vinegar)
Salt
(Scroll down for recipe details)
---
Pin And Share
---
More Delicious Recipes To Try
---
Two Ingredient Cream Cheese
Wanting to make quick and easy cream cheese in little time and in just a few steps? This recipe is for you!
Ingredients
4 cups whole milk full fat
3 tablespoons lemon juice or white vinegar
½ teaspoon salt
Instructions
In a medium sauce pan heat the milk on medium high heat stirring consistently until milk begins to boil.

Lower the heat to medium then add in lemon juice slowly, 1 tablespoon, 1 minute at a time while stirring consistently to avoid burning.

Once the milk curdles, the fat has separated from the whey completely, and floats to the surface, then you can remove from the heat.

Place a cheesecloth or 3 layers of paper towel over a large strainer then slowly pour in the mixture.

After 20 minutes place the curds into food processor and run it for about 4-5 minutes, or until soft and creamy.
Notes
How to store: Place cream cheese in an airtight container in the refrigerator. It can last for up to 2-3 weeks. Notes: you can add salt or any herbs to your cream cheese to add more flavor.