---
Pumpkin Pie Spice Cookies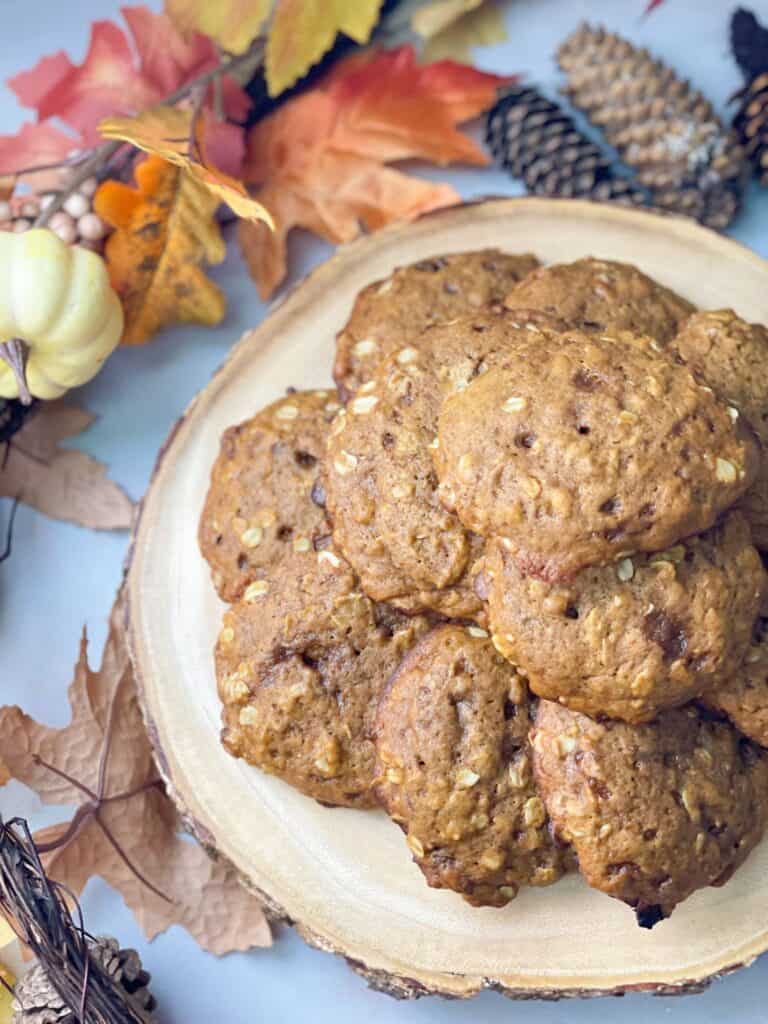 ---
Why You'll Love This Recipe?
---
Serving Suggestions
You can surely enjoy these amazing pumpkin spice oatmeal cookies with a sweet Chocolate Coffee Avocado Pudding! Also, some of Caramel Macchiato Whipped Cream would taste just perfect with this perfect cookie recipe!
---
Chewy Pumpkin Oatmeal Cookies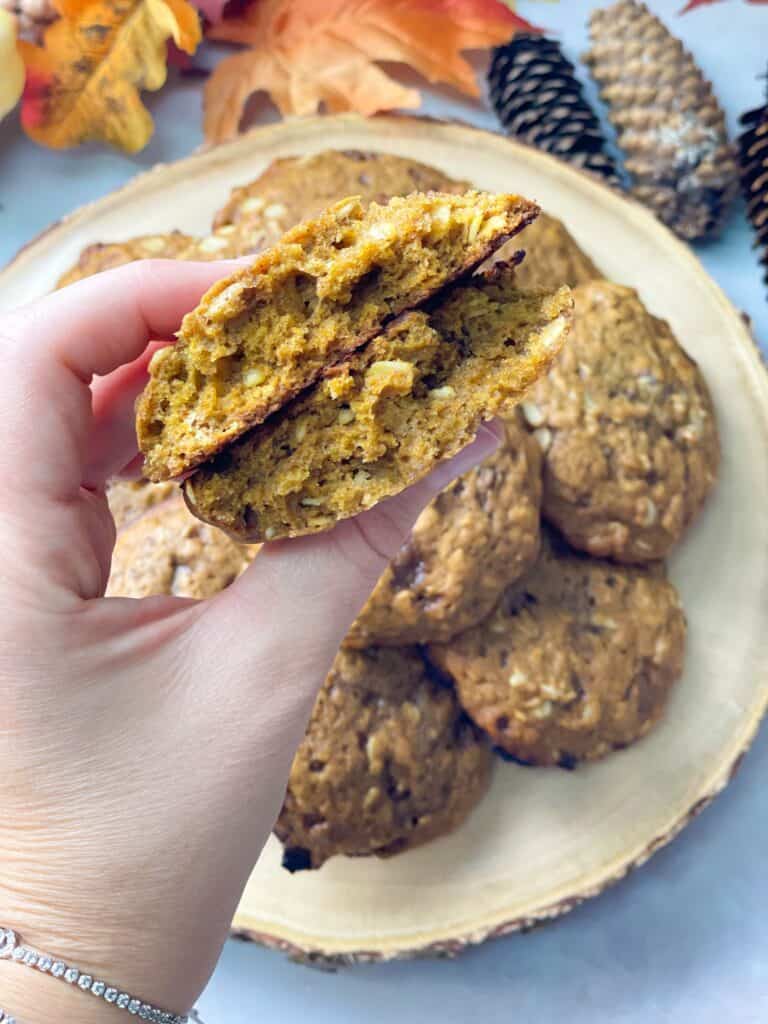 ---
Top Tips for the Best Pumpkin Spice Oatmeal Cookies
---
Healthy Pumpkin Cookies
---
Frequently Asked Questions
Can I use homemade pumpkin puree?
Better if you use a can, because there is too much moisture from homemade puree.
How to store pumpkin oatmeal cookies?
Store them in the fridge in an airtight container up to 5 days.
Can I freeze pumpkin cookies?
In an airtight container freeze your cookies up to 30 days. But let them thaw for 1 hour before eating.
How to halve this recipe?
You can easily halve the recipe for pumpkin oatmeal cookies.
Can I skip chocolate chips in pumpkin cookies?
Sure you can, the overall taste will still be flavorful and delicious. You can even use white chocolate chips and you'll have pumpkin chocolate chip cookies.
---
Pumpkin Treats for the Family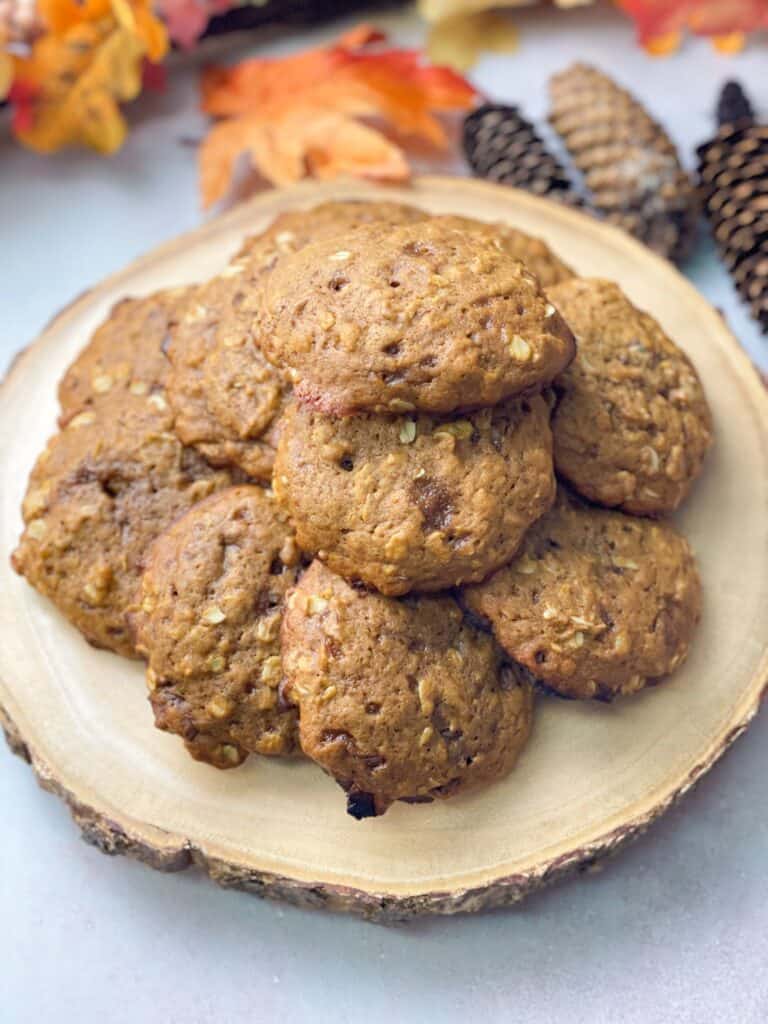 ---
Ingredients for Pumpkin Spice Oatmeal Cookies
All-purpose flour: You can also replace it with oat flour or any other gluten-free flour.
Old-fashioned rolled oats: They're the best oats for this recipe.
Baking soda: For the fluffier texture!
Ground cinnamon: It gives such a warm taste to the cookies.
Dark brown sugar or coconut brown sugar: Use one of them.
Pumpkin pie spice: the most flavorful and aromatic fall spice mix! It has so cozy spices.
Salt: It enhances the flavors in desserts.
Chocolate chips: for richer taste!
Honey: You can also replace by maple syrup or granulated sugar.
Coconut oil or Unsalted Butter: If you use butter, it should be unsalted for the best results. You can also use almond butter
Egg: It thickens and stabilizes the dough.
Pumpkin puree: It's such a sweet and delicious ingredient.
Vanilla extract: This savory spice enhances all the other flavors of cookies.
---
How to Make Pumpkin Spice Oatmeal Cookies
---
Homemade Pumpkin Spice Cookies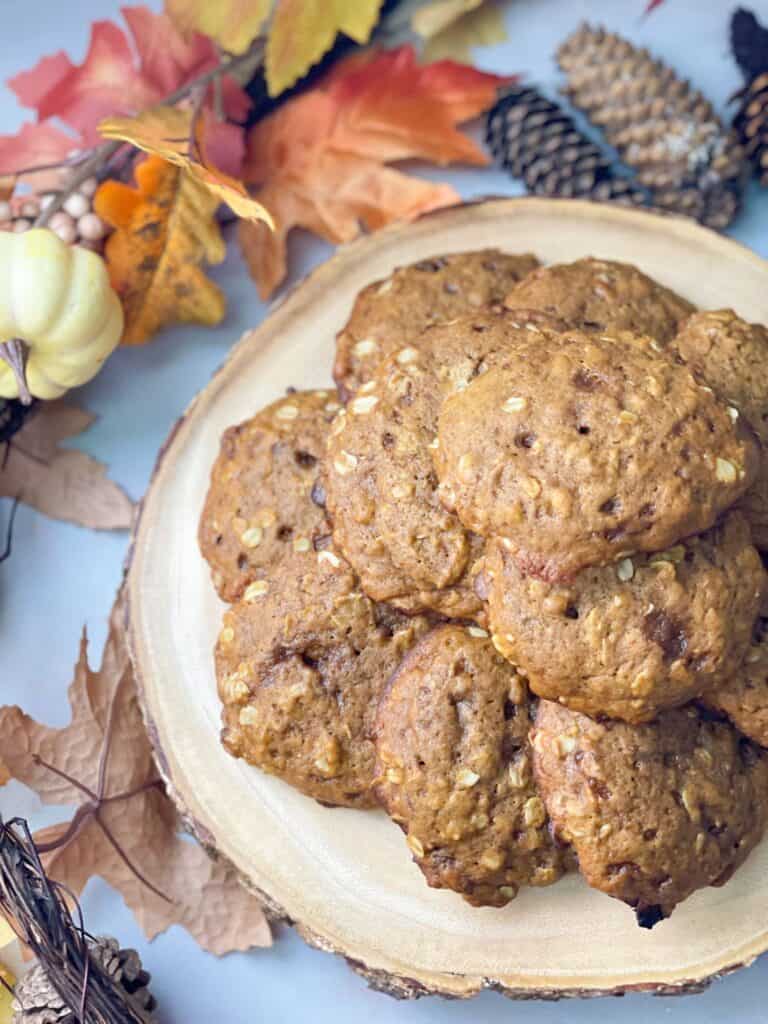 ---
Other Delicious Cookie Recipes for You to Try:
---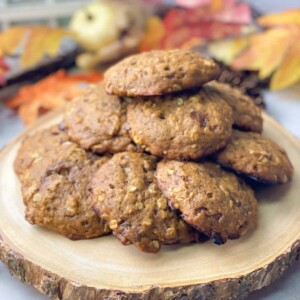 Pumpkin Spice Oatmeal Cookies
These soft and chewy Pumpkin Spice Oatmeal Cookies are perfect if you're looking for a delicious, easy, and aromatic fall cookie recipe.
Ingredients
2½

cups

all-purpose flour

1½

cups

old-fashioned rolled oats

1

teaspoon

baking soda

2

teaspoons

ground cinnamon

⅓

cup

light or dark brown sugar/coconut brown sugar

2

teaspoons

pumpkin pie spice

½

teaspoon

salt

1

cup

milk chocolate chips

¾

cup

honey/maple syrup/granulated sugar

1

cup

coconut oil/unsalted butter

,

softened

1

egg

¾

cup

pumpkin puree

½

tablespoon

pure vanilla extract
Instructions
Firstly, preheat your oven to 350F.

Secondly, bring a large bowl. Then, mix the dry ingredients, flour, old fashioned rolled oats, baking soda, ground cinnamon, brown sugar, pumpkin spice, chocolate chips and salt.

After that, bring a separate bowl (any medium bowl) and soften in it coconut oil.

Now add the wet ingredients – the softened coconut oil, egg, pumpkin puree and vanilla extract – to the dry ingredients. Mix in all sides of the bowl until well incorporated.

Then, refrigerate the batter for about 10-15 minutes.

Using an ice cream scooper, a medium cookie scoop, or a usual spoon. Then scoop out the batter onto a prepared baking sheet with greased parchment paper. Be sure the cookie dough balls are about 2 inches apart.

Finally, bake the cookies on a cookie sheet or a parchment paper for 10-12 minutes.

Let the cookies cool for a couple of minutes and enjoy your best pumpkin treat with your favorite drink!
Notes
Top Tips:
If you want them to be fluffy cookies and expand the use the batter right away and bake. Don't refrigerate the batter.
If you want them to be more like a melted yet thick cookies (not expanded) refrigerate for atleast 1 hour before baking.
You must blot the pumpkin to prevent overly cakey (moist and soft) cookies. Using paper towels, gently soak liquid out of the pumpkin puree. Hence, you'll have denser and chewier cookies! Better to avoid making a cakey cookie.
Use a cookie scoop! Once you scoop the ready dough, slightly try to flatten the tops of the dough mounds. The cookies will not expand much if you refrigerate them before hand but flattening them encourages spreading, helping to seal the chewy texture.
Avoid using instant oats or quick oats! They are much finer and will behave like flour, thus drying out your dough excessively that won't stick together. For these cookies, you need to use just old-fashioned rolled oats.
Don't use steel cut or Irish cut oats. They're far too thick so you'll end up making extra crunchy cookies hard to chew. Rather use just rolled oats.
Nutrition
Calories:
364
kcal
|
Carbohydrates:
49
g
|
Protein:
4
g
|
Fat:
19
g
|
Saturated Fat:
14
g
|
Polyunsaturated Fat:
1
g
|
Monounsaturated Fat:
1
g
|
Trans Fat:
0.001
g
|
Cholesterol:
10
mg
|
Sodium:
149
mg
|
Potassium:
136
mg
|
Fiber:
2
g
|
Sugar:
27
g
|
Vitamin A:
1804
IU
|
Vitamin C:
1
mg
|
Calcium:
31
mg
|
Iron:
2
mg
Like this recipe? Rate and comment below!