Looking for a dish that speaks the universal language of comfort and satisfaction? Here's the perfect blend of fluffy rice and ground meat seasoned to perfection with aromatic spices, topped with succulent chicken, and crowned with golden toasted almonds, pine nuts, and cashews that add a delightful crunch and burst of flavor. Introducing my Lebanese Chicken and Rice (Riz a Djej), where every bite is a passport to a unique dining experience.
---
Journey to Joy!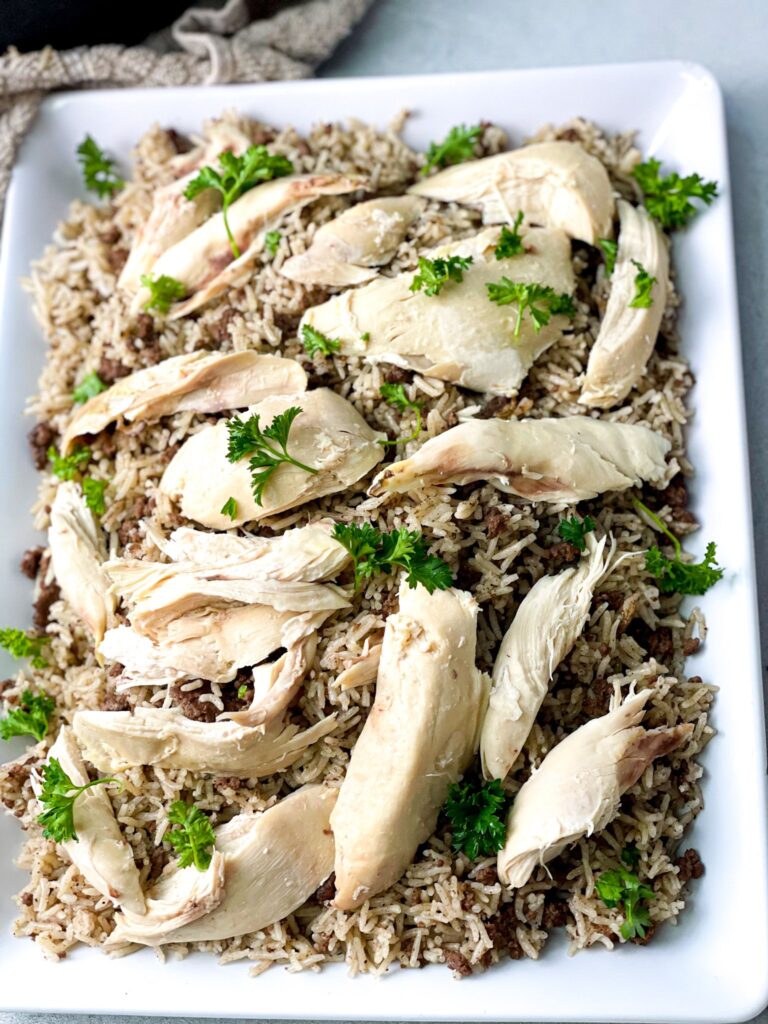 ---
---
What Is Riz A Djej?
Riz a Djej, also known as Lebanese Rice with Chicken, is a beloved comfort dish originating from Lebanon.
This Middle Eastern culinary gem contains shredded or sliced chicken, long-grain rice, aromatic spices, vibrant fresh herbs, and the delightful crunch of toasted almonds, cashews, and pine nuts.
---
A Taste of Lebanon!
---
Why I Love this Recipe
Here are some more reasons to fall in love with this dish:
Easy: Cooking Riz a Djej is a piece of cake, even for novice cooks. Boil the chicken in one pot, toast the nuts in another, and in a cinch, cook the beef and rice in the same pan as the nuts. Easy peasy!
Versatile: You can adjust Lebanese Chicken and Rice to your tastes. Tweak the spice levels, experiment with various nut varieties, or swap ground beef for options like lamb or turkey.
Impressive: This dish isn't just delicious; it's a visual masterpiece. Picture it gracing a serving platter, adorned with a vibrant nut topping and a sprinkle of fresh parsley. It's a special choice for dinner parties or special occasions, guaranteed to wow your guests.
---
---
Let's Dig into the Ingredients!
This recipe is wonderfully simple, requiring just a few essential ingredients. Feel free to customize it based on what you have available in your fridge and pantry.
Meat: I used ground beef. You can also use ground lamb meat.
Rice: Use long rice grains for this recipe. It is preferable to soak the rice for around 15 minutes before you cook it. You will get nice, well-cooked, fluffy rice.
Chicken: I cooked a whole chicken. But it is not a must! You can use whatever you have in the fridge.
Use chicken breasts only, chicken thighs only, or a mix! No matter what you choose, the chicken will be shredded and placed on top of the rice.
If you have leftover cooked chicken from the day before, go ahead and use it. In this case, if you did not keep some chicken broth, you can use plain water to cook the rice.
Bay leaves and cinnamon stick: These two ingredients are staples when cooking chicken. Their flavor is infused in the chicken, especially under the pressure of the instant pot.
For garnish: Toast some pine nuts, shredded almonds, slivered almonds, cashews, or even pistachios. Give it a vibrant look and toss some minced parsley on top.
---
A Five Star Meal for Dinner!
---
What to Serve with Ground Meat Rice and Chicken
Lebanese Rice and Chicken stands as a hearty and gratifying dish on its own. However, its versatility truly shines when paired with an array of other delectable dishes, creating a unique dining experience.
Try it with plain yogurt and enjoy it. How about some Cucumber-Yogurt Mint Garlic Salad? It is so refreshing for the summer.
A bowl of veggies is perfect as well! Prepare a bowl of Lebanese Tabbouleh Salad or some BEST Fattoush Salad with Dressing, or Simple Middle Eastern Salad. Your family will enjoy a delicious, healthy meal.
---
Pro Tips
Do I need homemade stock for this recipe?
To make oriental chicken and rice, I always use homemade stock. Cook the chicken with Lebanese spices, a whole onion, cinnamon sticks, and bay leaves to add fragrance.
Use water or vegetable broth for the rice if you do not have chicken broth.
What is the best rice to use for Riz a Djej?
The best rice to use for Riz a Djej, or Lebanese Rice with Chicken, is long-grain rice. Basmati rice is a popular choice for its aromatic fragrance, distinct grains, and ability to absorb flavors well. Its fluffy and separate texture makes it an excellent complement to the other ingredients in this dish.
Jasmine rice is another good option, known for its fragrant aroma and slightly sticky texture when cooked, which can work well in creating a cohesive dish.
---
Clear Steps for an Easy Process!
You can prepare this special, flavorful rice dish with minimal effort. It is a simple, easy recipe made for real, everyday life. Let's start!
Place a whole chicken in the instant pot. Add the cubed onions, cinnamon stick, and bay leaves.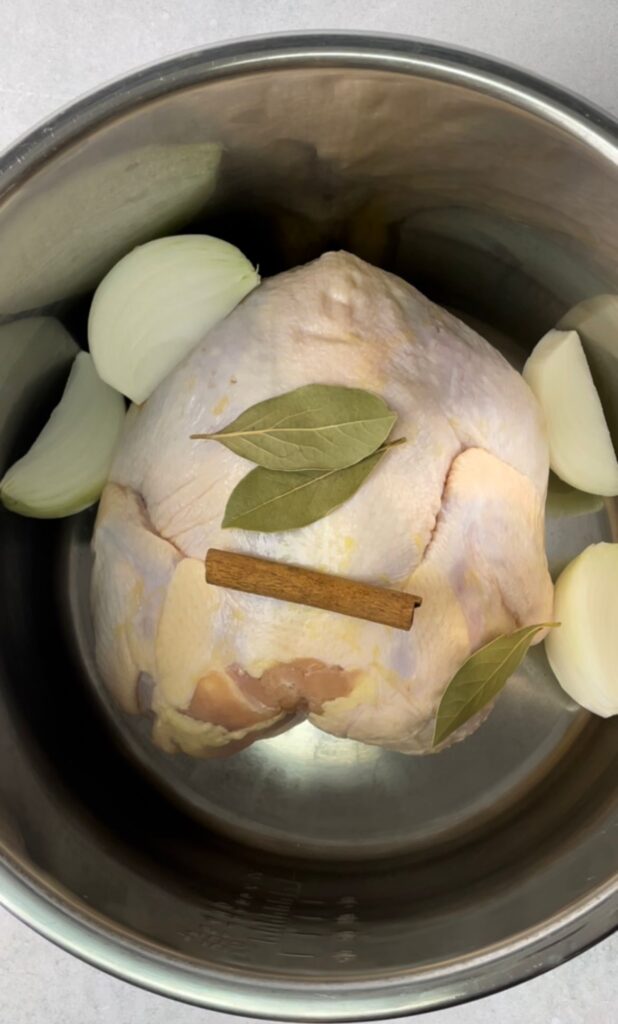 ---
Add 2 cups of water to the chicken.
---
Cover and cook for half an hour on high.
---
Meanwhile, sauté the ground beef and season it. Then, add the rice and broth and cook the rice.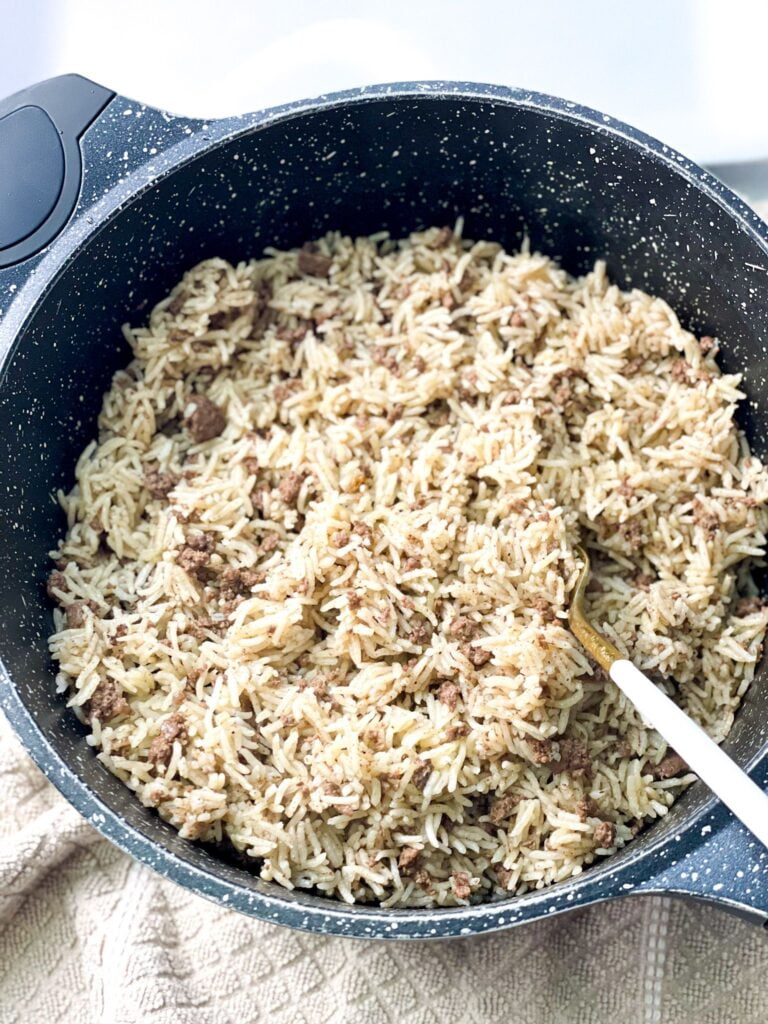 ---
Take out the chicken and set it on a plate so it cools down.
---
Shred the chicken into pieces of the size you desire!
---
Make a bed of hashweh and top it with the shredded chicken and minced parsley. Serve and enjoy!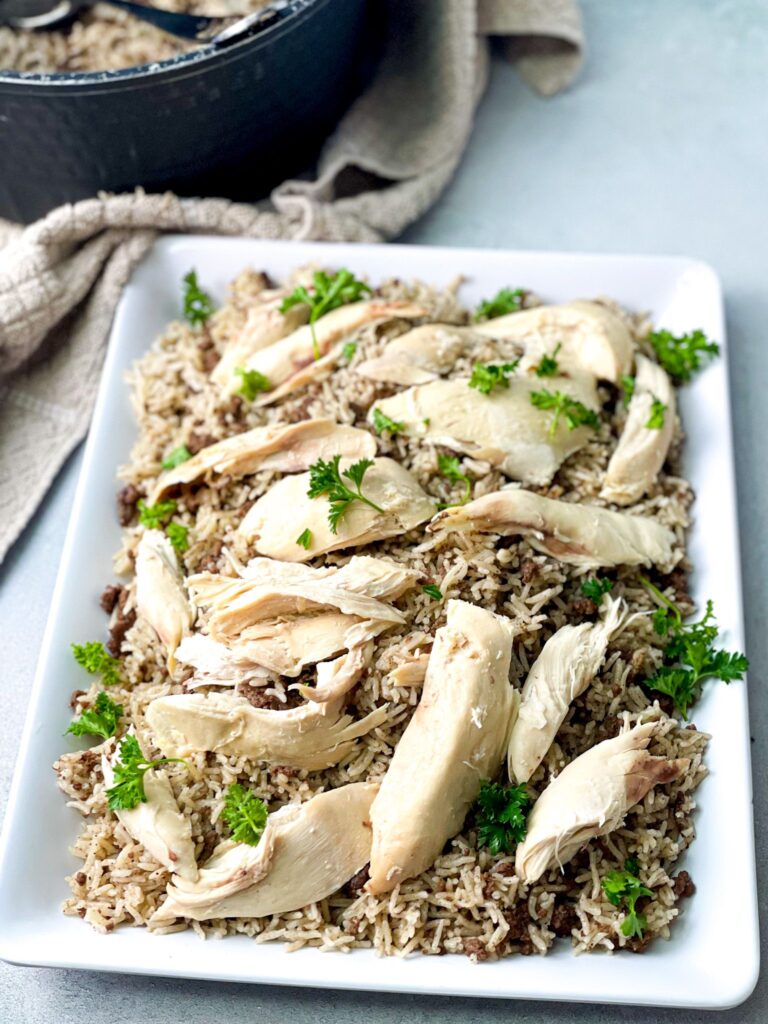 ---
Frequently Asked Questions
Can I use short-grain rice instead of Basmati long-grain rice?
Well, it is preferable to use long rice. You will get fluffy, separated rice grains with a firm texture. If you decide to use short grain, the rice will become sticky and clumpy.
Is it necessary to add roasted nuts on top of rice?
Definitely not! Some people like that extra crunch, so they add some roasted nuts to the rice. If you do not like it, you can simply omit it and enjoy the rice with chicken.
Can I cook this rice and top it with shredded meat instead of chicken?
Yes, of course! If you prefer meat on top, check out the Mansaf (Lebanese Rice with Meat) recipe. You will get an irresistible dish!
---
Variations and Substitutions
Spices: For a classic Lebanese flavor, use my homemade 7 spice, but if you don't have it on hand, no worries! Add a blend of cumin, cloves, black pepper, coriander, and allspice. Don't be afraid to stick to your favorite flavors if you don't like warm spices.
Vegetables: You can add your favorite vegetables, like chopped onions, carrots, peas, etc.. to add more texture and nutrition.
---
Ground Meat Rice and Chicken (Riz a Djej)
---
Prepare for the chicken
Whole chicken
Water
Bay leaves
Cinnamon stick
Onion
---
Prepare for the Rice
Ground beef
Basmati Rice, long grain
Olive oil
Seven spices
Chicken broth
Salt
---
Recipes You Should Try
---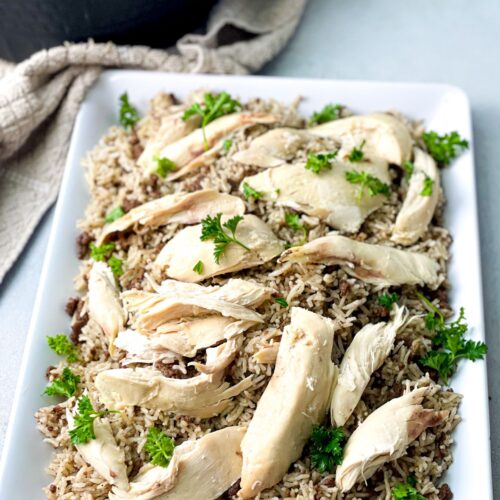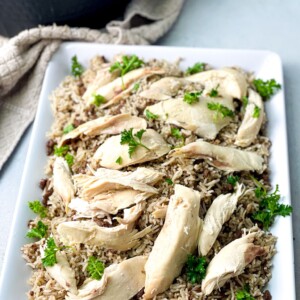 Lebanese Chicken and Rice (Riz a Djej)
A hearty flavorful ground meat rice topped with shredded tender chicken is an easy recipe for actual everyday life. Try it now!
Ingredients
Prepare for the chicken
1

whole chicken

,

4-5lbs

2

cups

water

3

bay leaves

1

cinnamon stick

1

onion

,

largely cubed
Prepare for the rice
1

lb

ground beef

2

cups

Basmati rice,

long grain

5

tablespoons

olive oil

½

tablespoon

seven spices

½

tablespoon

salt

,

to taste
Instructions
To cook the chicken
Place a whole chicken in the instant pot.

Add the cubed onions, cinnamon sticks, bay leaves, and 2 cups of water.

Cover and cook for 1/2 an hour on high.
Meanwhile, cook the rice
In a medium pot, on medium-high heat, add olive oil. Then, sauté the ground beef for about 6-7minutes.

Add the seven-spice seasoning, rinsed rice, salt, and sifted chicken broth OR 2 cups of chicken broth and 2 cups of water.

Stir, cover, then simmer the rice for 15-17 minutes.
Back to the chicken
Release pressure, remove the whole chicken.

Begin to debone in thick pieces of meat to top your rice with.
Prepare your dish
Plate the cooked rice. Then, top with the cooked chicken.

Garnish with minced parsley and/or toasted nuts.

Drizzle some warm chicken broth over the plate if you have any broth left for added flavor (optional).
Notes
Note 1: Let the rice rest in the pot for a few minutes before serving. It will soak all the flavors. Yummy! Note 2: Use water or vegetable broth for the rice if you do not have chicken broth. Note 3: Prepare the ground meat rice and chicken ahead of time. Put in an airtight container and reheat it upon serving. Note 4: I drizzled some chicken broth on top of the rice. You can turn it into a sauce by preparing a roux and then you add the broth into the pan. You can season it with some salt and pepper for extra flavors.
Nutrition
Calories:
603
kcal
|
Carbohydrates:
39
g
|
Protein:
31
g
|
Fat:
35
g
|
Saturated Fat:
10
g
|
Polyunsaturated Fat:
4
g
|
Monounsaturated Fat:
17
g
|
Trans Fat:
1
g
|
Cholesterol:
112
mg
|
Sodium:
547
mg
|
Potassium:
411
mg
|
Fiber:
1
g
|
Sugar:
1
g
|
Vitamin A:
139
IU
|
Vitamin C:
3
mg
|
Calcium:
49
mg
|
Iron:
3
mg
Like this recipe? Rate and comment below!