Get ready for a delicious breakfast that's quick and easy to prepare using a few basic ingredients you probably already have at home. To prepare this Perfect Gluten-Free French Toast recipe, thick slices of gluten-free bread are soaked in milk, vanilla extract, and eggs before being fried.
Fluffy and tender on the inside and perfectly golden-brown on the outside, this French toast is one of our favorite breakfast dishes. Drizzle with maple syrup and customize with different toppings like strawberries, blueberries, and honey for a delicious breakfast. Give it a-go today!
---
Fluffy on the Inside, Crispy on the Outside
---
French toast has a way of kicking off the morning in the best possible way. This recipe is always a crowd pleaser when served with a bowl of fresh berries, a drizzle of maple syrup, and a dollop of whipped cream!
This Gluten-Free French Toast recipe is one of my favorites, especially on a lazy weekend morning! I can have it on the table in minutes, whether I'm making it for a large group of weekend guests or just the four of us!
---
What Is French Toast?
French toast is a dish made of sliced bread that has been soaked in beaten eggs and often milk or cream before being pan fried. "Eggy bread," "Bombay Toast," and "Gypsy Toast" are some of the other names and variations.
When served as a sweet dish, sugar, vanilla, or cinnamon are often added before pan-frying, and it can then be topped with sugar (often powdered sugar), butter, fruit, or syrup. When it's a savory dish, it's usually fried with a pinch of salt or pepper and served with a sauce like ketchup or mayonnaise.
---
What Bread Do You Use for Gluten-Free French Toast?
To make French toast, choose bread that is tender but sturdy, sliced thickly, and has no competing flavors. The slices must be thick so that they don't fall apart while frying. Avoid using bread with nuts and seeds.
It is necessary to use bread that can be soaked. Gluten free brioche bread, for example, is a good choice.
Brioche has a tender but tight crumb, which allows it to hold the custard without disintegrating. It's also highly enriched, which means it's made with a lot of butter, eggs, and milk, and it clearly wants to be turned into French toast.
---
Frequently Asked Questions (FAQs):
What milk do you use for French toast?
You can make French toast with whatever milk you have in the fridge. Half and half, whole milk, heavy cream, and skimmed milk work well in this recipe.
Can I use dairy-free milk to make gluten-free French toast?
Sure! This recipe can also be made with dairy-free milk substitutes like almond milk, oat milk, and coconut milk.
Can you freeze gf French toast?
Yes you can. Place your French toast slices on a baking sheet in a single layer and freeze for 30 minutes, or until completely frozen. You can store the slices for up to 3 months in a freezer-safe zip-top bag or another airtight container.
Can you make this recipe with regular bread?
You definitely can. Use any kind of white bread or brioche bread you like.
Is French toast healthy?
Depending on how it's prepared, French toast can be a healthy breakfast option. French toast is unquestionably healthier than pancakes and some other breakfast options. Although it is high in carbs, you can make French toast healthier by using whole wheat or high-fiber bread.
---
Mix, Dip, Cook, and Serve!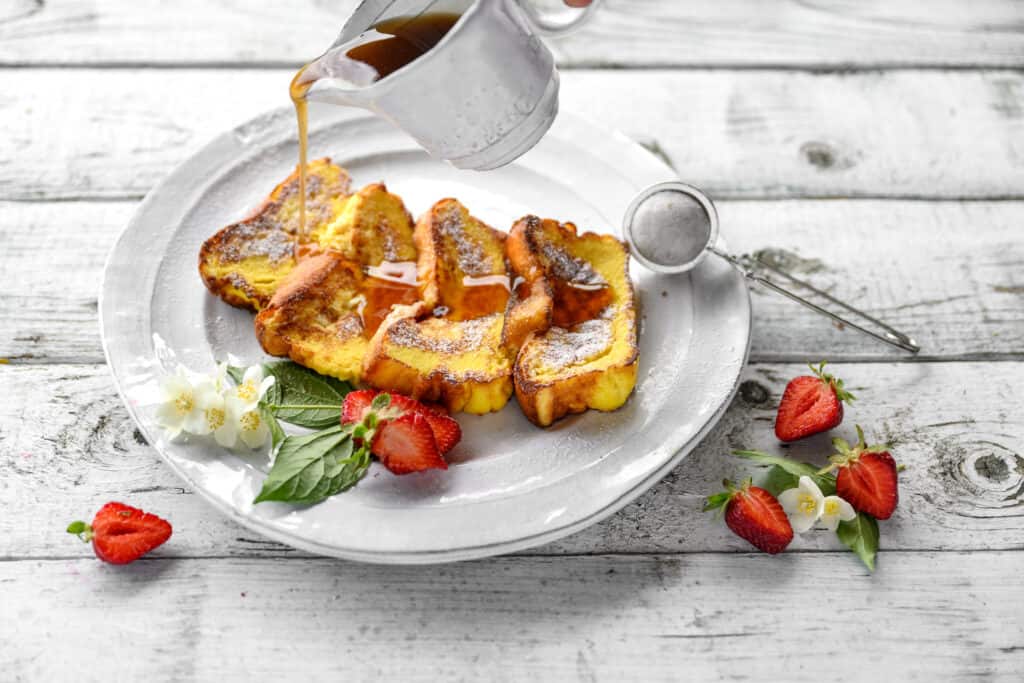 ---
Top Tips
Make sure the eggs and the milk are sitting at room temperature before starting with the recipe.
Once each piece of bread is dipped in batter, you can then dip it in a plate of chopped nuts.
You can make this recipe gluten-free by using coconut milk, almond milk, or oat milk.
In order to keep the French Toast warm while cooking the additional slices, place the cooked slices on a baking sheet and in the oven at 275 degrees Fahrenheit.
Refrigerate any leftovers in an airtight container. Reheat in the microwave or oven at 400°F for 4 minutes, flipping after 2 minutes.
You can make the batter 1-2 days ahead of time if you're using fresh ingredients.
If you're using very soft and delicate bread, such as brioche or traditional white bread, allow it to dry out first! If the bread is very soft and remains in the egg batter for an extended period of time, it may begin to break apart.
---
One of the Most Indulgent Breakfast Dishes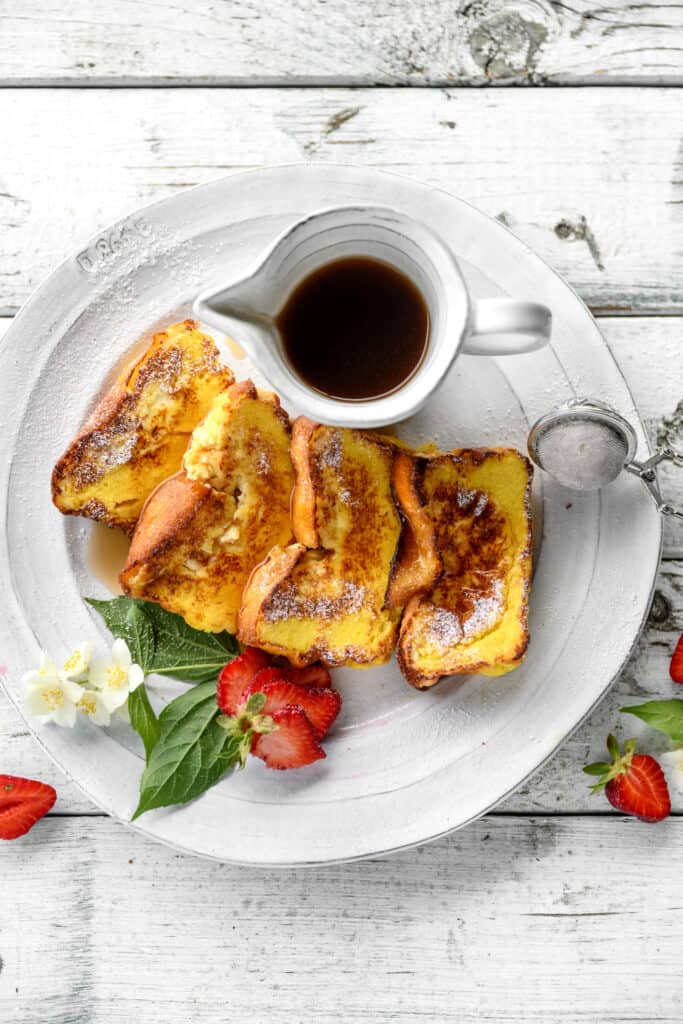 ---
GLuten-Free French Toast Ingredients:
The best French toast recipe only requires a few ingredients!
Bread: You will need gluten-free brioche bread or any other gluten-free bread of your choice.
Eggs: Eggs coat the bread, resulting in a crispy, golden crust.
Milk: Combine milk with eggs to moisten the bread and form the creamy coating.
Flour: Add some gluten-free flour to the batter to get a fluffier French toast.
Sugar: You will need some granulated sugar for the batter and to sprinkle on the toast before frying.
Vanilla: adds sweetness, warmth, and flavor depth to elevate the French toast.
(Scroll down for recipe details.)
---
More Breakfast Recipes to Try:
---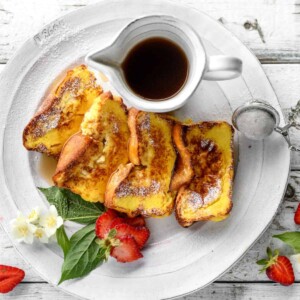 Best Gluten-Free French Toast
Here's how to make the best gluten-free French toast! It's easy to make using basic kitchen staples you probably already have on hand.
Ingredients
4 slices gluten-free brioche bread
1 teaspoon vanilla extract
½ cup milk at room temperature
2 eggs
2 tablespoons granulated sugar plus more for sprinkling
¼ cup gluten-free flour
unsalted butter for frying
Instructions
Begin by slicing the bread into thick slices. The bread should not be warm or fresh out of the oven. Place the slices on a large rimmed baking sheet or in a rectangular baking dish, side by side and not overlapping.

To make the custard, combine the egg, vanilla, and about half of the milk in a medium-sized measuring cup or bowl. Whisk everything together thoroughly, beating the egg until smooth. Whisk in the 2 tablespoons granulated sugar, and flour until smooth and well combined. Whisk in the remaining milk until smooth.

Pour the custard slowly over the brioche slices, allowing the bread to absorb as much as possible. Turn the bread over and spread the remaining custard on the underside. Allow the bread to sit for about 20 minutes, flipping it occasionally. The bread should have absorbed the majority of the custard.

As the bread is nearly done soaking up the custard, place one tablespoon of unsalted butter in a skillet with a thick bottom and at least one inch high sides. Place the pan over medium high heat and heat until the butter is completely melted.

Place two slices (or as many as will fit without touching) in the pan. Spread a thin layer of granulated sugar on the raw tops of the bread slices. Allow the bread to cook for at least 3 minutes, or until the underside is golden. Carefully flip the slices in the pan and cook for 4 minutes more, sugar side down, or until golden brown on both sides.