Get ready to savor the sublime fusion of oceanic goodness and zesty Italian flair with my mouthwatering Viral Tunacado Sandwich! This culinary masterpiece is a delightful fusion of ocean-fresh tuna, aromatic pesto, and vibrant vegetables that will transport your taste buds to a whole new level of deliciousness.
---
Tuna Takes a Dip in Pesto Paradise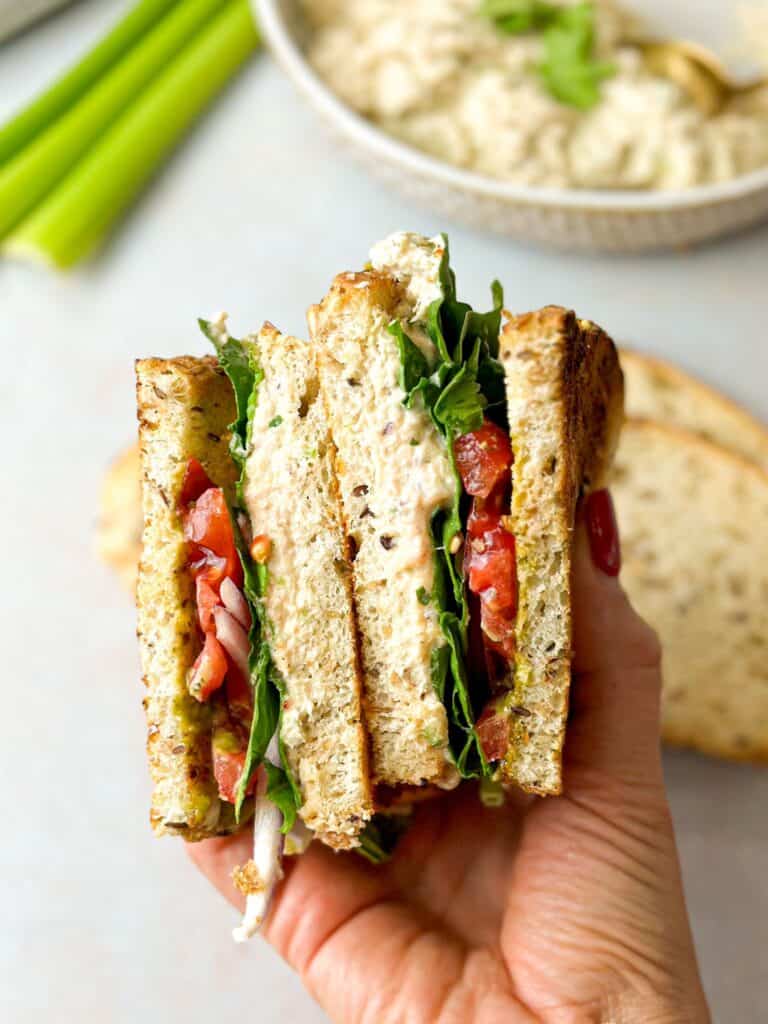 ---
In the world of sandwiches, this Viral Tunacado Sandwich stands as a vibrant testament to the marriage of diverse flavors and textures. The savory, flaky tuna harmonizes wonderfully with the aromatic and herbaceous notes of pesto sauce, creating a burst of flavor that's as satisfying as it is delightful.
Quick to prepare and packed with nutrients from the tuna and vegetables, pesto tuna sandwiches are also a convenient and satisfying option for kids, ensuring they not only enjoy their meal but also receive essential nutrients for their well-being.
For mealtime convenience, I stash this delicious duo in an airtight glass container, ensuring a speedy setup for savory satisfaction at lunchtime—just whip up those sandwiches and relish the flavors!
---
Pesto Tuna Fiesta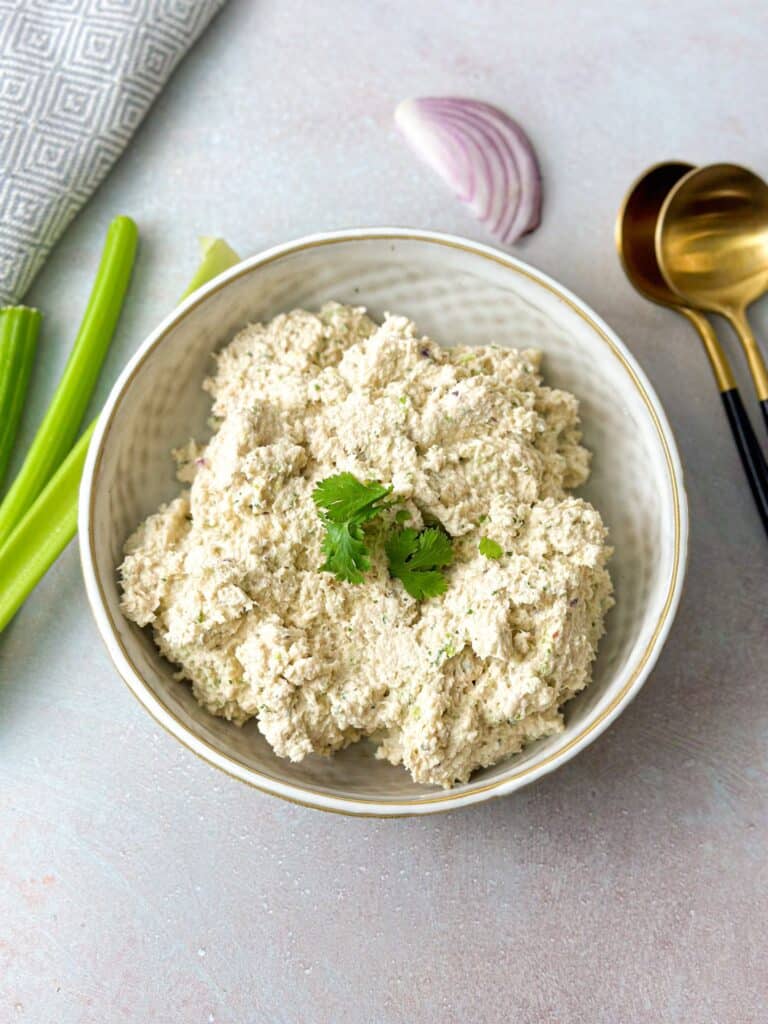 ---
The Viral Pesto Sandwich Trend: Join the Flavor Party!
The resulting flavor explosion captured the imagination of food enthusiasts looking for both taste and nutrition. Additionally, its vibrant, photogenic appearance made it an instant social media darling, encouraging individuals to showcase their culinary creations online.
As a result, this sandwich transcended its humble origins to become a viral sensation, underlining how a perfect storm of flavor, visual allure, and health appeal can catapult a dish to online stardom.
---
Why You'll Love the Tunacado Sandwich
Flavorful Combination: The combination of pesto and tuna creates a burst of flavors in your mouth. The savory, slightly salty taste of tuna complements the herbaceous, nutty, and garlicky flavors of pesto beautifully.
Quick and Easy: Making a pesto tuna sandwich is quick and straightforward, making it an ideal choice for a fast and hassle-free meal. Canned tuna is readily available and requires minimal preparation. Just mix it with pesto, and you're almost done.
Satisfaction: The combination of protein from the tuna and the rich flavors from the pesto can be quite satisfying. It's a filling and tasty option that can keep you fueled and satisfied for 3-4 hours.
Versatile: While the core of the sandwich is tuna and pesto, you can get creative with your additions. Avocado, your trusty sidekick, adds creamy richness to the mix. Don't stop there—toss in crisp lettuce, juicy tomatoes, or zesty red onions for that extra crunch and garden-fresh delight.
And the canvas? Well, that's entirely up to you—choose from an array of bread or rolls, crafting your very own sandwich masterpiece that suits your unique taste.
Nutritious: Tuna is a good source of protein and essential nutrients like omega-3 fatty acids, which are beneficial for heart health. Pesto, made with fresh basil, provides vitamins and antioxidants. When you add veggies, you further boost the nutritional value of your sandwich.
---
Pesto Punch Tuna Crunch: A Sandwich Sensation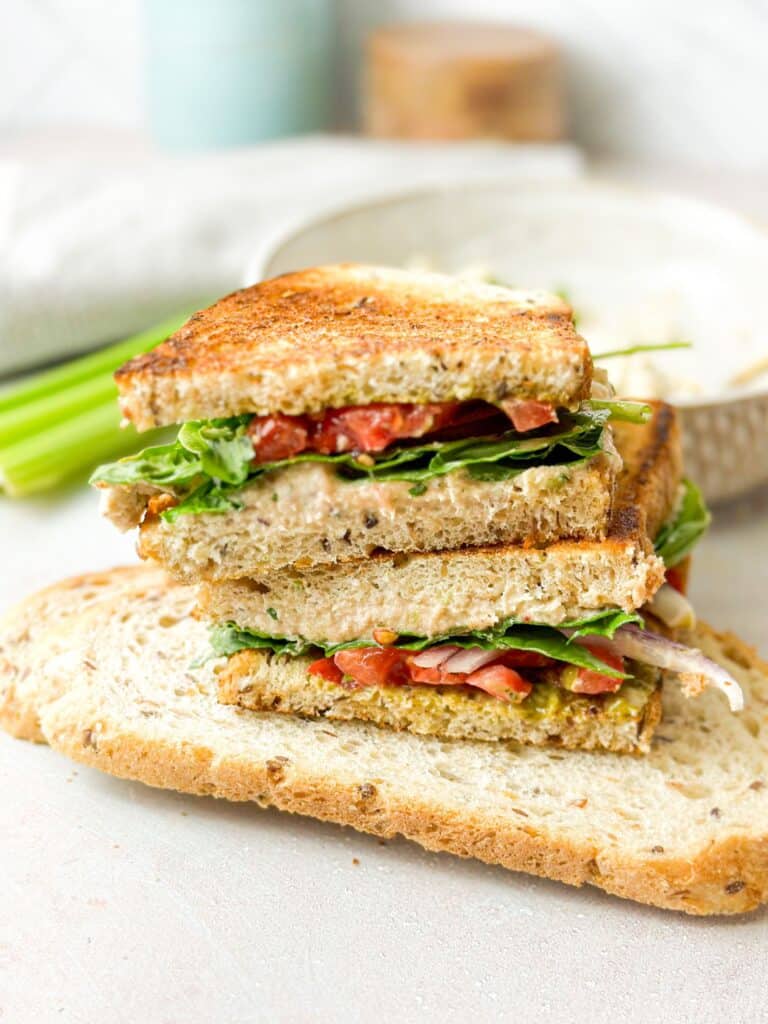 ---
Frequently Asked Questions (FAQs):
What does pesto taste like?
Pesto sauce has a distinctive taste that is characterized by the flavors of fresh basil, garlic, pine nuts, Parmesan cheese, and olive oil. It has a rich, herbaceous, and slightly nutty taste.
Can I use homemade pesto for my tunacado sandwich?
Yes, homemade pesto can be an excellent choice for a tuna pesto sandwich. It often has a fresher and more vibrant flavor compared to store-bought varieties.
What type of bread is best for a tuna pesto sandwich?
The choice of bread is a matter of personal preference. You can use baguette, ciabatta, whole wheat bread, or any bread you prefer. Some people like to toast the bread for added texture.
Can I make tunacado sandwiches in advance for meal prep?
Yes, you can prepare the tuna-pesto mixture in advance and store it in the refrigerator. However, it's best to assemble the sandwiches before eating to prevent the bread from becoming soggy.
What are some typical toppings or additions to this sandwich?
Common additions include lettuce, spinach, tomato slices, red onion, avocado, or cheese (such as mozzarella or provolone). These ingredients can add freshness and variety to the sandwich.
---
Pesto-licious Tuna Delight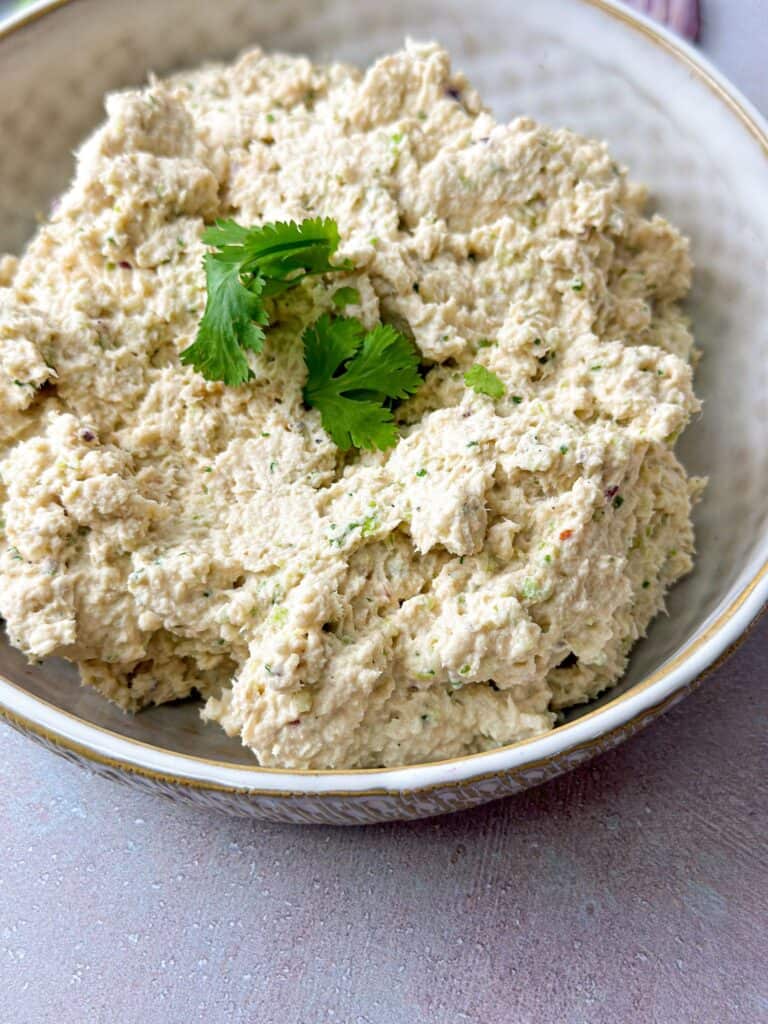 ---
Top Tips
Start with good-quality canned tuna and a flavorful pesto sauce. Fresh, high-quality ingredients will make a significant difference in the taste of your sandwich.
This sandwich tastes amazing with avocados, but that day I didn't have any avocados on hand.
If you have the time and ingredients, consider making your own pesto sauce. Homemade pesto often tastes fresher and more vibrant than store-bought varieties.
Lightly toasting the bread can add a pleasant crunch to your sandwich and prevent it from becoming soggy.
When assembling the sandwich, layer the ingredients strategically. Place the lettuce or greens close to the bread to create a barrier between the moist tuna mixture and the bread, helping to prevent it from becoming soggy.
Get creative with your toppings! I threw in some fiery Thai chili sauce and fresh spinach leaves for an extra flavor punch – but the choice is yours to sauce and veggie it up!
Explore different types of bread to find your favorite. Ciabatta, baguette, sourdough, or whole-grain bread can all work well.
If you plan to take your pesto tuna sandwich with you, wrap it tightly in parchment paper or foil to prevent it from falling apart or getting squished.
If you enjoy cheese, consider adding a slice of mozzarella, provolone, or Swiss for a creamy and melty touch.
---
A Bite of Heaven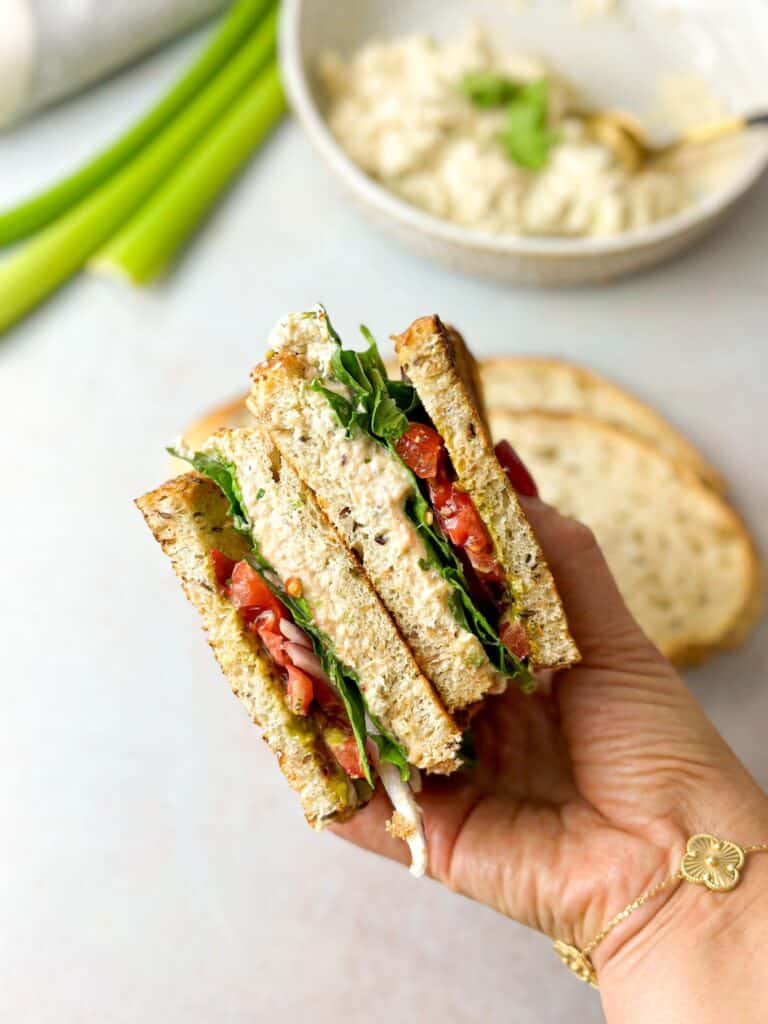 ---
Viral Tunacado Sandwich Ingredients
Albacore tuna, drained
Pesto
Rustic bread slices
Spinach leaves,
Celery, diced small
Red onion, diced small
Mayonnaise (or avocado mayonnaise for a healthier option)
Pickled hot peppers
Cilantro, whole leaves
Lemon juice
Thai sweet chili sauce (optional, for added flavor)
Salt and black pepper to taste
Butter (or avocado oil) for sautéing
(Scroll down for recipe details.)
---
Epic Flavor Alert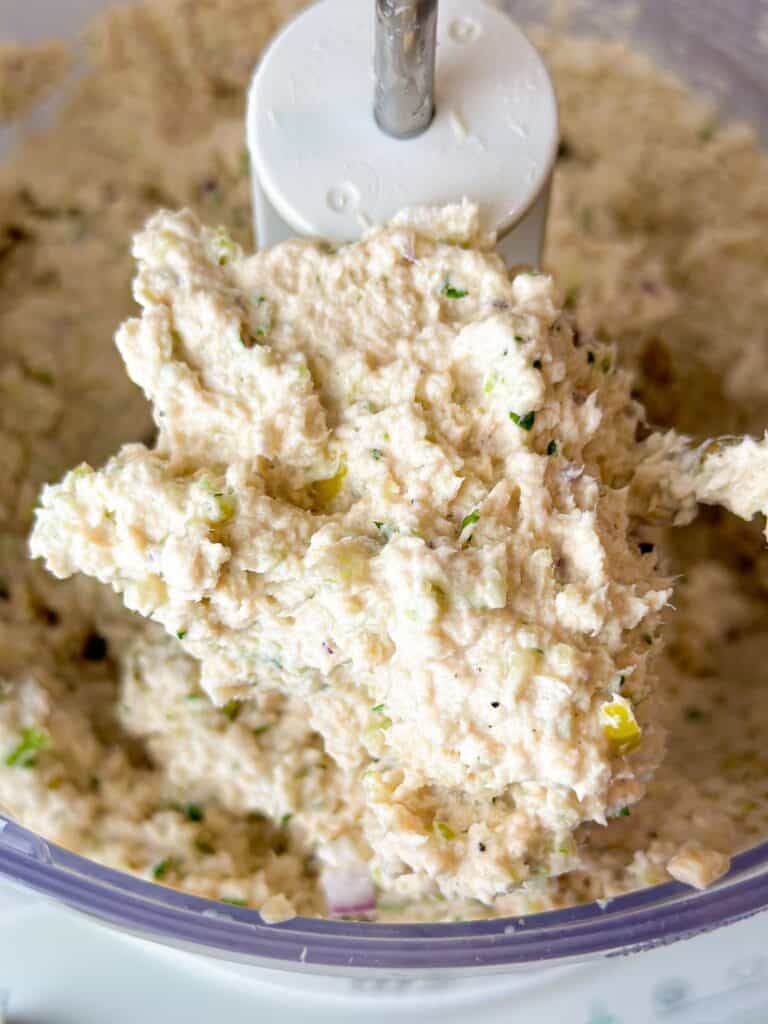 ---
More Recipes You Must Try:
---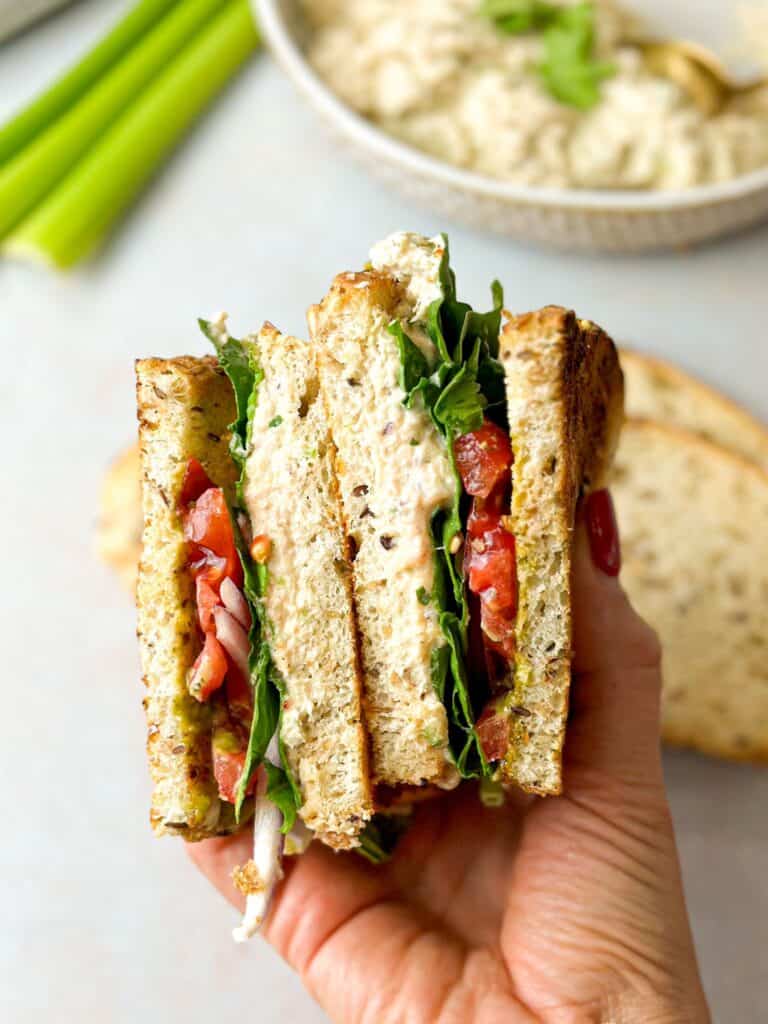 Viral Tunacado Sandwich
Get ready to savor the sublime fusion of oceanic goodness and zesty Italian flair with my mouthwatering Tunacado Sandwich!
Ingredients
Tuna Salad Ingredients
2 cans (7 ounces) Albacore Tuna drained
1 tablespoon Butter (or avocado oil) for sauteing
¼ cup Mayonnaise or avocado mayonnaise for a healthier option
1 tablespoon Thai sweet chili sauce optional (for added flavor)
2 stalks Celery diced small
3 tablespoons Red onion diced small
3 Pickled hot peppers
3 tablespoons Cilantro whole leaves
½ Lemon juice
Salt and black pepper to taste
Ingredients for Assembling the Sandwich
Rustic bread slices
1 tablespoon Butter or avocado oil (for toasting the bread)
Spinach leaves sliced
Tomatoes sliced
Red Onions sliced
Pesto (optional, for an extra flavor)
Instructions
Prepare the Tuna salad
Combine all the ingredients in the food processor and pulse until well mixed and the texture is to your liking. You want the mixture to be creamy but with some texture.
Assemble the Pesto Tuna Sandwich
Butter both sides of the rustic bread slices or toast and toast them in a pan over medium heat until they are golden brown and crispy.

.Spread a generous amount of the prepared tuna salad onto one side of the toasted bread.

Layer the spinach leaves, sliced tomatoes, and sliced red onion on top of the tuna salad.

If desired, drizzle some pesto over the veggies for extra flavor.

Place another slice of toasted bread on top to create a sandwich.

Serve your tuna pesto sandwich immediately and enjoy!
Notes
Serving Suggestions: Accompany your sandwich with a side salad, chips, or a pickle for a complete meal experience. Keep It Fresh: Pesto tuna sandwiches are best enjoyed shortly after preparation to maintain the freshness of the ingredients and prevent the bread from becoming too soft. Variations: Get creative and try different variations by adding ingredients like avocado, roasted red peppers, or olives to give your sandwich a unique twist.