Baked Blackened Salmon is a delicious weeknight dinner recipe that doesn't skimp on flavor. The recipe takes only 25 minutes to make, it's healthy enough for most diets, and you won't have to worry about pan splatters or messy cleanups!
---
Perfectly Flaky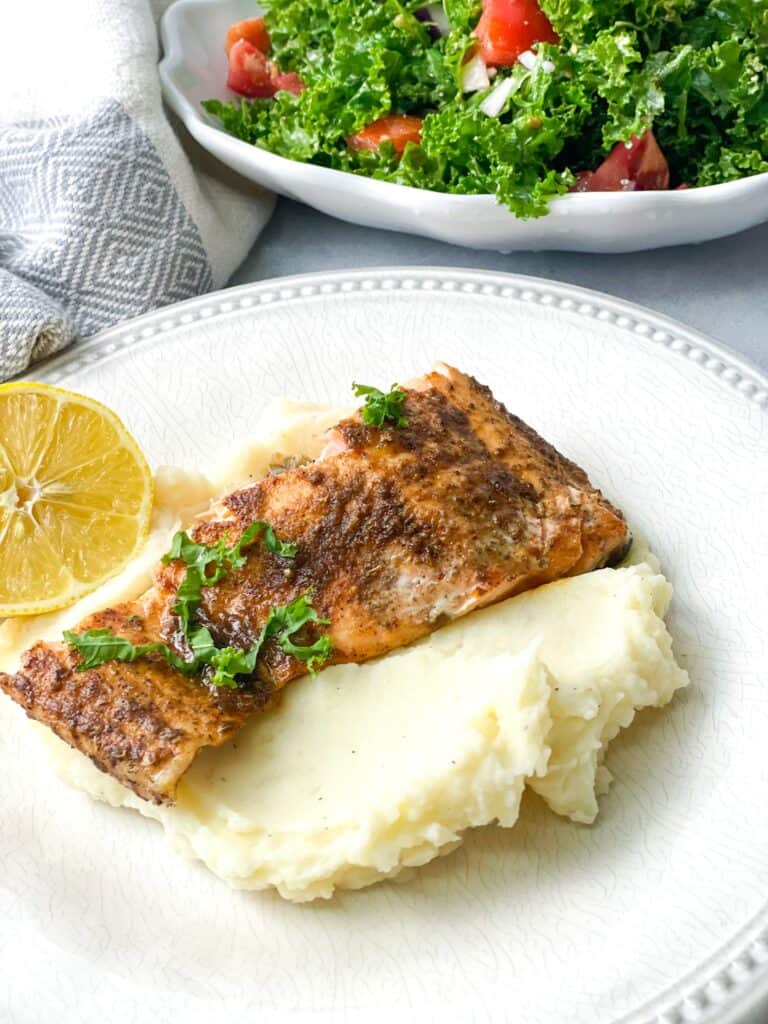 ---
Keto, blackened, baked salmon is a healthy and nutritious meal that you can make at home. This salmon recipe is filled with bright savory flavors and is perfect for salmon tacos, alfredo, other types of pasta, salmon salads, and more.
It is coated with a mixture of onion powder, smoked paprika, oregano, garlic powder, ground cumin, black pepper and more.
This recipes goes with so many dishes such as Muhammara (Roasted Red Pepper and Walnut Dip), Creamy Mashed Potatoes Recipe, Cooked and Seasoned Boiled Asparagus, and Perfectly Boiled and Seasoned Broccoli.
You can also serve it with a bowl of salad for a healthy meal. Try it with Shredded Brussels Sprouts Salad, Avocado Salad with Cilantro Lime Dressing, Houston's Kale Salad Copycat Recipe , and Lebanese Tabouli Salad Recipe (Tabbouleh)
---
Why You'll Love this Baked Blackened Salmon Recipe?
I enjoy this blackened salmon recipe for a variety of reasons, but here are my top four:
No splattering of oil…no mess! Unlike many blackened salmon recipes, this one is baked in the oven, which means less mess and less active cooking time.
Simple and quick: This recipe is ready in 25 minutes. Simply combine your blackening seasoning ingredients, slather it on your salmon, and bake it in the oven. That's all!
Rich and Flavorful: You'd be surprised how much flavor a few common household ingredients can pack.
Infinite meal options: This recipe is one of my go-to weeknight dinners, from serving blackened salmon alone with a simple side like Homemade Naan, sliced avocado, and lime wedges – to Blackened Salmon Tacos!
---
Healthy and Delicious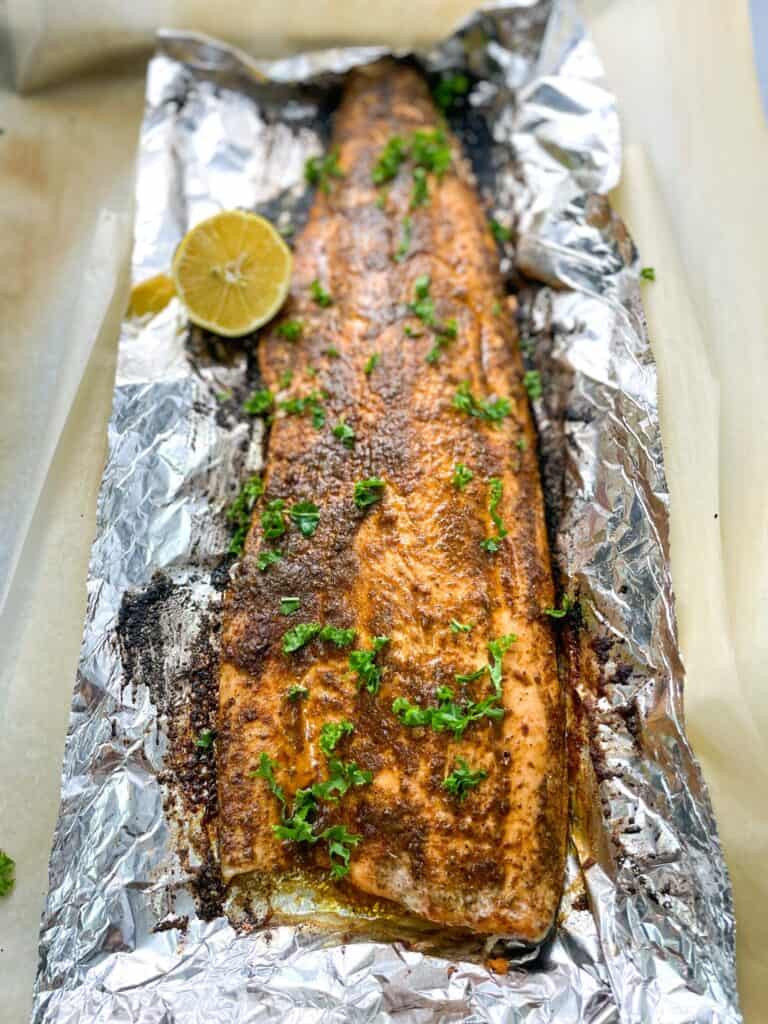 ---
What Does Blackening Mean?
The process of "blackening" something involves coating it with butter and spices and herbs. Afterwards, you toast the spices over high heat to impart a rich, unique flavor.
By adding butter to the recipe, the spices crisp up on the outside while keeping the inside perfectly moist, and it also gives the dish its signature dark color.
New Orleans' Commander's Palace restaurant was the first to introduce blackening to the public using redfish fillets.
---
It's All in the Seasoning
Everyone has their own recipe for the perfect salmon rub. While many recipes for blackened salmon call for making an entire jar of the blackening spice blend, I prefer to make just enough for a single recipe.
I used paprika, garlic powder, onion powder, oregano, ground cumin, salt, and pepper.
Some people add chili pepper and brown sugar to their blackened salmon recipe, but I don't think the sugar is necessary.
The blackening method does not use sugar; instead, high heat is applied to the butter and spices, resulting in a brown-black salmon. It's not necessary to marinate it!
---
Healthy and Low Carb
---
Frequently Asked Questions (FAQs):
Will this seasoning work on other types of fish like shrimp or tilapia?
Yes, this seasoning would be delicious on other types of fish. With these complementary flavors, seafood generally tastes great.
Does blackened mean grilled?
No, blackened refers to both the seasoning blend used to flavor the fish and the method of cooking on a flat surface to achieve a charred crust.
Is baked blackened salmon healthy?
Yes! It contains only salmon, oil, butter, and spices. That's all! This baked blackened salmon is a nutritious dinner protein that goes well with cooked veggies or any other nutritious side dish of your choice.
Can you cook salmon in a frying pan instead?
It depends on the thickness of your fish. In general, sear the seasoning for 2-3 minutes on high, then carefully turn the fish over and cook for another 5-6 minutes, or until the internal temperature reaches 145 degrees.
---
Experts Tips
This recipe contains enough blackening seasoning to season four salmon filets. If desired, cut a large salmon fillet into smaller pieces before or after cooking. If you need more or less salmon, simply double or half the recipe!
Make your own seasoning. Homemade blackened seasoning is simple to make and gives you complete control over the spice and salt levels.
Use the proper tools. When it comes to blackened foods, nothing beats a cast iron skillet. If you don't have a cast iron skillet, a large stainless steel skillet will suffice.
Do not move the fish around when you first add it to the pan. Allow it to cook for a few minutes to form that delicious butter/spice crust.
Don't remove the skin. This protects the flesh while also holding it together while cooking.
Use a fork to check doneness. When the flesh flakes easily with a fork, the fish is done.
Making Ahead: Cut the salmon into fillets 1-2 days ahead of time and combine the blackened seasoning.
Storage: Refrigerate leftovers in an airtight container for up to 3-4 days.
Freeze in an airtight freezer container for up to 4-6 months.
Reheating: Reheat in a skillet over medium heat for the best results, or in the microwave.
---
Tender and Juicy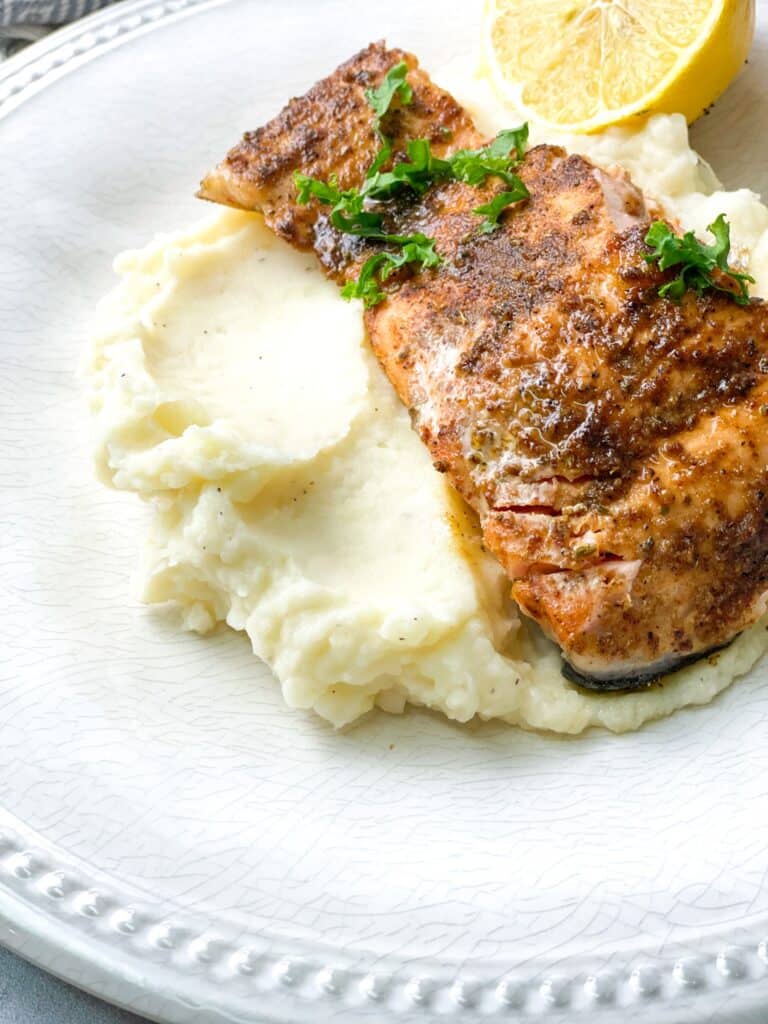 ---
Baked Blackened Salmon Ingredients
For the Salmon:
1 whole salmon, raw
1 lemon, juice
1 teaspoons smoked paprika
1 teaspoons ground cumin
1 teaspoon dried oregano
2 teaspoons garlic powder
1 teaspoon onion powder
1/2 teaspoon black pepper
1 1/2 teaspoons salt
2 tablespoons olive oil, or avocado oil
4 (6 ounce) skin-on salmon filets
Topping:
3 tablespoons melted butter, ghee, or avocado oil
Juice from 1/2 a lemon
1 tablespoon chopped parsley
(Scroll down for recipes details.)
---
More Recipes You Must Try:
---
Blackened Baked Salmon
Baked Salmon blackened with deep spices and butter. What a delicious way to prepare salmon! You'll love it!
Ingredients
For the Salmon
1

whole salmon

,

raw or 6 skin-on salmon fillets

1

lemon juice

1

teaspoon

smoked paprika

1

teaspoon

ground cumin

1

teaspoon

dried oregano

2

teaspoons

garlic powder

1

teaspoon

onion powder

½

teaspoon

black pepper

1½

teaspoons

salt

2

tablespoons

olive oil,

or avocado oil
Toppings
3

tablespoons

butter,

or ghee or avocado oil

½

juice of a lemon

1

tablespoon

chopped parsley
Instructions
First, preheat oven to 450°F. Wash your salmon (or leave unwashed, that is up to you), then pat try.

Place on a prepared baking sheet. Pour the lemon juice all over the salmon, drizzle olive oil then begin to add the spices one by one all over the salmon. It is optional, but you can brush the spices all over to make sure they cover all areas like I did but it is not necessary.

Bake for 15-17 minutes or until cooked. Garnish with minced parsley and or sliced lemons. Enjoy!
Notes
Making Ahead: Cut the salmon into fillets 1-2 days ahead of time and combine the blackened seasoning.
Storage: Refrigerate leftovers in an airtight container for up to 3-4 days.
Freeze in an airtight freezer container for up to 4-6 months.
Reheating: Reheat in a skillet over medium heat for the best results, or in the microwave.
Like this recipe? Rate and comment below!