These Gluten-free Tortillas are the real deal: soft and flexible, they're ideal for folding or wrapping. They're also incredibly easy to make, with only 5 ingredients that are all gluten-free pantry staples. And you'd never guess that they're gluten-free!
They are perfect for burritos, tacos, and wraps, and can also be used for anything that would work with corn tortillas.
---
Nothing Beats the Taste of Homemade Tortillas
---
You're in for a treat today, friends. There's no way you would ever guess that these gluten-free flour tortillas are gluten-free.
. They are soft and flexible, making them easy to wrap without tearing, and incredibly quick and easy to make.
The recipe only calls for 5 ingredients, including water and salt! The tortilla dough itself is a joy to work with: you can knead it like "regular" wheat dough, and the individual portions roll easily into lovely round tortillas.
---
What Are Tortillas?
A tortilla is a thin flatbread made from corn or wheat flour with a filling that can be eaten hot or cold.
Tortillas are extremely versatile. Tacos, burritos, quesadillas, taquitos, and enchiladas are just a few of the dishes you can make with this thin Mexican flatbread.
---
So What's the Difference Between Them?
Tacos are soft or hard tortilla shells filled with meat, cheese, and vegetables. If you are vegan, you can fill your tacos with vegetables, avocados, chickpeas, and a delicious sauce instead of meat.

Quesadillas are tortillas stuffed with cheese and sometimes vegetables like corn, mushrooms, and potatoes. They're frequently folded in half and grilled.

Burritos are large tortillas filled with beans, meat, vegetables, cheese, and, in some cases, rice. They are tightly wrapped so that they can be eaten on the go.
Enchiladas are folded tortillas stuffed with chicken and cheese that are baked in a spicy salsa.
Have you noticed how these dishes all have one thing in common? The tortilla, indeed!
---
Why You Will Love these Gluten-free Tortillas
Here are some of the reasons why you'll love these gluten-free flour tortillas.
The perfect texture: These gf tortillas are soft, pliable, and adaptable. Because they are gluten-free, you might expect them to be dry or prone to tearing when rolled – but that is not the case!
It's easy to work with the dough, and you can twist and roll it any way you want; it won't tear or crack. At the same time, they're not gummy but have the ideal soft and slightly chewy crumb of a proper tortilla.
The dough for these tortillas, like all of my gluten-free bread recipes, can be kneaded and handled in the same way that regular wheat flour dough is. You don't have to worry about it crumbling because it's wonderfully elastic and supple.
Quick to prepare: The tortilla dough comes together in about 5 minutes, and then all you have to do is roll it out and cook it (about 45 seconds to a minute on each side). That's all!
---
Soft, Flexible, and Gluten-free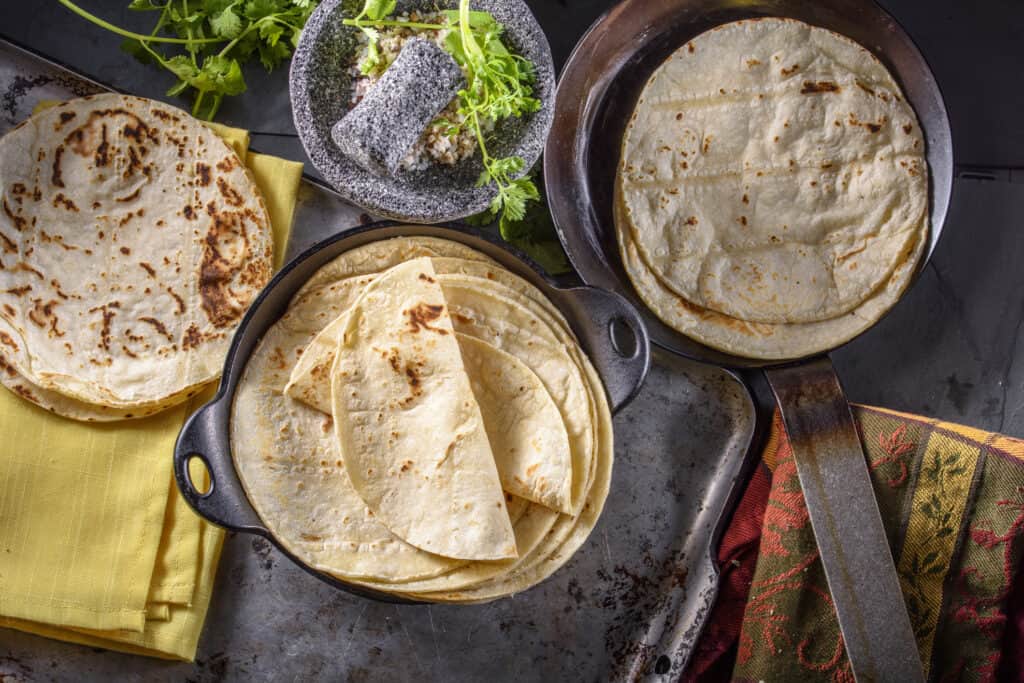 ---
Frequently Asked Questions (FAQs):
Is it necessary to grease the pan when cooking the tortillas?
There's no need to grease the pan if you cook these tortillas in a hot, dry nonstick pan.
How long do these gluten-free tortillas keep?
The tortillas are best when still warm from the oven, but they keep well in a zip-lock bag or tightly wrapped in cling film for 2-3 days. If they have slightly dried out, you can easily soften them up again – more on that below.
How can I make the tortillas soft and pliable again the next day?
To soften tortillas, you have to reheat them while also re-introducing some moisture. Heat a large nonstick frying pan over medium heat and spray the tortilla lightly with water. Then, in a hot pan with a lid, cook it for 45 seconds to a minute on each side. Finally, once re-heated, cover and wrap it in a dish towel for a few minutes to trap the steam.
Can I freeze fresh gluten-free flour tortillas?
After they've been cooked, these gluten-free tortillas freeze extremely well. I don't recommend freezing raw tortilla dough because it's quick and easy to make and is a relatively wet dough.
---
Tips for the Best Gluten-free Tortillas
Use a tortilla press or a rolling pin to roll your tortillas. To keep the ball of dough from sticking, place the dough between two sheets of parchment paper.
A small pizza cutter can help make perfectly round edges – After rolling/pressing the tortillas, you can trim the edges with a pizza cutter slightly.
Make use of a hot pan – A hot pan ensures that the tortillas brown quickly and evenly. Cook for a total of 2-3 minutes, and they should turn brown during that time. If your pan is not hot enough, the tortillas will remain pale after cooking.
Don't overcook them – If the gluten-free wraps become firm or brittle, it's because you cooked them too long. Similarly, if your pan isn't hot enough, the tortillas won't brown quickly.
---
Perfect for Tacos
---
Gluten-free Tortilla Ingredients
gluten-free- baking flour
baking powder
salt
oil
hot water
(Scroll down for recipe details)
---
Other Gluten-free Recipes to Try:
---
Gluten-free Tortillas
These Gluten-free Tortillas are the real deal: soft and flexible, they're ideal for folding or wrapping. They're also incredibly easy to make, with only 5 ingredients that are all gluten-free pantry staples.
Ingredients
3 cups gluten free baking flour
½ teaspoon baking powder
1 teaspoon salt
⅓ cup oil
¼ cup hot water
Instructions
Preparing the Dough
Add the flour, baking powder, and salt to the bowl of a stand mixer. Mix on low until everything is combined. Mix in the oil until well combined. Slowly pour in the hot water and stir for 1-2 minutes, or until thoroughly combined.

Form the dough into a ball and wrap it in plastic wrap. Allow for a 15-minute resting period.
Cooking the Tortillas
Before cooking the tortillas, heat a cast iron skillet over medium-high heat for 5 minutes. Do not use grease.

Cook the tortilla for 1-2 minutes in the hot cast iron skillet. Cook for another 1-2 minutes on the other side. If you cook the tortillas for too long, they will become stiff. The key is to use a hot skillet so that the tortillas cook quickly and evenly without drying out from overcooking.

Place the tortillas between two plates or damp paper towels. This will keep them soft and warm. Repeat with the rest of the dough.
Nutrition
Calories: 124kcalCarbohydrates: 17gProtein: 2gFat: 6gSaturated Fat: 0.4gPolyunsaturated Fat: 2gMonounsaturated Fat: 3gTrans Fat: 0.02gSodium: 169mgPotassium: 0.1mgFiber: 2gSugar: 1gCalcium: 24mgIron: 1mg