Are you searching for a delicious and nutritious way to add extra protein to your desserts or snacks? I've got you covered. Drizzle this High Protein Chocolate Sauce on top of your waffles, pancakes, or any cake you love. Enjoy that extra boost of protein in the most delicious way.
It's a dreamy creamy sauce! Mix any chocolate protein with some water or milk until they get that smooth lovely consistency that you will fall in love with. You will crave more and more.
---
Indulge Yourself with a Hint of Sweetness and a Boost of Protein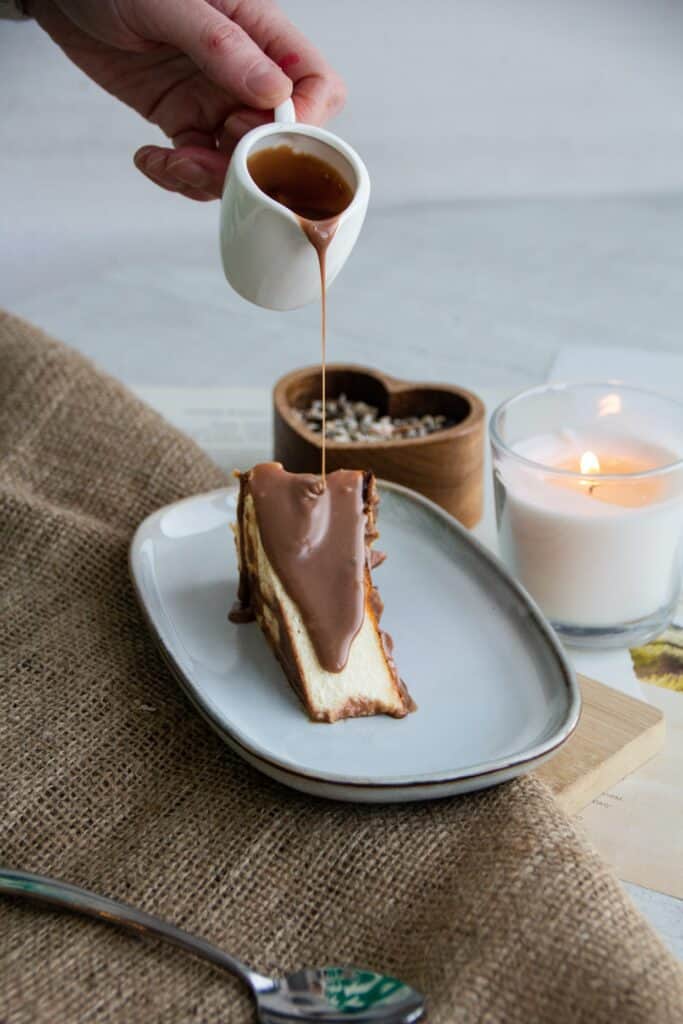 ---
Create Your Ultimate Protein Sauce
Although this protein chocolate sauce can stand alone, yet some additions elevate the taste to the next level.
Who can say no to some mini chocolate chips? Add some into your bowl and mix. Double chocolate protein sauce will curb your cravings with sweet delicious chocolate flavor over your pancakes.
Looking for a higher chocolate density? Sprinkle some cacao powder on the mixture and add a bit of coconut oil. You can sweeten it with maple syrup or honey to get the best homemade chocolate sauce.
A light crunch in each spoon fills your mouth with additional joy. Add some crumbled nuts to the mixture. You will want more and more!
For coconut lovers, you can sprinkle some toasted coconut and mix.
For an additional amount of protein, add some peanut butter and honey to your sauce and enjoy the combo of peanut, chocolate, and honey. Yummy!
---
Decadent Desserts to Enjoy with Your Protein Chocolate Sauce
One of my favorite ways to please a sweet tooth without feeling guilty is to add a bit of chocolate sauce on top of my healthy desserts. What a great choice!
Homemade Protein Jam Bars are a great option for a healthy snack or breakfast. A drizzle of chocolate sauce and a dash of cinnamon on top will do wonders for these divine bites! Enjoy this luscious high-protein treat!
First, get those ripe bananas resting on the counter, eggs, and some almond flour to prepare the best Gluten-Free Almond Flour Banana Cake. Then, add additional grams of protein to this decadent dessert by adding a drizzle of this chocolate protein sauce.
How about some Healthy Coconut Macaroon? A simple recipe for a light fluffy treat. It has egg whites, honey, shredded coconut, and vanilla extract.
Don't add chocolate syrup to these delicacies. Instead, turn it into a dipping sauce and dip your macaroons in this healthy chocolate sauce and feel the joy!
For a high-protein diet, add some whey protein powder to your Microwave Chocolate Caramel Mug Cake Recipe which already has a whole egg as one of the main ingredients. Elevate the protein intake by adding some protein sauce. Divine!
Are you looking for healthy high-protein pancakes for breakfast? Prepare some Vegan Banana Blender Pancakes and shower them with high-protein chocolate sauce. Heavenly!
Finally, summertime does not sound right without ice cream sundaes. This chocolate sauce adds a boost of protein to your refreshing chilling sweet treat.
---
High Nourishing Protein Chocolate Sauce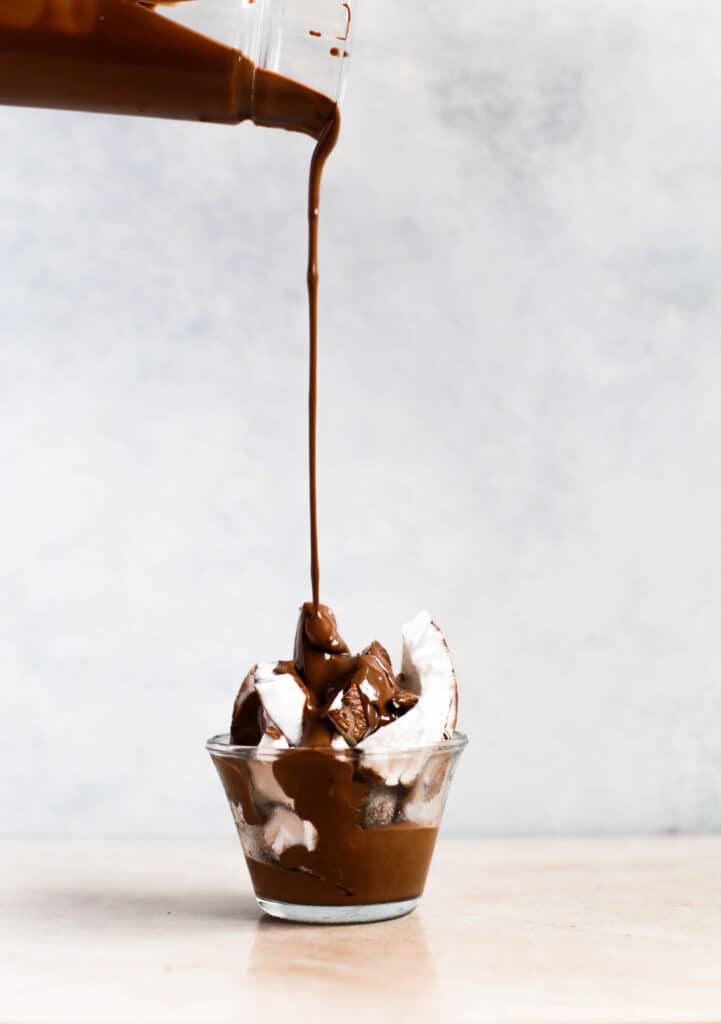 ---
Tips
Pay attention to the type of protein powder you choose. Your choice may affect the flavor and the texture of the sauce.
It is better to leave this sauce in the fridge for a few hours to get that chilling refreshing effect.
If you want to customize your sauce, it is better to let the protein sauce sit for a couple of minutes first so it absorbs the liquid totally. Then, you add what you like.
---
Frequently Asked Questions
What can I do to thicken the chocolate protein sauce?
If you added extra water or milk and the sauce was too liquidy or watery, you can add some extra protein powder. If you don't consume it all, you can keep it in an airtight container in the fridge and enjoy this sauce the next day.
Can chocolate protein sauce be vegan-friendly?
A vegan option is available! Choose vegan protein powder and mix it with water. Instead of dairy milk, choose almond milk or any plant-based milk.
Is it safe to add protein chocolate sauce to kids' desserts?
It is not recommended. Kids might have digestive issues.
---
Creamy, Healthy, and Delicious!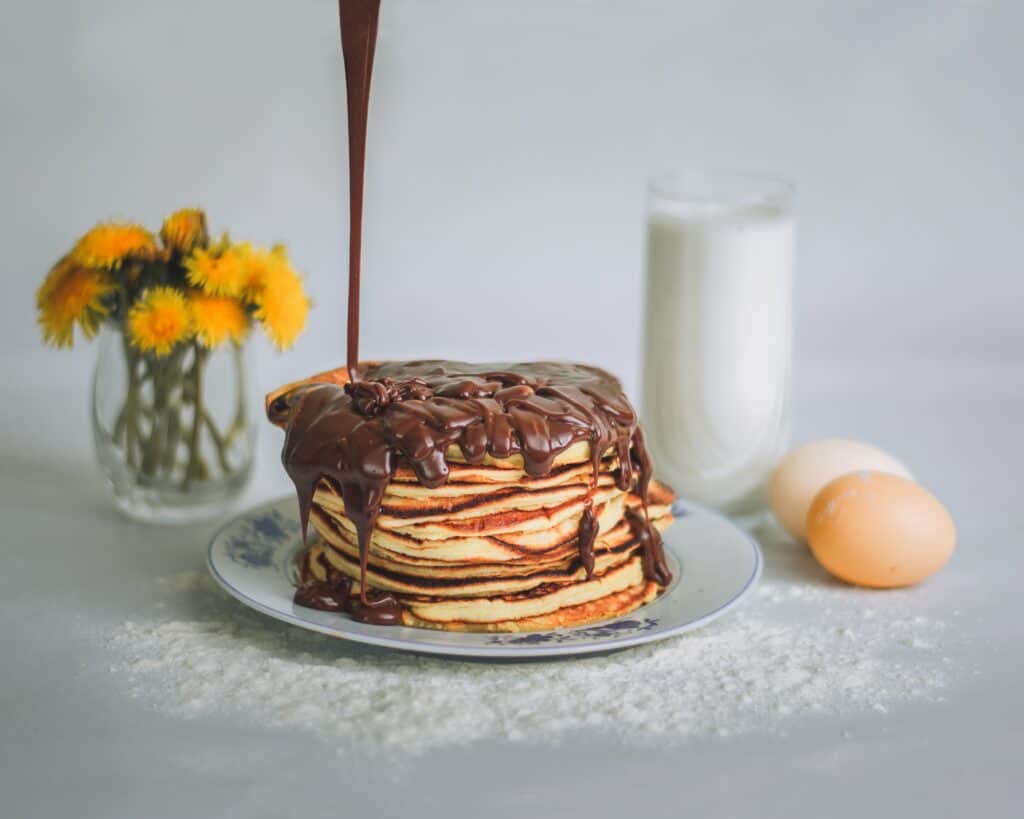 ---
High Protein Chocolate Sauce
What an easy recipe! This chocolate sauce has two simple ingredients and needs a few seconds to be ready.
---
What You Need
Water at room temperature; or your favorite milk
---
One Step Sauce
In a small bowl or glass, put the chocolate protein powder and water or milk. Mix well until you reach the perfect consistency.
You can top it with oats or cinnamon. You can also drizzle it on top of your favorite dessert.
---
More Indulgent Chocolatey Recipes for You to Try!
---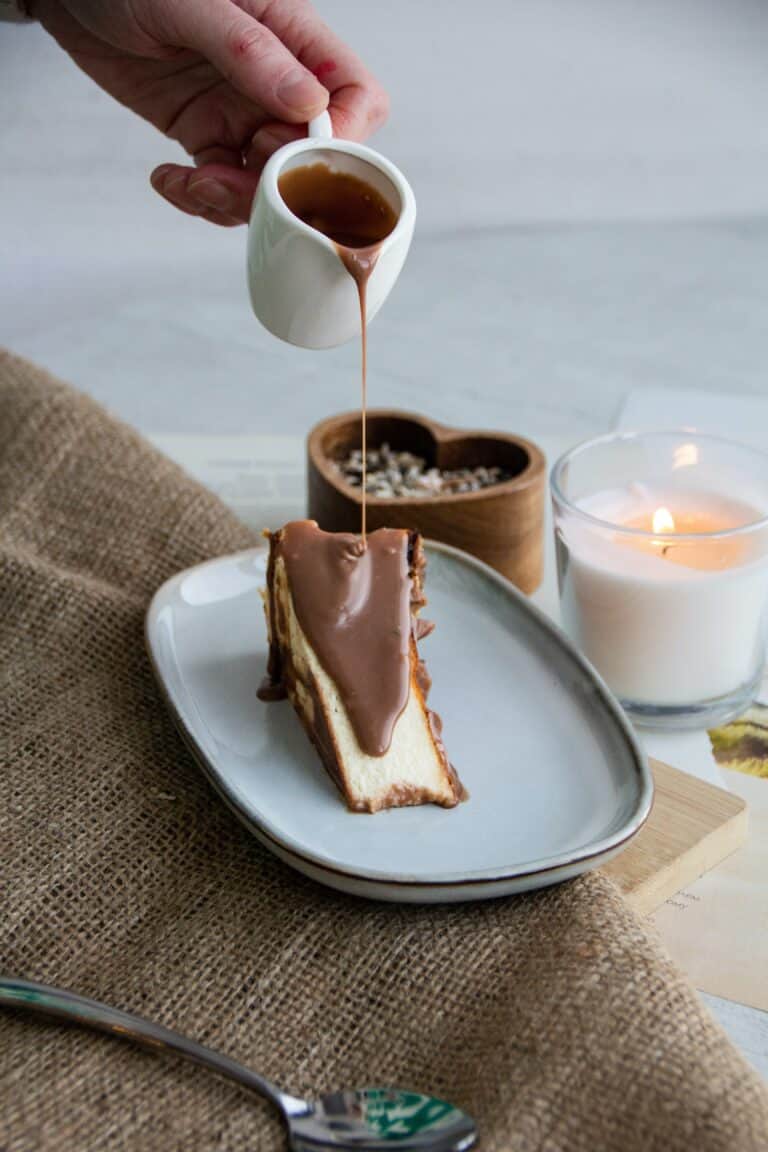 High Protein Chocolate Sauce
High Protein Chocolate Sauce is done in a couple of minutes for you to enjoy an extra boost of protein in your pancakes, waffles, or any dessert you like.
Ingredients
¼ cup Chocolate protein powder
¼ cup Water at room temperature almond milk or dairy milk
Optional sweetener: Honey, maple syrup, or stevia (if desired, to taste)
Instructions
In a small bowl, add the chocolate protein powder.

Slowly add the liquid of your choice (water at room temperature, almond milk, or dairy milk) into the bowl, stirring continuously. Start with ¼ cup and gradually add more if needed until you reach your desired consistency. Adjust the amount of liquid based on how thick or thin you desire the sauce to be.

To make sure there are no lumps, continue stirring until the protein powder and liquid are well combined.

Taste and if you prefer a sweeter sauce, add sweetener like honey, maple syrup, or stevia, according to your taste preferences. Start with a small amount and add more as needed.

Taste your high-protein chocolate sauce is ready to enjoy!

You can drizzle the sauce over pancakes, waffles, oatmeal, yogurt, or any other desserts of your choice. It's a delicious and nutritious way to add protein and chocolate flavor to your dishes.

You can top it with oats or cinnamon. You can also drizzle it on top of your favorite dessert.
Notes
Note 1: Pay attention to the type of protein powder you choose. Your choice may affect the flavor and the texture of the sauce. Note 2: It is better to leave this sauce in the fridge for a few hours to get that chilling refreshing effect. Note 3: If you want to customize your sauce, it is better to let sit the protein sauce for a couple of minutes first so it absorbs the liquid totally. Then, you add what you like. Note 4: Remember, the flavor and consistency of the sauce can be customized based on your preferences. Feel free to experiment with different types of liquid and sweeteners until you find your perfect combination. Enjoy
Nutrition
Calories: 87kcalCarbohydrates: 6gProtein: 16gFat: 2gSaturated Fat: 1gCholesterol: 32mgSodium: 114mgPotassium: 206mgFiber: 4gSugar: 1gCalcium: 184mg