My Strawberry Mango Banana Smoothie is a sweet savory sip, like sailing to the sun on a beautiful spring day!
The sweetness of the banana combines with the smell of ripe strawberry. When you add it to the tasty mango, you will get a heavenly tropical flavor. The added benefit: adding Vitamin C, D, and Zinc to this nutritious smoothie makes it a healthy drink. You can enjoy it at any time of the day.
---
Strawberry Mango Banana
Smoothie
---
A Banana Strawberry Mango Smoothie is not only a drink. In fact, it is a piece of art in a glass, with a rich creamy texture. This vitamin booster smoothie is so delicious. In addition to its great taste, the smoothie has many vitamins that boost your immune system. This smoothie will make you look good and feel great.
---
Strawberry Mango Banana Smoothie on a Hectic Day!
Do you have a rushed day? Sometimes, it is hard to grab a plate and a spoon to get in your breakfast! We all know that breakfast is the most important meal of the day!
Without a doubt, Banana Strawberry Mango Vitamin Smoothie has different vitamins and nutrients that are good for us. Once you drink a cup, this vitamin-packed smoothie will supply your body with much nutrients. They are necessary for you to perform your daily chores.
In deep, each ingredient has its own package of vitamins. The Banana Strawberry Mango Smoothie has a high level of antioxidants. So, blending vitamins and antioxidants will give you a healthy glow for your skin. It will also boost your energy.
This means that if you are in a hurry, simply blend the strawberry, mango, and banana. Then, add the vitamin pills or liquid to make the smoothie in less than 5 minutes. Drink it on the spot! Also, you can put it in a bottle and enjoy it at work. Grab two bottles of this sweet smoothie to share with a dear one!
---
Strawberry Mango Banana

Smoothie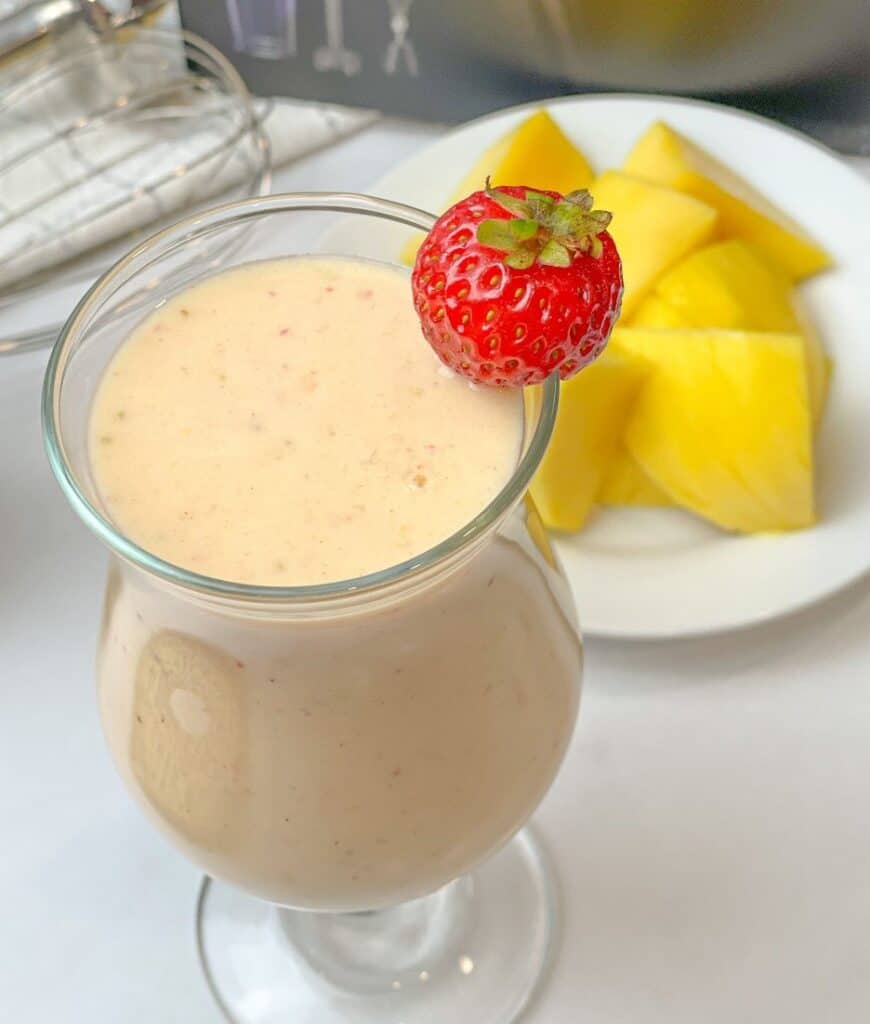 ---
What Makes
Strawberry Mango Banana Smoothie

Packed with Vitamins?

In fact, each of the ingredients is rich with different vitamins. So, it is beneficial for your physical health. When you take this vitamin smoothie as part of your daily diet, you might feel energetic and your body will thank you.
Let's Dig in the Benefits of the Tasty Fruits!
Strawberry
The strawberry in the Banana Strawberry Mango Smoothie contains antioxidants as well as vitamin C, manganese, potassium and folate. This healthy fruit boosts your skin glow due to the specific nature of vitamin C along with the other vitamins. Also, strawberry helps reduce some inflammation that might accompany the acne.
Mango
To begin with, sweet mango contains vitamin A, C and E. When you drink one cup of mango, you will get around 67% of vitamin C you need per day. In addition, it contains around 8% of your daily need of vitamin A, vitamin B6, vitamin E, copper and folate.
You can make Strawberry Mango Banana Smoothie a part of your diet to get vitamins to support your skin's health. Also, fresh mango is rich with antioxidants that will help prevent premature aging and sun damage.
Banana
Surprisingly, banana is rich with vitamin C, fiber, potassium, magnesium, folate and niacin. Blending banana with other delicious fruits like strawberry and mango is a so delicious. It is a suitable option for breakfast or snack in a fitness routine.
In fact, banana has soluble fibers that change into gel in the stomach. Thus, having banana smoothie makes you feel full for a longer time. So, banana healthy smoothie is a great boost for your digestive system. At the same time, these fibers help regulate your sugar and blood pressure levels, especially after a having a meal.
---
Looks
Great

and Tastes

Great

!
---
Boost the Smoothie Flavors!
You can choose the milk that you like the most. You can use plant-based milk like coconut milk or almond milk. Also, you can use skim milk, low fat milk as well as whole milk. In fact, it depends on your diet and preferences.
Another great tip is to add toppings to the strawberry mango banana smoothie. What's not to love? You can add chia seeds with chunks of fresh mango and strawberries.
Also, you can add sliced almond to get a sweet crunch in your smoothie. Moreover, you can enjoy it with coconut shavings or even cashews!
To add, you might like your strawberry mango banana smoothie to have a creamy texture. So, you can replace the milk with yogurt. You can add it to your blender till you get the thickness you prefer.
One last tip is to choose ripe bananas to avoid adding any sweetener. In fact, this is a healthy smoothie. Therefore, it would be better to enjoy the natural sweetness of the fruits.
So, it is better to choose ripe bananas to mix with fresh strawberries and the tropical taste of mango. They will enrich the sweet flavor of this mouthwatering smoothie.
---
Sweet and
Tasty

! Give it a Try!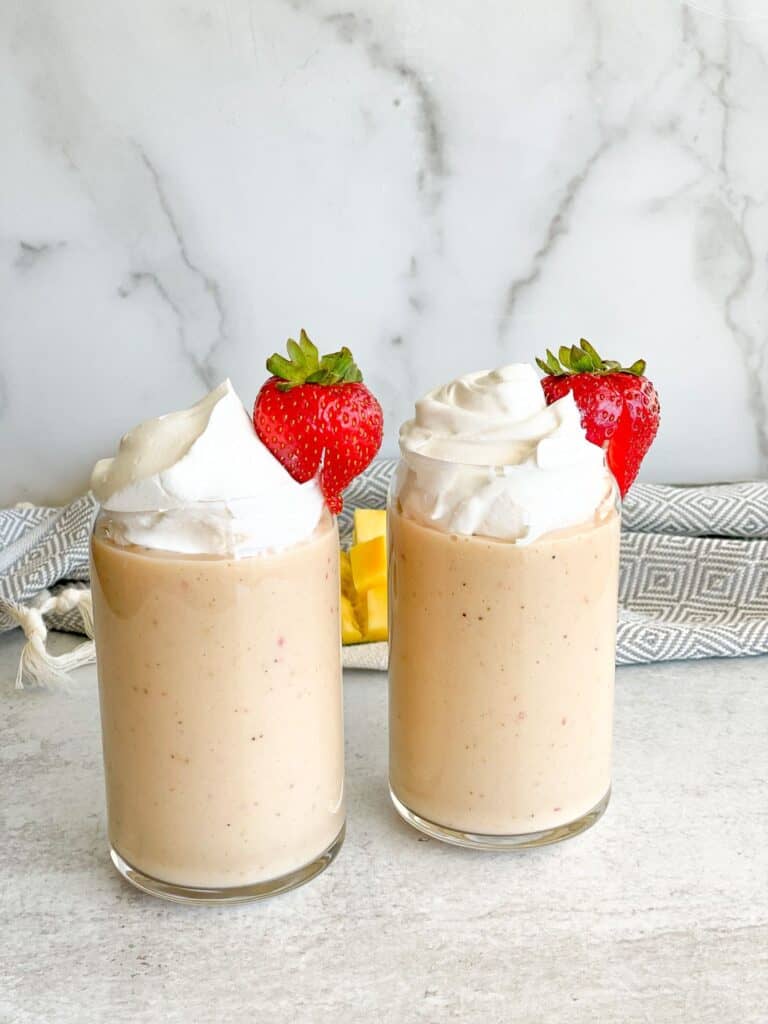 ---
Frequently Asked Questions
Can this smoothie be done without the vitamin pills?
Actually, mixing the vitamin pills with the mango strawberry banana smoothie is a great addition. But they are not necessary if not available. The fruits used are rich with different vitamins that you need.
Can this smoothie be suitable for vegans?
You can replace milk with fresh juice that may boost the taste of the banana mango strawberry smoothie, or just add some ice or cold water.
Is it necessary to add ice cubes to the smoothie?
Adding the ice cubes to the fruits will give this tasty drink a smooth, thick and chilly texture.
---
Blend the
Fruits

!

Enjoy

the

Smoothie

!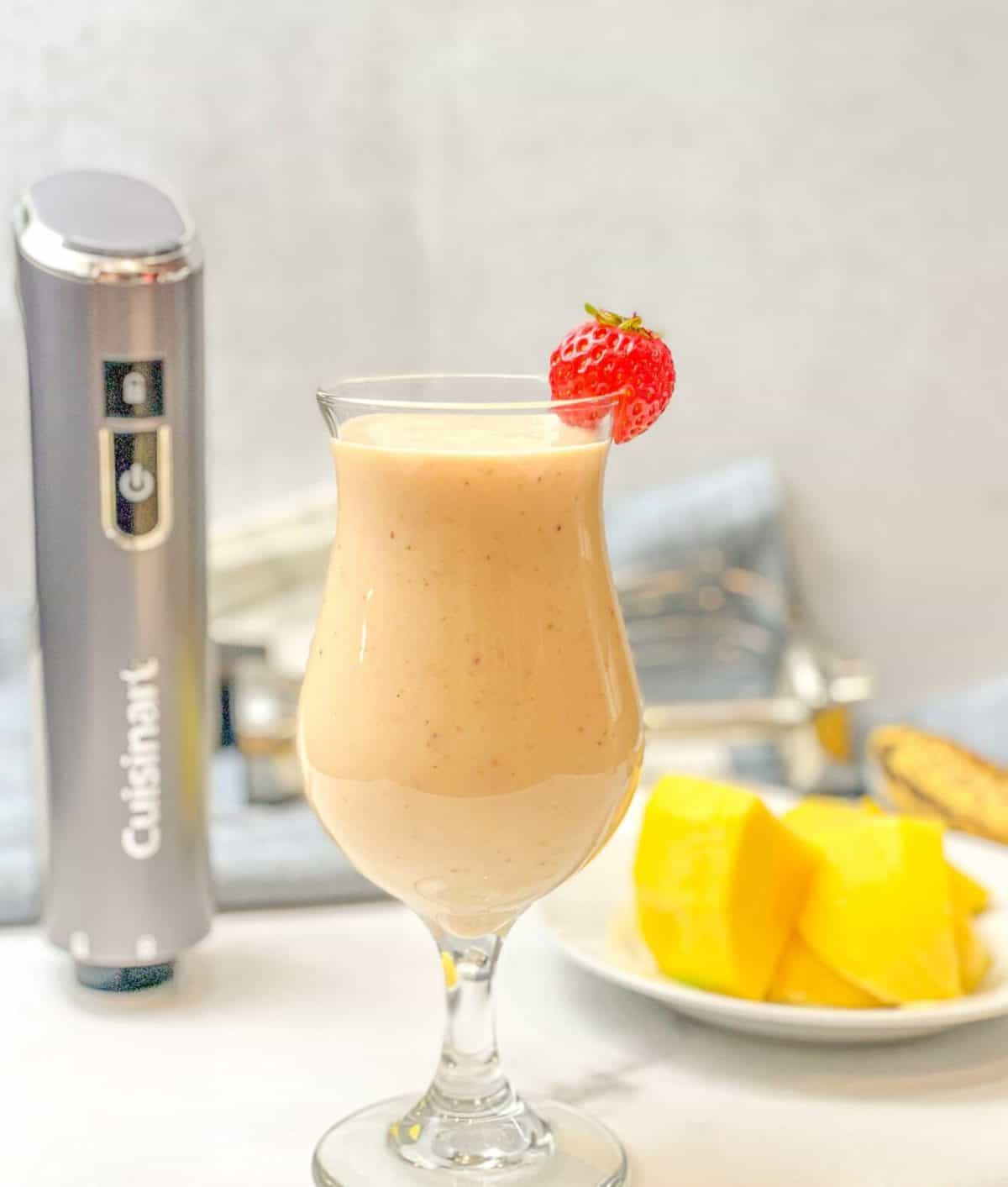 ---
Strawberry Mango Banana Smoothie
Ingredients
ice cubes
banana
mango
strawberries
milk of your choice
Zinc liquid or zinc pills
vitamin C pills or liquid
vitamin D pills or liquid
---
Steps to Prep
First, place the ice cubes in the blender.
Add the banana, mango, strawberry and milk of choice.
Then, add vitamin C, D, and Zinc in the form of pills or liquid.
Blend them for about two full minutes.
Serve chill and enjoy.
---
Vitamin Booster Delicious Smoothie!
---
Enjoy More of our Great Recipes
---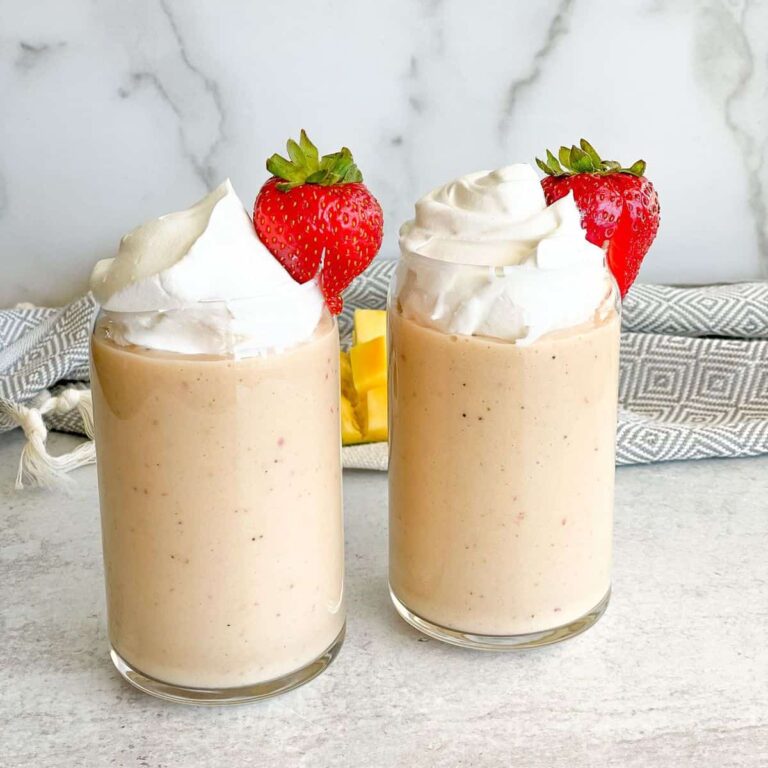 Strawberry Mango Banana Smoothie
An all-natural smoothie made of strawberry mango and banana to supply your body with masses of vitamins to feel energetic and look healthy.
Ingredients
4

ice cubes

1

banana

1

cup

of cubed mango

3

strawberries

¾

cup

milk of your choice

2

servings

Vitamin C pills or liquid

2

servings

Zinc pills or liquid

2

servings

vitamin D pills or liquid
Instructions
Place the ice cubes in the blender.

Add the strawberry, banana, mango and milk of choice.

Add vitamin C, D, and Zinc pills or liquid.

Blend them for about two full minutes.
Notes
It is an easy and quick smoothie that you can drink on the spot, put in a bottle and take to work, or save in a firmly closed jar in your freezer for two days.
Like this recipe? Rate and comment below!