It's no secret! You don't need eggs, butter, milk, or cream to indulge yourself with a rich, decadent sweet treat. Here are the top ten best vegan dessert recipes for your cravings or special occasions.
Are you looking for vegan recipes to make some crunchy brownies, tender pancakes, healthy bars, or indulgent puddings?
Check these recipes and you will find the recipe that best suits your preference and your time. These vegan dessert recipes will definitely satisfy your sweet tooth.
---
Dairy Free Dessert, a Perfect Way to End your Meal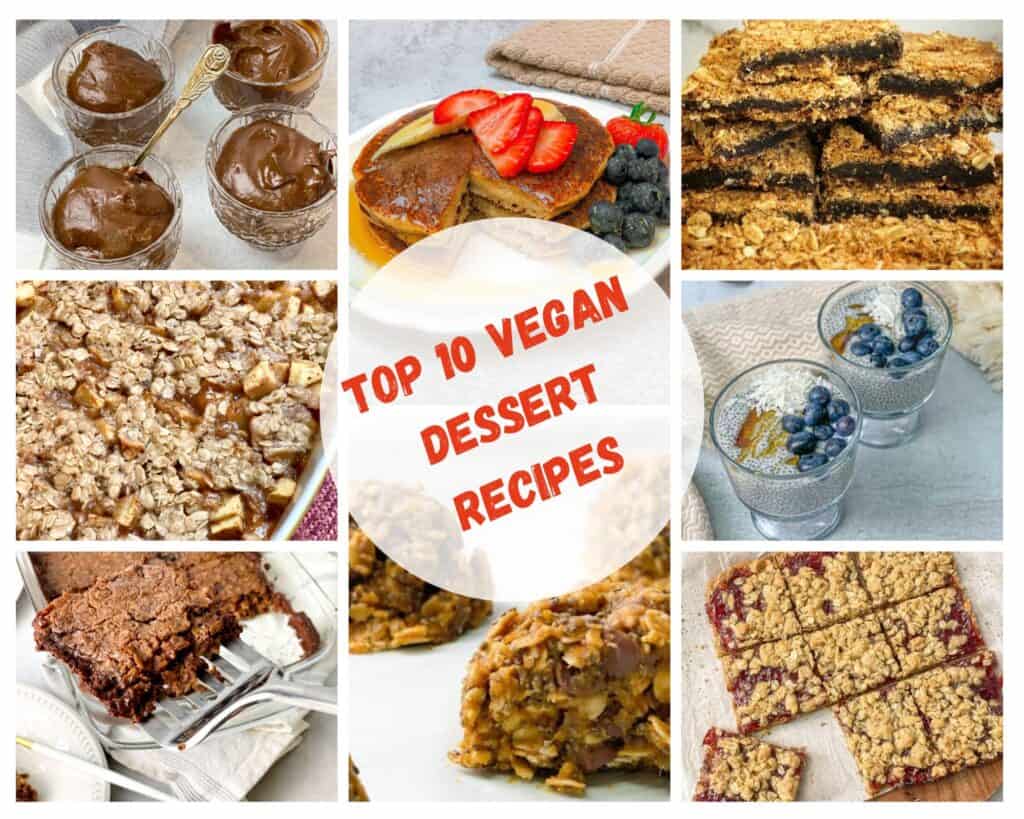 ---
Essential Vegan Ingredients When Making a Vegan Dessert
It is not as difficult as you believe. You can transform your favorite desserts into delicious vegan delights. All you have to do is get plant-based ingredients, and off you go.
If your recipe calls for butter, don't worry. You can find dairy-free butter. Another common ingredient is coconut oil. It contributes to your health and to a good diet as well.
For dairy-free milk, there is a variety or options. You can use almond milk, coconut milk, or oat milk.
Many recipes use honey as a sweetener. For vegan alternatives, you can use maple syrup, agave syrup, date syrup, xylitol, or stevia.
---
Delicious Vegan Desserts Recipes
Whether you are on a vegan diet or not, check out these recipes. They are rich, delicious, and decadent without eggs, butter, or cream. Many of them are perfect in case you are watching your sugar intake.
---
Brownie-Baked Oatmeal is an easy vegan treat. Made with just a few ingredients, This Brownie Baked Oatmeal recipe is gluten-free, vegan, and downright delicious! An indulgent and fudgy meal that is perfect as a breakfast, lunch, or sweet snack!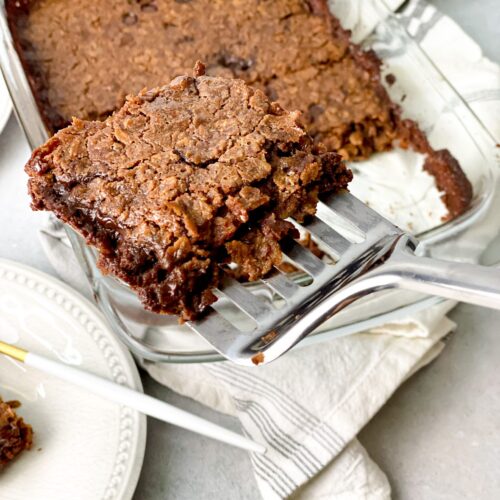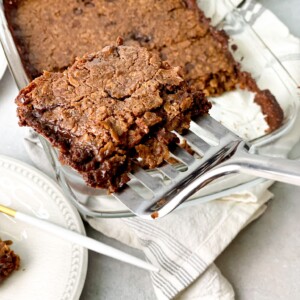 Brownie Baked Oatmeal (gluten free – vegan)
The optimum of guilt-free Brownie Baked Oatmeal has definitely taken the lead on meals that satisfy the body and soul! It is a rich and gooey combination of milk, oats, syrup, almond butter, cacao, powder, and chocolate chip. It is a must-try recipe.
View Recipe
---
Pancake lovers! Are you looking for a dairy-free, egg-free, vegan blender pancake recipe? These Vegan Banana Blender Pancakes are super easy to make and super tasty to enjoy. They are guilt-free foods. Mix the ingredients and pour the batter. Boom! They are ready!
Vegan Banana Blender Pancakes
It's a hassle-free recipe. With five ingredients, you will form delicious fluffy Vegan Banana Blender Pancakes in two steps. Mix the banana, almond milk, vanilla, oat, and baking powder in a blender. Pour them into the skillet. You will eat these pancakes and feel good about it.
View Recipe
---
This is one of my favorite vegan desserts! Whenever you feel like you want something sweet and healthy, you have to try these oatmeal date bars. They are perfect if you are cutting down your sugar intake. Sweets made with dates are simply adorable.
Healthy Oatmeal Date Bars
Healthy Oatmeal Date Bars are your perfect choice for a healthy vegan snack. A layer of sweet chewy dates sandwiched between two layers of delish crunchy oat crust will make your day!
View Recipe
---
These Homemade Protein Jam Bars are lifesavers on a speedy morning or if you want something delicious, filling, and easy on the tummy to go! You can make them ahead of time and keep them in the fridge. They will be there whenever you are craving something sweet and healthy.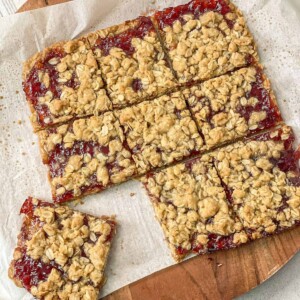 Healthy Protein Jam Bars
These Homemade Protein Jam Bars are a perfect grab-and-go breakfast option or a wholesome snack for you and your family! It has a satisfying mixture of flour, oats, brown sugar, coconut oil, syrup, and your favorite flavor of jam. It is a soft flavorful bite that you will love.
View Recipe
---
No-Bake, Pumpkin Spice Energy Balls is a snack that satisfies your pumpkin cravings with a kick of energy on the side. These yummy bites are an ideal delicious and equally nutritious snack. They're simply a great lunchbox idea and a perfect healthy treat.
No-Bake, Pumpkin Spice Energy Balls
Crunchy, sweet bites of No-Bake, Pumpkin Spice Energy Balls will swoop in to save the day with their promised energy boost and healthy fats. With peanut butter, pumpkin puree, oats, chia seeds, and other ingredients, you will easily form these sweet bites to indulge yourself with a scrumptious treat.
View Recipe
---
Is it apple season? Then, you must try the Classic Apple Crisp With Oats. It is a great option to get in some carbs and a warm dish during the cold. It can be served as a delicious breakfast, or a snack to keep you energized.
Classic Apple Crisp With Oats
Full of delicious apples covered in cinnamon-sweetness and topped with a crispy layer of oats, this recipe is perfect for the cold season!
View Recipe
---
Are you craving some chocolatey, dairy-free treats? Prepare this smooth and creamy Chocolate Coffee Avocado Pudding in 5 minutes. It's a decadent dessert that you can offer during a dinner party to impress everyone!
Chocolate Coffee Avocado Pudding
Creamy, whipped, airy pudding made with ripe avocados will please any chocolate lover with healthy ingredients! Delicious and easy, it takes 5 minutes and five ingredients: avocados, maple syrup, cacao powder, vanilla extract, and some freshly brewed coffee. And your pudding is ready!
View Recipe
---
Chia Pudding is a healthy and nutritious snack that is filling and delicious. It can be considered a dessert without the guilt. It is versatile and can be enjoyed dairy free.
Chia Pudding Recipe
Chia Seed Pudding has a creamy dense consistency and sweet flavor made of almond milk, maple syrup, vanilla, chia seeds, and some nuts. It will be your new favorite healthy go-to snack, dessert, and maybe even a light breakfast or dinner option!
View Recipe
---
This Creamy Vegan Rice Pudding is like a comforting hug on a gloomy day. It is easy to make and requires only a few ingredients. Check it out!
Creamy Vegan Rice Pudding (Dairy & Gluten Free)
This Creamy Vegan Rice Pudding is easy to make and requires only a few ingredients_ rice, almond milk, coconut milk, and sugar. It's gluten-free, dairy free, and easily customizable!
View Recipe
---
This Dairy-free Oat Milk Pumpkin Spice Latte is perfect anytime you have some pumpkin pie spice! It is time to spice up your coffee game!
Oat Milk Pumpkin Spice Latte (Dairy-Free)
With a harmony of simple plant-based ingredients like oat milk, sugar, favorite fall spices, and a backdrop coffee flavor, this dairy-free Pumpkin Spice Latte presents a creamy indulgent texture ready in 5 minutes only!
View Recipe
---
Other Recipes You Should Try
---